Addition by addition at Ford?
January, 17, 2013
01/17/13
10:17
PM ET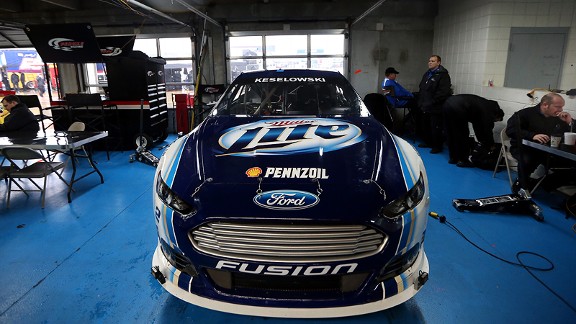 Streeter Lecka/Getty ImagesThe Blue Deuce won the championship with Brad Keselowski behind the wheel last year, but he was driving a Dodge, not a Ford. Keselowski and his Penske Racing team have switched to Fords this year, and a repeat title would be a rare feat.
It's not often a manufacturer inherits a championship team, but such is the case for Ford officials this season. The big question is this: Can everyone involved share the wealth?
Defending Cup champ Brad Keselowski, Ford's new golden boy, hopes so. He also hopes to do something that hasn't been done in 54 years.
You have to go back to 1958 to find the last time a driver won consecutive titles with two different auto manufacturers.
Lee Petty won the 1958 title in an Oldsmobile and the 1959 crown in a Plymouth. But Petty raced 17 events in the 1959 season in an Oldsmobile and ended the season in a Plymouth, which he drove in 27 races.
Buck Baker also won his two championships with different manufacturers -- a Chevrolet in 1957 and a Chrysler (officially) one year earlier. Baker also drove a Ford in four races and a Dodge in 14 others during the 1956 season.
Cale Yarborough was the last NASCAR driver to win back-to-back Cup titles in different makes of cars. He won his second of three consecutive titles in a Chevrolet but won the third championship driving an Oldsmobile in 1978. However, both cars fell under the General Motors banner.
So no driver in NASCAR history has won back-to-back Cup titles driving the full championship season for only one auto manufacturer and the next season for another.
Keselowski could become the first if he takes his No. 2 Ford to the 2013 title after winning his first championship last year in a Dodge. But it will take cooperation and collaboration with Ford's other teams to get it done.
Keselowski admits Penske Racing's move from Dodge to Ford is a big transition. It requires sharing technical information, at some level, with Roush Fenway Racing and Petty Motorsports, the two other Ford organizations.
"Some of that stuff is a work in progress," Keselowski said last week during the test at Daytona. "I think, so far, we all agree to the Ford approach of 'One Ford,' where we are going to share what we can where it's practical to do so.
"Those things are being defined daily as far as what is OK to share and what is not. I don't have great answers for you there. In order for that to work out, there has to be a level of cooperation. I think we all see that. It's just a matter of defining what that level is."
[+] Enlarge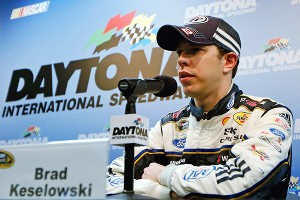 Chris Trotman/Getty Images for NASCARBrad Keselowski is ready and willing to share with his new Ford teammates, once he figures out where the line is.
Penske was the only team for Dodge. Roger Penske has ended his engine-building program to lease Roush-Yates engines this season.
Carl Edwards, coming off a disappointing, winless 2012 season in which he finished 15th in the standings in the No. 99 Ford for Jack Roush, hopes adding Penske's two-car operation (Keselowski and Joey Logano) to the Ford family will help all the Ford drivers.
"I'm looking forward to it and hope we get to share a lot of information," Edwards said. "It would help us a lot. The way Brad ran at the end of last year was spectacular.
"At the end of the day, I hope we have something to give them so they will reciprocate. The more teams you have working together, the more information you have and more ideas you have. It makes things better."
No one knows for certain how it will work out, but Keselowski likes what he sees in Ford officials, from top executives to design engineers to the people sweeping the floors.
"The level of engagement is remarkable," Keselowski said. "It shows the commitment Ford has. I've never experienced that before. It makes me feel very confident that any bit of adversity or any hurdle we have to climb, we can do it, because we have a dedication of resources and top-notch people."
Ford officials inherited the best of the best from 2012. Ford's last Cup title was nine years ago, when Kurt Busch won the inaugural Chase for Roush. That dry spell could end this year if everyone shares the wealth.