Jimmie Johnson takes it to the extreme
March, 13, 2013
03/13/13
5:56
PM ET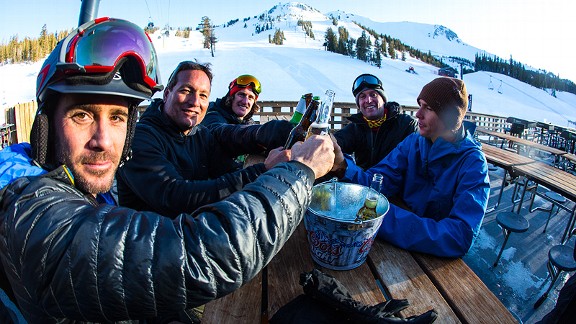 Peter Morning/Mammoth MountainJimmie Johnson and the gang share some drinks on the Main Lodge Sundeck at Mammoth Mountain.
LAS VEGAS -- Radical, man.
That about sums it up for Jimmie Johnson and four extreme athletes who managed to do more sports craziness in one day than most people will do in a lifetime.
This wasn't your typical Monday at the office. In fact, it probably was an unofficial record for trichotomous physical activity over the course of nine hours.
Johnson and his posse of champions -- snowboarder Eddie Wall, ski racer Chris Benchetler, surfer Ian Walsh and standup paddler Dave Kalama -- tackled some of California's epic venues from dawn to dusk last week.
It started with surfing in Huntington Beach -- known as Surf City, USA. Next up was 200-mph action at Auto Club Speedway in Fontana. And the daredevils closed it out with skiing and snowboarding on Mammoth Mountain. Their mode of transportation between venues: Johnson's private plane.
"I met some great athletes," Johnson said. "Only in my home state can you do all three of those cool things in one day. I'm proud of that."
Johnson held his own on the two disciplines that aren't his specialty. Let's start with surfing, which Johnson admits isn't his best sport.
"I was most nervous about the surfing," Johnson said. "There are no guarantees of catching a wave and I didn't want to lay a big goose egg there. I don't think the other guys felt I could catch a wave and ride it, but I did. It wasn't the prettiest thing."
Maybe not, but he got in the swing of things without much trouble.
"I was a little rusty," Johnson said. "It took me two or three tries to catch a wave and remember the right angle so you can ride it. I had three or four good rides.
"The hardest part is you ride the wave in, and then you have to paddle out through all that stuff again. That's tough. We were in the water for an hour and a half. At the end, my arms felt like they were going to fall off."
Johnson just was happy to get through the first phase without an injury.
"The way the waves were breaking would take you right up by the pier," Johnson said. "I was a little nervous I'd get caught in the pillars.
"And I fell off a couple of times in the water. You always wonder where the board is when you fall. It's hooked to your foot, so you know it's going to come back after you."
After holding his own in the surf, Johnson got his chance to shine on the 2-mile oval at Fontana, a track where he has five Sprint Cup victories.
"It was fun to see how excited those guys were to drive a race car," Johnson said. "They were so thrilled to ride around and make laps on their own."
A couple of guys also did their Brad Keselowski impression by tweeting a little in the car.
"If you're not first, you're last. Racing NASCAR with Jimmie Johnson," Benchetler tweeted.
Walsh was fired up in his tweet: "Funnest thing ever. No. 1 hands down."
For the final venue, everyone hopped back on Johnson's plane and flew to Mammoth Mountain (about 165 miles south of Reno) to take on the slopes.
"I feel like I'm a far better skier than a surfer," Johnson said. "So the day went from really nervous, completely comfortable, then pretty comfortable again."
Johnson is no novice on a pair of skis.
"I started going with a good friend of mine from school whose dad was into [snow] skiing," Johnson said. "We went to Big Bear Mountain, a couple of hours away from my parents' house [in El Cajon]. I learned to ski there. I loved it and skied a lot from my mid-teens on."
And Johnson is no stranger to snowboarding, either.
"My wife [Channi] is into snowboarding, so I switched to snowboarding,'' he said. "But I was on skis for this thing.
"We went through some gates and they timed us, which was fun. We did some small little jumps, too, but those guys just fly. It was fun just zipping down the mountain with them."
Fellow NASCAR racer Brendan Gaughan was a little jealous.
"Sure, won't ski with me anymore," Gaughan tweeted to Jimmie. "I see where I rate."
All in all, it was quite a day for everyone involved.
"A Monday I'll remember for a long time,'' Walsh tweeted after a rare tripleheader of sports fun.