NASCAR makes example of Penske Racing
April, 17, 2013
04/17/13
2:15
PM ET
When Judgment Day came Wednesday, Penske Racing found out NASCAR has no mercy. NASCAR has sent a couple of messages this season for every team to hear:
Do not criticize the new Gen-6, and more importantly, do no tamper with it. Hell hath no fury like a NASCAR judge.
It's no wonder NASCAR didn't fine Brad Keselowski for his angry comments after the Texas race. That would have been equivalent to kicking a dead horse, considering the punishment that was coming.
Other than parking a team for a race, it doesn't get worse than this:
" Drivers Keselowski and Joey Logano docked 25 points each, along with 25 owner points taken from both cars.
" Crew chiefs Paul Wolfe and Todd Gordon suspended six championship races (plus the All-Star Race) and fined $100,000 each.
" Car chiefs and the lead team engineer for both cars also suspended six points races.
" Penske Racing team manager Travis Geisler suspended six points races.
[+] Enlarge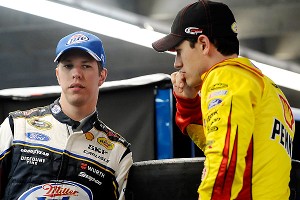 Jared C. Tilton/Getty ImagesPenske Racing teammates Brad Keselowski and Joey Logano got docked 25 championship points each by NASCAR.
In other words, the entire brain trust for both Sprint Cup teams was gone in an instant, a severe punishment for unapproved changes to the rear-end housing on both cars at Texas.
Penske Racing officials immediately sent out a brief statement saying they will appeal. I would hope so. What do they have to lose?
The appeal means everyone keeps working for the moment, but it could be only a temporary reprieve.
NASCAR officials made it clear back in February they wouldn't tolerate any criticism on the new Gen-6 car, fining Denny Hamlin for making disparaging remarks about the car at Phoenix.
And NASCAR made it crystal clear Wednesday it won't tolerate any monkey business when it comes to "pushing the envelope" on the Gen-6. This is one of the harshest penalties ever imposed by the sanctioning body.
Martin Truex Jr. and the No. 56 Toyota team also were penalized Wednesday, but Truex must feel like his team got off light by comparison. Truex was docked six points and crew chief Chad Johnson fined $25,000 for the car being too low in a postrace inspection at Texas.
And Camping World Truck Series veteran Ron Hornaday Jr. also got off relatively easy by avoiding a one-race suspension. Hornaday was docked 25 points and fined $25,000 for deliberately wrecking Darrell Wallace Jr. under caution in Sunday's race at Rockingham.
Kyle Busch fans will howl over that one since Busch was parked for one weekend two years ago when he pulled a similar move on Hornaday at Texas. Hornaday caught a break for previous good behavior.
But the Penske boys were tossed in the NASCAR dungeon in chains. As harsh as it is, the Chase format makes the punishment survivable. Had this happened at the start of the 10-race playoff, game over.
Keselowski can make up the 25 points since it comes long before the Chase starts. It's a little tougher for Logano, because the points reduction would drop him out of the top 10 for now, but not an insurmountable loss.
The real punishment comes in losing the key personnel for both cars. Other than Chad Knaus, who led Jimmie Johnson to five consecutive championships, Wolfe may be the best crew chief in NASCAR today.
Speaking of Knaus, he should send a text to Keselowski and Wolfe that reads: "Welcome to my world, boys. NASCAR has a new champ to pick on."
Few drivers rely on the expertise of their crew chief more than Keselowski does with Wolfe. He's Brad's lifeline.
And any chance of keeping things running smoothly in his absence was eliminated by suspending car chief Jerry Kelley and team engineer Brian Wilson as well.
Logano faces the same fate, just when it appeared he was starting to feel comfortable with his new team. Now both teams will have to fight their way through it.
Until now, inspections had gone relatively smoothly for the Gen-6, so what changed?
Texas was the seventh race of the season in the new car. Teams are starting to feel comfortable with it, and consequently, willing to try more things to make it faster. The more you know, the more you're willing to take a few risks.
No, no, no, boys. Big Brother NASCAR is watching. The Penske punishment essentially tells all the teams, "Don't try it. We will catch you and you will pay."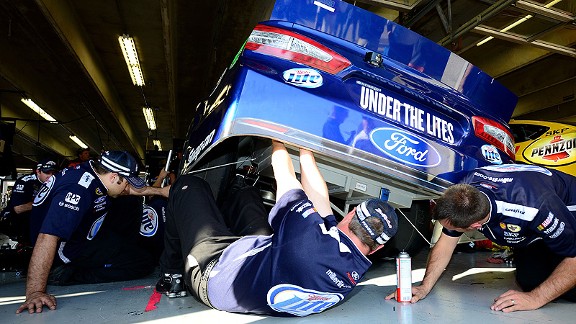 Robert Laberge/Getty Images/Texas Motor SpeedwayThe Miller Lite crew works on the No. 2 Ford after the car failed prerace inspection Saturday at Texas.