Kentucky ready to rough drivers up
June, 27, 2013
06/27/13
4:57
PM ET
SPARTA, Ky. -- Churchill Downs might be a little dirtier, and it's ancient compared to Bluegrass State neighbor Kentucky Speedway. But the 1.5-mile oval is downright gnarly compared to most racetracks in NASCAR.
And that's just how most drivers like it. Good drivers tend to want rough and bumpy rather than smooth and untarnished for a racing surface.
"This track really suits me," said Brad Keselowski, who won this race one year ago. "When it's rough, I tend to do better."
The bumpier the track, the less grip it has and the more it brings driver skill into play. Kentucky Speedway is as rough as they come.
"I love how much character that racetrack has," Jimmie Johnson said. "It's so rough. The groove moves around, and you really are just trying to dodge the big swells and bumps to find grip for your race car.
"It's a track I didn't have a lot of success at in the Nationwide Series, or even going there to test before my Cup career really started. We tested there a lot, and I crashed all the time. When the racetrack was back on the [Cup] schedule, I got pretty nervous about things, but I've had a couple of good runs."
Kentucky is one of only four oval tracks where Johnson has yet to win. Of course, this is only his third chance at Kentucky. He was sixth last year and third in the inaugural Kentucky Cup race.
[+] Enlarge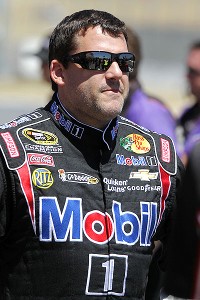 Jerry Markland/Getty ImagesTony Stewart said he's still trying to figure Kentucky Speedway out.
Tony Stewart considers Kentucky one of his two home tracks, along with Indianapolis. Kentucky Speedway is only 65 miles from his hometown of Columbus, Ind. But he failed to post a top-10 finish in the first two Kentucky races.
"We're still figuring it out," Stewart said. "It's got a lot of bumps, so that makes it very challenging. Trying to figure out exactly where to be, where to try to get around some of the bumps, how to get through them better, how to get the car to go through them better -- those are challenges that kind of make it fun, because it's not easy to get around."
All three NASCAR series are racing here this weekend, so the added rubber on the asphalt will supplement the racing groove if wet conditions don't wash it away.
"This track creates a lot of side-by-side racing," Greg Biffle said. "It's flatter than most 1.5-mile ovals and has sweeping corners."
So drivers who consider themselves "wheel men" tend to be the ones who race up front on a track like Kentucky. One of those is Kyle Busch, who won the first Kentucky Cup race in 2011.
Busch and Keselowski are running all three races this weekend because they consider additional track time more important here than at any other track.
"The biggest thing with the extra track time is figuring out the bumps," Kyle said. "It helps if you need your guys to give you a better setup to get through some of those bumps."
Martin Truex Jr., coming off his first victory in six years with his win last weekend at Sonoma, thinks he has a legitimate shot to make it two in a row.
While a road-course win means little on this track, Truex has been at his best this season on the 1.5-mile ovals. He has posted top-10s at all four 1.5-mile oval races this season, including second at Texas, where he led 142 laps.
"But this track is so different," said Truex, who finished eighth at Kentucky last year. "Even though it's a mile and a half, it's unique with the layout and the way it arcs into the corners, but the bumps are the big thing.
"It's just gotten super rough. I guess it's always been rough. They fixed it a few times, and it keeps going back. You have to find ways through the bumps and find ways around them. And that makes it fun to drive."