Category archive:

Tony Stewart
April, 12, 2014
04/12/14
12:38
PM ET
DARLINGTON, S.C. -- This makes the 40th year I have come here covering races. Never have I seen anyone drive old Darlington Raceway better than Chase Elliott did Friday night.
Not David Pearson, the all-time winner here with 10 victories; not Dale Earnhardt with nine; not Jeff Gordon with seven; not Bobby Allison nor Bill Elliott (Chase's father) nor Darrell Waltrip nor Cale Yarborough, the five-time winners here.
Electrifying. Breathtaking. Dumbfounding. All those words are inadequate for the sight of the 18-year-old from Dawsonville, Ga., putting a race car breezily, easily into places you're not supposed to be able to go on this track, and not just getting away with it but making it look effortless.
There are two kinds of NASCAR ovals: Darlington and all the rest. This by consensus is the toughest place the drivers go all year. Every yard of the 1.366 miles is an adventure. The two sets of corners might as well be two different tracks. The small end is a sudden turnaround at high speed, and the large end is deceptively sweeping with a wall that juts out to bite you for the slightest bobble.
The laps I've seen here number somewhere north of 25,000. And I'm not sure I've seen any driven as well as Chase Elliott's last lap to win the Nationwide race Friday night.
He passed Elliott Sadler on the high side, where there isn't room, yet somehow made that Camaro slither unscathed between Sadler's car and the jutting wall with which the Lady in Black, so typically, tried to snatch him.
He deftly danced right through, and took the checkered flag, and in the aftermath the Lady herself seemed somehow smitten, awed, empty, swooning, star-struck at the dark-haired youth who'd swirled and twirled her around so, on an April night when he was missing his senior prom in the Atlanta suburbs.
But the last lap was just the capper, after he'd driven from fifth to second in the first of the final two laps after the final restart. Throughout the race he sometimes made easy work of Kyle Busch and Kevin Harvick and Joey Logano.
At one point late, he got into a fender-banging duel with the driver who until just the other day had been NASCAR's prodigy of prodigies, bright hope of bright hopes, Kyle Larson. They slammed and banged and got each other sideways, but Elliott, cool as his father ever was, let Larson go and waited for another time. Larson continued to get near or into trouble with others. Elliott just sailed on.
Only three weeks ago, when Larson won spectacularly over Harvick, Busch, et al. in California, he shot to the fore of the future of NASCAR.
Already Larson has been passed, now that Elliott has scored a dramatic first career Nationwide win at Texas a week ago, and a vastly more dramatic second straight here.
And here's the kicker: Elliott had never driven a lap here before Thursday -- didn't even remember the last time he'd been here, as a little boy, with his father.
Just last week I'd sat with him over in Dawsonville, working on a feature story that will run next week, and asked how he might prepare for this place. Maybe watch some video of Kyle Busch running here, he said, because Rowdy of all people seemed to have this place figured out best.
It was Rowdy he was running down when the final caution came out Friday night. It was Rowdy he passed easily on the way to the white flag, after Chase's crew had given him a lousy pit stop that got him out sixth.
As Chase exited the pits, his crew chief, Greg Ives, grasped his head with both hands in dismay at how they'd let the youth down.
Oh, well. Nobody could come here the first time and master this place. Surely, now, nobody could drive right through the pack after a terrible pit stop to win, let alone make it look effortless.
Nobody. Until Chase Elliott.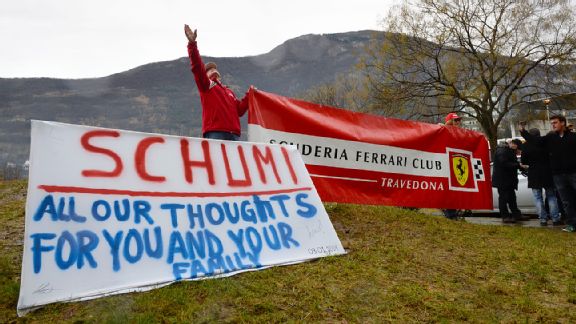 Philippe Desmazes/AFP/Getty ImagesMichael Schumacher fans wish him well soon after the skiing accident that put him in a coma Dec. 29.
I stand reminded once again that there is a fate worse than death. I have seen people suffer it too often. The memory is a gloom unlike any other.
John F. Burns, London bureau chief of The New York Times, has in my mind produced the most profound body of work on the tragedy of Michael Schumacher.
This week, Burns went to Grenoble, France, where Schumacher has lain in coma since his injury in a skiing accident Dec. 29.
The indication was that Burns was the only journalist, or one of a handful at most, still there.
"The hubbub of jostling reporters and television crews," he wrote, "is a memory now …"
This in an Alpine city that was mobbed by media for weeks after the winningest driver in Formula One history -- 91 Grand Prix wins and seven world championships -- was brought there.
The theme I gleaned from the Times story is that Schumacher is slipping from the mind of the world, slipping toward the ranks of the forgotten comatose.
I've been there. Not to Grenoble, but there.
I went to Madison, Fla., while an obscure driver named Don Williams was setting the terrible record for living in coma after a NASCAR crash -- 10 years and three months. I went to his funeral in 1989.
I went to San Antonio while another NASCAR driver, Rick Baldwin, surpassed Williams' awful milestone, surviving in coma for two days short of 11 years, until 1997. I saw his two daughters grow up, from little girls into lovely women, during the time their father was "going for the Guinness Book of World Records for taking a nap -- for sleeping," as one of them put it, bravely but tearfully, to her friends at school.
Another NASCAR driver, Bruce Jacobi, lay in coma for nearly four years after a crash at Daytona in 1983. Butch Lindley, champion of NASCAR's National Sportsman Series, now the Nationwide Series, in 1977-78, lived comatose for five years after a crash in a non-NASCAR race in 1985.
Pattie Petty, Richard's daughter-in-law, accepts comatose kids at her and husband Kyle's Victory Junction camp in North Carolina. Seeing them, Pattie once told me, reminds her to be thankful that their son, Adam Petty, killed at New Hampshire Motor Speedway in 2000, was taken from them immediately rather than lingering in what neurosurgeons call persistent vegetative state for months or years or decades.
[+] Enlarge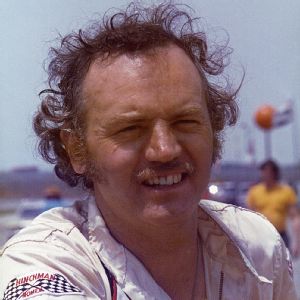 ISC Images & Archives/Getty ImagesBruce Jacobi, who raced in NASCAR, USAC Sprint Cars and Indy car, lay in a coma for nearly four years after suffering extensive injuries in one of the qualifying races for the 1983 Daytona 500.
If not for Victory Junction, these kids would be forgotten by all but their mothers -- some fathers, unable to deal with the burden, just up and walk out on the families.
Another friend, Dr. Jerry Punch, the ESPN reporter, once told me of the terrible conflict of intellect and emotions all good trauma docs face often.
To paraphrase Jerry, when a patient is brought in, critical from a highway accident or other trauma, every bit of a doctor's training compels him to save this person whatever it takes -- this, even though you know that, if the person survives, he or she will be comatose, an awful burden on a family, perhaps for years.
But you save the person. Period.
"There's just too much we can do to keep you alive once you get in here," the neurosurgeon who initially treated Don Williams at Halifax Medical Center in Daytona Beach once told me.
Doctors at University Hospital Center in Grenoble could do vastly -- perhaps exponentially -- more for Schumacher than the docs at Halifax could do for Williams in 1979. Schumacher was put into a medically induced coma, a technique I first learned of in 1994 when Karl Wendlinger, a former teammate of Schumacher's on the Mercedes Junior team when they were rising through the ranks, was placed in an artificial coma after a crash in Monaco.
When the heavy sedation was removed, Wendlinger woke up. Schumacher hasn't, as far as we know, with his family and manager remaining silent about his condition and asking to be let alone. Burns quotes one neuroscientist as saying "it's too early to say somebody is in a persistent vegetative state."
Burns' movement around Grenoble was respectful and unobtrusive, and his phrasing was delicate, sensitive -- "what is known seems increasingly dispiriting …"
The irony of Schumacher's injury is not lost on anyone who knew him, or even of him -- those countless risks taken in racing cars, only to be felled while on vacation in a skiing accident, apparently at moderate speed.
So what I write here is not an indictment of motor racing. It is a lament over one of the worst words in the English language, and the worst and longest nightmare in all the human condition: coma.
February, 20, 2014
02/20/14
5:41
PM ET
DAYTONA BEACH, Fla. -- We're still concerned about Tony Stewart's mending leg, but clearly his mouth is back to 100 percent -- running wide open, set up real loose, so that the rear end is hanging out.
So Smoke wants to set up a match race between Richard Petty and Danica Patrick, does he? And let me get this straight: Should Danica win, "If I were her, I'd take [the checkered flag] over there and cram it up his [you know].
"But that's just me."
Petty is 76 years old, Stewart is 42 and Danica is 31. I have no idea how such a match race, preposterous at face value, would turn out. But as for the aforementioned celebratory gesture, I somehow doubt Stewart would succeed at such an endeavor. (I'm certain Danica has far too much class even to say such a thing, let alone try it.)
[+] Enlarge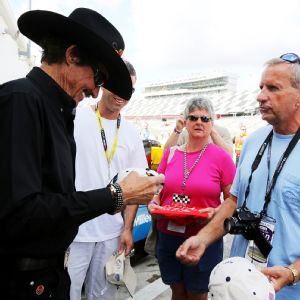 Jerry Markland/Getty ImagesTony Stewart dissed one of NASCAR's hallowed figures: seven-time Cup champion Richard Petty.
But that's beside the point, which is ...
A school of piranhas doing business as the current NASCAR media corps has already picked Richard Petty's carcass clean. They've been all atwitter -- pun absolutely intended -- since, at some trade show in Canada, he was quoted as saying Danica could win a race only if "everybody else stayed home."
Petty went too far. Think of it this way: Even when Danica finishes, say, 30th in a race, she still has outrun 13 drivers. So she would have won if only 29 drivers stayed home.
When she finished eighth in the Daytona 500 last year, she outran 35 drivers, and might have won had only seven drivers stayed home. Hell, she might have won had none of them stayed home, if, while running third going into the last lap, she'd caught the breaks of the aerodynamic pushes and pulls of the draft.
Petty exaggerated. I can't count the number of times I've heard NASCAR drivers, including Stewart -- especially Stewart -- exaggerate things. E.g., his "We're going to kill each other" several years back after he won a preliminary race during Speedweeks and didn't like the way the bump drafting was going.
Stewart paid a price in the media frenzy then, and Petty has paid it lately.
Not even piranhas feed on bones once the carcass is picked. But here comes Stewart to chum the water, and the mania continues, on into the outer reaches of the absurd.
Stewart's mouth has a history of twisting the knife once it's in. He had to get personally professional, or professionally personal, disparaging Petty's career when, yes, at times, it was claimed the King had superior cars.
But don't tell David Pearson or Cale Yarborough or Bobby Allison that. They all beat him, and when he beat them, he had to work at it.
Speaking of feeding, Stewart has fed -- and well -- off a sport Richard Petty made. There are legions of fans because, at the roots of NASCAR popularity, Richard Petty would sit for hours after races, signing autographs and talking with the people.
I was there while Petty was building the foundations of this stuff. He never brushed off the media, young or old, from ABC Sports to small newspapers. He took a lot of time with us. He gave elaborate, respectful answers to our often asinine questions.
Stewart is a very popular driver. But he didn't build this sport. He truly is standing on the shoulders of titans.
One of them, the tallest of them all, is Richard Petty.
I understand fully that Stewart meant to defend his employee, his driver, and by extension, her sponsor.
But one stab would have been enough. To twist the knife, and twist, and twist, was beyond disrespectful to a man highly responsible for where Stewart and his team are today.
Petty went too far. Stewart went far beyond too far.
August, 9, 2009
08/09/09
5:44
PM ET
WATKINS GLEN, N.Y. -- Another summer Sunday in the Northeast, another rainout for NASCAR. Last week Pocono, this time Watkins Glen. Again, the Cup cars didn't turn a wheel on the scheduled day.
Persistent drizzle on the Finger Lakes district of New York forced postponement of the Heluva Good! Sour Cream Dips at the Glen road race until noon Monday.
This time, officials got to within 10 seconds of the command to start engines before lightning forced fans and teams to take shelter, and then the rain started.
At 4:04 p.m., NASCAR officials determined they couldn't get the track dry in time to run the full 90-lap, 220-mile race in adequate daylight. The road course is not lighted for night racing.
In a rapidly emptying garage, the only person with a smile on his face was Darian Grubb, Tony Stewart's crew chief.
Not that Grubb wasn't annoyed at the rainout, and not that the second in a row made it any worse.
"Every week's a new week," he said. "It's always annoying."
But on the brighter side, "It's going to be an interesting race tomorrow," Grubb said. "It's going to be hotter, and slick. It'll be fun to go."
Stewart will start 13th, but is a master of slippery tracks in general and road courses in particular, so, Grubb predicted, "It could play right into our hands."
The weather forecast for Monday isn't great, with a 40 percent chance of rain, but the predicted high is 86 degrees, after a weekend when drivers practiced and qualified on a cool track with ambient temperatures in the low 70s.
August, 8, 2009
08/08/09
2:45
PM ET
WATKINS GLEN, N.Y. -- There just might be more drivers capable of winning here Sunday than for any NASCAR road race I can remember. The era of oval-track stars giving up on turning right is fading fast.
The event is officially called the Heluva Good! Sour Cream Dips at The Glen, about as awkward a mouthful as the profitable practice of title sponsorship has made yet. But, all things considered, this could indeed be a helluva good race.
Eight drivers in the starting lineup have won NASCAR road races, either here or at Sonoma, Calif., or both: Kyle Busch, Juan Pablo Montoya, Kasey Kahne, Tony Stewart, Kevin Harvick, Robby Gordon, Mark Martin and Jeff Gordon.
The first four starters -- Jimmie Johnson, Kurt Busch, Denny Hamlin and Marcos Ambrose -- haven't won a Cup road race yet, but appear entirely capable.
[+] Enlarge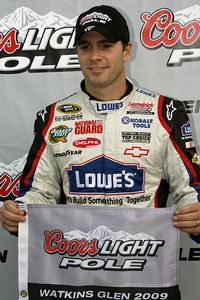 AP Photo/ Russ HamiltonJimmie Johnson won the pole for Sunday's Cup race at Watkins Glen, but a road course win still eludes the three-time defending series champ.
"In the old days it was going to be Mark Martin, Rusty Wallace and Ricky Rudd, and you could count on that," said Boris Said, now an ESPN analyst and the longtime tutor and guru of road racing techniques to the long-resistant Cup drivers. "Now, there are 15 or 20 guys who can win here, easily."
The practice of substituting "road racing ringers" for Cup drivers is dwindling. There are only three true ringers in Sunday's field: Andy Lally for David Gilliland, Patrick Carpentier for Michael Waltrip and Ron Fellows for Sterling Marlin. Three more non-Cup regulars are entered due to road-racing skills, but in cars fielded especially for them: Said, P.J. Jones and Tony Ave.
The difference in the Cup regular on a road course from 10 years ago is "night and day," Said said. "I remember 10 years ago when I substituted for Jimmy Spencer ... my first time ever in a Cup car. I had to come from the back after the driver change. It seemed easy to pass these guys.
"And now -- to get into the Chase they can't afford to give up those points. So they've all worked at it. I've always said these guys are the best drivers in racing. But road racing is really just a different discipline. And a lot of these guys, like Kevin Harvick and Kasey Kahne, guys I've worked with, were terrible when they started and then after the test they're faster than I am.
"So it's like showing a duck water," Said continued. "Once you give them a few things that are different, and how to do it, they work at it."
Said Ambrose, who grew up road racing in Tasmania, Australia, and Europe before turning to NASCAR: The Cup drivers "don't do it a lot but they've had good training, they've had good experience now in the two tracks that we go to and they're forced to contend with.
"Kasey Kahne winning at Infineon [in June] surprised many," Ambrose continued, "but it didn't surprise me because you can just tell that he can drive the wheels off a race car whether it's on a road course or an oval."
Overall, "The depth is huge," Ambrose said. "The road course ringers that come in haven't had the impact like they used to five or six or seven years ago ..."
Said Martin, NASCAR's preeminent road racer of the early 1990s who has since been deluged with competition: NASCAR drivers have improved "significantly" on the serpentine circuits.
When he was winning here -- three in a row, 1993 to 1995 -- "it was much easier to put a whipping on two-thirds of the field then than it is today," Martin said. "That's because the whole field has pretty much the same access to all the knowledge that we do [he learned his expertise from his car owner of the time, road racing specialist Jack Roush] and the drivers have all really stepped up to the plate."
So have the team engineers and mechanics, with much stronger road racing specialty packages -- especially brakes, which Kahne credits a great deal for his win at Sonoma.
"The biggest key to success to this racetrack for success, other than staying on the road, is brakes," Said said. "They really pay a big dividend."
Jeff Gordon, NASCAR's all-time winningest road racer with nine wins -- four here and five at Sonoma -- dominated in the late 90s and kept winning into this century.
But, "We don't have the advantage over the competition that we had at one time," Gordon said. "Especially with this car [the COT] -- this car makes the competition so much tighter and so much closer that it's hard to get an advantage."
Watkins Glen is a much higher-speed circuit than Infineon, with more places to pass, and "I think especially the double-file restarts here are going to be pretty interesting," Montoya said. "I think they're going to be pretty wild. But you know, it's all about surviving."
With this many contenders, and double-file restarts, Heluva Good! might turn out to be an appropriate race name indeed.
LOUDON, N.H. -- Let's title this blog "An Afternoon of Life Around Tony."
You know who the leading candidate is to drive a third car for Tony Stewart if he fields one next year?
Me.
Eat your hearts out, Brad Keselowski, Martin Truex Jr. and Kasey Kahne -- the most oft-speculated drivers for the third Stewart-Haas Racing seat, should adequate sponsorship be acquired.
This is on the record. ESPN has it on audio and video.
"Hinton is our No. 1 draft pick right now in our books," Stewart said. "I mean, we've been watching him for years, and obviously, as you guys [the assembled media] heard, his depth and knowledge of the sport makes him a logical candidate."
[+] Enlarge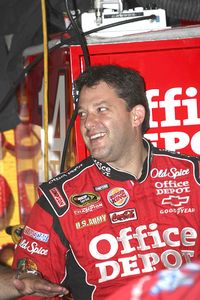 AP Photo/Bob BrodbeckCould it be possible that Tony Stewart actually is considering Ed Hinton to drive a third Stewart-Haas car in 2010? Uh ... no.
Oh, well. Guess you picked up on the sarcasm.
Last time he offered me a ride was a couple of years ago at Daytona, where he said qualifying laps are so easy that "I could put Hinton in the car, especially because he's got so many laps around this place -- in his mind."
It's all part of the running banter between us that's been going on and off for years.
But because the local New England media, not very well versed in NASCAR, seemed all aghast and giggly over Stewart's shots, I thought it wouldn't hurt to explain.
"There's no such thing as a silly question, unless you already know the answer," my freshman chemistry professor at Ole Miss, Dr. George Vaughan, used to say.
Obviously I wandered far afield from premed, and so I hadn't encountered another adamant practitioner of that philosophy until Anthony Stewart, Ph.D. in the school of hard knocks, who simply cannot abide being asked a question to which the questioner already knows the answer.
That's how it started Friday. Although I knew better, I asked Stewart a question to which I already knew the answer, and he knew I knew -- and I knew he knew I knew. More about why I had to ask anyway in a minute.
I'd noticed there'd been eight different winners of the past eight races at New Hampshire Motor Speedway. That's unusual for a flat, tight, 1-mile oval where it's maddening to get a chassis setup right. Looks like whoever hits on the right setup ought to get the edge and hold it for a while.
I knew why it hasn't worked out that way: the changes as the track has aged after resurfacing … the harsh winters and hot summers that change the asphalt race to race … the rains that have cut some races short and left surprise winners -- take this race last year, when Stewart dominated but the rain found Kurt Busch in front and left him the winner … the advent of the frustrating Car of Tomorrow, a chassis setup nightmare … the ongoing scramble to make the new car work, in which teams try a different setup every time they come back to a track.
Everybody comes here guessing, every time, and somebody's right and the rest are wrong.
But the public doesn't want to hear me say it. They want to hear drivers say it.
"You just said it better than I can," Carl Edwards responded to a question of mine at Daytona this past February. Edwards chuckled. "Of course you did. That's your job."
But Edwards' stepfather is a professor of journalism at the University of Missouri, so Edwards understands the rock and the hard place reporters get caught between, and does his best to answer anyway.
Not so with Professor Stewart. He deems all this a waste of time, and rightfully so, from his point of view. We've had our share of run-ins since he arrived as an Indy car rookie in 1996, but 90 percent of the time the issue has culminated with this: "Ed, you've been around long enough to know the answer as well as I do, so why do you ask me?" Or, "C'mon, Ed, you know the answer to that."
The real slam-dunk comeback, once, was, "Ed, you've been around this sport longer than I have. You know the answer better than I do."
And so it came to pass that the banter recurred on Friday when I asked Stewart about eight different winners in four years here.
Oh, another thing about Stewart: You've got to watch every word in how you phrase a question. Give him an opening, he'll pounce.
So my question ended, "Have you ever thought about why this has been such a crapshoot?"
I knew I was dead meat the moment "thought about" came out of my mouth. He dearly loves the ones that imply he would sit down and waste his time pondering the esoteric points of racing.
He gave me that Stewart look that only racing reporters know, and said, "I can honestly say I've never thought about that. Never have." He laughed.
Then he actually gave me a pretty good answer, which you can read in my other currently posted piece from Loudon -- it has a lot of quotes from a lot of drivers -- about eight winners in eight races here.
But the fun wasn't over, for then I went and did it, following up: "So it's a place you can get a handle on but not keep a handle on?"
I guess in the era of sound bites, we're all looking for the perfect sound bite. As my onetime colleague, the maestro sports columnist Dave Kindred, once said, "In this business, you ask 200 questions to get one answer."
So maybe I was fishing for a tighter answer.
"Well," Stewart said, "apparently if nobody has repeated in eight races, I would say that you kind of answered your own question, there, Ed. You could be smarter than all of us."
Just as I figured it was my turn at the top of Tony's bad list this weekend, FoxSports.com's Lee Spencer asked a question to which Stewart reckoned she knew the answer, and he said, "Go take a seat beside Hinton."
"So does Lee pass me for depth and knowledge of the sport?" I heckled.
"Uh … no," Stewart said.
Then Scenedaily.com's Bob Pockrass asked a highly technical question about rules for a backup car after Stewart had crashed his primary during opening practice. Pockrass asked if Stewart wouldn't have to go to the back of the field (which you do if you wreck a car during or after qualifying). But Stewart shot back that Pockrass ought to know that if you wreck a car before qualifying and go to a backup, but keep the same primary engine, then you can start where you qualify.
It was a minute technicality that has rarely if ever come up before, but Stewart pointed out that "It's only been in the rule book for five or six years, Bob … Hinton, pull up another chair over there beside you."
Then some local New England TV guy threw one right in Stewart's wheelhouse, asking if Stewart might ever go back to drive in the Indianapolis 500 again.
"Probably not, unfortunately," Stewart said. "We've answered that one about 8 million times too."
Then he went on to give a nice, elaborate answer as to why not. But he just had to get his shot in.
After the conference broke up, Stewart came over to me, grinning, saying, "You knew the answer to that question Bob Pockrass asked -- "
I hung my head. The rule was so minute, and had come up so rarely …
"Didn't you?"
I found a way to evade, bob and weave.
"You mean the rule about wrecking a car before you qualify," I said.
"Yeah," he said.
I nodded. He nodded. I was out of that one.
"So," I said, "Did Pockrass pass me at the checkered flag for depth and knowledge of the sport?"
"No," Stewart said. "We look at the big picture, long term."
"Lifetime achievement," cracked his chief publicist, Mike Arning.
Just an afternoon of life around Tony.