Category archive:

Dale Earnhardt Jr.
July, 5, 2013
07/05/13
9:18
PM ET
DAYTONA BEACH, Fla. -- Will Jimmie Johnson do what hasn't been done in 31 years? Or might Danica Patrick do what's never been done?
Probably not.
But those are the two hottest questions going into Saturday night's Coke Zero 400.
Call them too pop-culture in nature, with two mainstream names, not inside enough for hard-core NASCAR fans, if you will. But, hey: This is a pop-culture race, always has been, run in a hurry before an audience comprised more of beachgoers than serious fans.
This is the direct descendent of the Firecracker 400, which many still deem the best name ever for a NASCAR race, before the advent of commercial names.
[+] Enlarge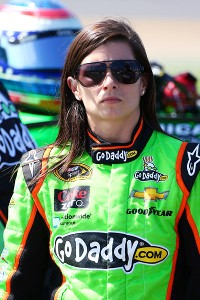 Todd Warshaw/Getty ImagesDanica Patrick was impressive at Daytona in February. Will she be even better on Saturday?
What Johnson could do is become the first driver to sweep both races at Daytona International Speedway in a single season since Bobby Allison did it in 1982.
Patrick, as with every week she fires her engine, can become the first woman to win a major NASCAR race -- but it's much more interesting this weekend than it has been at, say, Michigan or Charlotte this year.
She started on the pole for the Daytona 500 in February, ran in the lead pack throughout the race, was third going into the final lap and wound up eighth because she didn't yet know how to swim with the sharks in a restrictor-plate-racing shuffle at the end.
So this could be her best shot to win since the season opener.
Johnson was quick but subtle to point out the differences in his own task from what Allison accomplished.
"Have plates been on for 31 years too?" JJ deadpanned. Allison's feat came five years before restrictor plates were instituted. In '82 a driver could race and win on his and his car's own merits. Now, of course, a driver is largely along for the wild ride in the shuffling and scrambling of plate racing, depending on others for aerodynamic pushes and pulls.
And this may be the same track Johnson won the Daytona 500 on this year, but conditions are different -- somehow even more intense for the summer race than for NASCAR's showcase event in February.
"When you come back for this event the track has so much less grip, much hotter conditions, and there is just more urgency to lead … just more energy and more opportunities to make mistakes in the July race than in the February race … .
"Also, everybody is just charged up for a night race, Fourth of July weekend and all those things."
Different, yes, but, "I feel like it's not going to be worlds of difference," Patrick said in response to questions as to whether she can deliver a drive as electrifying as hers in February.
"Yeah, I can do the same thing," she said. "I don't get worse as the year goes on."
Her friend and TV commercial colleague, Dale Earnhardt Jr., got a point blank question: Can Danica actually win this race?
"Yes. Of course. Absolutely," he said.
Patrick figures the biggest reason she dropped back from third to eighth in the last-lap shuffle in February was that she failed to take advantage of an opportunity to work with Earnhardt in the waning moments.
Should the two find themselves in position to draft together again Saturday night, does Patrick now have enough experience that Earnhardt could help her win? Or, conversely, enough experience that she could help Earnhardt win?
"The answer is yes for both," Earnhardt said. "With plate racing you just don't know. Mark Martin was pushing me in the [February] race and he has as much experience as anybody, and we didn't get the job done, as good as I think we are at it …
"You just sort of go by your gut in those last moments," Earnhardt continued. "It just comes down to anyone, her or I or anybody, making that gut decision at that moment …
"You don't fall back on years of experience," Earnhardt said. "It comes down to, really, like dodging a bullet as you move left or right and hope you make the right decision."
Where the Daytona 500 is NASCAR's showcase race, the 400 is a sprint with enormous sense of urgency, flying by the gut, dodging bullets.
"Firecracker 400" still says it best about this race.
May, 4, 2013
05/04/13
3:32
PM ET
TALLADEGA, Ala. -- Sunday's -- or Monday's, or Tuesday's, depending on the weather -- Aaron's 499 may not be a replay of the single-file promenade that kept you dozing and grumbling through the Gen-6 car's debut at Daytona in February.
"It looks like it's going to be a pretty crazy race," pole sitter Carl Edwards said Saturday.
Hold on, you say. Edwards, maybe the hardest-luck restrictor-plate racer of his time -- destroying five cars at Daytona alone this year -- is on the pole at Talladega?
How he got to the top starting spot is interesting enough in itself. Same goes for Martin Truex Jr., who will start second, and Marcos Ambrose, third.
Qualifying was rained out Saturday, and the forecasts call for a 60 percent chance of rain Sunday and 50 percent Monday.
[+] Enlarge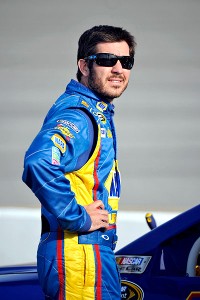 Rainier Ehrhardt/Getty ImagesMartin Truex Jr. says he thinks two racing lines may form at Talladega, unlike earlier this year at Daytona.
Whenever the Gen-6's second plate-race outing happens, the starting order will be determined by speeds in Friday's practice. Because the whole garage area knew the lousy weather was coming, they treated that first practice as "a heat race," Edwards said.
He, Truex and Ambrose managed the quickest runs -- and "runs" is the key word. Runs on one another. That's what may make the difference from Daytona, where drivers just couldn't put together the classic plate-racing scrambles.
"We expected it to be similar to Daytona, but it actually feels quite a bit different, which is interesting," Truex said. "We really don't know what to expect for tomorrow yet. The practicing is never like it is in the race."
There's always a chance drivers will choose to do a ride-around similar to what happened at Daytona -- and which they've chosen to do here in the past, when the rules packages had them baffled.
But in practice this time, "The cars seemed to suck up [to each other in the draft] and get runs a whole lot better," Truex said, "even when we were toward the front of the pack.
"We saw a lot of single-file racing at Daytona," he continued, "but I don't expect the race here tomorrow to be quite that way. It seemed like guys were able to get a lot of runs and make a lot of stuff happen in practice."
"There were definitely more runs than what there was at Daytona, as far as getting more speed to make things happen out there," Ambrose said. "I felt racier than I expected."
How did those three end up quickest?
"It was all about getting in position to get a big run and run a whole lap without having to check up or drag the brake or slow the car down," Truex said. "A lot of guys didn't try to get the big lap. They were just trying to work on their cars for tomorrow."
All in all, "It was like a heat race out there," Edwards said. "We were four wide in practice once -- at least that's what my spotter told me.
"The cars seemed to do a really good job of pulling up and actually passing other cars."
"Actually" passing was what the cars had a hard time doing at Daytona. One could pull alongside another but would seem to stall out in a baffling side-wash of air.
Not enough has changed about the Gen-6 car since Daytona to make a difference -- at least nobody has been caught with any gray-area tweaking of aerodynamics this weekend.
So it has to be the track. Talladega is 2.66 miles to Daytona's 2.5, higher-banked and wider.
"There will be the opportunity to have some bigger packs just because of the style of racetrack and there is more room to maneuver," said Kevin Harvick, who had the dominant car of Daytona Speedweeks, winning both the Sprint Unlimited and his qualifying race before getting wrecked out early in the 500. "What effect, and how big that effect is on this style of racing, is obviously yet to be determined."
"The only thing that is different is this is a wider racetrack," Jeff Gordon said. "You don't have to worry about handling here, where handling was a little bit of an issue at Daytona."
At Daytona, driver skittishness about forming an inside line, at the risk of being shuffled back by the clearly faster outside lane, was the root issue of what amounted to -- hrrmph -- less than a fan-pleaser.
"It certainly could happen," Gordon said of forming an inside line, "and it could have happened at Daytona. It just didn't seem like enough guys really wanted to get organized to do it. They were pretty committed to stay in that outside lane."
Dale Earnhardt Jr., who arguably likes Talladega more than any other driver, noted another possible nuance that could help.
"The asphalt has aged a little bit [since the repaving in 2006], and hopefully, it is getting slicker and slicker," Earnhardt said. "Makes actually racing around each other a lot more challenging than it has been lately at the plate tracks."
October, 6, 2012
10/06/12
1:19
PM ET
TALLADEGA, Ala. -- Here at Casino de Alabama, for the least predictable and most broadly decisive race of the season, Dale Earnhardt Jr. is taking a deep breath, placing both hands around all his chips and pushing them forward.
For him, in the Chase, this is it.
That's how he's treating it.
"We can't be conservative at all," Earnhardt said of Sunday's Good Sam Roadside Assistance 500 (2 p.m. ET, ESPN). "We've really got to take a lot of risks."
Going into the fourth of 10 playoff races, Earnhardt is seventh in the standings, 39 points behind leader Brad Keselowski, 34 behind second-place Jimmie Johnson and 23 behind third-place Denny Hamlin.
That's not where Junior Nation, or its leader, hoped he would be at this point. This, they figured, was his best shot at a championship since the inaugural Chase of 2004.
That's the year he last won at Talladega Superspeedway. Now he'll go with the all-out style that dominated here earlier this decade, when he won five of seven races, including four in a row.
[+] Enlarge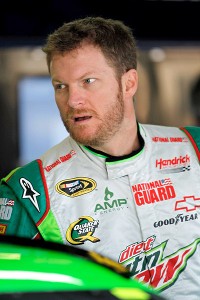 Todd Warshaw/Getty Images for NASCARDale Earnhardt Jr. has only one top-10 finish through the first three Chase races -- an eighth at Chicagoland.
"As good as everybody is running, like Brad and Jimmie and the No. 11 [Hamlin], we really have to get pretty aggressive, and that should play right into this racetrack's hand," Earnhardt said. "It's a place that really kind of asks for that, and you've got to really take some risks and be pretty daring out there to make some things happen."
And if the daring backfires?
"We're in a position where it really doesn't matter," he said.
Either "the big one" happens to him or it doesn't.
"Sometimes it happens with the usual suspects, and sometimes it's a surprise of even who would be involved in it," Earnhardt said.
"I've been on the receiving end of some wrecks here, and I've started a few myself."
Much as the chaos of this place is ballyhooed going into every race here -- especially the fall race, when the Chase can be scrambled seriously -- it's sometimes hard to keep the following truth in mind.
"Somebody's going to win this race," Earnhardt said, "and I want to be that guy."
Keselowski, Earnhardt's friend and former employee at JR Motorsports, and his Penske Racing team have the most to lose in a scramble of the standings.
But, typically breezy, "I'm going to look at it positively and think that if I do everything right that there's a chance I could leave here and have a really big points lead," said Keselowski, who won the race here in May.
Sunday night, after the finish of the only restrictor-plate race in the playoffs, the Chase promises to offer a clearer picture.
"You really kind of find out what your chances are going to be for the championship once you leave here," Hamlin said. But he can't see his chances being completely wiped out here, either.
"No matter what the result for us, I think we're still going to be in it," Hamlin said, because "we're not back more than a race [in points] already."
Jeff Gordon, who barely made the Chase at Richmond and fell back badly in the playoff opener, sits in 10th place and, like teammate Earnhardt, has nothing to lose.
"I'm excited," Gordon said. "That's the first time I can say that in a long time coming into a Talladega race because, for us, it's not about racing for points, it's about racing for a win and being aggressive."
Most drivers say they don't make a decision until the race starts whether to lag behind and try to avoid the wrecks that way or run up front and try to keep the wrecking behind them.
"There's not really a right or wrong in this situation," Earnhardt said. "But for me, I feel more comfortable just being aggressive all day."
February, 10, 2011
02/10/11
11:16
AM ET
DAYTONA BEACH, Fla. -- Welcome to a cluster function -- to a day that would be hell if it really mattered.
Six a.m. on the beach, still dark, drizzling, well into the second cup of coffee, and on the local cable news channel the sports anchor chirps:
"Daytona Media Day today. We're all over it!"
Everybody's all over it, all over the drivers, all over each other.
This'll be a cluster function, all right. As usual.
Out the door, down the elevator, into the rental car, across the Port Orange Bridge as the rain intensifies, up Clyde Morris Blvd., out to International Speedway Blvd., all in the predawn gloom.
The cluster function starts officially at 8 a.m. but you'd better be there an hour early if you want space in the working area. Once set up in the big tent, you deal with some pretty rough coffee and wait … and get glad-handed by the steady stream of publicists.
First you congratulate the NASCAR people on their slick scheduling move. They've made Jimmie Johnson the first up, at 8 a.m. That'll draw the brunt of the media in early. And that should get all the Truck series drivers booked around Johnson some interviews they wouldn't otherwise have gotten.
In years past, media types didn't have a very good record at showing up early for Truck and Nationwide drivers. Johnson forces everybody's hand.
The NASCAR people chuckle and nod, never denying they planned it this way, with Johnson as the drawing card.
But Johnson spoils my angle right on the dot at 8 a.m. when I ask him how it feels to be dragged out early as media bait.
"I picked the time slot," says JJ, morning person.
"I've always been that way. My dad, working construction, was always up early and out the door. I'd get up and have some breakfast with him before I got ready for school.
"So it's just kind of been my wiring since childhood."
Good thing they've got one star who's a morning person. Dale Earnhardt Jr. won't be in until 12:30 p.m. -- and that's early for him.
[+] Enlarge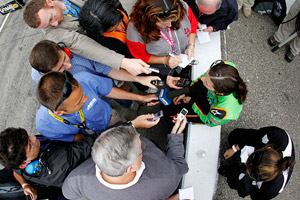 HHP ImagesDanica Patrick is never short of media attention.
Nine a.m. and here I sit in the work area, just off the main stage of Speed Channel's ongoing live talk show, squinting into the lights, listening to my digital recorder.
You should hear what I have to hear. Here's Johnson, the softest-spoken driver in NASCAR, barely discernible at best, and somebody's had the great judgment to put his interview booth right next to a roaring blower for the big tent's ventilation system.
On top of that, just as I think I've extracted a mumbled Johnson phrase from the recording of the blower's roar, laughter explodes from the guys on the Speed set as somebody cracks a joke.
Back up the recording. Play it back. Back it up. Play it back. So it goes.
Here comes Danica Patrick into the grinder, with her PR handlers. First she's up on the Speed stage for live talk with the panel. Then she'll go to Fox and then ESPN for preseason interviews, then to Sirius satellite radio, then before wide firing lines of local TV crews, then to print media.
That's pretty much the cycle for all drivers today. We call it "the car wash."
Danica arrives at her print interview booth 10 minutes late, and a crowd has long stood gathered round, surrounding her, four reporters deep.
"I thought Jimmie Johnson was over here," she cracks as she sits down.
For all drivers and all reporters, in all booths, before all cameras, the task is the same.
Everybody is trying to think of a question the drivers haven't already been asked during preseason testing and/or the media tour in January.
And the drivers are trying to figure out how to phrase the same answers differently.
And everybody is failing.
This is a cluster function, all right.
July, 3, 2010
07/03/10
1:20
AM ET
DAYTONA BEACH, Fla. -- Maybe now he can shed the demons, shake the ghost, clear his head, shrug the monkey, get on with his life, recover his career -- now that
he has done something
the old man never did: drive a blue-and-yellow, Wrangler-sponsored car into Victory Lane in a points race at Daytona International Speedway.
Dale Earnhardt Jr. had to do just this one thing, just this once.
True, it happened in a Nationwide race, NASCAR's version of Triple-A baseball -- but, hey, don't major league teams send pitchers down to the minors for little stints to recover some confidence?
Earnhardt handled it with dignity and confidence, without so much as a crack in his voice, as he told how anything but winning would have been total failure: "If you didn't win, what a waste of time," he told ESPN reporters in Victory Lane.
[+] Enlarge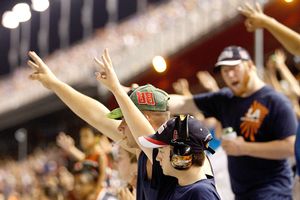 Chris Graythen/Getty ImagesFans of Dale Earnhardt Jr. -- and the late Dale Earnhardt Sr. -- hold up three fingers in support of the No. 3 Wrangler Chevrolet during Friday night's Subway Jalapeno 250 at Daytona.
I had honestly thought he was wasting his time, thought it was yet another commercial promotion -- can you blame me, with all the profitable folderol that goes on in NASCAR? And so, honestly, I watched the Subway Jalapeno 250, a prelim to Saturday night's Coke Zero 400, from my hotel room.
Turns out it wasn't all crass promotion, as is so common in NASCAR. "We just carved some money out of the personal services contract," Earnhardt said of the deal he has with Wrangler to do TV commercials.
It was something he wanted to do, had to do, and surely the ghost was whispering to him as he drove through the fourth turn, past where his father was killed in 2001, on the final lap in a car numbered 3 for both of them. Surely the ghost whispered the old Earnhardt mantra, "Second place is just the first loser."
The ghost and the legend began here in a black car. The last year Dale Sr. drove a Wrangler car, blue and yellow, Junior was 13 and in military school, sent there largely on the decision of the stepmother who has troubled him since he was 6 -- his father's third wife, Teresa Earnhardt.
Junior was something of a runt in 1987, and once on the parade grounds at Oak Ridge Military Academy in North Carolina, I saw him break formation on a Friday afternoon and run and hug his father as hard as a kid can hug a father, and Dale Sr. stood there with his arms hung down beside him, seeming not to know, really, how to respond.
It was gut wrenching.
That's the way it always was with them, Junior seeking his father's esteem with all his heart, eventually hurtling uncertainly around racetracks chasing love.
Leaving Oak Ridge that same day, I remember that Dale Jr.'s older sister, Kelley, was unhappy all the way home in the station wagon, no matter how Teresa schmoozed her.
That's the way it was, all the way until 2007, when Dale Jr. and Kelley broke away from Teresa, and signed with the genial and fatherly Rick Hendrick for the 2008 season.
The rest, of course, has been historic disappointment. Junior had won but one points race for his de facto surrogate father, at Michigan in 2008.
But this time, "Everybody pitched in," Junior said Friday night. God, I hate that term, "Junior," and I think he has lived through enough to be called simply "Dale" now, and that's how I always address him: Dale. He has earned that.
Anyway, this "promotion," as The Associated Press called it -- but I don't have the heart to call it that anymore -- was a cooperative effort among Hendrick Motorsports (engines), Senior's longtime car owner Richard Childress (rights to the number), Dale Jr. and Kelley's JR Motorsports, and Teresa.
Dale -- the living one -- also had the benefit of his Cup pit crew from Hendrick.
This was Dale's first win in a NASCAR points race of any kind since Michigan '08, and his detractors -- and they are many -- had spat on his name, that name that is such a burden to bear, as if he were worse than a has-been, as if he were a never-was, even though he has 18 Cup wins.
Others pitched in, too: Kevin Harvick, the one chosen to sit in Senior's seat in the spring of '01, didn't get a very good restart on the final green-white-checkered. Joey Logano pushed Earnhardt way out front on that final restart and then wasn't able to mount much of a challenge those last two laps of overtime.
It was billed as a tribute to Dale Earnhardt. It turned out to be a tribute to the guts, the perseverance, the psyche, of Dale Earnhardt Jr.
He might never win seven championships, and he's a long way from NASCAR's Hall of Fame.
But Friday night, he drove a blue-and-yellow car into Victory Lane at Daytona.
"This is it," said the only living Dale Earnhardt. "No more 3 for me."