Category archive:

Jimmie Johnson
July, 5, 2013
07/05/13
9:18
PM ET
DAYTONA BEACH, Fla. -- Will Jimmie Johnson do what hasn't been done in 31 years? Or might Danica Patrick do what's never been done?
Probably not.
But those are the two hottest questions going into Saturday night's Coke Zero 400.
Call them too pop-culture in nature, with two mainstream names, not inside enough for hard-core NASCAR fans, if you will. But, hey: This is a pop-culture race, always has been, run in a hurry before an audience comprised more of beachgoers than serious fans.
This is the direct descendent of the Firecracker 400, which many still deem the best name ever for a NASCAR race, before the advent of commercial names.
[+] Enlarge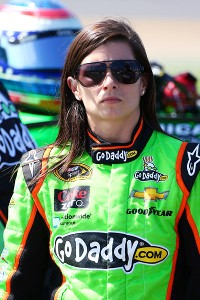 Todd Warshaw/Getty ImagesDanica Patrick was impressive at Daytona in February. Will she be even better on Saturday?
What Johnson could do is become the first driver to sweep both races at Daytona International Speedway in a single season since Bobby Allison did it in 1982.
Patrick, as with every week she fires her engine, can become the first woman to win a major NASCAR race -- but it's much more interesting this weekend than it has been at, say, Michigan or Charlotte this year.
She started on the pole for the Daytona 500 in February, ran in the lead pack throughout the race, was third going into the final lap and wound up eighth because she didn't yet know how to swim with the sharks in a restrictor-plate-racing shuffle at the end.
So this could be her best shot to win since the season opener.
Johnson was quick but subtle to point out the differences in his own task from what Allison accomplished.
"Have plates been on for 31 years too?" JJ deadpanned. Allison's feat came five years before restrictor plates were instituted. In '82 a driver could race and win on his and his car's own merits. Now, of course, a driver is largely along for the wild ride in the shuffling and scrambling of plate racing, depending on others for aerodynamic pushes and pulls.
And this may be the same track Johnson won the Daytona 500 on this year, but conditions are different -- somehow even more intense for the summer race than for NASCAR's showcase event in February.
"When you come back for this event the track has so much less grip, much hotter conditions, and there is just more urgency to lead … just more energy and more opportunities to make mistakes in the July race than in the February race … .
"Also, everybody is just charged up for a night race, Fourth of July weekend and all those things."
Different, yes, but, "I feel like it's not going to be worlds of difference," Patrick said in response to questions as to whether she can deliver a drive as electrifying as hers in February.
"Yeah, I can do the same thing," she said. "I don't get worse as the year goes on."
Her friend and TV commercial colleague, Dale Earnhardt Jr., got a point blank question: Can Danica actually win this race?
"Yes. Of course. Absolutely," he said.
Patrick figures the biggest reason she dropped back from third to eighth in the last-lap shuffle in February was that she failed to take advantage of an opportunity to work with Earnhardt in the waning moments.
Should the two find themselves in position to draft together again Saturday night, does Patrick now have enough experience that Earnhardt could help her win? Or, conversely, enough experience that she could help Earnhardt win?
"The answer is yes for both," Earnhardt said. "With plate racing you just don't know. Mark Martin was pushing me in the [February] race and he has as much experience as anybody, and we didn't get the job done, as good as I think we are at it …
"You just sort of go by your gut in those last moments," Earnhardt continued. "It just comes down to anyone, her or I or anybody, making that gut decision at that moment …
"You don't fall back on years of experience," Earnhardt said. "It comes down to, really, like dodging a bullet as you move left or right and hope you make the right decision."
Where the Daytona 500 is NASCAR's showcase race, the 400 is a sprint with enormous sense of urgency, flying by the gut, dodging bullets.
"Firecracker 400" still says it best about this race.
October, 6, 2012
10/06/12
1:19
PM ET
TALLADEGA, Ala. -- Here at Casino de Alabama, for the least predictable and most broadly decisive race of the season, Dale Earnhardt Jr. is taking a deep breath, placing both hands around all his chips and pushing them forward.
For him, in the Chase, this is it.
That's how he's treating it.
"We can't be conservative at all," Earnhardt said of Sunday's Good Sam Roadside Assistance 500 (2 p.m. ET, ESPN). "We've really got to take a lot of risks."
Going into the fourth of 10 playoff races, Earnhardt is seventh in the standings, 39 points behind leader Brad Keselowski, 34 behind second-place Jimmie Johnson and 23 behind third-place Denny Hamlin.
That's not where Junior Nation, or its leader, hoped he would be at this point. This, they figured, was his best shot at a championship since the inaugural Chase of 2004.
That's the year he last won at Talladega Superspeedway. Now he'll go with the all-out style that dominated here earlier this decade, when he won five of seven races, including four in a row.
[+] Enlarge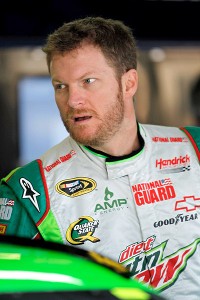 Todd Warshaw/Getty Images for NASCARDale Earnhardt Jr. has only one top-10 finish through the first three Chase races -- an eighth at Chicagoland.
"As good as everybody is running, like Brad and Jimmie and the No. 11 [Hamlin], we really have to get pretty aggressive, and that should play right into this racetrack's hand," Earnhardt said. "It's a place that really kind of asks for that, and you've got to really take some risks and be pretty daring out there to make some things happen."
And if the daring backfires?
"We're in a position where it really doesn't matter," he said.
Either "the big one" happens to him or it doesn't.
"Sometimes it happens with the usual suspects, and sometimes it's a surprise of even who would be involved in it," Earnhardt said.
"I've been on the receiving end of some wrecks here, and I've started a few myself."
Much as the chaos of this place is ballyhooed going into every race here -- especially the fall race, when the Chase can be scrambled seriously -- it's sometimes hard to keep the following truth in mind.
"Somebody's going to win this race," Earnhardt said, "and I want to be that guy."
Keselowski, Earnhardt's friend and former employee at JR Motorsports, and his Penske Racing team have the most to lose in a scramble of the standings.
But, typically breezy, "I'm going to look at it positively and think that if I do everything right that there's a chance I could leave here and have a really big points lead," said Keselowski, who won the race here in May.
Sunday night, after the finish of the only restrictor-plate race in the playoffs, the Chase promises to offer a clearer picture.
"You really kind of find out what your chances are going to be for the championship once you leave here," Hamlin said. But he can't see his chances being completely wiped out here, either.
"No matter what the result for us, I think we're still going to be in it," Hamlin said, because "we're not back more than a race [in points] already."
Jeff Gordon, who barely made the Chase at Richmond and fell back badly in the playoff opener, sits in 10th place and, like teammate Earnhardt, has nothing to lose.
"I'm excited," Gordon said. "That's the first time I can say that in a long time coming into a Talladega race because, for us, it's not about racing for points, it's about racing for a win and being aggressive."
Most drivers say they don't make a decision until the race starts whether to lag behind and try to avoid the wrecks that way or run up front and try to keep the wrecking behind them.
"There's not really a right or wrong in this situation," Earnhardt said. "But for me, I feel more comfortable just being aggressive all day."
February, 10, 2011
02/10/11
11:16
AM ET
DAYTONA BEACH, Fla. -- Welcome to a cluster function -- to a day that would be hell if it really mattered.
Six a.m. on the beach, still dark, drizzling, well into the second cup of coffee, and on the local cable news channel the sports anchor chirps:
"Daytona Media Day today. We're all over it!"
Everybody's all over it, all over the drivers, all over each other.
This'll be a cluster function, all right. As usual.
Out the door, down the elevator, into the rental car, across the Port Orange Bridge as the rain intensifies, up Clyde Morris Blvd., out to International Speedway Blvd., all in the predawn gloom.
The cluster function starts officially at 8 a.m. but you'd better be there an hour early if you want space in the working area. Once set up in the big tent, you deal with some pretty rough coffee and wait … and get glad-handed by the steady stream of publicists.
First you congratulate the NASCAR people on their slick scheduling move. They've made Jimmie Johnson the first up, at 8 a.m. That'll draw the brunt of the media in early. And that should get all the Truck series drivers booked around Johnson some interviews they wouldn't otherwise have gotten.
In years past, media types didn't have a very good record at showing up early for Truck and Nationwide drivers. Johnson forces everybody's hand.
The NASCAR people chuckle and nod, never denying they planned it this way, with Johnson as the drawing card.
But Johnson spoils my angle right on the dot at 8 a.m. when I ask him how it feels to be dragged out early as media bait.
"I picked the time slot," says JJ, morning person.
"I've always been that way. My dad, working construction, was always up early and out the door. I'd get up and have some breakfast with him before I got ready for school.
"So it's just kind of been my wiring since childhood."
Good thing they've got one star who's a morning person. Dale Earnhardt Jr. won't be in until 12:30 p.m. -- and that's early for him.
[+] Enlarge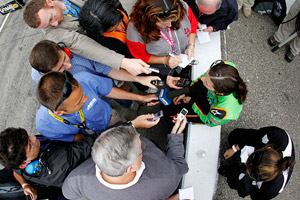 HHP ImagesDanica Patrick is never short of media attention.
Nine a.m. and here I sit in the work area, just off the main stage of Speed Channel's ongoing live talk show, squinting into the lights, listening to my digital recorder.
You should hear what I have to hear. Here's Johnson, the softest-spoken driver in NASCAR, barely discernible at best, and somebody's had the great judgment to put his interview booth right next to a roaring blower for the big tent's ventilation system.
On top of that, just as I think I've extracted a mumbled Johnson phrase from the recording of the blower's roar, laughter explodes from the guys on the Speed set as somebody cracks a joke.
Back up the recording. Play it back. Back it up. Play it back. So it goes.
Here comes Danica Patrick into the grinder, with her PR handlers. First she's up on the Speed stage for live talk with the panel. Then she'll go to Fox and then ESPN for preseason interviews, then to Sirius satellite radio, then before wide firing lines of local TV crews, then to print media.
That's pretty much the cycle for all drivers today. We call it "the car wash."
Danica arrives at her print interview booth 10 minutes late, and a crowd has long stood gathered round, surrounding her, four reporters deep.
"I thought Jimmie Johnson was over here," she cracks as she sits down.
For all drivers and all reporters, in all booths, before all cameras, the task is the same.
Everybody is trying to think of a question the drivers haven't already been asked during preseason testing and/or the media tour in January.
And the drivers are trying to figure out how to phrase the same answers differently.
And everybody is failing.
This is a cluster function, all right.
April, 26, 2010
04/26/10
6:38
PM ET
How sharper than a serpent's tooth it is to have a thankless child!
-- William Shakespeare, "King Lear"
Can you blame Jeff Gordon for being miffed at Jimmie Johnson?
Gordon discovered the guy, gave him a ride, got him a sponsor and heralded him to the NASCAR world.
He has had to eat his protégé's dust ever since and has nobly handled giving up the pinnacle as NASCAR's driver to beat. Mostly since 2002, Gordon has been a Johnson publicist, spending much of his own media-conference time reiterating just how good JJ is.
Now this.
Gordon, who had appeared to be slipping into the twilight of his career, at last is being given race cars as quick as Johnson's. Gordon has been threatening to win on an almost weekly basis lately.
After languishing for eight years as JJ's valet, Gordon wouldn't mind getting another look at the view from the pinnacle.
But JJ has been messing with his mentor enough that "he's been testing my patience and it's about reached its boiling point," Gordon said after their latest incident, Sunday at Talladega.
Gordon got a tremendous run down the backstretch, but Johnson moved down to block -- bad move, Gordon pointed out, when someone's coming that much faster.
Johnson later told The Associated Press that his intention was to link up with Gordon to draft together, and he said he misjudged the closing speed. But if it was misjudgment, it was gross and flagrant -- inconsiderate.
Gordon's momentum was broken so badly that he dropped back and was collected in a wreck seconds later.
This on top of a punch in the right-side door from JJ as they dueled during the previous race, at Texas, and strong words for each other afterward.
The Hendrick organization keeps smoothing things over with how competitive they are -- "stallions," Johnson's crew chief, Chad Knaus, calls them -- and Johnson concedes that "we're both greedy …"
But think back, to when Gordon was anything but greedy toward an unknown driver who just might never have made it without him.
[+] Enlarge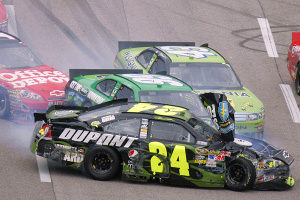 AP Photo/Mike FuentesJeff Gordon has torn up a few race cars this season, and more than once he's blamed teammate Jimmie Johnson for at least part of it.
To this day, Johnson's career highlight film might consist of one horrific Nationwide crash at Watkins Glen in 2001, in a mediocre car, had not Gordon shown up unannounced at a test at Darlington later that season.
NASCAR's then-top driver noticed how brilliantly the then-unknown driver negotiated the tough old track in a so-so car.
Johnson didn't even realize Gordon had noticed him, but Gordon went back to Rick Hendrick and told him he'd found the guy for a fourth Hendrick team. Gordon was so certain that he took a piece of the action, becoming co-owner of the new team he proposed.
As for sponsorship, Hendrick was amazed at how intensely Gordon could work as a businessman in suit and tie. After one long negotiating session with Lowe's, Hendrick noticed that when Gordon got up from the table, "the back of his dress shirt was wet with sweat."
Gordon came away with the best sponsorship deal in NASCAR, beginning in 2002.
"That was the last time I finished ahead of them in points, 2002," Gordon recalled.
As the team developed, Gordon questioned Knaus as a crew chief for Johnson but deferred to Hendrick's judgment and put in place the man who would contribute enormously to Johnson's success.
Since then, Gordon has been the accompanist to JJ's solo performances for 50 wins and, in the past four years, four straight championships.
Gordon had to work harder for his four championships, winning them the old-fashioned way, since first he beat the toughest title brawler of them all, Dale Earnhardt, in 1995.
Gordon hasn't won a championship since 2001, the year he built the best ride possible for Johnson.
Johnson's side of their recent conflict is that "there comes a point that if you don't stand up for yourself, people are going to continue to push you around, teammate or not," he said at Talladega, referring to the door-punch at Texas.
But there are teammates, and then there are benefactors who become teammates. Isn't there at least a nuance there?
Johnson had retaliated because "for the few laps leading to that contact, he kept pushing the envelope, pushing the envelope, running into the back of me, getting me sideways," he told ESPN at Texas.
But by Talladega, Johnson realized that's how Gordon contends, when he's got a winning car: "He doesn't wreck guys, but he knows how to just get in there and upset you a little bit."
That was the Jeff Gordon of yore, who would gleefully describe how he would get in behind a leader and loosen him up, then drive right by him.
That was Jeff Gordon, before he got so busy making Jimmie Johnson a star.
So now, Gordon doesn't mind if Johnson races him relentlessly. But to race him thanklessly is another matter.
November, 3, 2009
11/03/09
9:35
AM ET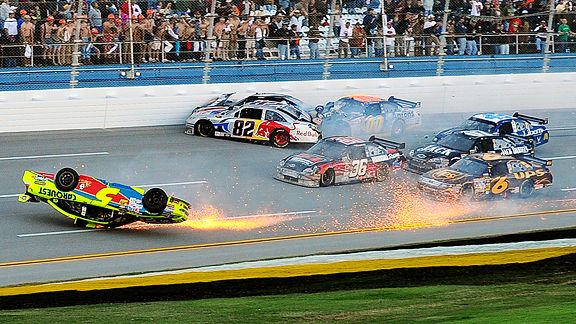 AP Photo/Dan LightonThe show didn't get interesting until late in the race, when drivers such as the flipping Mark Martin had real business to attend to.
If the boss won't talk

Don't take a walk

Sit down! Sit down!

-- Early 1900s union organizing chant
A case could be made that a de facto drivers' union is operating in NASCAR as we speak.
To wit: the sit-down strike on wheels they staged Sunday at Talladega.
Oh, they won't admit it -- they don't even think of it for what it is.
But they've shown they know how to knock NASCAR to its knees: strip the show away. No show, no NASCAR. At least not for long.
Lay the events bare, vulnerable to the chronic criticism of all nonracing enthusiasts that it's all just a matter of cars going around in circles ad nauseam except for the occasional wreck.
Make it all so blatantly clear that even the loyalists, the longtime aficionados, come to agree with the naysayers -- cars going around in circles, all right.
Forty years ago, their notoriously tougher predecessors had walked out on the inaugural race at the track that opened as a white elephant and remains so today. They call it a "boycott" now, but they struck at Talladega, showing Big Bill France he couldn't assume they were all damn fools who would run on tires sure to come apart.
Apparently there is no one left in all of NASCAR's administration who absorbed that lesson. So it is in the process of being retaught -- although not nearly as formally or forcefully as it was taught the first France generation by Richard Petty, the Allisons, Cale Yarborough, LeeRoy Yarbrough, et al.
But this group strikes a lot more smoothly. They don't vacate the factory and leave it wide open for The Man to bring in nonunion labor. They use the old 1920s tactic of sitting down right there on the job, right in the factory, occupying the premises without producing for The Man.
So when NASCAR started pushing them around, they didn't take it any more, in their way, than the raw-knuckled crowd had in 1969.
"I guess they don't think much of us anymore," Ryan Newman said, his tone dripping with black understatement after being pinned in his upside-down car.
I don't care how rich and famous this generation of drivers may be. Nobody likes to be treated and talked-to disrespectfully. Nobody.
[+] Enlarge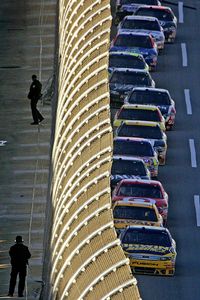 AP Photo/Dave MartinJamie McMurray leading a single-file pack of cars is not what NASCAR -- or fans -- seem to have in mind for 500-mile races.
Ordered not to bump-draft -- the only tactic they had left to make Talladega racing any semblance of a show -- they sat down on the job, buckled in, and rode around, and around, and around, and around, and around … and finally they wrecked because a few of them needed to get something done -- such as Mark Martin and Jeff Gordon struggling to gain points on Jimmie Johnson in the Chase.
Without that, there might have been no show at all. Zero.
And the fans went wild … with rage … at lack of show.
Two years ago, after a similar sit-down strike over NASCAR's mandate of the COT at Talladega for the first time, I heard from deep inside NASCAR that officials knew the drivers were riding around and around that day, and that there wasn't a damn thing NASCAR could do to stop it.
Word, I heard, had gone surreptitiously around the motor coach compound on Saturday night: ride around.
On Sunday, after the meeting with NASCAR officials that so outraged the drivers, this demonstration was much more blatant. They didn't even pretend to make a show of it. They rode around single file. It was a picket line, missing only the hand-painted signs.
No show, no NASCAR. Not for long.
Call them spoiled if you will. Call them wealthy beyond any reason to complain. But 40 years and many millions of dollars can't change the human instinct to resent being treated like damn fools.
And that very wealth is what makes them so much more powerful than their angry predecessors. If every one of these drivers quit right now, for keeps, I can count on one hand the number who would ever have to work again for a living for the rest of their lives.
They don't have to race. NASCAR does.
NASCAR had better remember that.
NASCAR had better heed the black tones of Newman, Gordon ("I'm kind of glad we ran out [of gas] when we did because we were at least able to get back out there and destroy our car") and Martin ("Nothing," he snapped at a question about what he saw before he went tumbling).
My e-mail has been running the same as every one of my colleagues', at every media outlet I know: 100 percent outrage over the debacle at Talladega on Sunday.
One stands out, because it is from a former motorsports editor of mine at another publication, now retired on the West Coast. He just might be the most sophisticated and savvy race observer I've ever known.
Here's a fraction of his take: "Newman's, Martin's and even Gordon's sarcasm were the only honest, watchable moments in the entire endless [unprintable phrase]."
NASCAR had better recognize the dictatorship is over. Finished. NASCAR had better yield, somewhere, somehow, on plate racing -- or, as Johnson boldly suggested as the only alternative, tear down the banking at Talladega and Daytona.
And NASCAR had better yield on the Car of Tomorrow, bring back springs instead of bump stops, bring back spoilers instead of wings, bring back air dams instead of splitters. Then the drivers can race, if only just a little.
Keep up the despotism, the intransigence, and no, these rich, soft -- and very shrewd -- drivers won't strike. But they can sit down, ride around, and end all semblance of a show.
October, 16, 2009
10/16/09
6:21
PM ET
CONCORD, N.C. -- This is about consensus disrespect for greatness, which is a chronic neurosis with NASCAR and its following.
Never has there been a clearer confluence of names and careers than Jimmie Johnson and David Pearson, here, this week. Johnson's four-peat onslaught continues unabated yet uncelebrated, and Pearson, the best NASCAR driver ever, was disgracefully snubbed from NASCAR's first Hall of Fame class.
Johnson is the Pearson of his time. And Pearson was the Johnson of his time.
Pearson is long, long overdue to get his due. And Johnson is decades from getting his.
If they gave Cup points for poignant philosophizing, Jeff Burton would be an eight-time champion by now. So we can turn to him for wisdom on this subject -- especially for projection of Johnson's plight in the decades to come.
"You never get your just due in the era that you're in," Burton said the other day, speaking of Johnson. "Because the people you're competing against don't want to give it to you."
Truth is, Burton continued, "Anyone who should at the very least appreciate and respect what Jimmie Johnson and that team have done, they're not open-minded enough right now. They're just not going to."
Truth is, in my experience, they may never.
I mean the whole NASCAR realm, from deep inside the garages to the grandstands and beyond.
Pearson's plight is ominous for Johnson.
So who, you ask, deems Pearson the greatest ever? The serious, the savvy, the longtime, deep-inside observers of NASCAR -- Richard Petty foremost among them.
Never have I asked Petty who was the best of all time that he didn't launch into this soliloquy, or something very similar:
"Pearson. Pearson could beat you on a short track, he could beat you on a superspeedway, he could beat you on a road course, he could beat you on a dirt track.
"It didn't hurt to lose to Pearson as much as it did to some of the others, because I knew how good he was."
Never have I asked Pearson who was best that he didn't answer thusly, absolutely no brag about it, just fact: "Me. Can you think of anybody better?"
I never could. I can't now.
But somebody is making a run at him, and could approach or equal him before it's over: Johnson.
But you can see the Johnson travesty coming, because it is in motion today.
This tells you all you need to know: Johnson has 45 wins, and three championships with the fourth imminent, in not quite eight seasons. Dale Earnhardt Jr . has 18 wins and no championships in not quite 10 seasons.
And yet the masses swoon in their riotous worship of Junior, and turn their noses up at Johnson.
So it was with Pearson, when the masses were swooning over Petty, and Pearson beat him with considerable regularity: 63 times they finished 1-2, and Pearson won the heads-up duels 33-30.
"I always told him that was because he had a better car," Petty always says with an ironic grin because everybody knew it was the opposite.
In lesser equipment, running far fewer races, Pearson won 105 races to Petty's 200.
But Pearson was thought of, in his prime, as that guy who kept spoiling the Petty legions' days at the races. He kept beating the King. He was, perennially, the Other Guy.
Johnson is the guy who keeps beating everybody's favorite -- be it Junior, Tony Stewart, Jeff Gordon, Carl Edwards, whoever -- with great regularity. He is the perennial Other Guy.
He just doesn't have the charisma to be The Guy. Neither did Pearson.
Pearson was a plain-spoken, humble man, and that added up to very little charisma. Johnson is plain-spoken, humble. In both, you have to look deep to find the quiet self-certainty in pure driving performance.
There has been such a mushroom cloud outrage over Pearson's omission from the Hall that he'll probably get in next year -- NASCAR could not stand any further smudging of its Hall as unjust from the outset.
Johnson can four-peat, five-peat, six-peat. And all that will be said of him is that such dominance is bad for the sport.
So turn your backs on Johnson, NASCAR fandom. Just as your predecessors did on Pearson decades ago.
Your predecessors missed the career of the greatest NASCAR driver ever, because they were looking the other way.
And now you're missing the career of Pearson's only challenger among active drivers.