Category archive:

Martin Truex Jr.
May, 4, 2013
05/04/13
3:32
PM ET
TALLADEGA, Ala. -- Sunday's -- or Monday's, or Tuesday's, depending on the weather -- Aaron's 499 may not be a replay of the single-file promenade that kept you dozing and grumbling through the Gen-6 car's debut at Daytona in February.
"It looks like it's going to be a pretty crazy race," pole sitter Carl Edwards said Saturday.
Hold on, you say. Edwards, maybe the hardest-luck restrictor-plate racer of his time -- destroying five cars at Daytona alone this year -- is on the pole at Talladega?
How he got to the top starting spot is interesting enough in itself. Same goes for Martin Truex Jr., who will start second, and Marcos Ambrose, third.
Qualifying was rained out Saturday, and the forecasts call for a 60 percent chance of rain Sunday and 50 percent Monday.
[+] Enlarge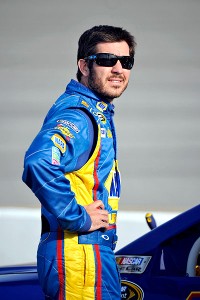 Rainier Ehrhardt/Getty ImagesMartin Truex Jr. says he thinks two racing lines may form at Talladega, unlike earlier this year at Daytona.
Whenever the Gen-6's second plate-race outing happens, the starting order will be determined by speeds in Friday's practice. Because the whole garage area knew the lousy weather was coming, they treated that first practice as "a heat race," Edwards said.
He, Truex and Ambrose managed the quickest runs -- and "runs" is the key word. Runs on one another. That's what may make the difference from Daytona, where drivers just couldn't put together the classic plate-racing scrambles.
"We expected it to be similar to Daytona, but it actually feels quite a bit different, which is interesting," Truex said. "We really don't know what to expect for tomorrow yet. The practicing is never like it is in the race."
There's always a chance drivers will choose to do a ride-around similar to what happened at Daytona -- and which they've chosen to do here in the past, when the rules packages had them baffled.
But in practice this time, "The cars seemed to suck up [to each other in the draft] and get runs a whole lot better," Truex said, "even when we were toward the front of the pack.
"We saw a lot of single-file racing at Daytona," he continued, "but I don't expect the race here tomorrow to be quite that way. It seemed like guys were able to get a lot of runs and make a lot of stuff happen in practice."
"There were definitely more runs than what there was at Daytona, as far as getting more speed to make things happen out there," Ambrose said. "I felt racier than I expected."
How did those three end up quickest?
"It was all about getting in position to get a big run and run a whole lap without having to check up or drag the brake or slow the car down," Truex said. "A lot of guys didn't try to get the big lap. They were just trying to work on their cars for tomorrow."
All in all, "It was like a heat race out there," Edwards said. "We were four wide in practice once -- at least that's what my spotter told me.
"The cars seemed to do a really good job of pulling up and actually passing other cars."
"Actually" passing was what the cars had a hard time doing at Daytona. One could pull alongside another but would seem to stall out in a baffling side-wash of air.
Not enough has changed about the Gen-6 car since Daytona to make a difference -- at least nobody has been caught with any gray-area tweaking of aerodynamics this weekend.
So it has to be the track. Talladega is 2.66 miles to Daytona's 2.5, higher-banked and wider.
"There will be the opportunity to have some bigger packs just because of the style of racetrack and there is more room to maneuver," said Kevin Harvick, who had the dominant car of Daytona Speedweeks, winning both the Sprint Unlimited and his qualifying race before getting wrecked out early in the 500. "What effect, and how big that effect is on this style of racing, is obviously yet to be determined."
"The only thing that is different is this is a wider racetrack," Jeff Gordon said. "You don't have to worry about handling here, where handling was a little bit of an issue at Daytona."
At Daytona, driver skittishness about forming an inside line, at the risk of being shuffled back by the clearly faster outside lane, was the root issue of what amounted to -- hrrmph -- less than a fan-pleaser.
"It certainly could happen," Gordon said of forming an inside line, "and it could have happened at Daytona. It just didn't seem like enough guys really wanted to get organized to do it. They were pretty committed to stay in that outside lane."
Dale Earnhardt Jr., who arguably likes Talladega more than any other driver, noted another possible nuance that could help.
"The asphalt has aged a little bit [since the repaving in 2006], and hopefully, it is getting slicker and slicker," Earnhardt said. "Makes actually racing around each other a lot more challenging than it has been lately at the plate tracks."