Category archive:

Brad Keselowski
August, 31, 2013
08/31/13
4:02
PM ET
HAMPTON, Ga. -- Even with his back to the wall, Brad Keselowski loves where he is.
Even here on the precipice of failing to make the Chase to get even a shot at defending his 2012 Cup championship, "I'm confident because I started from nothing and was able to win a championship," he said going into Sunday's AdvoCare 500 at Atlanta Motor Speedway (7:30 p.m. ET, ESPN & WatchESPN). "We were able to climb that mountain, and I'm confident we'll be able to do it again."
[+] Enlarge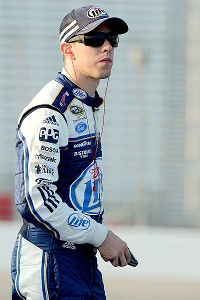 John Harrelson/Getty ImagesBrad Keselowski is excited about his chances Sunday night in Atlanta.
Note the "started from nothing." That is always on his mind, keeping him loving where he is, just with a chance in a sport that "is a bit of a roller coaster and we're at the bottom of it right now. There's no doubt about it."
Winless this season, buffeted by luck as bad as a defending champion could dread, Keselowski draws on the pure racers' bloodlines in him, the genes of a hard-knocks ARCA racing family from Michigan that was never handed anything.
He's down but not devastated in his post-championship plummet, having learned early on that "In this world, it's easy to get kicked in the gut pretty quick."
So now, 11th in points, with two races left to make the Chase, Keselowski looks at his ilk, to one of the handful of pure racers left in the sport, for inspiration.
"I spent some time over the last few weeks looking back at Tony Stewart's season in 2011 because I think there are a lot of parallels between his season that year and where I'm at right now," Keselowski said.
That was when Stewart was winless in the regular season and said publicly near the end of it that his team didn't deserve to make the Chase, wasn't worthy of taking up a spot. That turned out to be the greatest jump start in the history of NASCAR.
Stewart won five of 10 Chase races and the championship, and those five wins were a season high for any Cup driver, all season.
So Keselowski sees that a Chase can amount to a whole season -- if you can make it.
"I think if we can get through these next two weeks, we're in as strong a position as ever," he said.
"We don't have quite the confidence that we had at this time last year, and that's something I will admit," he continued. "But if we come out guns ablaze these next two races, we'll get that confidence real quick, and I think we're positioned to do that.
"Having tested here and at Richmond [next week's venue], I feel like we have great cars for that."
AMS, with its wide, worn, abrasive surface that demands slipping, sliding and even scraping the wall at high speeds, would seem to be the epitome of Keselowski's kind of track. Yet he hasn't won here in four starts.
"I love Atlanta, actually," he said. "This is one of my favorite tracks, and we've had some good runs here. I think we finished third and sixth the last two times here [he's correct]. We haven't been quite good enough to win, but we certainly had very respectable runs."
And then he turned to the old pure racers' adage: "You knock around the top five, and you'll get wins."
Top it off with more grassroots wisdom: "The key to life isn't about falling down. It's about getting back up."
The reigning champion, with all this difficulty defending, is by no means flattened or facedown on the mat.
October, 6, 2012
10/06/12
1:19
PM ET
TALLADEGA, Ala. -- Here at Casino de Alabama, for the least predictable and most broadly decisive race of the season, Dale Earnhardt Jr. is taking a deep breath, placing both hands around all his chips and pushing them forward.
For him, in the Chase, this is it.
That's how he's treating it.
"We can't be conservative at all," Earnhardt said of Sunday's Good Sam Roadside Assistance 500 (2 p.m. ET, ESPN). "We've really got to take a lot of risks."
Going into the fourth of 10 playoff races, Earnhardt is seventh in the standings, 39 points behind leader Brad Keselowski, 34 behind second-place Jimmie Johnson and 23 behind third-place Denny Hamlin.
That's not where Junior Nation, or its leader, hoped he would be at this point. This, they figured, was his best shot at a championship since the inaugural Chase of 2004.
That's the year he last won at Talladega Superspeedway. Now he'll go with the all-out style that dominated here earlier this decade, when he won five of seven races, including four in a row.
[+] Enlarge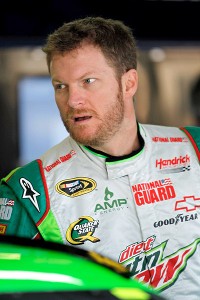 Todd Warshaw/Getty Images for NASCARDale Earnhardt Jr. has only one top-10 finish through the first three Chase races -- an eighth at Chicagoland.
"As good as everybody is running, like Brad and Jimmie and the No. 11 [Hamlin], we really have to get pretty aggressive, and that should play right into this racetrack's hand," Earnhardt said. "It's a place that really kind of asks for that, and you've got to really take some risks and be pretty daring out there to make some things happen."
And if the daring backfires?
"We're in a position where it really doesn't matter," he said.
Either "the big one" happens to him or it doesn't.
"Sometimes it happens with the usual suspects, and sometimes it's a surprise of even who would be involved in it," Earnhardt said.
"I've been on the receiving end of some wrecks here, and I've started a few myself."
Much as the chaos of this place is ballyhooed going into every race here -- especially the fall race, when the Chase can be scrambled seriously -- it's sometimes hard to keep the following truth in mind.
"Somebody's going to win this race," Earnhardt said, "and I want to be that guy."
Keselowski, Earnhardt's friend and former employee at JR Motorsports, and his Penske Racing team have the most to lose in a scramble of the standings.
But, typically breezy, "I'm going to look at it positively and think that if I do everything right that there's a chance I could leave here and have a really big points lead," said Keselowski, who won the race here in May.
Sunday night, after the finish of the only restrictor-plate race in the playoffs, the Chase promises to offer a clearer picture.
"You really kind of find out what your chances are going to be for the championship once you leave here," Hamlin said. But he can't see his chances being completely wiped out here, either.
"No matter what the result for us, I think we're still going to be in it," Hamlin said, because "we're not back more than a race [in points] already."
Jeff Gordon, who barely made the Chase at Richmond and fell back badly in the playoff opener, sits in 10th place and, like teammate Earnhardt, has nothing to lose.
"I'm excited," Gordon said. "That's the first time I can say that in a long time coming into a Talladega race because, for us, it's not about racing for points, it's about racing for a win and being aggressive."
Most drivers say they don't make a decision until the race starts whether to lag behind and try to avoid the wrecks that way or run up front and try to keep the wrecking behind them.
"There's not really a right or wrong in this situation," Earnhardt said. "But for me, I feel more comfortable just being aggressive all day."
March, 11, 2010
03/11/10
11:57
AM ET
In the matter of Carl Edwards, NASCAR got it right. Goldilocks right. Not too hot, not too cold, not too hard, not too soft. Just right.
A meaningless three-race probation is exactly what the situation called for.
What NASCAR had to do was pull off a delicate public-relations maneuver. Edwards' payback bump of Brad Keselowski needed to be acknowledged, what with the public shrieking and eeking over The Flight of the Red Car across half the TV, computer and iPhone screens in America.
It was one of those sensational NASCAR video moments that get the attention of the news networks from time to time.
But Edwards' offense, by the unwritten code as old as NASCAR itself, was a misdemeanor.
My position has been the same since Sunday when I reviewed the video of when Keselowski went upside down at Atlanta after the nudge from Edwards. What I said Monday, on ESPN2's "NASCAR Now" and to ABC News, was precisely what NASCAR president Mike Helton said Tuesday in announcing the formality of a penalty.
Edwards' payback bump of Keselowski was an Edwards issue.
The flight of Keselowski's car was and is a NASCAR issue.
They are separate.
So NASCAR is attending to its own house with regard to the suddenly arisen aerodynamic problem of cars going airborne on intermediate-size tracks, and no longer just the giant restrictor-plate tracks.
Regardless of how the car was launched, with intentional or unintentional contact, the overwhelming issue is to get the cars to stay on the ground. Likely, the return of the spoilers later this month, to replace the misbegotten wings, will resolve the matter.
As for Edwards' probation, anyone who knows NASCAR knows probation is meaningless. But the general public doesn't know -- and they're the ones who needed to be addressed, because when Brad K's car took flight, so did the story, out of control and beyond reason.
So NASCAR publicly acknowledged Edwards' offense, but punished it for what it really was -- as a misdemeanor.
There's no way Edwards, or NASCAR, for that matter, could have predicted that Keselowski's car would go airborne. So there was simply no intent to launch.
Edwards did not cross some line, as has been charged, with regard to NASCAR's licensing of drivers to settle matters among themselves. The flight of Brad K's car made Edwards' action appear to cross some line.
At initial contact, this was routine payback and, under the old code, justifiable payback. And not just because Keselowski had a hand in the wreck of Edwards and Joey Logano earlier in the Atlanta race.
Edwards' grievance was cumulative, and shared by other drivers, dating back to the last Nationwide season, and Keselowski's chronic display of lack of respect for other drivers, and his tendency to crow about it.
"The tougher you race, the more you're rewarded, it seems like," Brad K had said in Victory Lane at Memphis in October after wrecking Edwards and tangling with two other drivers, Justin Allgaier and Mike Bliss.
Wearing that Attitude (with a capital A), Brad K went on to dump Denny Hamlin at Phoenix in November, prompting Hamlin to observe that "there's a lot of guys that owe him."
Keeping his promise, Hamlin spun Keselowski at Homestead-Miami in the Nationwide finale, and that was that.
What Hamlin did to Brad K was what Edwards intended Sunday at Atlanta. Nothing more.
Edwards has caught much heat for retaliating on a high-speed track. Well, Homestead-Miami isn't exactly Martinsville, and there was nothing like this hoopla when Hamlin turned Keselowski at Homestead.
What did surprise me was that Helton denied that NASCAR took into account Keselowski's "body of work," as someone put it, in considering Edwards' penalty.
NASCAR had to see, had to know, that this young driver was as rough as they come -- rougher, maybe, than even the young Dale Earnhardt 30 years ago.
Brad K's peers thought he was getting out of hand, and NASCAR was letting him rip.
NASCAR had told the drivers they could settle things among themselves, and Edwards settled a matter largely on behalf of the garage area as a whole. And NASCAR, much to my surprise, didn't renege on its new policy, even in the face of sensational video.
Good for NASCAR.