Category archive:

Denny Hamlin
October, 6, 2012
10/06/12
1:19
PM ET
TALLADEGA, Ala. -- Here at Casino de Alabama, for the least predictable and most broadly decisive race of the season, Dale Earnhardt Jr. is taking a deep breath, placing both hands around all his chips and pushing them forward.
For him, in the Chase, this is it.
That's how he's treating it.
"We can't be conservative at all," Earnhardt said of Sunday's Good Sam Roadside Assistance 500 (2 p.m. ET, ESPN). "We've really got to take a lot of risks."
Going into the fourth of 10 playoff races, Earnhardt is seventh in the standings, 39 points behind leader Brad Keselowski, 34 behind second-place Jimmie Johnson and 23 behind third-place Denny Hamlin.
That's not where Junior Nation, or its leader, hoped he would be at this point. This, they figured, was his best shot at a championship since the inaugural Chase of 2004.
That's the year he last won at Talladega Superspeedway. Now he'll go with the all-out style that dominated here earlier this decade, when he won five of seven races, including four in a row.
[+] Enlarge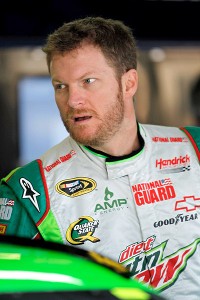 Todd Warshaw/Getty Images for NASCARDale Earnhardt Jr. has only one top-10 finish through the first three Chase races -- an eighth at Chicagoland.
"As good as everybody is running, like Brad and Jimmie and the No. 11 [Hamlin], we really have to get pretty aggressive, and that should play right into this racetrack's hand," Earnhardt said. "It's a place that really kind of asks for that, and you've got to really take some risks and be pretty daring out there to make some things happen."
And if the daring backfires?
"We're in a position where it really doesn't matter," he said.
Either "the big one" happens to him or it doesn't.
"Sometimes it happens with the usual suspects, and sometimes it's a surprise of even who would be involved in it," Earnhardt said.
"I've been on the receiving end of some wrecks here, and I've started a few myself."
Much as the chaos of this place is ballyhooed going into every race here -- especially the fall race, when the Chase can be scrambled seriously -- it's sometimes hard to keep the following truth in mind.
"Somebody's going to win this race," Earnhardt said, "and I want to be that guy."
Keselowski, Earnhardt's friend and former employee at JR Motorsports, and his Penske Racing team have the most to lose in a scramble of the standings.
But, typically breezy, "I'm going to look at it positively and think that if I do everything right that there's a chance I could leave here and have a really big points lead," said Keselowski, who won the race here in May.
Sunday night, after the finish of the only restrictor-plate race in the playoffs, the Chase promises to offer a clearer picture.
"You really kind of find out what your chances are going to be for the championship once you leave here," Hamlin said. But he can't see his chances being completely wiped out here, either.
"No matter what the result for us, I think we're still going to be in it," Hamlin said, because "we're not back more than a race [in points] already."
Jeff Gordon, who barely made the Chase at Richmond and fell back badly in the playoff opener, sits in 10th place and, like teammate Earnhardt, has nothing to lose.
"I'm excited," Gordon said. "That's the first time I can say that in a long time coming into a Talladega race because, for us, it's not about racing for points, it's about racing for a win and being aggressive."
Most drivers say they don't make a decision until the race starts whether to lag behind and try to avoid the wrecks that way or run up front and try to keep the wrecking behind them.
"There's not really a right or wrong in this situation," Earnhardt said. "But for me, I feel more comfortable just being aggressive all day."
September, 13, 2010
09/13/10
4:42
PM ET
The Four's sports bar, near the Boston Garden, was where NASCAR playoff top seed Denny Hamlin and New Hampshire Motor Speedway president Jerry Gappens chose to hang out Monday afternoon.
Though the bar's name originated with the jersey number of Boston Bruins legend Bobby Orr, Gappens now takes it to symbolize all four of Boston's pro sports franchises, whose logos The Four's displays.
He and his track want in on that action. Might they dare hope to make it The Five's someday?
"Yeah. Exactly," Gappens said by cell phone from the establishment.
NASCAR's Chase for the Sprint Cup championship opens Sunday at the Loudon, N.H., track, and although race fans across New England are enthusiastic about that, NASCAR covets more sports hearts in downtown Boston.
Hamlin, coming off his sixth Cup win, best in the series this season, at his hometown track at Richmond this past Saturday night, knew he wasn't exactly in laid-back Virginia anymore.
For sports markets, "I think it's the big three -- it's L.A., it's New York, it's Boston," Hamlin said. "It's amazing to see how almost crazy these fans are about their sports."
But, noting that "Every picture on the wall is Boston-sports related" at the place rated America's best sports bar by Sports Illustrated, Hamlin admitted that "We need to work on the NASCAR pictures, for sure."
"The challenge here that I've found in my two-and-a-half years since moving up here [from Charlotte Motor Speedway, in the NASCAR epicenter] has been just getting on the radar screen with the Boston media," Gappens said.
[+] Enlarge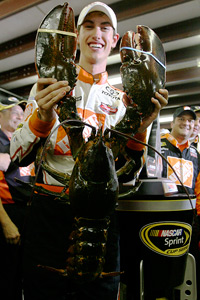 AP Photo/Jim ColeNothing says "Welcome to New England" like a big ol' lobster for the winner of races at New Hampshire Motor Speedway.
"When you're in a market with the Red Sox and the Celtics and the Patriots and the Bruins, who have all had great success in their franchise history, you've got to recognize that.
"I tell people that I don't expect New Hampshire Motor Speedway and NASCAR to become more popular than the Red Sox Nation," Gappens continued, "but my goal is that at least when they're talking about professional sports in the Greater Boston area, New Hampshire Motor Speedway and NASCAR are at least in the same paragraph if not in the same sentence."
Not that Greater Boston hasn't helped fill the grandstands since the track -- about a 90-minute drive from Fenway Park, or from The Four's, or from Logan International Airport -- began hosting Cup races in 1993.
"Twenty-two percent of our ticket sales come from Massachusetts," Gappens said. "That's the Greater Boston area. I don't think we're real strong in downtown Boston proper. But in the surrounding areas, there are pockets of communities that are very important to us. There are neighborhoods that we draw very well from."
That just might make NHMS the favorite New Hampshire day trip of Greater Bostonians, except for maybe New Hampshire's state-owned discount liquor stores.
Arguably, the New Hampshire track might never have gotten a Cup race date, let alone two, let alone the opening round of the Chase, if NASCAR hadn't wanted so badly to be in the Boston market.
Yet NASCAR doesn't want to slight its backbone fan base across smaller-town New England.
"The proximity to Boston was a factor [in awarding the track Cup dates], but there are other factors," NASCAR spokesman Ramsey Poston said via e-mail Monday, including "the fact that there is a great racing fan base in New England, in part thanks to the successful NASCAR Modified series" at short tracks around the region.
"Every time we go to New Hampshire, the stands are full, and the fans come early, even for qualifying," Hamlin said. "It's like no matter what sport is going on up here, people go all out or not at all. And that's what I love about it."
This time, because of the tough economy, the track's 93,521 seats aren't sold out for Sunday's race.
"New Hampshire has traditionally sold out, and I think we're doing better even in these economic challenges than a lot of other tracks," Gappens said. "There are a lot of race fans in New England. That's been one of the things that surprised me, coming from Charlotte where I knew there were a lot of race fans, down there in the Southeast, kind of the epicenter of the sport."
Hamlin hasn't won at Loudon since 2007, but his branch of the Joe Gibbs Racing team is so hooked up now that he figures NHMS is as good a place as any to begin what many feel will be his cutoff of Jimmie Johnson's record four straight Cup championships.
"It's been a track where we haven't been our best the last two years or so," Hamlin said. "We finished second in the Chase race here last year, but we just haven't had a great car here in the last couple of years."
But New Hampshire is a 1-mile track -- a short track in Hamlin's book, as is the .75-mile Richmond oval.
"Hopefully we take what we learned at Richmond and apply it," he said. "And if we can, we should be pretty good."
And maybe, just maybe, good enough to get his picture on the wall at The Four's someday.
March, 11, 2010
03/11/10
11:57
AM ET
In the matter of Carl Edwards, NASCAR got it right. Goldilocks right. Not too hot, not too cold, not too hard, not too soft. Just right.
A meaningless three-race probation is exactly what the situation called for.
What NASCAR had to do was pull off a delicate public-relations maneuver. Edwards' payback bump of Brad Keselowski needed to be acknowledged, what with the public shrieking and eeking over The Flight of the Red Car across half the TV, computer and iPhone screens in America.
It was one of those sensational NASCAR video moments that get the attention of the news networks from time to time.
But Edwards' offense, by the unwritten code as old as NASCAR itself, was a misdemeanor.
My position has been the same since Sunday when I reviewed the video of when Keselowski went upside down at Atlanta after the nudge from Edwards. What I said Monday, on ESPN2's "NASCAR Now" and to ABC News, was precisely what NASCAR president Mike Helton said Tuesday in announcing the formality of a penalty.
Edwards' payback bump of Keselowski was an Edwards issue.
The flight of Keselowski's car was and is a NASCAR issue.
They are separate.
So NASCAR is attending to its own house with regard to the suddenly arisen aerodynamic problem of cars going airborne on intermediate-size tracks, and no longer just the giant restrictor-plate tracks.
Regardless of how the car was launched, with intentional or unintentional contact, the overwhelming issue is to get the cars to stay on the ground. Likely, the return of the spoilers later this month, to replace the misbegotten wings, will resolve the matter.
As for Edwards' probation, anyone who knows NASCAR knows probation is meaningless. But the general public doesn't know -- and they're the ones who needed to be addressed, because when Brad K's car took flight, so did the story, out of control and beyond reason.
So NASCAR publicly acknowledged Edwards' offense, but punished it for what it really was -- as a misdemeanor.
There's no way Edwards, or NASCAR, for that matter, could have predicted that Keselowski's car would go airborne. So there was simply no intent to launch.
Edwards did not cross some line, as has been charged, with regard to NASCAR's licensing of drivers to settle matters among themselves. The flight of Brad K's car made Edwards' action appear to cross some line.
At initial contact, this was routine payback and, under the old code, justifiable payback. And not just because Keselowski had a hand in the wreck of Edwards and Joey Logano earlier in the Atlanta race.
Edwards' grievance was cumulative, and shared by other drivers, dating back to the last Nationwide season, and Keselowski's chronic display of lack of respect for other drivers, and his tendency to crow about it.
"The tougher you race, the more you're rewarded, it seems like," Brad K had said in Victory Lane at Memphis in October after wrecking Edwards and tangling with two other drivers, Justin Allgaier and Mike Bliss.
Wearing that Attitude (with a capital A), Brad K went on to dump Denny Hamlin at Phoenix in November, prompting Hamlin to observe that "there's a lot of guys that owe him."
Keeping his promise, Hamlin spun Keselowski at Homestead-Miami in the Nationwide finale, and that was that.
What Hamlin did to Brad K was what Edwards intended Sunday at Atlanta. Nothing more.
Edwards has caught much heat for retaliating on a high-speed track. Well, Homestead-Miami isn't exactly Martinsville, and there was nothing like this hoopla when Hamlin turned Keselowski at Homestead.
What did surprise me was that Helton denied that NASCAR took into account Keselowski's "body of work," as someone put it, in considering Edwards' penalty.
NASCAR had to see, had to know, that this young driver was as rough as they come -- rougher, maybe, than even the young Dale Earnhardt 30 years ago.
Brad K's peers thought he was getting out of hand, and NASCAR was letting him rip.
NASCAR had told the drivers they could settle things among themselves, and Edwards settled a matter largely on behalf of the garage area as a whole. And NASCAR, much to my surprise, didn't renege on its new policy, even in the face of sensational video.
Good for NASCAR.