Owner Junie Donlavey raced just to race
June, 10, 2014
06/10/14
1:43
PM ET
Upon the passing of Junie Donlavey, one memory towers over all the rest. One says it all about the way he was and the way he raced.
[+] Enlarge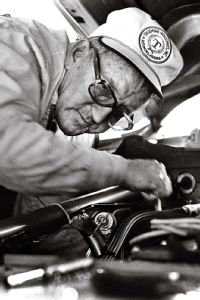 Bob Harmeyer/Getty ImagesJunie Donlavey works on his Ford driven by Dick Brooks in the 1976 Rebel 500 at Darlington Raceway.
In the 1970s, owners such as Junior Johnson and the Wood Brothers were running top teams on little more than $100,000 a season. Donlavey's team ran on a fraction of that.
So one day a corporate marketing type phones Jim Foster, a sort of one-man band of marketing and communications for NASCAR at the time. The caller wants to sponsor a car, and is willing to spend $100,000 a year.
"I immediately thought of Junie," Foster said, a lot of years ago. "Such a great guy, such a hard worker, nobody deserved a break more.
"So I called him and offered him the deal.
"He said, 'Well, Mistah Jim ... me and my boys have a mighty good time racin'. We don't worry about too much.
"'But now if I was to take $100,000 of a man's money, I'm afraid I'd have to be on the phone with him every Monday mawnin', explaining what me and my boys had done in that race on Sunday.
"'I b'lieve that would make me nervous. I'm 'fraid me and my boys wouldn't have as good a time.
"So Mistah Jim, if you don't mind, I b'lieve I'll pass on that hunnerd thousand.'"
The No. 90 team went on its happy way. Junie died on Monday, at 90.