There wasn't a nicer guy than Neil Bonnett
February, 11, 2009
02/11/09
2:01
PM ET
DAYTONA BEACH, Fla. -- Fifteen years ago today, the nicest man who ever drove in NASCAR -- and I use that superlative advisedly -- was killed here.
Neil Bonnett went lightly, joyfully through life, left laughter everywhere he went and never knowingly was even so much as impolite to anyone.
He shouldn't have been back in a race car that first morning of practice for the Daytona 500 in 1994, at age 47. He'd had serious head injuries, including one that had given him severe amnesia in 1990.
But he risked coming back because he loved it and couldn't stay away. His best friend, Dale Earnhardt, had helped him work his way back into NASCAR, advising him that if racing was what he wanted to do, he ought to do it.
[+] Enlarge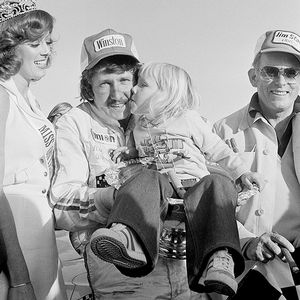 AP PhotoNeil Bonnett gets a kiss from daughter Kristen after winning at Ontario Motor Speedway on Nov. 20, 1977.
The circumstances of Bonnett's death remain somewhat mysterious. His car spun suddenly in the fourth turn of Daytona International Speedway and hit the concrete retaining wall nearly head-on.
NASCAR at first called it driver error, but after vehement protests from Earnhardt, NASCAR removed that description from the record.
Darrell Waltrip, who was racing that year on the same Hoosier tires that were on Bonnett's car when he died, told me later that his particular model of Hoosier was narrower, for less friction on the track, and could have been quite tricky either for a rookie or a driver who was rusty.
Earnhardt, until his own death in the 2001 Daytona 500, never got over the death of his closest hunting and fishing buddy.
This is the kind of guy Neil Bonnett was:
One summer day in 1978, he and I were sitting in his den in Hueytown, Ala., talking, when the phone rang in his kitchen. He got up and answered. His wife, Susan, was out at the supermarket.
"No," he said after answering. "No, not interested."
He listened.
"Look, I've told you not to call here anymore," he said, and hung up.
As he came back and sat down, I guess I gave him something of a mischievous grin.
"No, it's not what you think," he said. "That was the pipe fitters' union. I've told them never to call here again. They're paying $50 an hour now, and if Susan knew that, she'd make me quit racin' and go back to work."
He made a good living racing for the next dozen years, winning 18 Cup races and 19 poles. Then, at Darlington in 1990, he suffered such a bad concussion that it gave him amnesia for weeks and a foggy memory for months.
Back in the early 1970s, when racing's Alabama Gang couldn't beat him at Birmingham International Raceway, he was taken on as a friend, and Bonnett would forever be identified with the Allisons -- Bobby, Donnie and Bobby's sons Davey and Clifford -- and Charles "Red" Farmer.
Later, in 1990 after his amnesia had mostly cleared, Bonnett re-emerged at Talladega -- not to race, but to begin doing television (which he was very good at) for CBS and TBS.
At the time, Bobby Allison was still suffering effects of a life-threatening head injury he'd suffered at Pocono in 1988. As usual, when Bonnett came back out in public, he managed to make light of both his own condition, and Allison's.
"I went over to Bobby's house the other day," he said. "Judy [Bobby's wife] was trying to help us communicate.
"But I'll tell you what: Between Bobby trying to remember what he wanted to say, and me trying to remember what he said, Judy was having a helluva time trying to help us."
Bonnett came here in '94 as an unsung hero from the previous summer. When Davey Allison's helicopter crashed into the Talladega infield in July of '93, it was Bonnett who scrambled into the wreckage -- with spilling gasoline all around that could have exploded at any second -- and pulled Farmer to safety. Bonnett then wriggled back in to get Davey, who was unconscious.
Davey Allison died the next morning in a Birmingham hospital, but Farmer survived with only a broken arm.
I can remember the "meanest" thing Neil Bonnett ever said to the media. He was driving for Junior Johnson, who had put a strong gag order on him about some major deal that was imminent.
We pressed and pressed. Good ol' Neil would tell us, we figured. Finally, at a point when any other driver would have told us to get lost -- or worse -- Bonnett was apologetic.
"Guys, I don't mean to be rude," he said, "but I'm just not able to talk about that."
That was as mean as he ever got.
A few years before he died, with tire wars raging between Goodyear and Hoosier, I stood in the garage at North Wilkesboro watching drivers limp past, injured in crashes caused by blown tires as the manufacturers tried to one-up each other with faster -- and more fragile -- tires.
That day, I quoted an anonymous source among drivers.
"If this doesn't stop, one of us is going to get killed before it's over," the source said. He paused to look around. "You just wonder which one of us it will be."
I think it's OK now to reveal the name of that driver: It was Neil Bonnett.