Junior Johnson: Draft expert to grand marshal
February, 14, 2010
02/14/10
12:30
PM ET
DAYTONA BEACH, Fla. -- Junior Johnson is arguably the most appropriate grand marshal of this race ever. Fifty years ago, Johnson discovered the draft, won the second Daytona 500 and invented the technique that would launch NASCAR to popularity.
[+] Enlarge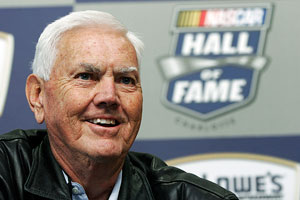 AP Photo/Bob JordanInaugural NASCAR Hall of Fame inductee Junior Johnson is credited with discovering the draft 50 years ago at Daytona.
"I didn't know what it was, to tell you the honest to God truth," Johnson said Sunday morning of the 1960 serendipity.
Johnson was driving a year-old '59 Chevrolet that wouldn't get out of its own way in practice or qualifying. Early in the race he was struggling some more.
Then, "when Cotton Owens came by, I ducked in behind him while we were coming off the fourth turn," Johnson recalled. "When I got down in the first turn, I was running all over him at about half-throttle.
"I couldn't figure it out. I thought maybe Ray Fox [his crew chief] had got the car running a lot better. ... I came in, and he thought he'd fixed it also.
"We put on a new set of tires and went back out, and here came Jack Smith down through there, and I jumped on him the same as I'd jumped on Cotton. And I was running all over Jack when I got down in the first turn, and he had the fastest car here. So I didn't know what it was.
"I went back in, and Ray said he believed he had the thing fixed. But I'd go back out and run by myself, and it would not run. It was something like 15 mph slower than the other cars. I was almost ready to go home ... it was just so slow it was disgusting.
"But I thought maybe if I stayed I could just grab people all day long and ride behind them and be pretty good at it. I didn't ever, ever think I would win the race."
But most of the dominant Pontiacs fell out, except for Bobby Johns, who Johnson said "was in a year-old car like I was." Johns suddenly became the Pontiac flagship trying to catch Johnson's Chevrolet.
Smith's dominant car had lost laps in the pits, and Johnson was ahead of Johns.
"But Jack fixed his car and the Pontiac people got him to go back out and drag Bobby up to me. When Bobby went by, I ducked in behind him, and lo and behold, his back glass just flew out [from the suction of the draft], and his car raised up in the back.
"Round and round he went, and down through the grass. I got so far ahead of him that even if he'd got back out real quick, he wouldn't have caught me.
"So basically I stole the race; I didn't win it."
These 50 years since, drafting of course has been considered anything but stealing at Daytona. It's vital procedure.
Equally appropriately, Johnson is of course among the first group to be inducted into NASCAR's new Hall of Fame this spring.