Hamlin likes passion of Boston area fans
September, 13, 2010
09/13/10
4:42
PM ET
The Four's sports bar, near the Boston Garden, was where NASCAR playoff top seed Denny Hamlin and New Hampshire Motor Speedway president Jerry Gappens chose to hang out Monday afternoon.
Though the bar's name originated with the jersey number of Boston Bruins legend Bobby Orr, Gappens now takes it to symbolize all four of Boston's pro sports franchises, whose logos The Four's displays.
He and his track want in on that action. Might they dare hope to make it The Five's someday?
"Yeah. Exactly," Gappens said by cell phone from the establishment.
NASCAR's Chase for the Sprint Cup championship opens Sunday at the Loudon, N.H., track, and although race fans across New England are enthusiastic about that, NASCAR covets more sports hearts in downtown Boston.
Hamlin, coming off his sixth Cup win, best in the series this season, at his hometown track at Richmond this past Saturday night, knew he wasn't exactly in laid-back Virginia anymore.
For sports markets, "I think it's the big three -- it's L.A., it's New York, it's Boston," Hamlin said. "It's amazing to see how almost crazy these fans are about their sports."
But, noting that "Every picture on the wall is Boston-sports related" at the place rated America's best sports bar by Sports Illustrated, Hamlin admitted that "We need to work on the NASCAR pictures, for sure."
"The challenge here that I've found in my two-and-a-half years since moving up here [from Charlotte Motor Speedway, in the NASCAR epicenter] has been just getting on the radar screen with the Boston media," Gappens said.
[+] Enlarge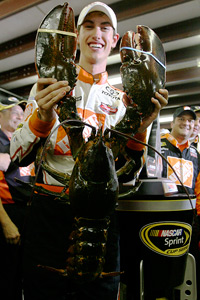 AP Photo/Jim ColeNothing says "Welcome to New England" like a big ol' lobster for the winner of races at New Hampshire Motor Speedway.
"When you're in a market with the Red Sox and the Celtics and the Patriots and the Bruins, who have all had great success in their franchise history, you've got to recognize that.
"I tell people that I don't expect New Hampshire Motor Speedway and NASCAR to become more popular than the Red Sox Nation," Gappens continued, "but my goal is that at least when they're talking about professional sports in the Greater Boston area, New Hampshire Motor Speedway and NASCAR are at least in the same paragraph if not in the same sentence."
Not that Greater Boston hasn't helped fill the grandstands since the track -- about a 90-minute drive from Fenway Park, or from The Four's, or from Logan International Airport -- began hosting Cup races in 1993.
"Twenty-two percent of our ticket sales come from Massachusetts," Gappens said. "That's the Greater Boston area. I don't think we're real strong in downtown Boston proper. But in the surrounding areas, there are pockets of communities that are very important to us. There are neighborhoods that we draw very well from."
That just might make NHMS the favorite New Hampshire day trip of Greater Bostonians, except for maybe New Hampshire's state-owned discount liquor stores.
Arguably, the New Hampshire track might never have gotten a Cup race date, let alone two, let alone the opening round of the Chase, if NASCAR hadn't wanted so badly to be in the Boston market.
Yet NASCAR doesn't want to slight its backbone fan base across smaller-town New England.
"The proximity to Boston was a factor [in awarding the track Cup dates], but there are other factors," NASCAR spokesman Ramsey Poston said via e-mail Monday, including "the fact that there is a great racing fan base in New England, in part thanks to the successful NASCAR Modified series" at short tracks around the region.
"Every time we go to New Hampshire, the stands are full, and the fans come early, even for qualifying," Hamlin said. "It's like no matter what sport is going on up here, people go all out or not at all. And that's what I love about it."
This time, because of the tough economy, the track's 93,521 seats aren't sold out for Sunday's race.
"New Hampshire has traditionally sold out, and I think we're doing better even in these economic challenges than a lot of other tracks," Gappens said. "There are a lot of race fans in New England. That's been one of the things that surprised me, coming from Charlotte where I knew there were a lot of race fans, down there in the Southeast, kind of the epicenter of the sport."
Hamlin hasn't won at Loudon since 2007, but his branch of the Joe Gibbs Racing team is so hooked up now that he figures NHMS is as good a place as any to begin what many feel will be his cutoff of Jimmie Johnson's record four straight Cup championships.
"It's been a track where we haven't been our best the last two years or so," Hamlin said. "We finished second in the Chase race here last year, but we just haven't had a great car here in the last couple of years."
But New Hampshire is a 1-mile track -- a short track in Hamlin's book, as is the .75-mile Richmond oval.
"Hopefully we take what we learned at Richmond and apply it," he said. "And if we can, we should be pretty good."
And maybe, just maybe, good enough to get his picture on the wall at The Four's someday.