Everyman Clint Bowyer moves the meter
September, 20, 2010
09/20/10
5:24
PM ET
I ran across what might be a monumental question for hard-core NASCAR fans while going over the transcripts of the postrace media conferences at New Hampshire.
Would a grassroots champion heal your spirit, bring you back, restore your faith in NASCAR as a sport of the common folk?
Would Clint Bowyer ring your chimes?
Is a hero in cowboy boots what you've been missing in NASCAR all this time?
NASCAR hasn't had what you could call a common-man champion in a decade, since Texas-born, North Carolina-raised Bobby Labonte won the old Winston Cup.
[+] Enlarge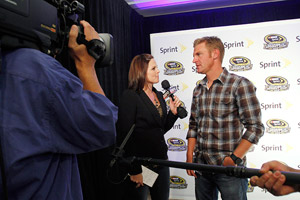 AP Photo/Mary Altaffer) New Hampshire winner Clint Bowyer showed up for last week's Chase media blitz in New York wearing a plaid shirt, blue jeans and cowboy boots.
Some would say Tony Stewart's two titles since then are the exception. But Stewart came in from IndyCar racing, and has been so volatile and candid in his time at the Cup level that he hardly counts as a good ol' boy.
You don't get any more Heartland America than Emporia, Kan., where Bowyer is from. He is off the short tracks, especially dirt tracks. Nothing fancy in between there and the Cup level.
And he is a charging dark horse, to be sure.
All this hit me when I saw that somebody had asked Bowyer following his New Hampshire win about showing up in New York the previous week, for the Chase media blitz, wearing a plaid shirt, blue jeans and cowboy boots. "Reminiscent of you and your old buddy," the questioner pointed out to team owner Richard Childress, apparently meaning the late Dale Earnhardt.
Upon beholding Bowyer's country getup, Bowyer told reporters, Stewart "called me hillbilly."
The questioner persisted to Childress: "The typical fan -- weren't we looking for a guy as likeable as Clint that we can have a beer with?"
"Funny you say that," Childress responded. "Mike Dillon [RCR's vice president of competition] came over to me in [the] winner's circle and said, 'This is the best thing for NASCAR. We need somebody like Clint Bowyer winning races and running for this championship. Because Clint, he came from the short tracks, the dirt tracks. He's worked and earned his way to where he is today. The fans love him. It's what I think NASCAR needs is a new type of hero, blue jeans, plaid [shirt], whatever. It's good.'"
In case you don't know much about Mike Dillon, I will tell you this: He ought to know a genuine, certified good ol' boy when he sees one.
So I'm asking: What do you think?
I mean, a guy in cowboy boots is red hot, having shot from last in the standings to second in just the first race of the Chase.
He's not at all one of the cool kids who've won all the titles since Labonte -- Jeff Gordon, Stewart, Matt Kenseth, Kurt Busch, Stewart again, and then of course Jimmie Johnson, Jimmie Johnson, Jimmie Johnson and Jimmie Johnson these past four years.
Bowyer's is the visage of the common man. His demeanor is a revival of the aw-shucks variety.
And then there is his team owner, Childress himself, the completely self-made man who won six championships with Earnhardt but hasn't won the Cup since 1994.
"Cowboy boots? I've got mine on right now," Childress said.
Would this do it for you, common folk? Would Bowyer as champion redeem NASCAR in your eyes?
I'm just askin'.