Michael Waltrip, RCR take center stage
January, 25, 2011
01/25/11
4:22
PM ET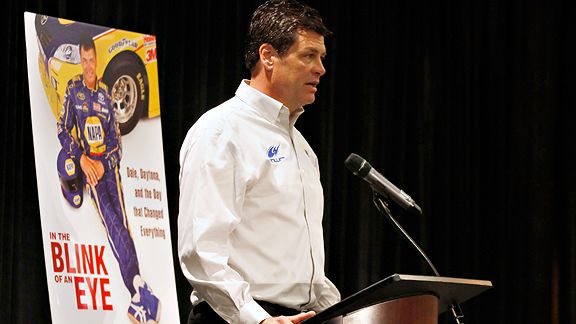 Jason Smith/Getty ImagesMichael Waltrip talked about Dale Earnhardt and his new book during NASCAR's media tour Tuesday.
CHARLOTTE, N.C. -- Michael Waltrip opened Tuesday looking sleepy at breakfast but was as sharp as always at pivoting from tragedy to comic relief on his feet … and managed to promote his new book and his new standup comedy tour in the same motion.
A video outlining his new book, "In the Blink of an Eye," was rife with sadness. "The best day of my life was also the worst day of my life," he said, referring to Feb. 18, 2001, when he won the Daytona 500 only to learn soon after that his car owner, Dale Earnhardt, had been killed on the last lap of the race.
Then Waltrip took the stage, gestured to the screen and announced, "We're doing a comedy tour … and none of that's in it."
By the way, he'll come out of semiretirement to race in all three NASCAR divisions at Daytona in February.
Today's stunner: Richard Childress pulled no punches. "This is the year to kick Jimmie [Johnson] off that throne," he said. "We were close with Kevin [Harvick] last year, but this is the year to do it and I think RCR feels certain. I'll make that prediction."
Then he turned to all four of his Cup drivers and asked, "How 'bout that? That put any pressure on anybody?"
Harvick, Jeff Burton, Clint Bowyer and Paul Menard all just smiled. Based on their Daytona testing, they think they're loaded.
He said what? Pushed about guaranteeing stopping Johnson's title streak at five, Childress didn't exactly backpedal.
"I didn't guarantee it; I just said we're gonna," he said.
And Childress kept pounding. "Nothing lasts forever, and his [Johnson's] time will run out. When it does, RCR wants to be there. … I've got that gut feeling this is the year."
Flattest moment: Charlotte Motor Speedway officials took three busloads of media out to view the construction site for the world's largest HD television board. For all the hype, bottom line was that we stood there for half an hour looking at a pile of dirt.
Best story: In Waltrip's new comedy routine, he talks about being funny by accident, as he has been for years on TV at the tracks, versus trying to be funny on purpose.
"People come up to me at the races and say, 'Hey, man, you're good on TV. … Say something funny,'" he said.
He paused and gave a blank stare, as if at a loss.
"Then I say, 'I don't have anything.'
"And they'll walk off and say, 'That Michael Waltrip's an a------. He wasn't funny at all.'"
Best moment: Childress summarizing the safety revolution since he lost his driver and best friend, Earnhardt, 10 years ago, and how life can come full circle.
"It's sad that we had to lose an icon like Dale Earnhardt for the sport to become so much safer. You look at some of the horrific crashes we've had since then, and the drivers get out and walk away," Childress said.
And then the most poignant line: "I feel much better watching my two grandsons race today."
That is, Austin Dillon in Trucks and Ty Dillon in ARCA.
***
At the end of the day, at least our staff didn't have to feel like total freeloaders at all those team dinners. ESPN picked up the tab Tuesday night.