AJ Allmendinger says 'Dinger' just fine
March, 19, 2011
03/19/11
1:36
PM ET
BRISTOL, Tenn. -- You can call him Dinger. In fact, please do. It's something of a symbol of his acceptance in NASCAR, by both competitors and fans.
Besides, "I like it because I can't pronounce my own last name," AJ Allmendinger said Friday, during media availability for the top 12 in Cup points. That's right: Although it's early, Allmendinger is ninth in the standings, ahead of Jimmie Johnson (12th), Kyle Busch (14th), Matt Kenseth (16th), Jeff Gordon (19th) and Kevin Harvick (20th).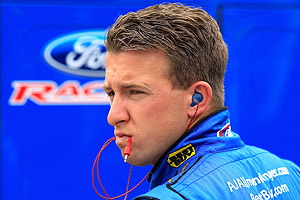 Chris Trotman/Getty ImagesAJ Allmendinger says he'll take his nickname over his father's -- ScreamingDinger -- any day.
"So if they make it shorter, I'm happy …
"I like it," he said. "It's easier. … I just did a production shoot for Charter Cable, and I had to say my name like 1,000 times, and I was sick of it by the end of it, so if I can just say Dinger, I'm happy."
Plus, "It's better than my dad's nickname, which is ScreamingDinger, so at least I don't have that going for me, I guess.
"I laugh because Robbie Loomis [vice president of race operations for Allmendinger's team, Richard Petty Motorsports] used to ask my mom, 'Why is he so fiery? Why is he just so on it?'
"She was like, 'His dad's nickname is ScreamingDinger, so there's something that comes from that when he raced.'"
"Dinger" is painted above the driver's side window of his cars, just as "Smoke" is in that spot on Tony Stewart's cars.
It's something of a badge of honor for a driver who had a rocky start in NASCAR, moving over from the troubled Champ Car series where he'd starred, winning five races in 2006 before Champ Car folded into IndyCar.
He was brought into NASCAR by Red Bull in '07, but struggled so badly he was let go by that team in '08.
"It was definitely a struggle mentally," he said of the time before he was picked up by Petty for the '09 season. "It was a tough time. I always felt I could do this, I just felt like I needed the right chance …
"Fortunately enough, I was able to kind of scratch and claw and hang on just enough to get some opportunities to get better and show what I could really do.
"In the end, it comes down to two options at that point: You could quit or you could stick to it and try to be better, and I'm not gonna quit."
So now to open this season, he led four laps at Daytona before finishing 11th, and posted finishes of ninth at Phoenix and 19th at Las Vegas.
He'll start 28th in Sunday's Jeff Byrd 500 at Bristol Motor Speedway, and with the way the big guns have been having bad days and sometimes collecting only one, two or three points under the new system, he has a chance to hang in the top 10 in points.
So call him Dinger. Please.