Want an adrenaline rush? Visit my house
April, 12, 2011
04/12/11
1:17
PM ET
Movie producers and race promoters have long told me the product they sell is adrenaline rush. But they can't manufacture the kind I just felt Monday afternoon.
Jasper and Elli just stopped by my house again, presumably to see my wife. She's out of town. So they looked at me from 20 feet below my front porch, turned their noses up to sniff the wind and lumbered on over the mountain. Neither made a sound.
[+] Enlarge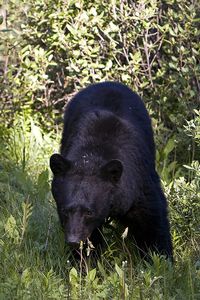 George Rose/Getty ImagesWhat would you do if you spotted one of these lumbering in your backyard?
What a rush. Elli could kill a man with one swipe of a paw. But the look on her face said I was, if anything to her, boring.
We have returned to our beloved North Georgia mountains, up where Lloyd Seay and Roy Hall used to run moonshine before they went racing, up where Bill Elliott and his brothers used to run their hotrods, up where Bill's son, Chase, is in the bud of his NASCAR career this spring.
Gordon Pirkle, the local racing and moonshine historian, tells me there used to be "a lot of stills -- one on every creek up there," up here where our house is, in the mountains northwest of Dawsonville.
I think I understand the reason the revenuers never climbed up here ... and the reason the moonshiners finally got out ...
Too many bears.
Jasper is a black bear cub, an adolescent, maybe 170 pounds. Elli is his mother, about 300 pounds. My wife named them for the two little towns nearest to us -- but not very -- Jasper and Ellijay.
They are by no means the only family of bears to visit our property, just the most frequent. Wildlife biologists have counted about 120 bears living in our little community alone -- three times the bear population of Mammoth Lakes, Calif., home of "The Bear Whisperer" TV show on Animal Planet.
And no, we don't feed them. People around here don't even have bird feeders -- known locally as "bear feeders" -- or barbecue grills.
Jasper was the first to visit us, thumping onto our back deck, sniffing around, while my wife was here alone. She clapped her hands and he took off, crossing the stream where big Elli was waiting for him. They rambled on, unperturbed.
They were back a few days later, so we had a bear gate built. Handymen in these parts know exactly what you mean when you ask about a bear gate.
Then our wildlife service found another family, two cubs and an enormous female, biggest they'd ever seen, perhaps 400 pounds, sleeping under our deck. They seem to have left for parts unknown.
Yet another bear couple spotted by my wife was estimated by the service to be about a 200-pound female and about a 500-pound male.
What to do?
"Bears are not included," the service rep said of our commercial wildlife management contract, which deals mainly with flying squirrels and other critters who try to set up housekeeping in the attic.
Experts here, and up in western North Carolina, say the bear population is burgeoning toward a level not seen since the southern Appalachians were settled 300 years ago. What's more, mating season is imminent, so the big boys -- maybe Jasper's dad and friends -- should soon be out rambling.
State wildlife officials don't even like to relocate bears unless they're threatening people or destroying property.
Up here, if you've got bears, you're pretty much on your own. We've got bears.
And you know what? I like it that way -- knowing you'd better be alert any time you walk outside, day or night.
And to see them, 20 feet from you, in the wild, is surreal -- their rich fur ruffling in the wind, their great bulk moving silently, gracefully.
And they just look at you. They're not going to bother you unless you bother them. (Unlike the 300-pounders in the infield at Talladega, these guys don't drink.)
Still there's an adrenaline rush, a whiff of danger, without the ear-splitting roar of a race.
This is the cradle of stock car racing pioneers. Before them came the moonshiners. Before them the Scots-Irish settlers. Before them the Native American Cherokee and Creeks.
None of it has fazed the bears.