Yunick's shop was hallowed ground
April, 26, 2011
04/26/11
3:23
PM ET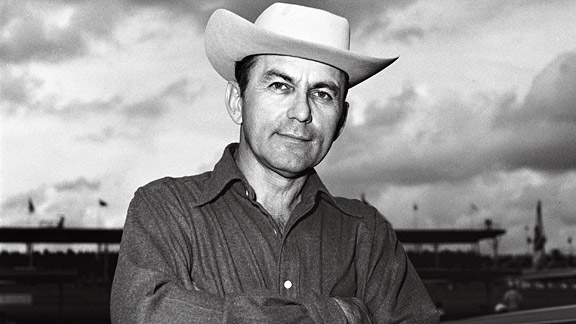 Getty ImagesA cowboy hat and cars that ran fast were Smokey Yunick trademarks in auto racing.
The "Best Damn Garage in Town" -- or maybe anywhere, ever -- burned down Monday night.
In it, in his time, Henry "Smokey" Yunick worked wizardry unprecedented in NASCAR, or Indy cars, or the entire realms of physics and mechanics, for that matter.
From it, he ran everything from mining exploration along the Amazon River to winning cars in the Daytona 500 (Marvin Panch in 1961, Fireball Roberts in '62) to stock-block engines in the Indianapolis 500.
Outside it, in the community of Holly Hill, Fla., part of metropolitan Daytona Beach, the sign stood for decades, bearing Smokey's proclamation: "Best Damn Garage in Town."
Profanity came as naturally as breathing to the self-educated genius: "Now one of us is f----- up," was the second thing he ever said to me, as he prepared to go to Indy in 1975 and was trying to explain the difference between turbocharged and normally aspirated engines. I had misinterpreted what he'd said first.
The building was sold in 2004, after Smokey's death of leukemia in 2001 at age 77.
"Hell, I might already be dead," he told our longtime mutual friend, Ken Willis of the Daytona Beach News-Journal, who visited him often in his final months. "I've never been dead before, so I don't know what it's like."
He'd worked on national-level energy projects, along the way meeting a young Navy nuclear officer named Jimmy Carter, and high-level design projects for Chevrolet -- frustrated, in the early 1960s, with "a little a------ by the name of Ralph Nader," he would grumble in recollection.
For the '75 Indy 500, his car, driven by Jerry Karl, had only one sponsor, the Jose Johnson Hotel, the two "Js' in the logo formed by snakes. It was Smokey's own hotel, a shack along the Amazon he and some fellow prospectors had found and turned into a base camp. He'd painted its roof orange, thrown in some hammocks, and at Indy he issued a plug during an interview: "If you're ever up along that part of the Amazon, be sure to stay at the Jose Johnson. We don't have air conditioning, but we do have mosquito nets."
Smokey claimed to be working on an engine that would run on water, and another that burned paper (hopefully to be developed into one that ran on garbage).
[+] Enlarge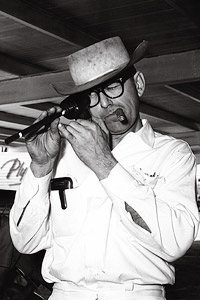 Getty ImagesOne of the things about Smokey Yunick is he knew what was in the rulebook and what wasn't. It was what wasn't that counted in his book.
From used bookstores, he earned de facto Ph.Ds in physics, chemistry, mechanical engineering -- "Some of the best books in the world can be bought for a quarter," he once said, shaking a tattered volume on petrochemistry at me.
After the deaths of crewmen led NASCAR to mandate pit road speed limits circa 1990, Smokey lobbied for the replacement of humans in danger by mechanical means. Rather than jack men, for example, Indy cars were using pneumatic jacks.
Would it work for heavier stock cars?
"A fellow I know took a Pontiac to Darlington in 1960, with pneumatic jacks," he said. "NASCAR told him never to bring it back, and to forget it."
He puffed on his pipe.
"I've still got those pieces of aluminum tubing lying around here somewhere."
What made him bail out of NASCAR by the 1970s was his disgust with Bill France Sr.'s insistence on policing -- stifling, in Smokey's view -- technology.
Had Smokey run automobile racing, he would have had only one rule: "All right you sonsabitches, let's have a race."
Nobody hated concrete retaining walls more than Smokey, who developed one of the first "soft wall" systems, using stacks of used racing tires bolted together through the centers, and covered with canvas.
Once, when invited to inspect newly reinforced concrete walls at Indianapolis Motor Speedway -- a considerable improvement in fan safety -- Smokey was wary.
"What about the drivers?" he asked. "All you're gonna do now is kill the poor bastards deader, quicker."
Something he said to me circa 1990 got him in big trouble with his old friends in the Chevy hierarchy and would keep him there for the rest of his life.
At the time, the "Chevy Indy V8" engine was dominating Indy car racing.
At Charlotte, word leaked out that NASCAR was considering dropping engine displacement from 351 to 250 cubic inches. I found Smokey underneath his trademark cowboy hat.
"If they go to 250, what's to keep the Germans and Japanese from running with them?" Smokey mused about the smaller-block, higher-tech imports.
But what about the NASCAR rule mandating "any American car"?
"Is a Toyota built in Ohio an American car? I don't know," Smokey said.
Then came the bombshell.
"Now you take that Chevy Indy V8. The people at Chevrolet would have the American public believe that's an American engine. All I know is, the Queen of England just knighted the two engineers who developed it."
Indeed, the engine was built at Ilmor Engineering Ltd., run by engineers Mario Ilion and Paul Morgan.
"Now somebody's lying," Smokey said, "and it's either the Queen of England or the PR guys from Chevrolet."
The rebuttal from the PR guys from Chevrolet? Chevy had developed the electronics for the engine. That was about it.
The most famous story about Smokey wasn't true, according to the always-candid David Pearson.
The story was that NASCAR officials were questioning the size of the fuel cell in Smokey's car at Daytona. To show them there was nothing illegal about the fuel cell, Smokey supposedly cranked the car and drove all the way back to the Best Damn Garage in Town -- with the fuel cell out of the car, lying on the ground in the Daytona garage! The implication was that the fuel was hidden in the roll cage.
Not true, Pearson once told me, and, "Hell, I was standing right there." Smokey drove away, but the fuel cell was in the car.
Doesn't matter. There was more than enough that was true about Smokey.
Henry Yunick, World War II bomber pilot, had flown over Daytona Beach on training runs, and thought the seaside town below looked pleasant enough. After the war he settled there and opened the Best Damn Garage in Town.
He took to NASCAR right away, but found it too limiting. Same with Indy cars. At the national level, his radical ideas both amazed and frightened the U.S. government.
In his final years he settled into his garage, specializing in diesel mechanics, common-sense science and … philosophy.
Now even his classroom, where a lot of us learned a helluva lot, is gone. Burned to the ground.