Austin Dillon's Trucks title a good thing
November, 19, 2011
11/19/11
2:49
PM ET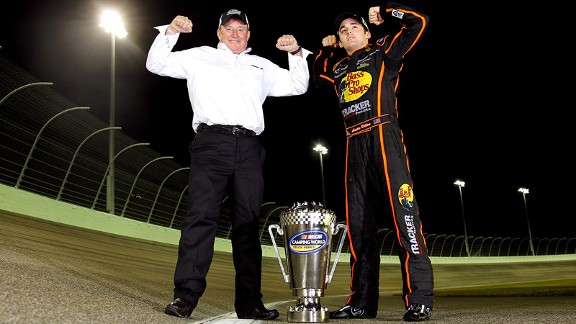 Chris Graythen/Getty ImagesRichard Childress, left, said grandson Austin Dillon's championship was a family affair.
HOMESTEAD, Fla. -- The Trucks series needed this. Badly.
Just when you thought NASCAR's third-tier division was fading, here's Austin Dillon to revive it, and make it what it should be: a developmental springboard for young drivers on their way up.
Dillon, 21, didn't just become the youngest driver to win the Trucks title. He's the first champion under 40 since Travis Kvapil won it at 28 in 2003.
And, because Kvapil has never quite established himself at the Cup or Nationwide levels, Dillon is the first Trucks champion who appears to be headed seriously higher since Greg Biffle in 2000.
Dillon now moves up to the Nationwide Series for 2012, and right behind him into Trucks comes his younger brother, Ty, age 19 -- who won the ARCA championship this year, and if anything might be just a tick better than Austin.
And before you start in with the complaining that the Dillons' grandfather, Richard Childress, bought them championships, consider this: The boys were doing it for "Pop Pop" at least as much as Pop Pop was doing it for the boys.
"I'm so happy for my grandfather," Austin said after winning the Trucks title Friday night despite being stuck in 10th place when rain shortened the race. He edged race winner Johnny Sauter by four points for the season title.
For Childress, who won six Cup championships with Dale Earnhardt as his driver, this has "got to be right up there at the top," Pop Pop said, because, "It's so special when you're family. Our whole family is involved."
Whatever the amounts Childress has spent on those boys, he has done NASCAR a service, because the notion of the up-and-coming young driver moving through the ranks is back.
For the previous eight years, if Trucks are analogous to Double-A baseball -- and they are -- then it was sort of like watching a bunch of players on their way down from the majors.
Now there's Austin Dillon, with Ty on the way, Sauter isn't exactly a geezer himself at 33, and James Buescher, who wound up third in Trucks points, is also 21.
That's not exactly an Over-the-Hill Gang.