Another friend lost, another legend gone
January, 26, 2012
01/26/12
3:38
PM ET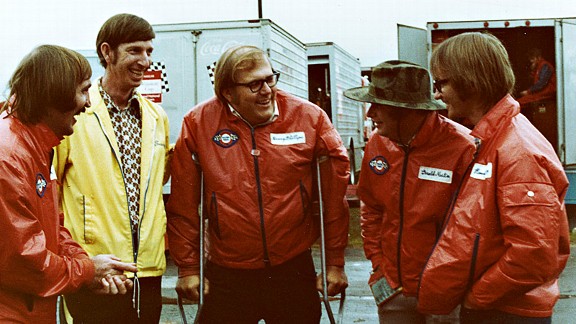 Getty ImagesBenny Phillips, center, is flanked by other members of the media, from left, Jim Hunter, Gene Granger, Gerald Martin and Randy Laney at Atlanta International Raceway in 1973.
Benny Phillips was the grit and the guts of the NASCAR media corps for more than 40 years. It was he who dubbed Darlington Raceway "The Lady in Black."
He was the writer Richard Petty trusted most down through the decades. He co-authored Dale Earnhardt's autobiography. He so captivated Formula One legend Ayrton Senna upon their first meeting that the great Brazilian shooed away all his handlers and gave the North Carolina reporter all the time he needed.
Outside racing, Benny had enough narrow escapes from death in the outdoors to rival big-game hunters and soldiers of fortune. Countless cowboys, backwoodsmen, poachers, bootleggers and hunting guides called him a friend.
Benny died Tuesday, at 74, in the last kind of place he wanted to -- a hospital.
He had tumbled ATVs down mountainsides, been thrown off horses, fallen out of tree stands, saved panicked friends in small boats in winter tempests off the Outer Banks, had a skiff go upside down on him in a raging, freezing river …
Oh, one other thing: Benny was a paraplegic.
The Salk vaccine came one summer too late for him. Benny always reckoned he'd contracted the polio virus in a country swimming hole, the way so many kids did in the 1950s.
You get an almost certain path to Duke or Chapel Hill as a running back cut off suddenly, completely, you're pretty ticked off. And Benny was, but only for a little while.
He went off to Warm Springs, Ga., to the therapy center established by President Franklin D. Roosevelt, and encountered an old Marine Corps gunnery sergeant who'd been shot through the spine in the Pacific.
Just as Benny got his bearings with steel braces on his legs, the gunny would sneak up behind him and knock one of his crutches away.
[+] Enlarge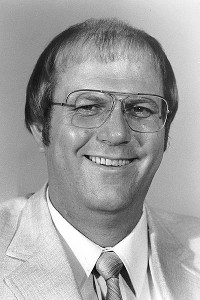 ISC Images & Archives via Getty ImagesBenny Phillips was selected the National Motorsports Press Association writer of the year seven times and spent 48 years with the High Point Enterprise in North Carolina, ultimately serving as sports editor for 32 years.
"You're gonna fall," the gunny would say. "You're gonna fall a lot for the rest of your life. Might as well get used to it."
All those years Benny traveled the Cup tour, he never would accept a room fitted for the handicapped. All that stainless steel stuff got in his way. He'd been taught by the gunny to "improvise; improvise; improvise."
For 40 of the 48 years he wrote for the High Point Enterprise, all 27 years he wrote for Stock Car Racing magazine, even his 12 years with Turner Broadcasting, Benny "walked."
That's what he called lumbering along on crutches through the garages and through airports and onto planes.
Seven times he was National Motorsports Press Association writer of the year. He deserved the Henry T. McLemore Award, given for courage in auto racing journalism, more than any other winner.
ATVs, which he discovered in the 1970s, set him free to hunt, from the quail fields and turkey thickets of the South, up to Montana and even on up to Hudson's Bay in Canada.
But for all those decades he never would abandon those crutches and heavy steel braces for a wheelchair. The braces almost took him under once, when a boat capsized on him while he was duck hunting on a river.
When he went to interview Senna for TBS, Phillips and his crew were told they had 15 minutes. Senna was a deeply caring and sensitive man, virtually a priest, and so immediately he told Benny he didn't mean to be nosy but wanted to know what had happened to him.
Benny told him. Senna said he had a sister who'd been disabled by disease. Before they knew it, the McLaren publicists came and told Benny the interview time was up. Senna told them no. To go away. That they would take as much time as they wanted.
Maybe 10 years ago, the cartilage in Benny's shoulders just wore out from what he called "40 years of walking on them." Finally he yielded to years of advice from his doctors to get into an electric wheelchair.
I called it his scooter. He was hell on it, just as as he'd been on the ATVs in the mountains and fields. More than once he turned the scooter over, one time suffering a compound fracture of a leg.
This winter, hunting, Benny was injured just trying to get onto the scooter, and needed surgery. The aftermath didn't go well, and besides, he was seriously diabetic by this point.
He fought the complications for more than a week in intensive care. But this time all the grit and all the guts weren't enough.
For 37 years he was one of my closest friends. He taught me much about motorsports journalism, even more about the ways of animals in forests, birds in fields and fish in streams.
And we played a helluva lot of poker.
I am heartsick.