Oh, honey, hail! Hail! The gang's all here
For an Alabama jubilee
George Cobb and Jack Yellen, 1915
TALLADEGA, Ala. -- Silly me, I thought there would be one car here Sunday that could draw a mightier roar from the grandstands than even the No. 88 of Talladega Superspeedway's unanimously adopted son, Dale Earnhardt Jr.
That would be the No. 15 of Clint Bowyer, liveried in the colors of the Alabama Crimson Tide, reigning national champions of college football. Last spring here, Michael Waltrip carried the orange and blue of the 2010 champion Auburn Tigers.
[+] Enlarge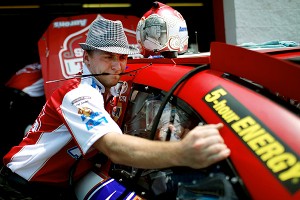 Tom Pennington/Getty ImagesCrew members work on the No. 15 Aaron's/Alabama National Champions Toyota of Clint Bowyer in the garage area during practice.
I figured even the War Eagle legions would cheer the crimson and white Sunday out of sheer state pride -- no other has produced three consecutive national champions. For that reason, even my son, an Auburn graduate and adoptive Alabamian, pulled for the Tide against LSU in the BCS Championship Game.
Bowyer, who has won two of the last three races here, will even wear a helmet bearing the visage of Bear Bryant.
"If Earnhardt wins, it'll be 100 percent [cheers]," said Huntsville Times columnist Mark McCarter, a buddy of mine who always has his finger on the pulse of the Alabama public. "If Bowyer wins, it'll be 50-50."
Not even that, reckoned Talladega Superspeedway chairman Grant Lynch, who proceeded to give me an astounding lesson in the demographics of his crowds. Turns out Talladega is a wide gathering of Southeastern Conference tribes.
Both Alabama coach Nick Saban and Auburn coach Gene Chizik, who served as grand marshals for the spring race in 2009 and 2010 to celebrate national championships, were booed.
"Saban got booed a lot more when he was grand marshal than Chizik did," Lynch said. "And they both were amazed that they were being booed as much as they were. I told both of 'em, 'Listen, this isn't just Alabama. I got LSU, I got Tennessee, I got Georgia, I got South Carolina, I got all the people here.'
"I said, '75 percent of my fans come from outside the state of Alabama. Half of them come from more than 300 miles away.' LSU -- in the infield, they're probably No. 1. You go down Talladega Boulevard, you'll see more purple and gold than just about anything. And even out in the campgrounds, they're huge."
Among Alabamians who attend, Lynch figures the breakdown is about 55-45 Alabama over Auburn.
Both of Lynch's daughters are Auburn graduates, and the youngest will officially "walk" Sunday -- but across the stage here rather than at Auburn.
"Sara Katherine called me and said, 'Daddy, I graduate on your race weekend, either Saturday or Sunday,'" Lynch said. "And I said, 'If it's Saturday, I can probably get down there. If it's Sunday, I can't come.' She called me back and said, 'It's Sunday. I just won't walk.'
"I said, 'Yeah, you'll walk. I got a stage here at Talladega.'
"I thought, 'I sell tickets to everybody and I'm not going to make anybody mad, so let's get an Alabama graduate up there too.'"
They found an Alabama graduate school student who had already decided to "walk" here on a stage rigged by his buddies, and now he'll cross the Talladega stage with Lynch's daughter.
War Eagle! Roll Tide!
But at this Alabama jubilee, add Geaux Tigahs! Go Dawgs! Go Vols! And allow for some Hogs, Rebels, Gators and Gamecocks too.