Can Carl Edwards recapture the magic?
September, 1, 2012
09/01/12
4:59
PM ET
[+] Enlarge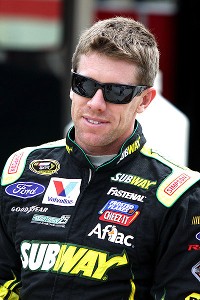 Jerry Markland/Getty Images/NASCARCarl Edwards, who lost the 2011 Cup championship on a tiebreaker to Tony Stewart, might not even qualify for the Chase in 2012.
HAMPTON, Ga. -- Deep into must-win mode now, Carl Edwards has been doing backflips -- and cartwheels, and somersaults -- all weekend here.
They've been verbal, not physical, but plenty animated. His enthusiasm has gushed for Atlanta Motor Speedway, a track so suited to Edwards and his current dire needs for making the Chase that ... well ...
"If the Lord were to take me from this earth right now, there would be a place in heaven that would look a lot like this racetrack," Edwards said Friday.
He is 12th in points but seventh in the dogfight for that final playoff berth, because he doesn't have a win and five drivers who are behind him in points do.
So he badly needs a win here Sunday night in the AdvoCare 500 (ESPN, 7:30 p.m. ET), and a win next week at Richmond really wouldn't hurt. But the season has gone fitfully for Edwards' No. 99 branch of Roush Fenway Racing, while teammates Greg Biffle and Matt Kenseth are first and fourth, respectively, in the standings and comfortably in the Chase.
If his back must be to the wall, "We could not be at a better racetrack," Edwards said. "This track is as good as it gets. Driving practice out there was a blast. I love this place for a number of reasons [e.g., he got his first Cup win here, in 2005], but right now, this is the type of track we need.
"We need a place you can hang the car out. Fresh tires will be faster than old tires [there's still major tire 'falloff' here]. There will be a lot of passing.
"There's definitely three to four and maybe even five grooves out there."
AMS is beloved by the consensus of drivers, not only because it's so wide, so accommodating to running just about wherever a driver chooses, but because of "how wore out this place is," as Dale Earnhardt Jr. put it, "and how the tires go away real fast. It's definitely a different style of racing, something we do less and less of. It's definitely welcome by most drivers out there."
[+] Enlarge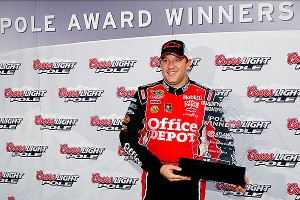 Tyler Barrick/Getty ImagesWhy is Tony Stewart smiling? Because he's sitting on the pole for Sunday's AdvoCare 400.
Jeff Gordon wholeheartedly agreed about the surface, which hasn't been repaved since 1997.
"This place is old, worn out, cracks everywhere, and yet every driver loves it," said Gordon, who made his first Cup start here 20 years ago this fall. "We're slipping and sliding around. The racing is pretty spectacular."
Attendance issues have cut Cup racing back to once a year here, but, "from a surface and pure driving-on-the-track standpoint, I'd like to come here five times a year," Gordon said.
Still, Edwards' verbal handsprings topped the competition of praise, understandably. Room to roam on a racetrack is precisely what showcases Edwards' risk-taking driving style.
"This track is one where you can drive the car sideways, you can take chances, you can burn the tires off for three laps and make it look good and get yourself in a position to do something spectacular," he said. "You could maybe bend that car around the corner a little harder and make something happen if you want to.
"I'm ready for that."
And desperate for that, if he is to make the Chase.