Dale Earnhardt Jr. all-in at Talladega
October, 6, 2012
10/06/12
1:19
PM ET
TALLADEGA, Ala. -- Here at Casino de Alabama, for the least predictable and most broadly decisive race of the season, Dale Earnhardt Jr. is taking a deep breath, placing both hands around all his chips and pushing them forward.
For him, in the Chase, this is it.
That's how he's treating it.
"We can't be conservative at all," Earnhardt said of Sunday's Good Sam Roadside Assistance 500 (2 p.m. ET, ESPN). "We've really got to take a lot of risks."
Going into the fourth of 10 playoff races, Earnhardt is seventh in the standings, 39 points behind leader Brad Keselowski, 34 behind second-place Jimmie Johnson and 23 behind third-place Denny Hamlin.
That's not where Junior Nation, or its leader, hoped he would be at this point. This, they figured, was his best shot at a championship since the inaugural Chase of 2004.
That's the year he last won at Talladega Superspeedway. Now he'll go with the all-out style that dominated here earlier this decade, when he won five of seven races, including four in a row.
[+] Enlarge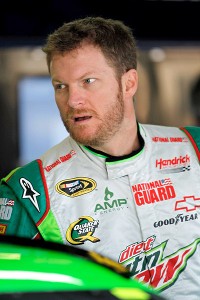 Todd Warshaw/Getty Images for NASCARDale Earnhardt Jr. has only one top-10 finish through the first three Chase races -- an eighth at Chicagoland.
"As good as everybody is running, like Brad and Jimmie and the No. 11 [Hamlin], we really have to get pretty aggressive, and that should play right into this racetrack's hand," Earnhardt said. "It's a place that really kind of asks for that, and you've got to really take some risks and be pretty daring out there to make some things happen."
And if the daring backfires?
"We're in a position where it really doesn't matter," he said.
Either "the big one" happens to him or it doesn't.
"Sometimes it happens with the usual suspects, and sometimes it's a surprise of even who would be involved in it," Earnhardt said.
"I've been on the receiving end of some wrecks here, and I've started a few myself."
Much as the chaos of this place is ballyhooed going into every race here -- especially the fall race, when the Chase can be scrambled seriously -- it's sometimes hard to keep the following truth in mind.
"Somebody's going to win this race," Earnhardt said, "and I want to be that guy."
Keselowski, Earnhardt's friend and former employee at JR Motorsports, and his Penske Racing team have the most to lose in a scramble of the standings.
But, typically breezy, "I'm going to look at it positively and think that if I do everything right that there's a chance I could leave here and have a really big points lead," said Keselowski, who won the race here in May.
Sunday night, after the finish of the only restrictor-plate race in the playoffs, the Chase promises to offer a clearer picture.
"You really kind of find out what your chances are going to be for the championship once you leave here," Hamlin said. But he can't see his chances being completely wiped out here, either.
"No matter what the result for us, I think we're still going to be in it," Hamlin said, because "we're not back more than a race [in points] already."
Jeff Gordon, who barely made the Chase at Richmond and fell back badly in the playoff opener, sits in 10th place and, like teammate Earnhardt, has nothing to lose.
"I'm excited," Gordon said. "That's the first time I can say that in a long time coming into a Talladega race because, for us, it's not about racing for points, it's about racing for a win and being aggressive."
Most drivers say they don't make a decision until the race starts whether to lag behind and try to avoid the wrecks that way or run up front and try to keep the wrecking behind them.
"There's not really a right or wrong in this situation," Earnhardt said. "But for me, I feel more comfortable just being aggressive all day."