Keselowski might be down, but not out
August, 31, 2013
08/31/13
4:02
PM ET
HAMPTON, Ga. -- Even with his back to the wall, Brad Keselowski loves where he is.
Even here on the precipice of failing to make the Chase to get even a shot at defending his 2012 Cup championship, "I'm confident because I started from nothing and was able to win a championship," he said going into Sunday's AdvoCare 500 at Atlanta Motor Speedway (7:30 p.m. ET, ESPN & WatchESPN). "We were able to climb that mountain, and I'm confident we'll be able to do it again."
[+] Enlarge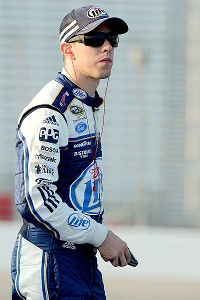 John Harrelson/Getty ImagesBrad Keselowski is excited about his chances Sunday night in Atlanta.
Note the "started from nothing." That is always on his mind, keeping him loving where he is, just with a chance in a sport that "is a bit of a roller coaster and we're at the bottom of it right now. There's no doubt about it."
Winless this season, buffeted by luck as bad as a defending champion could dread, Keselowski draws on the pure racers' bloodlines in him, the genes of a hard-knocks ARCA racing family from Michigan that was never handed anything.
He's down but not devastated in his post-championship plummet, having learned early on that "In this world, it's easy to get kicked in the gut pretty quick."
So now, 11th in points, with two races left to make the Chase, Keselowski looks at his ilk, to one of the handful of pure racers left in the sport, for inspiration.
"I spent some time over the last few weeks looking back at Tony Stewart's season in 2011 because I think there are a lot of parallels between his season that year and where I'm at right now," Keselowski said.
That was when Stewart was winless in the regular season and said publicly near the end of it that his team didn't deserve to make the Chase, wasn't worthy of taking up a spot. That turned out to be the greatest jump start in the history of NASCAR.
Stewart won five of 10 Chase races and the championship, and those five wins were a season high for any Cup driver, all season.
So Keselowski sees that a Chase can amount to a whole season -- if you can make it.
"I think if we can get through these next two weeks, we're in as strong a position as ever," he said.
"We don't have quite the confidence that we had at this time last year, and that's something I will admit," he continued. "But if we come out guns ablaze these next two races, we'll get that confidence real quick, and I think we're positioned to do that.
"Having tested here and at Richmond [next week's venue], I feel like we have great cars for that."
AMS, with its wide, worn, abrasive surface that demands slipping, sliding and even scraping the wall at high speeds, would seem to be the epitome of Keselowski's kind of track. Yet he hasn't won here in four starts.
"I love Atlanta, actually," he said. "This is one of my favorite tracks, and we've had some good runs here. I think we finished third and sixth the last two times here [he's correct]. We haven't been quite good enough to win, but we certainly had very respectable runs."
And then he turned to the old pure racers' adage: "You knock around the top five, and you'll get wins."
Top it off with more grassroots wisdom: "The key to life isn't about falling down. It's about getting back up."
The reigning champion, with all this difficulty defending, is by no means flattened or facedown on the mat.