Category archive:

Danica Patrick
November, 19, 2011
11/19/11
9:56
PM ET
HOMESTEAD, Fla. -- On Friday morning Danica Patrick said she didn't want the 2011 season to end.
On Saturday night she couldn't get out of the racetrack fast enough.
What felt like a promising night, a finish that might put a last bit of punctuation on a season of marked stock car improvement, ended up wrecked. While Ricky Stenhouse Jr. celebrated a NASCAR Nationwide Series championship and a thrilling finish unfolded on the final lap, the GoDaddy.com Chevrolet sat up on jacks in the garage, 10 laps down with a finish of 32nd.
"Certainly not the finish we wanted," Patrick said in a very brief postrace interview. "That's not the number you want to put up going into winter. But I also think the race was the kind of race that I wasn't capable of running one year ago or even earlier this year."
[+] Enlarge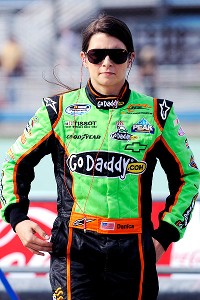 Jared C. Tilton/Getty ImagesDanica Patrick finished 32nd at Homestead after her GoDaddy.com Chevrolet hit the wall with 10 laps remaining.
"She's talking about the little things, like communication," interpreted crew chief Tony Eury Jr. "She feels the car better. She tells us what the car's doing so we can fix it. I do less coaching now and much more crew-chiefing. If you've really followed her close, really listened to her on the radio and watched her for entire races, you can see it pretty easy."
For 190 laps, Saturday night's performance in the Nationwide Series finale was indicative of what Eury described as a typical 2011 outing. Patrick qualified 12th, fought a tight car early while the sun was out, then a loose ride once that sun went down. She spent most of the night hovering around the 15th position and moved into the top 10 briefly.
But with 10 laps to go, while running 17th, she broke loose and slapped the wall after admittedly overarcing through the middle of Turns 1 and 2. It was her second-worst finish of the year, trailing her only other DNF of the season, a 33rd-place finish at Bristol in March.
Before that wreck, Patrick's run had been right in line with her season average finish of 16th over 11 starts. One year ago she posted an average effort of 28th in 13 races, including a 19th-place run at Homestead. In both of those seasons she essentially took the summer off for her full-time job in the IndyCar Series. Next year her full-time job will be in stock cars -- a full Nationwide Series schedule with JR Motorsports and eight Sprint Cup races with Stewart-Haas Racing, including the Daytona 500.
The exasperated expression on her face as she and her husband slipped quietly out of the garage during Brad Keselowski's race-winning burnout Saturday night was a far cry from her smiling, easy-going mood of the two days prior. Before the race she playfully joked with fans that this, her 25th Nationwide Series start, made her "a greasy old veteran."
"That number does seem crazy to me," she said. "But when I think about it I guess it isn't. I just don't think about it because now it all just feels, well, it feels normal."
Yes, it does, though normal in Patrick's world is a relative term. At the end of two years of part-time stock car racing, she still received what was easily the loudest ovation of any driver when her name was announced to the crowd in driver introductions. Her car still attracted the largest crowd of any on the Nationwide Series grid. And that crowd undoubtedly led the league in starstruck 8-year-old girls.
"Oh, yeah, there's still a lot that follows her just because of who she is," Eury observed before delivering a quick prerace pep talk. "But this is sure nothing like it was when she first showed up at Daytona two years ago. Or even like it was at Daytona this year, just back in February. That was a bit of a circus. Now it just feels more ... "
Normal?
"Yeah, that's it. Normal. I think that's how she wants it. To be just another full-time NASCAR driver."
Next year she'll get her shot.