February, 23, 2012
02/23/12
1:16
PM ET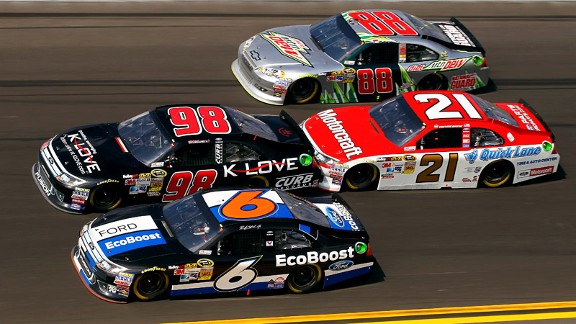 Streeter Lecka/Getty ImagesMichael McDowell (98) and Robby Gordon, not pictured, raced their way into Sunday's Daytona 500.
Daytona Duel 2
One of NASCAR's most curious yet ironclad truths is how each Duel 150 takes on its own, unique personality. That was certainly the case on Thursday, when the second 60-lap qualifier felt little to nothing like the first.
Here's what happened in the nightcap of Thursday's doubleheader:
How the race was won: On the race's final lap, Matt Kenseth spread the rear bumper of his Ford to cover the width of the backstretch and hold off a furious pack of challengers and then did it again off the final set of turns to take his first career win in a Daytona qualifying race.
Turning point: As the field flashed under the white flag, leader Greg Biffle made a cross-track right-hander move to block onrushing traffic, but the momentum he lost allowed Matt Kenseth and a water-spewing Jimmie Johnson to cut underneath him and hammer by into the lead.
Who's in, who's out: Dave Blaney and Joe Nemecheck raced their way into the Daytona 500, joining Duel No. 1 qualifiers Michael McDowell and Robby Gordon. Missing the big show from the second race was Kenny Wallace, Bill Elliott, Robert Richardson Jr. and J.J. Yeley.
Best 2011 impersonation: The two-car tandem as we knew it in recent years is gone, but an overabundance of teammates in the second race made the field (and spotter chatter) go through stretches that felt a lot like last season. Greg Biffle and Matt Kenseth (Roush Fenway Racing), Joey Logano and Kyle Busch (Joe Gibbs Racing) and even Clint Bowyer and Martin Truex Jr. (Michael Waltrip Racing) took turns booster-rocketing their way to the front.
Best 1997 impersonation: Once those two-car sprints settled down, the middle stanza of the race ran largely single file, so much so that most drivers were screaming about overheating issues. As much as everyone seemed to detest the two-car drafts, if there are a lot of similar stretches during Sunday's 500, then expect some good old fashioned "We hate pack racing" grumbling to return.
Star watch: The first Duel 150 may have had the splashier names, but the second race made up for it with championships won. Five-time Cup champ Jimmie Johnson finished third, four-time titleist Jeff Gordon finished eighth. One-timers Matt Kenseth, Kurt Busch, Bobby Labonte and Bill Elliott finished first, 14th, 16th and 20th, respectively.
I didn't see that coming: After Saturday night's Budweiser Shootout wreckfest and two big crashes in Thursday's first race, the afternoon event featured -- gulp -- no wrecks.
Unsung hero: Regan Smith managed to accomplish two tasks at once for a very long time. He stayed glued to the back bumper of Greg Biffle and kept the killer duo of Biffle and Kenseth separated. In the end, it was Kenseth whom he followed across the finish line.
Unsung hero, Part 2: Dave Blaney earned his way into the top 35 in owner points last year, but lost his guaranteed Daytona 500 starting spot when team owner Tommy Baldwin did a points-swap deal with Stewart-Haas Racing to aid Danica Patrick. But Blaney raced well enough to keep his starting spot from ever being in serious doubt, starting 14th, taking a long turn in the lead pack, then easing back to protect his position and finish 12th.
Stat of the race: Again, zero cautions. Really?
Daytona Duel 1
The first of Thursday's Gatorade Duel 150s started with a crash, settled into a conga line fuel-mileage race, then ended with a second crash as Tony Stewart pulled out the victory.
Here's how it went down at the World Center of Racing:
How the race was won: A largely single-file race ended with a wild, five-lap shootout. Stewart led at the white flag and looked to be a sitting duck with a rearview mirror full of Dale Earnhardt Jr. and Kevin Harvick. But Danica Patrick's brutal backstretch crash brought out the caution and the checkers, icing the win for her new Sprint Cup Series boss.
Turning point: Michael Waltrip, who had just pitted for fuel, wrecked off the exit of Turn 2 as he re-entered the race, inexplicably spinning and bringing out the caution with seven laps remaining. In an instant, the cars that had lost contact with the lead draft as well as the teams that were trying to stretch fuel mileage were suddenly back in the hunt.
[+] Enlarge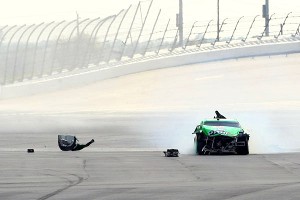 Douglas Jones/US PresswireDanica Patrick crashed hard in the final lap of the first Daytona 500 qualifying race on Thursday.
Best Cale Yarborough impersonation: During the final five-lap scrum, Jamie McMurray was punted into the infield after contact with Jeff Burton but saved it to come back onto the track in time to make it through Turn 3 smoothly. He finished 10th.
Best Joie Chitwood impersonation: Danica Patrick's hard crash is testament to why all racetracks, no matter what shape or size, should have SAFER "soft wall" barriers installed anywhere and everywhere. There are no excuses left not to do it. Ten years ago, she would have left here in a Medevac chopper.
Star watch: Every year one of the 150s seems to carry a little more star power than the other, and this year the first race took all-star honors thanks in no small part to Patrick, who ran in the top 10 all day but finished 16th. Defending Cup champ Tony Stewart won the race, followed by Earnhardt. Daytona 500 pole-sitter Carl Edwards rode around in midpack, roared back to the front with two to go, but faded to seventh. Former Daytona 500 winner Kevin Harvick finished ninth. Denny Hamlin, who dominated the middle portions of the race, finished 17th, one lap down.
I didn't see that coming: As early as the halfway point of the 60-lap sprint race, crew chiefs were already asking their drivers to start saving fuel. In a Duel 150. For real.
Unsung hero: Robby Gordon's Dodge started smoking and fell off the pace as soon as the green flag waved. But the smoke was not the result of engine trouble, as some (including me) initially believed. It was a tire rub, which Gordon nursed until the first caution, fixed it and ended up racing his way into his 14th Daytona 500.
Unsung hero, Part 2: Trevor Bayne's close friendship with Michael McDowell is well-documented. Once again, the Wood Brothers 21 Ford looks like a ride you want to see on your rear bumper. On Thursday, Bayne was clearly committed to pushing his buddy into the big race.
Stat of the race: Terry Labonte qualified for his 30th Daytona 500. His first start came in the legendary 1979 race. The two-time Cup champ has never won the Great American Race, with a best finish of second in 1986 and '97.
November, 19, 2011
11/19/11
9:56
PM ET
HOMESTEAD, Fla. -- On Friday morning Danica Patrick said she didn't want the 2011 season to end.
On Saturday night she couldn't get out of the racetrack fast enough.
What felt like a promising night, a finish that might put a last bit of punctuation on a season of marked stock car improvement, ended up wrecked. While Ricky Stenhouse Jr. celebrated a NASCAR Nationwide Series championship and a thrilling finish unfolded on the final lap, the GoDaddy.com Chevrolet sat up on jacks in the garage, 10 laps down with a finish of 32nd.
"Certainly not the finish we wanted," Patrick said in a very brief postrace interview. "That's not the number you want to put up going into winter. But I also think the race was the kind of race that I wasn't capable of running one year ago or even earlier this year."
[+] Enlarge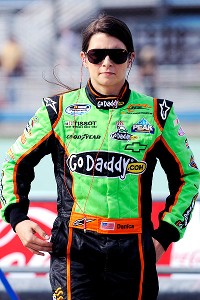 Jared C. Tilton/Getty ImagesDanica Patrick finished 32nd at Homestead after her GoDaddy.com Chevrolet hit the wall with 10 laps remaining.
"She's talking about the little things, like communication," interpreted crew chief Tony Eury Jr. "She feels the car better. She tells us what the car's doing so we can fix it. I do less coaching now and much more crew-chiefing. If you've really followed her close, really listened to her on the radio and watched her for entire races, you can see it pretty easy."
For 190 laps, Saturday night's performance in the Nationwide Series finale was indicative of what Eury described as a typical 2011 outing. Patrick qualified 12th, fought a tight car early while the sun was out, then a loose ride once that sun went down. She spent most of the night hovering around the 15th position and moved into the top 10 briefly.
But with 10 laps to go, while running 17th, she broke loose and slapped the wall after admittedly overarcing through the middle of Turns 1 and 2. It was her second-worst finish of the year, trailing her only other DNF of the season, a 33rd-place finish at Bristol in March.
Before that wreck, Patrick's run had been right in line with her season average finish of 16th over 11 starts. One year ago she posted an average effort of 28th in 13 races, including a 19th-place run at Homestead. In both of those seasons she essentially took the summer off for her full-time job in the IndyCar Series. Next year her full-time job will be in stock cars -- a full Nationwide Series schedule with JR Motorsports and eight Sprint Cup races with Stewart-Haas Racing, including the Daytona 500.
The exasperated expression on her face as she and her husband slipped quietly out of the garage during Brad Keselowski's race-winning burnout Saturday night was a far cry from her smiling, easy-going mood of the two days prior. Before the race she playfully joked with fans that this, her 25th Nationwide Series start, made her "a greasy old veteran."
"That number does seem crazy to me," she said. "But when I think about it I guess it isn't. I just don't think about it because now it all just feels, well, it feels normal."
Yes, it does, though normal in Patrick's world is a relative term. At the end of two years of part-time stock car racing, she still received what was easily the loudest ovation of any driver when her name was announced to the crowd in driver introductions. Her car still attracted the largest crowd of any on the Nationwide Series grid. And that crowd undoubtedly led the league in starstruck 8-year-old girls.
"Oh, yeah, there's still a lot that follows her just because of who she is," Eury observed before delivering a quick prerace pep talk. "But this is sure nothing like it was when she first showed up at Daytona two years ago. Or even like it was at Daytona this year, just back in February. That was a bit of a circus. Now it just feels more ... "
Normal?
"Yeah, that's it. Normal. I think that's how she wants it. To be just another full-time NASCAR driver."
Next year she'll get her shot.
November, 5, 2011
11/05/11
11:44
AM ET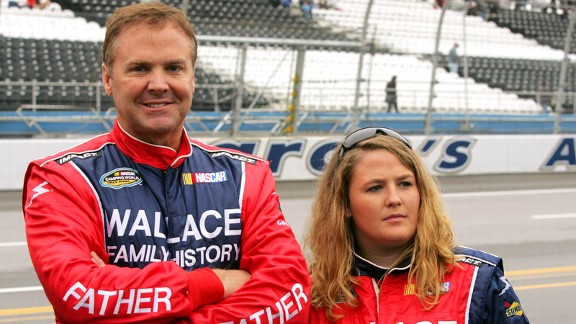 Jerry Markland/Getty ImagesMike Wallace and his daughter Chrissy Wallace are just a small part of the Wallace racing family.
In the early morning hours of Oct. 30, we lost one of the great motorsports patriarchs of the Midwest. Russ Wallace, father of Rusty, Mike and Kenny Wallace, passed away at 77 from stroke complications.
Russ never made a living racing. He worked jobs during the weekdays to fund his obsession at night and on the weekends, piecing together cars to race throughout Missouri and Illinois. Once his boys came along, he worked to underwrite their dreams, eventually helping them all move south to start one of the NASCAR's greatest sibling success stories.
His final days were spent watching one of those boys, Mike, experience a thrilling, emotional return to Victory Lane. On Oct. 22, the 52-year-old grabbed his first NASCAR win since 2004 and first Camping World Truck Series victory in 11 years. As the celebration began to slow, he politely did what he does a lot these days. He shifted the focus away from himself and onto his daughter, Chrissy.
"I hope we have another Wallace winning races in this series very soon," he said.
Chrissy's determination to keep climbing the racing ladder was always a source of pride for Russ.
"She keeps on digging," Russ told me in a conversation just prior to her Daytona debut in the NASCAR Nationwide Series in 2010. "People tell her no, but she won't take no for an answer.
"It reminds you of how we had to do it back home in St. Louis. You keep working and running up front, and they'll notice you. You start winning, and they'll have no choice but to give you a shot."
The 23-year-old Chrissy is constantly making phone calls, putting together sponsorship proposals and stuffing envelopes. The routine is nothing new. It's like this every year. But this autumn's search for next season's ride seems to have a little more momentum behind it.
Funny what winning a championship can do for one's spirits.
Chrissy started this season by becoming the first female to win a late model feature at the legendary Lebanon I-44 Speedway in Missouri. Then she added five more wins, along with 12 top-5s and 16 top-10s, in 19 starts. That earned her I-44's ASA Track Championship, the ASA West Region Championship, and placed her third in ASA's overall national championship hunt.
For those of you who don't know, the American Speed Association has been in business, albeit through two incarnations, since 1968. In its heyday, it was the premier Midwestern stock car series, producing the likes of Mark Martin, Alan Kulwicki and Johnny Benson. The history of the racing Wallace family is deeply intertwined with the history of the ASA. Rusty won the ASA national championship in 1983 and Kenny earned Rookie of the Year honors three years later.
[+] Enlarge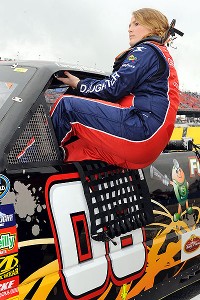 John Harrelson/Getty ImagesChrissy Wallace has only gotten a handful of starts in NASCAR's national touring series, but she's knocking on doors looking for her next shot.
"It has been so great going back to Missouri, where all of my family is from, and kind of getting back to my roots," said Chrissy, who was born in St. Louis. "The fans at I-44 have been watching my family for so long, and a lot of the people I see at the track raced against my father or my uncles.
"They all knew my grandfather. All the time, they've been coming up to me and telling me how much they support me."
It's not like the folks in Lebanon have never watched a Wallace dominate the summer. In 1990 Mike won the track late model title and NASCAR's Mid-America Region championship with a mind-blowing 21 wins in 29 races.
"Dad says it feels a lot like it did when he was racing there," Chrissy said. "It's a family affair. Most of the crew that worked with me each weekend was from my Mom's side of the family.
"My uncle Larry spots for me. That family support is such a huge reason for why we wanted me to go back and race there."
The other reason was to hit the reset button. To get away from all the motorsports noise of North Carolina and find another route back to NASCAR. Wallace started seven NASCAR Truck races in '08-09 and a pair of Nationwide Series races last year, but none this year.
But so far, so good on her climb back. Her success at I-44 caught the eye of Cunningham Motorsports and crew chief Paul Andrews, another alumnus of the ASA ranks. They put her in a ride for the Oct. 16 ARCA series finale in Toledo, where she finished a solid 11th out of 35 cars, barely missing her second top-10 in just three ARCA starts. Russ got to see that, too.
The goal is to land a ride in the Truck Series for 2012. There have been some discussions, but she knows that she needs to bring a better sponsorship portfolio to grease the rails. So, once again, she's back at work in her Concord, N.C., office, knocking on doors and hoping for a chance. It's quite a contrast to the ongoing stock car experience of Danica Patrick, who seems to trot out sponsorship and race schedules with the greatest of ease.
"This does seem like it comes easy for some people," Chrissy said. "Not a lot, but some. The rest of us have to work harder to make things happen. I've never been afraid of hard work, so I'll just keep on pushing. Eventually someone will take notice and give me a shot."
If she keeps on winning, they'll have no choice. Just like Russ said.
August, 4, 2011
08/04/11
2:21
PM ET
Indiana Jones.
James Bond.
Yes, it's an odd lineup. But that's the team that spent the first half of summer riding around the circuits of the NASCAR Nationwide Series together, searching for checkered flags and box-office gold. And if the rest of the teams across NASCAR's lower divisions are paying any attention, the trio could very well show them the way to aiding everyone's well-documented sponsorship woes.
"A team like ours has to be creative," said Wallace, currently 13th in the Nationwide standings. "And this was as creative an idea as I've ever seen."
[+] Enlarge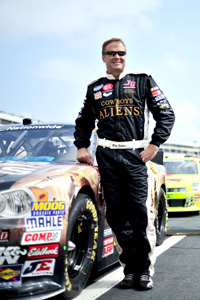 Jason Smith/Getty ImagesThe "Cowboys & Aliens" theme proved to be popular this summer, on and off the track.
Last weekend, Wallace's No. 01 Chevy ran the NASCAR Nationwide Series event at Lucas Oil Raceway with the now-familiar poster image from the film "Cowboys & Aliens" riding on the hood. On Saturday night, as Wallace crossed the finish line in 17th place, silver-screen superstars Harrison Ford and Daniel Craig were powering their western/sci-fi epic to the top of the box-office charts, drawing an estimated $36.4 million during its opening weekend.
It was the final go-round for the longest film-sponsorship deal in NASCAR history, a most unlikely marriage between Gaffney, JD Motorsports, an admittedly small full-time Nationwide team and Hollywood powerhouses Universal Pictures and Dreamworks. It's certainly not unusual to see a blockbuster film on a race car, but even the most high-profile movies typically show up at the track for two weeks at most and then disappear. This deal lasted a full 10 weeks.
"The studios are always looking for creative and unique ways to promote films," explained "Cowboys & Aliens" director Jon Favreau during a pre-premiere press blitz. "You want to reach people as many different ways as you can. It can't just be TV commercials all the time. Making a film stand out, particularly in a summer packed with big movies, it's always a challenge."
These days it's also a challenge for race teams to track down sponsorship money, particularly those in NASCAR's two lower national divisions. During these tough economic times, Sprint Cup teams are gobbling up every dollar they can get. That leaves a very small sponsorship pond for the Nationwide and Truck Series organizations to go fishing in.
"It's a hard sell," says Wallace. "On Fridays and Saturdays you can spot the sales people from the Cup teams walking around the Nationwide garage, writing down the companies they see on our cars. That wasn't happening when times were good."
But instead of sitting around and whining about it all, Wallace's team got creative. The man charged with recruiting sponsorship at JD Motorsports is Tony Piscaro, VP of sales and marketing. He had already developed the idea of a "Face Car," along with friend Jim Varga, founder of Social Fan Wrap. The idea was to let fans submit photos online, then use them to create a larger mosaic. It's an idea that we've all seen before on posters and t-shirts, but never wrapped around a race car going 180 mph. Other teams have taken a swipe at the photo-collage concept before, but not the much more complicated photo mosaic.
"From a distance, from the grandstands, the car looks like the original paint scheme," Varga explained. "But the closer you get, you notice the larger image is made up of thousands of pictures. Pictures of people, families, friends. It lets people feel involved. It's now their car. It's a social media payoff."
Piscaro started shopping the idea, but was admittedly choosy as to where he knocked on doors.
"We could have done it with any company as soon as we had the technology, Joe's Oil Change Place, whatever," he said. "But we really wanted to partner with someone who would do the concept justice. Something that would make a huge splash and give the idea long term legs."
So the little South Carolina race team started cold-calling Hollywood, pitching the idea of Face Car as a way to promote their summer blockbusters, promising exposure through social media and in-person at the racetrack. Universal called back.
"They said they get pitched ideas all the time," Piscaro says, still with a little amazement in his voice. "But they said there were calling us back because it was one of the most creative ideas they had heard."
To make it happen there were, of course, legal hurdles. At one point during the lengthy process the Universal brass got cold feet. That's when NASCAR stepped in, visiting with the studio execs to assure them that the sanctioning body was behind the idea and they were at the movie's beck and call if needed. Said Piscaro: "Some race teams like to complain that NASCAR doesn't help enough. But we don't get this finished without their help. That pushed it over the top. The deal was done, our idea was ready to roll and we were off and running."
They got the word out to race fans to send in their pictures, unveiling the concept at Charlotte in May. When the "Cowboys & Aliens" Chevy made its on-track debut at Daytona six weeks later, the poster was on the hood, and so were the fans.
More accurately, tens of thousands. And their Facebook page picked up more than 225,000 "Likes." For NASCAR, they hope that translates into a few thousand more race fans, particularly in the social media arena that they've increasingly started to focus on. For the folks at Universal, they hope it translates into a few more thousand tickets sold.
"That's pretty cool," said Favreau. "You have to think that if someone got their face on the car, then they'd have to pull for it in the race, right? And then after the race they would immediately leave the track and go straight to the theater and see our movie." Then he added with his trademark deadpan delivery, "I like that. That's like perfect-case scenario. Give me a second to let that soak in."
Favreau's bosses have certainly let it soak in. On Tuesday, JD Motorsports received a pile of "Cowboys & Aliens" merchandise and a thank you note from Universal and Dreamworks praising the success of their 10 weeks together. And NASCAR has asked to look at the business model of the deal, hoping to inspire other Nationwide and Truck teams to stop complaining about lack of funds and start becoming more creative.
Meanwhile, at the JD Motorsports shop, there's no time to let anything sink in. They are back to square one, headed to this Saturday's race at Iowa Speedway (7:30 p.m. ET, ESPN2) without primary sponsorship. Piscaro is back on the phones and back at the drawing board, hoping to create the dollars that will keep the shop doors open.
"We're just a small race team that's working as hard as we can," says Wallace. "There's no time to pat ourselves on the back. We've got to figure out the next big idea to keep this going."
June, 3, 2011
06/03/11
3:32
PM ET
These are not good times for tattoo parlors in Columbus, Ohio.
But on a cold winter day in February 2010, when needle met biceps at Columbus's Skin Deep Tattoo Studios, there was no way of knowing that it was setting off a remarkable chain of events, from Columbus to Charlotte to Daytona to this very NASCAR weekend at Kansas Speedway. It is a tale of kindness that has allowed a young woman to, for a few moments at least, forget about her increasing list of ailments. And it has created a cyberspace prayer chain strong enough to, for a few minutes at least, give the ink masters of Columbus something to talk about other than Ohio State's "Tattoogate."
[+] Enlarge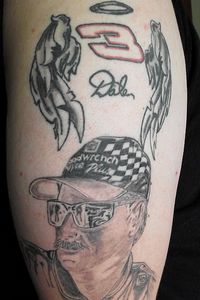 Courtesy Zach BernardDale Earnhardt fan Zach Bernard wears his colors proudly.
It all began on a day leading up to the 2010 Daytona 500, when Zach Bernard, then 23, decided to pay tribute to the late Dale Earnhardt. Just below his right shoulder, he had his cousin Shannon "Lucky" Everhart, an artist at Skin Deep, do a pair of black angel wings wrapped around a replica of The Intimidator's signature.
"I just wanted to honor my hero," says Bernard, a warehouse employee with DSW Shoes. "I always think about Dale around the Daytona 500, just like so many others do. And because of Earnhardt Sr. I'm a big Dale Jr. fan, too."
A few months later Bernard got to make a NASCAR fan's dream trip to Charlotte, visiting race shops and attending the Coca-Cola 600. On that Memorial Day weekend Earnhardt Jr. ran a special American flag-themed U.S. National Guard paint scheme. Bernard loved it so much that when he returned home he walked straight back into Skin Deep and had Everhart do his left triceps with a tattoo of the 88 car.
The work was so good that it earned Bernard the honor of Hendrick Motorsports Fan Photo of the Week. He won the honor by posting a picture of his still-fresh Dale Jr. ink on his Twitter page. Bernard, aka @zachbernard, is a bona fide NASCAR Twitter junkie. Nearly all of his 240-plus follows are NASCAR-related, and he has used the social networking site to "meet" teams, drivers, crew members and fellow fans.
One of those fans was 19-year-old Kellie Achey.
In January 2010, around the same time that Bernard was getting his first tattoo, Achey was diagnosed with gastroparesis, sometimes referred to as delayed gastric emptying. Put in its most basic terms, it is a condition where the body can't keep food moving through the digestive system at a normal rate, if at all. Her condition eventually led to the development of Rumination syndrome, where the body rejects food through constant regurgitation.
Achey, aka @tubecute88, had been a winner of Hendrick Fan Photo of the Week honors, thanks to a picture of her extensive Dale Jr. memorabilia collection. And it was through Twitter that she and Bernard hit it off, a pair of proud Earnhardt fans. He was in Columbus and she was 900 miles away in Wichita, Kan. Eventually the friendship moved to Facebook, and during an evening chat session she revealed her health problems to Zach. He found the link to her CaringBridge.org journal, and as he read her entries he was both heartbroken over her condition and inspired by her boundless positivity. She had named her feeding, venting and nutrition tubes Elvis, Gandhi and Turbo and told Zach that she hoped to become a doctor specializing in the treatment of others with her condition.
As this year's Daytona 500 approached, Kellie began suffering from pelvic dysfunction. Her Twitter friends, especially Bernard, rallied to offer their support. "The whole thing was still just so hard to take," he admits. "We all just wanted to do something to cheer her up. But you feel pretty helpless."
Once again, his tweets and tats came to the rescue.
The Daytona International Speedway announced that it was holding a contest on Twitter, looking for the best NASCAR tattoo. The winner would receive a Daytona Preseason Thunder poster autographed by all the drivers who had participated in the winter test session at the track. Bernard entered and, of course, he won. "The day before [they announced the winner] I went into work and I kept thinking how cool it'd be to win that poster, but the more I thought about it the more I thought I knew someone who deserved it so much more."
[+] Enlarge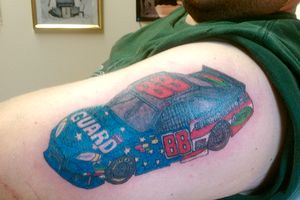 Courtesy Zach BernardZach Bernard loved Dale Earnhardt Jr.'s American flag-themed U.S. National Guard paint scheme so much he made it permanent -- on his left arm.
Bernard told Achey that if he won, the poster was hers. She just laughed and didn't press the issue. When he won, she was among those on Twitter who congratulated him. He also received congrats from the race team of Greg Sacks, who were preparing for the racer's Daytona comeback and saw the chatter about Bernard's contest victory through, of course, their Twitter account. They contacted Bernard and offered up free tickets to the Budweiser Shootout. He said he couldn't make the 14-hour trip down from Ohio because he couldn't get off work. Then he had an idea. If they had any unused tickets after the race that they could send, that would be great because he could frame them with his poster. Then he told them what he was doing with the poster. They asked for Kellie's address.
"They ended up sending tickets from the Bud Shootout, Drive4Copd 300 [Nationwide Series race], Daytona 500, lanyards, a Daytona 500 program, die cast car and a hat," Bernard says. "The box came just a couple of days after the 500 and Kellie was awestruck. I didn't get to see her reaction. ... I talked to her that night and she was still in disbelief. We were only on Facebook chat but after a few moments she said sorry for the delay. She had to get tissues to wipe away a couple of tears."
A few weeks later, she was readmitted to the hospital, forced to have another tube installed to help relieve the pressure on her digestive system. By then, the tale of what Zach had done for a friend he'd never met in person was beginning to spread, and the number of people following her story on CaringBridge was growing. JR Motorsports, at urging of the Sacks family, sent her a care package.
Eventually the story made its way onto the radar of NASCAR vice president Steve O'Donnell, aka @odsteve. He contacted Kellie and told her that she and her entire family would have tickets, pit passes and garage passes waiting for them when NASCAR came to their home track, the Kansas Speedway, during the first weekend in June.
All the while, no one trumpeted their efforts. Not Bernard, not O'Donnell, and not the Sacks family and their GT Vodka race team.
"All of us were extremely touched by Kellie's story," Brian Sacks wrote to Bernard in an email. Greg's son was also one of the instigators of the team's interest in Achey. "I gotta tell you that Kellie's smile is what sucked me in. With all the adversity that she's going through, it takes an extremely special person to keep a smile on, and hers is simply beautiful. ... My brother and I learned by watching our dad, you do it for the smiles, not for the accolades."
Unfortunately, Kellie won't be able to make it out to the racetrack this weekend. In early May she added malabsorption to her list of conditions and continues to fight bouts of hypokalemia, low potassium. She was in Kansas City for a round of biofeedback therapy Tuesday but simply can't stay on her feet long enough to deal with the rigors of the racetrack. However, there was some good news this week when she learned she has landed a mid-July appointment at the Mayo Clinic. And O'Donnell has told her not to worry, that the offer still stands and the passes are still available when she does feel up to it. She already has her eye on NASCAR's next visit to Kansas in October.
"I'd like to tell everyone who has been praying and supporting me through all this that I really, really appreciate everything they've done for me," she wrote via email Thursday afternoon. "Zach has been absolutely amazing through all of this. For one person to go out of his way to try to make my days brighter is just out of this world. I don't think I could ever pay him back for what he has done for me. Every time I have a message from someone I literally cannot stop smiling. It really does brighten my day."
Bernard's tattoo count continues to grow. He added a full portrait of Dale Sr. just last month. So does Kellie Achey's collection of Twitter followers. It's a roster that now includes a lot of the NASCAR people and organizations that first lured her to the site, just hoping to follow them as a fan. Now, thanks to a friend whom she's never met, not to mention some very serious arm ink, they are fans of hers.
May, 21, 2011
05/21/11
4:01
PM ET
HICKORY, N.C. -- Ned Jarrett sat on the concrete grandstand of Hickory Motor Speedway on Friday afternoon, peering through the rusty catch-fence that separated us from the lone locally based late-model racer running test laps around the .363-mile oval.
We had just finished taping our interview for Saturday morning's "NASCAR Now" and I had assumed that Gentleman Ned, dressed in a blue golf shirt that was adorned with a sparkling new NASCAR Hall of Fame lapel pin, would bolt for home or perhaps the golf course.
Instead, he said, "Let's have a seat here and talk for a little while."
He told me about the first race he ran on his hometown track. "The first race I ran here was the first race they ever ran here, in 1952."
He told me about his emotional first and only Grand National (now Cup series) win on his home track, coming on May 16, 1964. "It was as big of a win as I had in my career. There were about 10,000 people here that day and I like to think they were rooting for me. I was 0-for-6 before that and I had to beat David Pearson and Richard Petty to get it."
[+] Enlarge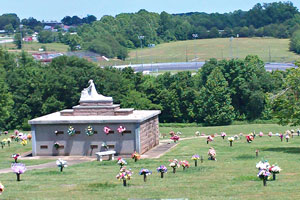 Ryan McGee/ESPN Ned Jarrett signed over two of his family's plots at Catawba Memorial Park so good friend Bobby Isaac could have a final resting place. The sprawling cemetery overlooks Hickory Motor Speedway.
And he told me about his career as the manager of the facility, beginning in 1967, the year after he retired from driving. "The first year that I was manager was the last year this track was dirt. The plans were already in place to pave it. The morning after that last dirt race in '67 we had the pavers out here working."
By the mid-1970s Jarrett was part-owner of the bullring when Hickory's other living legend came back home to race full time. Bobby Isaac had fallen in love with racing the first time he came to Hickory Motor Speedway. It was to watch that same inaugural '52 race. He watched the local heroes hammer through the dirt, including Ned.
As we sat there in the same stands where Isaac had watched Jarrett that day, Ned explained that he and Isaac had known each other since they were kids. Jarrett's father had conducted some business with Isaac's family, who owned a saw mill. As young men, Jarrett and Isaac became friendly racing rivals. Though Ned got the early jump on a driving career, Isaac soon joined him in NASCAR and made his Grand National debut in 1961. The pair ran in 58 races together at stock car racing's highest level. It was during the peak of Jarrett's career -- he won the '61 and '65 championships. In 1970, four years after Ned's retirement, Isaac won a title of his own.
"There was a real friendship there," Jarrett told me. "It's amazing to think about him watching me race, us racing together, then me covering some of his career as a broadcaster, and then him coming back here to Hickory to race when I was working at the track."
In '73 Isaac was involved in one of the most mysterious moments in NASCAR history. During a race at Talladega he suddenly radioed in to car owner (and Jarrett's fellow '11 Hall of Fame inductee) Bud Moore and announced he was pitting. He climbed from the car and essentially retired from Cup series racing on the spot. He explained to Charlotte Observer writer Tom Higgins that a voice had told him to get out of the car.
Isaac was done with NASCAR's top series (he did make a handful of starts, but nothing substantial or regular), and instead returned to the short tracks, particularly Hickory. During a sweltering night in '77, he said he wasn't feeling well. He was taken from the Hickory Motor Speedway pits to the local hospital, where he died of a heart attack.
"Bobby had only been married a couple of weeks at that point," Jarrett recalled, looking out onto the pit road where Isaac was last seen by the public. "His wife came to me and explained that he didn't have anywhere to be buried."
So, Gentleman Ned stepped in to help his old friend, signing over two of the Jarrett family's burial plots in Catawba Memorial Park. The beautiful, sprawling hillside cemetery overlooks Hickory Motor Speedway, so close that the track operators -- including Jarrett -- have always had to work with local funeral homes to schedule "funeral delays."
"It was always quite a challenge," Ned said with a laugh. "When a funeral procession arrived, we would red-flag any race that was going on to allow the service to be conducted without being disturbed by the noise from the racetrack. Usually 30 to 45 minutes. At first fans didn't understand what was going on, but eventually it became part of the charm of the Hickory Motor Speedway."
In mid-August 1977, Bobby Isaac was laid to rest on that hillside, in a spot that provides a very nice view of the speedway grandstands, as well as Turns 3 and 4. The cemetery administrators said that at least once a week a NASCAR fan stops by the office to ask where they can find Isaac's final resting place, particularly on Hickory race days. I myself went looking for it Friday afternoon and ended up sitting on a stone bench and listening to the sounds of that late-model racer down below echoing off the hillside and its headstones.
One day, hopefully not anytime soon, his childhood friend and racing rival will join him there.
"When my time comes I'll be buried right next to Bobby," Jarrett said as he pointed through the Turn 1 trees and up toward Catawba Memorial Park.
On Monday night, Jarrett becomes a member of the NASCAR Hall of Fame. One day Isaac will take his place beside Ned there as well.
May, 20, 2011
05/20/11
11:44
AM ET
I stood at the start-finish line of the North Wilkesboro Speedway on Thursday afternoon, microphone in hand. "NASCAR Now" host Michelle Bonner was about to toss to me from our Bristol, Conn., studios and I was about to begin my live interview with Alton McBride Jr., the president of Speedway Associates Inc. and the man credited with saving the crusty old bullring that racers call, simply, Wilkesboro.
Seconds before we hit the air, McBride leaned over and said, "Man, that's a cool jacket."
Ever since we started our NASCAR Now Classic Track Tour, the majority of the comments that I've received from fans and friends via email and Twitter haven't been about the tracks themselves, but the jacket that I've been wearing during my reports. Everyone from Regan Smith to old college buddies to my producers said I had to wear it all week, so I have.
It's a white vintage-style Petty Enterprises jacket with Richard's name on one side of my chest and vertical racing stripes with STP and Dodge patches down the other. It looks old, but actually isn't at all. It was made by Puma a few years ago and gifted to me by a friend who knew I was a lifelong Richard Petty fan.
I decided to wear the jacket during our first Classic Track Tour stop at Bowman-Gray Stadium. The primary reason was because it was about 50 degrees and pouring down rain. But there also was a historical reason. And when I started researching each stop on the tour I quickly realized that it held true at every track we'd picked for the series.
Richard Petty was good. And his stories about each track are even better.
Take North Wilkesboro, for example. He's the track's all-time leader in wins with ... 15! The first victory came in 1962, the last in '81. He won three in a row there twice and during one six-year stretch he won eight of 12. He also the track's leader in starts (66), top-5s (33), top-10s (42) and laps led (5,315). He made his first North Wilkesboro start during the Eisenhower administration and his last just four weeks before Bill Clinton was elected.
Petty is also the all-time wins leader at Rockingham, where we stopped on Wednesday. He won at The Rock 11 times, the first two on the track's original flat configuration. He won four times at our first stop, Bowman-Gray, trailing only Rex White's six victories. He won five times at Hickory, second all time behind Junior Johnson's seven wins. And he's the career wins leader at our final stop, Greenville-Pickens, with six.
His Royal Fastness is also the all-time leader in top-5s and top-10s at all five of our Classic Track Tour stops. And at all but one he put together at least one three-race winning streak. The only stop where he didn't grab a three-peat was Bowman-Gray, but he did win three of four in 1967-70 and finished second in the one he didn't win.
"Yeah, we had a little success on those tracks your picked out, didn't we?" he said to me via phone Wednesday morning. "Back then the money you made was whatever you won. So running for points wasn't really a realistic deal, you know? So we figured we'd run up front as much as could."
When I told The King about the jacket, he laughed and said he wanted one. When I told him we were headed to North Wilkesboro on Thursday, he laughed and said he wished he could "ride up there with y'all."
"We had a deal up there one day that still makes me laugh. Every time I came through one of the turns, I can't remember which one, I started seeing these two boys fighting. They were just beating on each other. I went by one lap and they were up in the stands fighting. I came by one lap later and they were down on the ground next to the fence. The third time I came around the one guy had the other guy's head struck through the fence out over the racetrack."
So, I asked, what did you do then?
"Nothing. I kept racing. At that point I figured they were going to get it worked out between them, you know?"
Then I asked Petty if he could remember when the track made the change from dirt to asphalt and when the old guard rail was replaced with the white concrete retaining wall. He said yes. Then I asked him to verify a story I had always heard about that wall. Years ago I was told that when the bricks were laid and the concrete was poured, the family that owned the track, the Staleys, had reinforced that wall by throwing piles of steel car parts into the mix, taken from the garage and junkyards and even pulled from old moonshine-running cars that were so common in Wilkes County.
"Yeah, I heard that too. And I always assumed it was true."
He paused, chuckled and coined a phrase that I immediately stole and used on Thursday's "NASCAR Now."
"I guess you'd call that Redneck Rebar."
May, 19, 2011
05/19/11
11:37
AM ET
When we rolled into Rockingham Speedway on Wednesday afternoon, the camera crew had one question. Where were we going to do the live shot for NASCAR Now?
That answer was easy. We all quickly agreed and said in unison, "Turn 1."
Why? Because that's where the greatest moment in The Rock's nearly five-decade history took place, though at the time it surely didn't seem so great.
Benny Parsons came into the 1973 season finale as the NASCAR Winston Cup points leader. This was a big deal to the people of Rockingham because B.P. lived in nearby Ellerbe, N.C. In fact, his entire team was based there. It was owned by local businessman L.G. DeWitt, who also happened to own the racetrack, and the crew chief on the car was Travis Carter, a hometown boy who would eventually go on to build winning cars for Junior Johnson, Hal Needham and Burt Reynolds, and then start his own race team in the 1990s.
Somehow B.P., L.G. and Travis kept up with the big teams all year long. They loaded up their sponsorless racecar in Richmond County and towed it off to faraway places like Michigan, Texas and Southern California.
This was the era of Yarborough, Allison, Pearson and The King. Those factory-supported cars won races by the bushel, but B.P. and L.G. punched out top-10s like a telegraph operator. They had won just once, at Bristol in July.
When The Ellerbe Gang arrived for the season finale at DeWitt's track, then known as North Carolina Speedway, they held a slim points lead over Cale Yarborough. Only 15 minutes from home, there was no doubt as to who the crowd favorite was.
[+] Enlarge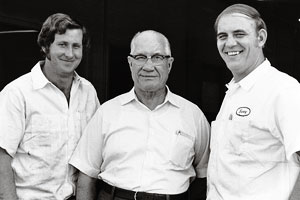 Getty ImagesCrew chief Travis Carter, team owner -- and Rockingham owner -- L.G. DeWitt and driver Benny Parsons pulled off one of the unlikeliest championships in NASCAR history in 1973.
"It was really something," Benny told me years later, when we were coworkers at ESPN. We were sitting in a booth at the Dixie Burger on Ellerbe's Main Street, having breakfast the morning before a late '90s race at The Rock. "It was a real thrill for me. But I was even more happy for Mr. DeWitt and Travis. It was a big deal for those guys to have that moment in front of their friends and family."
But on Lap 13 those roaring grandstands were silenced by the sight of the spinning number 72 car. Parsons had been caught up in a wreck not of his own doing and when the smoke cleared the entire right side of his car was sheared away -- sheet metal, roll bars, everything. Poor Benny sat there totally exposed to the grandstand. He was stunned and, as he admitted often, quietly accepted his title loss.
That's when it happened. After the car was towed back into the garage, other crews started pitching in to help the poor-but-proud DeWitt team.
Rivals began cannibalizing their own cars and bringing over the parts that Carter needed to rebuild Benny's ride. For over an hour the patchwork of impromptu teammates hammered and welded.
Maybe they did it because they wanted the little guy to win. Maybe they wanted to see the home team come through. Or perhaps they just liked B.P., L.G. and Travis.
Whatever their motivation, the crew of dozens got Parsons back on the track. He ended up finishing 183 laps behind Yarborough, but 67 points ahead.
"Sometimes I still don't believe it," Carter told me standing in that same garage just two years ago. The Rock had been reopened and his son, Matt, was racing there in the ARCA series. "There was a camaraderie in the garage back then, especially among the smaller teams, that you just don't see today. We'd share parts, ideas, motel rooms, whatever it took to get to the next race."
That evening, just as they had done all season, B.P., L.G. and Carter packed their things, loaded up the car and headed back to Ellerbe.
"But," Benny told me, "we didn't leave until we had shaken every hand in the garage and waved to every single fan all the way home."
So when it came time to pick a spot for our NASCAR Now segments on Wednesday, it was a no-brainer. We went to the spot of Benny's wreck. And we opened our second segment with a shot of the press box, which Rockingham Speedway's new owner Andy Hillenburg has renamed the Benny Parsons Tower.
And while we got ready to do the show I received a tweet wishing me luck … from Benny's son Keith, a former AP sportswriter and now a bank executive in Rockingham.
If you're a Richmond County native, and I am, then you always knew that, coming to Cup race weekends from the Charlotte area, one of the best shortcuts to the track was the one that took you through Ellerbe. When I left Rockingham on Wednesday evening, I took that route going home. And yes, I stopped by the Dixie Burger to have a milkshake and remember an old friend and the town that loved him so.
There's an unofficial rule in the world of television production that says: "The best stuff always happens after the camera's turned off."
On Tuesday evening's edition of NASCAR Now we kicked off our Classic Track Tour with a visit to Winston-Salem, N.C.'s Bowman Gray Stadium. We braved the rain to stand on the balcony of Winston Salem State's field house (Go Rams!), which provided a gorgeous overlook of the place they call the Madhouse.
Huge chunks of rubber were piled up in the outside lane. There were still visible marks atop the front stretch guardrail after a wild crash the previous Saturday night. I hadn't been to a race at B-G in more than 15 years and I stood and marveled at how it still looked exactly the same as it did then.
Our special guest for the show was in the last segment. The interview was great. Then, when the show was over, he stood there with me on that balcony and the memories started pouring out.
"You're not kidding," Richard Childress said with a laugh when I shared my observation about the place being frozen in time. "It still looks the same as it did the first time I came out here. And that was around 1953."
Childress, now 65 and the owner of Richard Childress Racing, first walked through the gates of Bowman Gray (actually, he snuck under the fence) when he was around seven or eight years old. He grew up in the neighborhoods around the stadium, the rough-and-tumble streets of east Winston-Salem. The racetrack started out as his babysitter, his stepfather dropping him and his siblings off on Saturday nights. Immediately, little Richard was hooked by the noise, the smells, and the living legends who drove the machines.
"Right here behind us, down in Turn 3, it was Turn 1 back then, there was a pine tree just outside the track. That's where guys like Curtis Turner, Fireball Roberts, Joe Weatherly, and Junior Johnson would hang out. The real men. Real racers. I was just a kid and the track didn't want me down in the pits, but as I got older I figured out how to get down there. I would just stand and stare at those guys under that tree. Sometimes they'd call me over, give me some money, and say, 'Hey kid, go get me a beer.' "
[+] Enlarge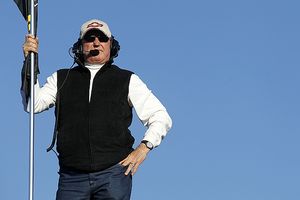 Todd Warshaw/Getty ImagesRichard Childress got his start at Bowman-Gray, and he hasn't forgotten that.
Childress then turned to our right, overlooking Turn 4.
"There was a tree there, too. But the guys who hung out underneath that tree weren't ever as cool as the ones over at the other one."
Then he admitted that even today he still sizes drivers up by which tree they would have been sitting under.
"Tony Stewart, Kevin Harvick, those kinds of guys, in 1960 you would have found them sitting over under that tree over to our left. Not that other one."
The six-time Cup champion team owner talked about his first job selling peanuts in the Bowman Gray grandstands. A good night meant bringing home a dollar.
"If you made two bucks, man, that was like winning the lottery."
He pointed out the concession stand overlooking Turns 1 and 2 and said it looked exactly like it did when he was a kid, right down to the painted lettering.
"People always sat in the same sections," he said. "You knew who would always buy the same thing every Saturday night and you headed straight for them. Eventually I got promoted to selling drinks. Once you got up to drinks, you felt like a real businessman."
He remembered always leaving the track 15 cents short of whatever his actual take had been. Why? Because that's how much a sleeve of French Fries cost.
"They cooked up real crispy and we'd put vinegar on them," he said. "Man, they were so good it was crazy."
Then he recalled the terrible night in 1958 when Billy Myers suffered a heart attack rolling through those turns and his car suddenly went straight, blowing through the fence and hitting a truck in the parking lot. Billy was dead. One year earlier his brother Bobby had been killed in the Southern 500.
It was tragic year that decimated the "First Family of Southern Modified Racing." From then on, the track's Grand National (now Sprint Cup) races were named for the Myers Brothers.
"I remember after Bobby died down at Darlington they hung a big sheet between then goalposts on the football field down here in this end zone (in Turns 3 and 4). They showed a film of the race and it included Bobby's crash. It was standing room only. Everyone wanted to see it. And then they went racing."
Eventually Childress went racing, too. He bought his first race car, an old taxi cab, for 20 bucks. He bought his second car for 40. "I had to borrow money to buy that one."
Lap by lap, he raced his way out of the toughest neighborhood in Winston-Salem. Eventually he ended up in NASCAR. When Bowman Gray hosted its 29th and final Cup Series race in 1971, the Myers Brothers 250, Childress was in the field. He finished 21st out of 29 cars and pocketed $205 for his efforts.
"Think about all the places I've gotten to go and all the races we've won over the years. Only in America can a kid from the wrong side of the tracks start in these grandstands selling peanuts, end up coming back to race, and then have the kind of success we've had at RCR. And to think, RCR started right here on this track in front of us."
You may call Bowman Gray Stadium the Madhouse. The people who race there may call it The Stadium. But Richard Childress, looking over the rain-soaked racetrack, had another name for it.
"This right here … this is home."
May, 16, 2011
05/16/11
5:28
PM ET
When my daughter was a little younger we used to joke that my pickup was a time machine. We'd joke about jumping in, hitting the gas, and turning back the clock to go visit heroes of bygone days.
This week, my pickup actually will be a time machine.
Starting Tuesday on "NASCAR Now" I'll be living every old-school race fan's dream, meandering through the Carolinas on what we're calling the Classic Track Tour. Just call it a crash course (in some cases quite literally) in stock car racing history as we march into a weekend that will be bookended by the Sprint All-Star Race, NASCAR's modern-day version of a Saturday night A-Main, and the induction of the NASCAR Hall of Fame's second class.
I'll spend the week jumping in my big red truck and going back in time to visit some of the greatest speedways in NASCAR history, bullrings where the men and women who fill the Hall of Fame became legends. All five of our stops played host to races in NASCAR's Strictly Stock, Grand National, or eventually one of the many sponsor-led versions of the Cup series.
All five were hosts to some of the biggest events and greatest stories that NASCAR has written. All five were eventually left behind by NASCAR's biggest division. But all five are still in business today, despite the financial struggles that continue to hamper short track racing. Just last week, one of our five tracks made headlines when it announced that it will be reclosing its doors for a while.
[+] Enlarge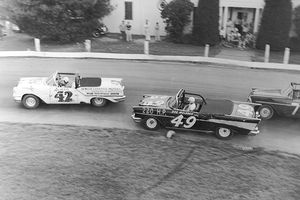 ISC Images & Archives/Getty ImagesLee Petty is getting into the Hall of Fame. Ryan McGee is visiting some of the places that helped him get there.
On Tuesday (5 p.m. ET, ESPN2), we'll kick off the Classic Track Tour at the place they call the Madhouse, the uber-flat, uber-tough oval of Winston-Salem's Bowman Gray Stadium. I'll be joined there by the Madhouse's most successful alum, Richard Childress. When he was still in elementary school, RC would walk halfway across town to sell peanuts in the Bowman Gray grandstands. As he got older he figured out how to get into the infield, where he fetched cold beverages for the likes of Curtis Turner and Fireball Roberts. As a teenager, he raced there. As a young man, he worked out of a shop just down the road. And now, as a six-time Cup series champion team owner, he serves as one of its living legends.
On Wednesday (5 p.m. ET, ESPN2), we'll head down U.S. Highway 220 to a place where Childress clinched that sixth Cup by stomping the field on a cool fall evening in 1994. Back then it was the North Carolina Motor Speedway. Shortly afterward it was known as the North Carolina Speedway. But no one ever called it that. They called it The Rock. Andy Hillenburg, the man who saved what is now known as the Rockingham Speedway from ruin, will join me to talk about it.
Thursday (5 p.m. ET, ESPN2), we travel northwest into the foothills of the Carolina Piedmont to check on the status of another once-proud NASCAR racetrack that is fighting to stay alive. The North Wilkesboro Speedway sat dormant for a decade and a half, then reopened to much fanfare last summer. Now it's struggling again and the men behind its revival will give us an update.
We'll wrap up the Classic Track Tour by kicking off All-Star Saturday (11 a.m. ET, ESPN2) with a bullring double-dip. First, we stay in the mountains at the place they call "Birthplace of the NASCAR Stars," the Hickory Motor Speedway. That's where 1970 Cup champ Bobby Isaac still overlooks his home track from the cemetery on the hillside above. And Ned Jarrett, barely 72 hours from his Hall of Fame induction, will revisit the track he once owned.
Finally, we'll visit a place that lists its all-stars along a world famous backstretch wall. The Greenville-Pickens Speedway is to Upstate South Carolina what Darlington is to the coastal plains, handpicked by Bill France Sr. to help NASCAR take root in the Palmetto State. It's been there, and at Greenville-Pickens, ever since. In 1971, GPS hosted the first flag-to-flag televised NASCAR race, called by Jim McKay on "Wide World of Sports." Forty years later it'll have to settle for me and "NASCAR Now."
Between the interviews and live shots we'll also teach you a history lesson on each track. Who built them? What was its greatest moment? Who were its greatest legends? What's happening at each racetrack today?
As the week goes along, be sure to check back here for my Classic Track Tour Travelogue. And I'll be tweeting my oil-stained fingers off at http://twitter.com/#!/RyanMcGeeESPN.
So, please come along with me on the NASCAR Now Classic Track Tour. Climb into my big red 4x4 time machine and let's take a ride down memory lane ... the fastest, loudest, greasiest, most barbecue sauce-covered memory lane there is.