July, 26, 2013
07/26/13
6:26
PM ET
TALLADEGA, Ala. -- Part of NASCAR's weekly prerace routine is to trot the day's visiting celebrities through the infield media center to answer a few questions. Exactly who stops by is typically tied to the market and track the series is visiting. When racing in Fontana, California, Hollywood celebs visit. When racing in Michigan, auto execs stop by.
At Talladega Superspeedway, as it is with any dot on the map of Alabama, it's all about college football.
"Man, I am so excited to be here, I can hardly stand it," Ole Miss football coach Hugh Freeze said excitedly, sharing the Sunday morning stage with NASCAR Sprint Cup racer and hard-core Rebels supporter Ricky Stenhouse Jr. "I have been a NASCAR fan for so long and it feels great to be at such a legendary racetrack."
OK, understand something here. All those celebrities who come to the track? They all say that they are really excited to be here and that they are big race fans. But they aren't. They say they love Danica and Dale Earnhardt Jr., they drive the pace car or shout, "Drivers start your engines!" and then by lap 50 they are gone. Poof.
Hugh Freeze is not one of those people.
[+] Enlarge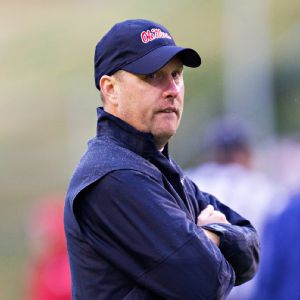 Wesley Hitt/Getty ImagesOle Miss football coach Hugh Freeze isn't just a NASCAR fan, he's a huge NASCAR fan.
"As far back as I can remember, I have taped every race," admitted the 45-year-old Oxford native, who says he's been a NASCAR fan since the early 1990s, when Stenhouse was still in preschool. "My family will attest that when I get home on Sunday night I go to watching it."
Freeze, like most fans who discovered NASCAR in the '90s, became a Jeff Gordon fan and also fell for Dale Earnhardt Jr. He still supports them, but they now rank behind Stenhouse, who visits Ole Miss football practice occasionally and is on the Vaught-Hemingway sidelines whenever he can be, and Patrick, who's Stenhouse's girlfriend.
The coach is such a fan he has worked NASCAR lingo into his playbook. His fast-paced offense has different sets of gears, the fastest of which is labeled "Talladega."
"I've used that all the way back to high school," he explained. "Our kids have bought into it. I can't tell you the number of times our players, particularly the quarterbacks, come to the sideline and say, 'Coach, let's go some Dega, man. Let's go some Talladega and speed this thing up and make it more exciting.' I think that is a great analogy for our kids because this place is one of the most exciting tracks and events in all of sport."
For Sunday's Geico 500, Freeze was charged with pacing that excitement, wheeling the car that leads the 43-car field around the 2.66-mile speedway with 33-degree, six-story banking. But before slipping behind the wheel of his Ford Mustang, he had to walk across the stage to be introduced in front of thousands of rambunctious race fans ... right smack in the middle of the state of Alabama.
"I suspect that there's going to be some boos," he accurately predicted, laughing. "But I'm kind of used to that."
In recent years NASCAR teams have run paint schemes designed to win the favor of the Yellowhammer State residents. Michael Waltrip has run Alabama Crimson Tide national championship paint jobs. Jamie McMurray won at Talladega in October 2013 in an Auburn Tigers scheme. Both received plenty of cheers, but an almost equal share of jeers.
Almost nothing on Planet Earth has the ability to unify the bitterly divided hemispheres of Roll Tide and War Eagle. The Ole Miss Rebels are in that very small group, especially since Freeze arrived in 2012. He has hauled in five-star recruiting classes.
That year they defeated Auburn and last fall Ole Miss upset eventual College Football Playoff participant Alabama, ranked as high as third in the nation.
"In this state, I'm used to getting booed quite loudly," Freeze said.
Then he was interrupted by Stenhouse: "That means you're doing things right."
July, 12, 2013
07/12/13
3:03
PM ET
Morgan Shepherd was grinning. It was a big ol' face-splitting grin that harked back to 1993. Or 1983. Or 1973. Impressively, that face was pretty much devoid of any wrinkles, save for some signature crow's feet around the eyes. Not bad for a 71-year-old.
On Sunday, Shepherd will make his 515th career Cup series start and his first since 2006. As soon as the green flag is waved, he will set the record for oldest driver to race at NASCAR's highest level, breaking a 26-year-old record set by Jim Fitzgerald, who was 65 when he raced at the since-razed Riverside International Raceway.
"Aw, that's not no big deal," Shepherd said about the record. "My life is about encouragement to people, and this is for the race fans that help keep us here, that support us. Cause I couldn't be racing without it. I don't operate on sponsorship. I operate on friendship, and that is the reason I'm here."
He's made plenty of friends, many of whom were lined up to shake his hand and welcome him back as the crew wrenched away on the No. 52 Toyota Camry. Ken Schrader, 58, relished the opportunity to stop by and, for once, get to call someone "old man."
No, Shepherd is not going to earn his fifth career win. He likely won't even make it to the first round of pit stops. The man who once won races for Hall of Famers Bud Moore and the Wood Brothers will be driving for poor-but-proud Brian Keselowski Motorsports (the older brother of defending Sprint Cup champion Brad).
[+] Enlarge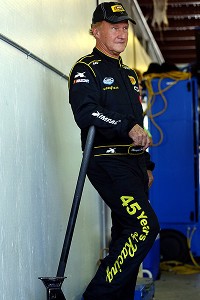 Tom Pennington/Getty ImagesMorgan Shepherd, 71, is ready to race Sunday in the Sprint Cup Series Camping World RV Sales 301 at New Hampshire Motor Speedway.
But winning isn't really the goal. His effort is bringing attention to SupportMilitary.org, a not-for-profit gateway that gives military personnel and families easy access to support organizations. The car also features a decal dedicating Shepherd's weekend to the lives of the 19 firefighters killed fighting Arizona wildfires one week ago.
Shepherd made his first Sprint Cup Series start before it was even the Winston Cup Series. Heck, it wasn't any kind of Cup. It was still the NASCAR Grand National Series.
That was June 20, 1970, at the Hickory Motor Speedway. Richard Nixon was in the White House. Mark Martin, typically the oldest driver in the Cup garage these days, was 11.
Shepherd, 28, finished 19th of 22 cars in a 276-lap race won by eventual series champ Bobby Isaac. Like most of the men in the field that day, Isaac is long since gone. So is the way Shepherd used to race.
"In 1970, I could go to a Chevrolet place and buy an engine for $735," he said. "Tires was $25 apiece, and I could go out and win races that paid $1,000. I could make a lot of money then. Now these engines, they lease them for $70,000, some of them $100,000 or whatever."
He pointed to a nearby stack of tires and continued: "In 1969 [in late-model racing], I won 21 out of 29 races. The left-front tire was on the car all year long. I changed the left-rear one time. The right side twice. So yeah, there's a little bit of difference now."
I motioned toward the end of his perfectly pressed black slacks, calling attention to a pair of well-shined, red-dyed cowhide boots. He said they were at least 20 years old. That's right. His footwear is likely older than fellow Cup series racer Joey Logano.
I asked him if he would be wearing his roller skates on Sunday. For years, it was a staple of the prerace show at the Martinsville Speedway for Shepherd to glide through a roller routine to Mel McDaniel's "Baby's Got Her Blue Jeans On" on the frontstretch.
"No, and I'm a little disappointed about not having my skates," he said. "This deal came together so fast I jumped on a plane and flew up and we didn't get a chance to get them loaded on the truck."
So what's the lesson in all this? What should other 70-somethings take away from a grandpa trading paint with a field of 42 other drivers who largely weren't born when he made his first series start?
"Get your hind ends off the couch and do something," he said. "Make a difference in the world. That is one of our deals. We have a charity that has been going on for 27 years where we help handicapped people. If you are healthy, you need to get up and help somebody else. That is what my life is about."
Shepherd paused, started to walk away and then turned back.
"Purpose and passion," he said. "This is passion. You need to find your purpose and do something about it."
May, 17, 2013
05/17/13
9:34
AM ET
On Thursday afternoon, when the press release from the Lincoln County, N.C., Sheriff's Department hit my inbox, I was devastated.
Dick Trickle, one of truest throwback racers of all time, was dead. Dick was a great guy and a great racer, a Midwestern legend who reportedly won more than 1,000 short-track races.
He was also a great sport, even when it came to his name, which was made (in)famous by Keith Olbermann and Dan Patrick during the mid-1990's "Big Show" days of the 11 p.m. Sunday night "SportsCenter." One of the last conversations I had with Trickle was about that very topic.
"I wasn't real damn happy about it at first," he admitted in his patented box-of-nails voice.
But then he came to realize that it also had given him a level of national notoriety that an old short-track racer from Wisconsin could have never achieved on his own.
"It kept me racing for a while longer. And yeah, it was kind of funny as s---," he said
Those kinds of conversations are why, even as heartbreaking as the story of his apparent suicide is, I still couldn't help but spend some time Thursday evening laughing. A lot of Trickle stories came to mind, but here are the three I have told the most before and will tell the most again.
Hickory Speedway, 1997
Perhaps the greatest, most genuine Victory Lane celebration I've ever witnessed.
Trickle made his NASCAR Cup Series debut before it was the Cup Series, qualifying for the 1970 Daytona 500, the fourth race of NASCAR's Grand National schedule that season. Over the next 27 years he started nearly 300 races across NASCAR's top two divisions, with nary a win to show for it.
Then, on Saturday, March 29, 1997, he rooted his way around defending series champion Randy LaJoie in the closing laps to win the Galaxy Foods 300, a NASCAR Busch Series event at the crusty old Hickory Motor Speedway. He was 54 years old.
I will never forget him climbing from his Dura Lube Chevy in the makeshift Victory Lane with a lit cigarette between his fingers. You see, he was the last NASCAR racer to keep a pack of cigarettes in the cockpit. During caution periods he'd light up, burn one down and go back to racing. He chased that nicotine with what he always estimated as around 40 cups of coffee. Per day.
With photographers snapping photos, he took a drag and matter-of-factly asked the race officials, adorned in Busch beer logos, "I get free beer for winning this thing, right?"
Later that evening, after the fans were long gone and we were packing up our TV gear, he walked by us to his waiting pickup, a free Winston cigarette hanging on his lip and carrying a case of Busch tallboys on each shoulder.
Talladega Superspeedway, 2000
On the morning of what would wind up being his 20th and final Cup Series start at Talladega, Trickle was asked to meet with the track safety crew prior to the race. Having a driver chat with the emergency personnel was a longtime standard operating procedure, especially at the superspeedways.
This was the first -- and only -- time I've ever sat in on one of those meetings. Me being there was a total accident. It was hot as forty hells so I'd ducked into the Goodyear building for a little shade. As I walked in, one of the safety workers asked Trickle how he preferred to be approached and handled should he be one of the drivers caught up in the inevitable multicar crash known as the Big One.
"All you need to do is bring me a cigarette and a cup of coffee, " he said, holding up both. "Then you can go check on the other guys."
I've never seen so many firemen cry and fall all over the floor before or since.
Darlington Raceway, 2000
Later that year, I was getting set to interview Trickle at Darlington, where he'd won a Busch Series event in 1998. He was in a cranky mood. Looking back I think he sensed that the end of his NASCAR career was coming soon, which it was. Just before I asked the official question, the track began to blare music from "Days of Thunder" over the public address system.
Sensing a chance to break the ice, I started with a question about the movie's leading role.
"Dick, I have to ask. Was Cole Trickle your son?"
"Hell, I don't know, kid," he said. "Could be. Some of those nights back there, they're a little fuzzy."
February, 23, 2013
02/23/13
2:27
PM ET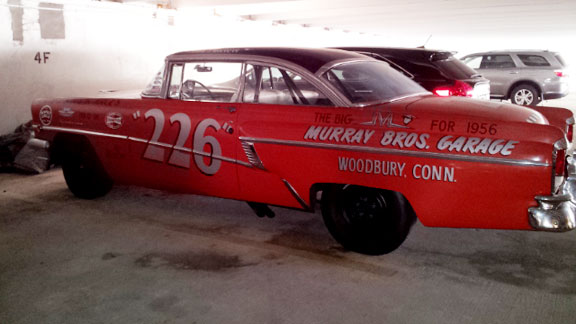 Ryan McGee, ESPNCheck out Russ Truelove's rebuilt '56 Mercury. Truelove, who has a sandwich named for him at Racing's North Turn Beach Bar & Grille -- the Russ Truelove Prime Rib -- returns to Daytona Speedweeks each year as director of the Living Legends of Auto Racing.
DAYTONA BEACH, Fla. -- For years now, NASCAR execs have struggled with relocating the sport's "core fans."
Good news. I found them.
On Friday afternoon, as the next-to-last Daytona 500 practice session took place, Racing's North Turn Beach Bar & Grille was standing room only.
A group of women dressed in Dale Earnhardt GM Goodwrench gear drank Buds in a booth decorated with Intimidator gear. One wiped a tear from her eye, and it wasn't because of the onions on her burger. A group of thick-around-the-middle lawyers draped in motorcycle leathers described themselves as "Jeff Gordon fans and the original Wild Hogs." A tour bus of NASCAR tourists, all dressed in "Swedish Daytona Tour 2013" T-shirts, posed out front for a group photo with the North Turn neon sign.
In the middle of it all, a grandfather held his young grandson's hand as they slowly walked along the walls of the lobby, reading aloud the wallpaper-like newspaper clippings from the 1950s. "See this photo here?" the man said with a point to an autographed black and white photo of a white-helmeted Tim Flock, '52 and '55 NASCAR champion. "Your granddaddy saw him win a race right out here behind this restaurant."
[+] Enlarge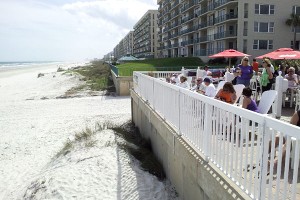 Ryan McGee/ESPNIs there a better view of the Atlantic than from the deck at Racing's North Turn Beach Bar & Grille?
"On the beach?"
"Yep, on the beach."
The North Turn Beach Bar & Grille has been at this location for more than 60 years, sandwiched between the Atlantic Ocean and Atlantic Avenue in the town of Ponce Inlet, just south of Daytona Beach. Back then, it was the Sandpiper Bar and Restaurant. The towering condos that surround it now weren't there. The only structure of note was a wooden grandstand that nearly leaned up against the Sandpiper. It was the grandstand for the 4.1-mile Daytona Beach and Road Course.
The sands of Daytona Beach hosted racing for nearly a half-century. To the north, land-speed records were set by a pair of Sirs, Henry Segrave and Malcolm Campbell. Soon, everyone and everyman started trying their luck against the clock. Eventually, it turned into racing. One of those beach racers was a young mechanic named Bill France. He led the formation of NASCAR. And in 1948, the fledgling sanctioning body was running the races that had moved down to Ponce Inlet.
The Sandpiper fed fans and competitors. It also served as Bill France's makeshift office. From there, he sold tickets, paid purses and sent employees out into the palm bushes to post "Warning: Snakes!" signs to drive freeloading fans off the dunes and toward the ticket booth.
"It was sight, man," Richard Petty recalled on Friday afternoon, standing in the garage of the Daytona International Speedway. When the big track opened in 1959, it spelled the end for the Beach and Road Course. "Daddy [NASCAR Hall of Famer Lee Petty] and those guys would come flying up that beach, like 80 of them, at 130 mph. Then, as they got to the North Turn, they'd throw those big ol' cars into these huge slides for like a quarter of a mile. They'd hit that hairpin turn, throwing sand all up in the air, get back in the gas and then drive back south on the highway. Tires squealing. It was awesome."
Thousands of fans lined both sides of the "highway," which was actually just a narrow two-lane asphalt country road. They also packed the wooden grandstand, gasping whenever a driver would miscalculate his slide, overshooting the sandy banking and banging into the pillars below.
No matter where they sat, a large majority of those fans munched on boxed lunches they'd bought from the Sandpiper. Now, from the North Turn Beach Bar & Grille, they look out over a much more peaceful scene, enjoying sandwiches named for those racers, such as the Ray Fox Shrimp Salad or Russ Truelove Prime Rib.
"There are a lot of old-timers who worry that people have forgotten about how racing used to be," says Truelove, who returns to Daytona Speedweeks each year as director of the Living Legends of Auto Racing. "All I have to do is bring them here to the North Turn and they realize that they are still remembered and loved. These are real race fans in here."
In 1956, Truelove's No. 226 Mercury was, as they say in his hometown of Waterbury, Conn., "wicked fast." As it turned out, a little too fast. As he approached the North Turn and threw his steering wheel to the left, a tire dug into the sand and sent the car airborne. It flipped six times. Once it came to rest, the door flew open. To the cheers and screams of the crowd, Truelove ran across the beach to safety as the rest of the 76-car field bore down on him.
A Life magazine photographer was there that day and captured the entire wreck. It appeared in a two-page photo spread one month later, and a copy of that issue is on display at the restaurant. Sitting in the parking deck next door was Truelove's rebuilt '56 Mercury, painted up exactly as it was the day it did the 100-mph pirouette.
"We've started a new tradition of having the old racers come back and drive the original course," Truelove says, citing a renewed enthusiasm for the old track, thanks to a decision by local officials to mark the original North and South Turn locations with checkered flag beach gates and historical plaques. "Last year, we could only drive down Atlantic Avenue. This year, they let us on the beach, too."
It took place last weekend, the morning before the Sprint Unlimited. NASCAR Hall of Famer Glen Wood was there. So were Ray Fox and Marvin Panch. They were all back behind the wheel of restored beach racers. And afterward, they did just as they did 60 years ago -- they walked into the Sandpiper-turned-North Turn Bar & Grille and got something to eat.
"It really is something being back out there and driving my race car with the people lined up to the left and the ocean to my right," says Panch, who raced on the beach from 1956-58 and won the big race at the then-new Daytona International Speedway in 1961. "It was a real case of déjà vu. I think we all wanted to just take off and race. But the speed limit out there is 10 mph now."
February, 8, 2013
02/08/13
3:55
PM ET
On Wednesday evening, I was reading my colleague Ed Hinton's great piece on this year's NASCAR Hall of Fame class and realized that, though certainly not to the degree of Hinton, I have been honored to have had personal interactions with each one of this year's inductees.
We all have a Rusty Wallace story or two. Same goes for Leonard Wood, who remains active in the sport as part of still-competitive Wood Brothers Racing. He's even on Twitter (@Leonard_Wood)!
But what about the other three? The racers who did their legendary work long ago and are no longer with us? Please indulge me three quick stories. Perhaps they will give you a little insight into the men who are about to take their rightful places in the Hall of Honor.
Herb Thomas
I met Thomas, a two-time NASCAR champion and winner of three of the first five Southern 500s, during NASCAR's 50th anniversary celebration in 1998. Honestly, I thought he was already dead.
"No," the soft-spoken North Carolinian replied with a laugh during an interview I did with him for "RPM2Night." "Not yet. Though I did worry sometimes that people had forgotten about me."
The people he raced with and against certainly hadn't, having voted him to the list of NASCAR's 50 Greatest Drivers. A few months earlier, a fellow member of that list had described to me two of Thomas's most distinguishing traits.
"He was like ol' Jekyll and Hyde, know what I mean?" said Lee Petty, one of Thomas' biggest rivals during the 1950s and a member of the Hall of Fame's second class in 2011. "He was a family man. Kind of quiet. Did his thing. But then you'd get him behind that wheel and he turned into a wild man."
As for that other unique characteristic: "You always knew when it was him because of that nose. I can remember running along and racing and then you would look over and see that big ol' nose of his sticking out the window. 'Well, hell, there's Herb.' "
I recounted that tale for Thomas. He just smiled and touched his most pronounced feature. "I guess this was their warning that they were about to get passed."
Buck Baker
Baker was also a part of that legendary mixed bag of early racing rivals, winning back-to-back championships in 1956-57 in the midst of the great decade-long four-way title fight that was Baker versus Petty versus Thomas versus Tim Flock.
But no one was ever going to mistake Elzie Wyle Baker Sr. for the mild-mannered Thomas. Not even close. Like Thomas, he was a master at Darlington Raceway, winning the Southern 500 three times and making his final start there in 1976 at the age of 57. Unlike Thomas, who preferred to quietly celebrate race wins with the wife and family, Baker preferred to erect impromptu Delta Houses.
During that same 50th anniversary season of '98, Buck told me a story that I have worked tirelessly to have verified over the years. Those who dare to back it up refuse to have their name attached to it. The one time I asked his son, Buddy, about it, the 1980 Daytona 500 winner only smiled and said, "No comment".
After winning the 1960 Southern 500, at the time the biggest stock car race in the world, Buck vanished. Back home in Charlotte, his family worried that he had been kidnapped or killed by a robber. After all, the then-massive amount of his $19,900 paycheck had been splashed across newspapers throughout the country.
But a couple of days later, the phone rang at the Baker house. It was Buck. He was drunk. Like, Captain Jack Sparrow slurred-speech drunk.
"Somebody come down here and get me!" He hung up.
A few hours later, the phone rang again. "Dammit! Somebody come down here and get me!" Click. Again.
Clearly, no one had stolen the winnings. Buck was spending the cash on the biggest party the state of South Carolina had seen since the Reconstruction. It's just that no one knew exactly where in the Palmetto State it was taking place. Including, apparently, the host.
"I eventually made it home," Baker recalled in '98, four years before his death. He chuckled, with more of a groan than a laugh. "The money didn't."
Cotton Owens
Ever since the NASCAR Hall of Fame has been in business, every event, whether it's been a class election announcement or an induction ceremony, has been attended by a small group of gray-haired gentlemen that I call the Spartanburg Posse. Bud Moore, David Pearson and Cotton Owens all hail from the South Carolina town, always raced out of there and always carpooled to Charlotte for Hall of Fame events. Now they are all Hall of Famers.
In October 2009, they rode to Charlotte for the election of the inaugural five-person class. Moore and Owens were on the voting panel. Pearson, considered by many to be the greatest driver in stock car racing history, was there because he expected to be voted in.
He was not.
In one of the most heartbreaking scenes I have ever witnessed on this job, Pearson was consoled by Owens, the car owner with whom the Silver Fox won his first Cup title in 1966. As the celebration started for those voted in, Pearson bolted for the door. I followed him, in the rain, to his car outside the Charlotte Convention Center. He thanked me for walking with him, said he didn't want to talk about it and then jumped behind the wheel and blew out of the parking lot, squealing the tires as he headed home, 75 miles back to Spartanburg.
I walked back into the Convention Center, where Owens was standing inside the door.
"Were you with David?" he asked.
Yes, I told him. I began to describe how disappointed his old friend was, and then I launched into some rambling speech about how I knew the omission was just as difficult for Owens as it was for Pearson. Blah blah blah.
"Son," Owens said, cutting me short. "So David got in the car and left?"
"Yes, sir. Can you blame him?"
"No, I can't. But he was my ride home."
January, 23, 2013
01/23/13
12:50
PM ET
If we could just get Felix Sabates to speak his mind.
On Wednesday morning, the Cuban refugee-turned-American success story held court during the Earnhardt Ganassi Racing with Felix Sabates stop on the Sprint NASCAR Media Tour. On the eve of his 19th season as a NASCAR Sprint Cup Series team owner, a Daytona 500 champion ring on his left hand and Brickyard 400 ring on his right, the 70-year-old rolled through a rapid-fire list of topics, smiling and winking all the way.
The highlights:
• On the much-heralded looks of the newly redesigned Generation 6 race cars: "I am in the car business. [He started as a salesman at Charlotte's City Chevrolet in the 1960s and now owns a Mercedes dealership.] No one ever walked up to me on the lot and said, 'I want to buy this car because it has no style and looks terrible. No one doesn't love a good-looking car. These are good-looking cars."
[+] Enlarge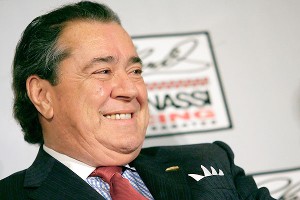 Jason Smith/NASCAR/Getty ImagesFelix Sabates had a lot on his mind when he met the NASCAR media Wednesday morning.
• On the legacy of the Gen 5 car, aka Car of Tomorrow, which is being shelved after six years: "The COT is the worst mistake NASCAR ever made. And they know that. ... But in the end, it did make the sport safer."
• On NASCAR chairman Brian France's somewhat similar admission during Tuesday's annual State of the Sport address: "Brian gets criticized a lot. But he is a lot like his father, Bill France Jr. He calls a spade a spade. There is never a time when I don't know how he feels about something. And if I need to know, I just need to ask him and he will tell me straight. Kind of like me. The public may not always see that in him, but behind closed doors I sure do."
• On the new car versus the old car on the racetrack: "These guys are going to have to be able to drive now. It will take cojones. The COT was very forgiving. This new car is harder to drive. It was specifically designed that way. You are on your own in this new car. If you aren't a real racer, you won't be able to do anything with it."
• What kind of driver is he talking about? "I think this new car is built for a guy like [EGR driver] Juan Pablo Montoya. He's the kind of guy that just naturally goes and finds the edges where a car can run. With the old car our engineers would say, 'You really need to be running closer to the wall.' So he would try it, hit the wall, and come back and say, 'Was that close enough?' This new car will be back in the hands of the drivers. The ones with cojones. That's how it should be."
• When asked for an example of the COT not being about the driver: "I don't think the 21 car wins the Daytona 500 without the COT. I love that kid [Trevor Bayne], and I have so much respect for that team [Wood Brothers Racing], but he simply figured out how to do that two-car draft and that's how he won the race. Good for him, he deserved it. But in this car, like the car before the COT, a young guy can't just walk in and win like that."
• On the addition of new sponsors Cessna and its Textron partners, Bell Helicopter and E-Z Go, their massive wares on display in the airplane hangar where the news conference took place: "This team has always been fully sponsored, even when the economic situation was at its worst and we were running terrible. We are very proud of that fact, and we should be. When a company like Cessna comes in, a company that does business with the best of the best in the corporate world, I think that sends a message to those CEOs that there must something to this NASCAR deal. It's OK to invest in racing again."
• Realizing he kept using the term "cojones" to describe what racers would need to drive the Gen 6 car, he offered up an alternative term: "Use the word 'timbales.' That's a much nicer way of saying 'balls.'"
December, 28, 2012
12/28/12
4:01
PM ET
"Um, Dad …"
The call came from my 8-year-old daughter, who had been playing a game on my mobile device. Now she was walking toward me, handing over the device and looking concerned.
"Your phone is acting weird."
Yes, it was. Buzzing and whirring and flashing like a bad guy's lair in a James Bond film just before it self-destructs. I can't exactly recall what the warning said, but I think it was something like: YOU HAVE ELEVENTY BILLION PHOTOS ON YOUR PHONE AND IF YOU DON'T DUMP THEM TO A COMPUTER SOON THIS DEVICE WILL EXPLODE.
And so it was that during the final days of 2012 I looked like Clark Griswold in the attic during "Christmas Vacation," reliving my past through images as I laughed, cried and, on occasion, was horrified. So as I dump off the pics of my 18th year on the road chasing race cars, why don't you look back with me, as we present my 2012 NASCAR Road Trip Photo Album.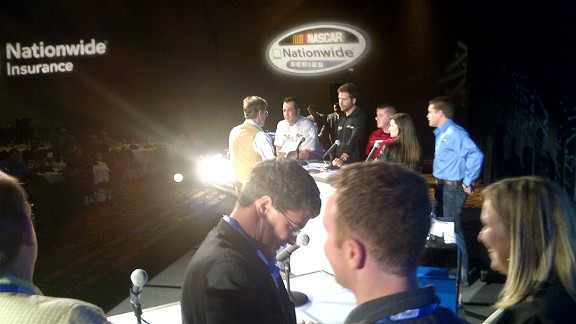 Ryan McGee/ESPN
• Jan. 24, Charlotte, N.C., NASCAR Media Tour -- This is what it looks like to have your hindquarters handed to you by a bunch of racers in a makeshift version of Family Feud, media versus drivers. Over there across the stage that's host Kenny Wallace collecting the winning answers from Sam Hornish Jr., Brian Scott, Justin Allgaier, Danica Patrick and Ricky Stenhouse Jr. Meanwhile, I am huddling up to think of wrong answers with Nate Ryan, Jeff Gluck and Jenna Fryer. I still think it was rigged.
---
***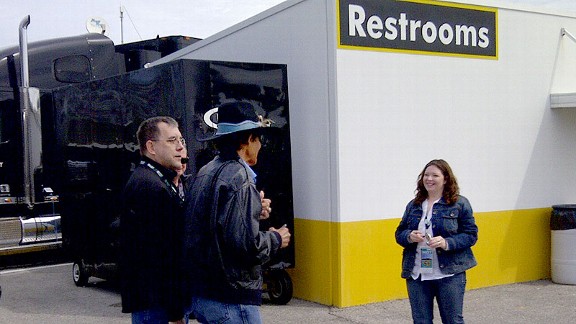 Ryan McGee/ESPN The Magazine
• Feb. 25, Daytona -- There is no safe place for The King to hide from autograph seekers. Not even the Royal Throne.
---
***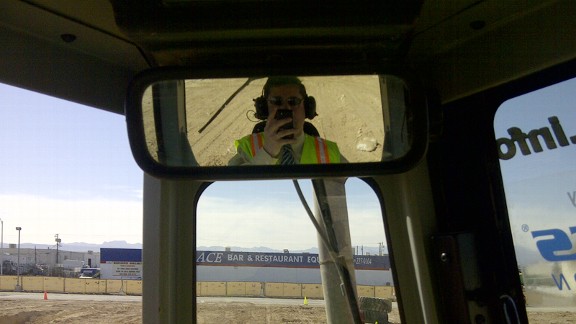 Ryan McGee/ESPN
• March 10, Las Vegas -- This is what it looks like to race AJ Allmendinger in a bulldozer. He won in a landslide (get it?) while I ran over a bunch of cones. All of which makes this an excellent public-service announcement about the perils of distracted driving.
---
***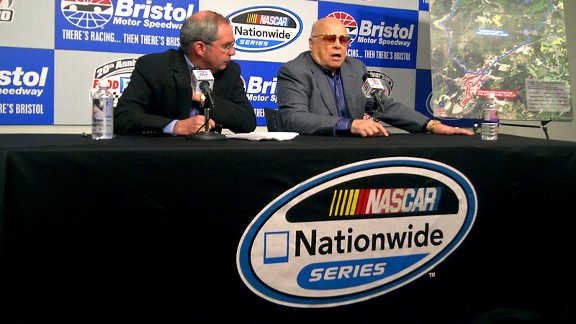 Ryan McGee/ESPN The Mag
• March 16, Bristol, Tenn. -- Bruton Smith holds a news conference to announce he wants to build a copy of Germany's legendary Nurburgring road course in Utah, adding that he doesn't have any actual plans drawn up or funding secured, but that, hey, if someone in Utah ever wanted to do it he thinks it would be a great idea.
---
***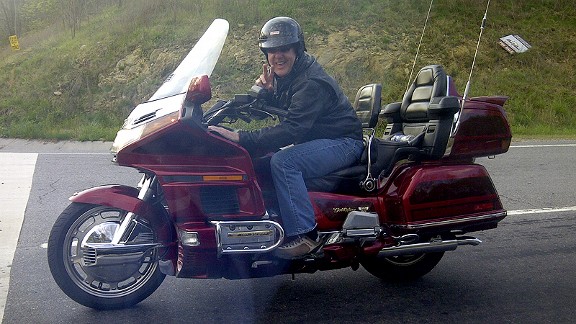 Ryan McGee/ESPN The Mag
• March 30, Martinsville, Va. -- My twin brother from another mother, Johnny Benson, checking in at a red light just south of Martinsville Speedway.
---
***
• April 1, somewhere near the North Carolina/Virginia border -- God Bless 'Merica.
---
***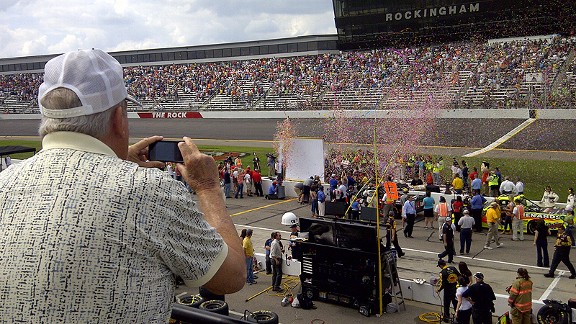 Ryan McGee/ESPN The Mag
• April 15, Rockingham, N.C. -- This is too cool. Kasey Kahne is celebrating a win in the first major NASCAR event held at Rockingham Speedway in eight years. Taking a photo of it all is Tom "Pappy" Higgins, the greatest NASCAR writer who ever lived. The ball cap that Pap is wearing is from the 1965 American 500, the very first race run at The Rock, won by Curtis Turner.
---
***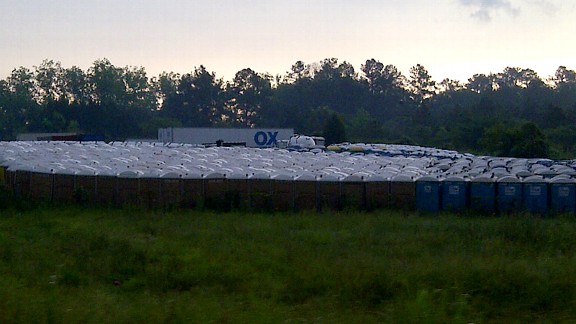 Ryan McGee/ESPN The Mag.
• May 6, Talladega, Ala. -- If you'd ever wondered what a bazillion Porta-Johns would look like during sunrise … you're welcome.
---
***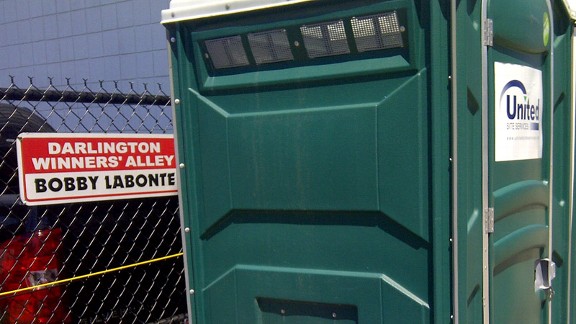 Ryan McGee/ESPN The Mag.
• May 11, Darlington, S.C. -- Earning a parking spot on Winners' Alley at Darlington just isn't what it used to be, eh, Bobby?
---
***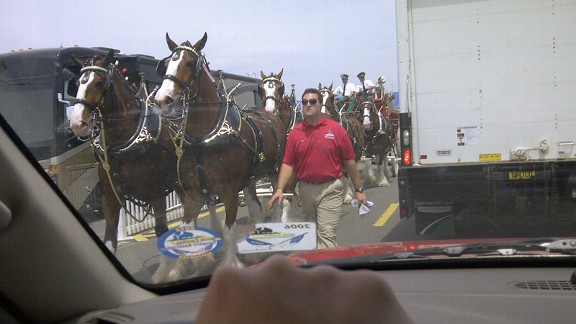 Ryan McGee/ESPN
• May 18, Charlotte -- Infield traffic jam before the NASCAR All-Star Race. Lots of horsepower.
---
***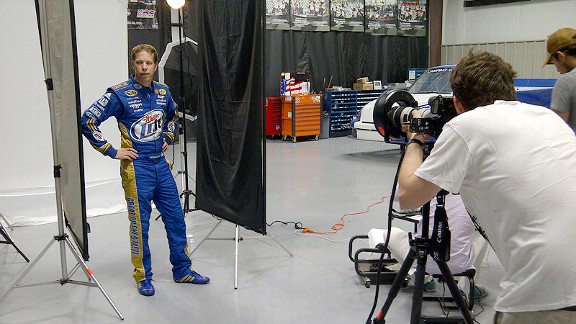 Ryan McGee/ESPN
• May 31, Mooresville, N.C. -- With the eventual Sprint Cup champion at his race shop doing an ESPN The Magazine piece on the sports world's greatest debaters. Brad Keselowski doesn't know it, but the photographer with the crazy-strong accent is about to throw a bottle of water into his face to "make him look sweaty and mean."
---
***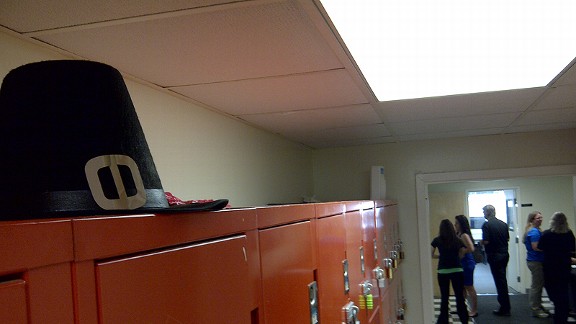 Ryan McGee/ESPN
• July 12, Loudon, N.H. -- Pilgrim hat on a locker outside the media center bathroom? Only in New England.
---
***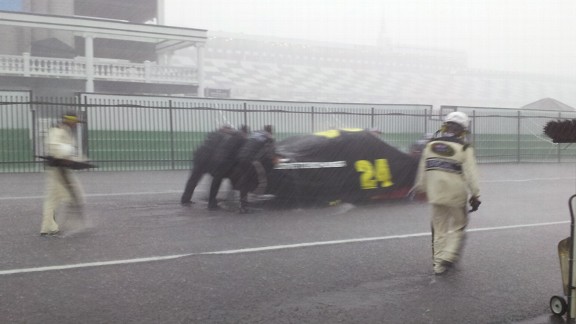 Ryan McGee/ESPN
• Aug. 5, Pocono, Pa. -- Outside of a hurricane, I've never seen a storm go from zero to terrifying as quickly as this one did. So quickly the winning car had to push against the wind to get to a makeshift Victory Lane. Look at the wake behind the tires.
---
***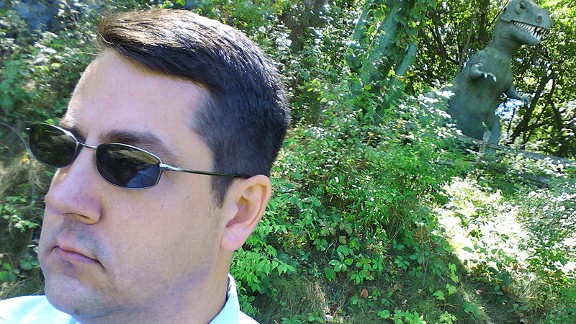 Ryan McGee/ESPN
• Aug. 18, Michigan -- "There used to be a prehistoric forest roadside attraction right here. I guess it's gone. You guys see anything? No? OK, let's go."
---
***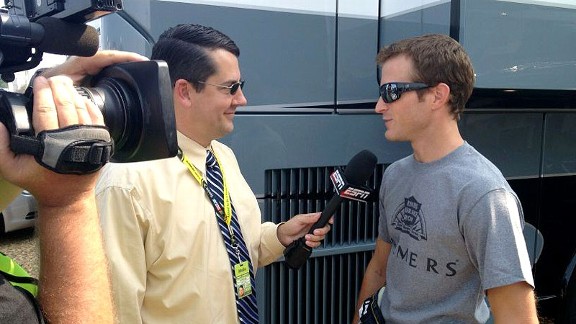 Ryan McGee/ESPN
• Sept. 2, Atlanta -- Right after this interview Kasey Kahne said to me, "I think USC is winning the BCS championship." I replied, "Totally, dude. I just voted them No. 1 on my ESPN.com Power Rankings ballot." Good job out of us.
---
***
• Sept. 7, Richmond, Va. -- Old-school. She said she found this cap at a yard sale.
---
***
• Sept. 8, Richmond -- Really old-school. I drove over to Colonial Williamsburg and this guy claimed to be Mark Martin's first crew chief.
---
***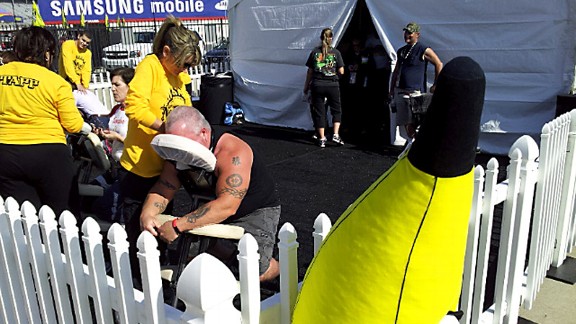 Ryan McGee/ESPN The Mag.
• Nov. 4, Fort Worth, Texas -- The Texas Motor Speedway's Wild Asphalt Circus provided an infield full of acrobats, sword jugglers and high divers. But nothing beats a tatted-up dude in a tank top getting a massage next to his giant stuffed banana in the Nationwide Series garage.
---
***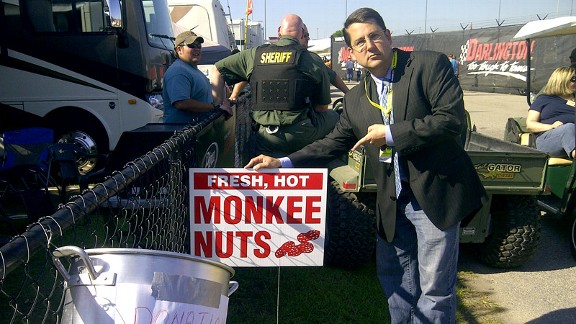 Ryan McGee/ESPN The Mag.
See you next year!
April, 15, 2012
04/15/12
5:22
PM ET
ROCKINGHAM, N.C. -- Just call it Second Chance Sunday.
Nearly nine years later -- eight years and 53 days to be exact -- a whole lot of people eagerly seized that rarest of opportunities. A shot at redemption that not so long ago felt as if it was buried forever in the North Carolina Sandhills.
The Rockingham Speedway, a NASCAR staple since 1965, was abandoned after its 78th and final Sprint (then Nextel) Cup Series race on Feb. 22, 2004. Nearly as soon as that checkered flag fell, the booming sport ditched the rural 1-mile speedway for the bigger, more media- and sponsor-friendly racing palaces of the West.
[+] Enlarge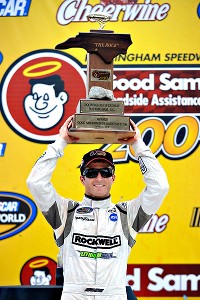 Rainier Ehrhardt/Getty ImagesKasey Kahne won his fourth Camping World Truck Series race in five starts Sunday at the famed Rockingham Speedway.
The race itself was a classic, a nail-biter won by Matt Kenseth by a scant .010 seconds. The driver who finished second by an eyelash that day was Kasey Kahne, then a wide-eyed rookie sensation who nearly won in just his second Cup start.
On Sunday afternoon, Kahne, now a 31-year-old veteran with a dozen Cup wins, snatched up his second chance and grabbed the old wooden trophy he was denied in '04. In the Good Sam Roadside Assistance Carolina 200, the third race of the NASCAR Camping World Truck Series season, he held off James Buescher by a much more comfortable 1.478-second margin.
"I have replayed that '04 race so many times and tried to figure out what I did wrong," he said with a nod, recalling the details of the final laps staring at Kenseth's back bumper as if it had happened the night before in Texas. "It definitely has bugged me for a long time. And it definitely feels like I've taken care of some unfinished business."
The crowd that watched him win felt much the same way. It was a large, raucous group, thousands of race fans eager not to squander their own second chance. Since the speedway boom that rolled through American motorsports in the late 1990s, no racetrack had lost its big league NASCAR status and then been given another crack at it.
"This is an opportunity that I think everyone here knows we won't get again," said Rockingham mayor Gene McLaurin.
The prospects of any racing returning, not just NASCAR, once seemed bleak at best. So much so that some residents of Richmond County refused to drive by the shuttered track on U.S. 1 merely to avoid having to look at it. But it reopened to lower-level stock car racing in 2008. And despite less-than-spectacular attendance for those events, NASCAR elected to bring the Truck series to The Rock this spring.
This time the people responded.
"These folks have kind of been getting beat up over the years," said team owner Richard Childress, who clinched Cup titles at Rockingham with Dale Earnhardt and was on hand to see his grandson, Ty Dillon, finish eighth. During the prerace ceremonies, Childress waved his hand over the sold-out frontstretch grandstand (the first five rows weren't sold because they offered no view of the backstretrch). "They've spent a lot of time having to hear about how they lost their races because they didn't show up or buy enough tickets and all that. I never bought into that. I always loved these fans. And they showed up today, didn't they?"
The official estimated attendance was 27,500. The Rockingham Speedway's capacity is in the neighborhood of 32,000. The population of the entire county is 47,000.
"The atmosphere felt like a Cup race," said four-time Truck series champion Ron Hornaday Jr., who started two Cup races at then-North Carolina Motor Speedway in 2001. "Old guys like me and [2002 Daytona 500 champion] Ward Burton [there to support son Jeb], we looked at each other like, 'Yeah, man, here we go.'"
The old guard harked back to the good ol' days while the youngsters gawked over the fact the crowd, in grandstands that sit high against the fencing of Turns 1 and 4, felt like it was hovering over the racetrack.
"I guarantee you that more [Sprint Cup] guys will be back here next year," said Kahne, the lone full-time Sprint Cup representative in the 36-truck field. He was reacting to Twitter buzz from the likes of Denny Hamlin and Brad Keselowski, home watching the race on TV. The comments said a lot. Not just that he expected to have more major league challengers in 2013, but that he acted as if it were a foregone conclusion that the series would return one year from now.
As Kahne fielded questions from an atypically large Truck series media corps, he was at best the second-most-relieved person in the room. Sitting a few feet away, slumped into a director's chair, was track owner Andy Hillenburg. In the fall of '07 he saved the track from mothballs by purchasing it at auction. In an instant, he was a Rockingham folk hero. During Sunday morning's packed drivers' meeting, NASCAR president Mike Helton joked that Hillenburg was "the governor of North Carolina for the day."
The soft-spoken racer-turned-promoter, as always, deflected credit and tried to temper expectations for the future. However, he couldn't resist cracking a proud, albeit tired, smile when asked about the return of the Truck series as well as perhaps the addition of a Nationwide Series event.
"It's way too early to talk about any of that," he said, chuckling. "It'll be a few weeks before we can figure out what happened here today. I think we did a great job with what we have to work with."
Then he winked, grinned, and put a period on the theme of the day.
"But I do feel confident in saying that if I get a second chance from NASCAR I can do it even better."
February, 28, 2012
02/28/12
1:30
AM ET
It took us a while to finally get it in, but the 54th Daytona 500 -- the first delayed by weather and the first to feature an exploding jet dryer -- was worth the wait.
Here's what happened in the just-completed Great American Wait, er, Race.
How The Race Was Won: Roush Fenway Racing went to the front, stayed at the front and locked it down, holding off a final mad dash by Dale Earnhardt Jr. to ice Matt Kenseth's second Daytona 500 victory.
Turning Point: Anyone who watched Friday and Saturday's Trucks and Nationwide races shouldn't have been surprised by Monday night's multiple green-white-wreckers finishes. Two big late crashes thinned the herd, but the final restart was a clean one, and through it all, the scene up front never really changed. Teammates Kenseth and Greg Biffle combined to lead 93 of the race's 202 laps. Earnhardt was committed to pushing Biffle around Kenseth on the final lap, but the 16 car never made a move. Said Earnhardt, who finished second: "I was waiting and waiting and waiting … nothing was happening." Biffle said there wasn't enough room to make a run and was just as surprised as Earnhardt that their two-car train couldn't reel in Kenseth.
What We Thought Was Going To Be The Turning Point: After a round of pit stops that appeared to set up a wild, full-fuel, fresh-tires shootout to the finish, Juan Pablo Montoya spun under caution and hit a jet dryer truck at speed, creating a huge jet-fuel fire that torched a race car, a truck, the outside retaining wall and the track surface. The pit-stop cycle had some odd cars at the front throughout the red-flag session and eventually the checkers. Dave Blaney of under-funded, former start-and-parker Tommy Baldwin Racing sat under the red flag and thought he might finally earn his first Cup win. But the track crews did their jobs, the rain clouds vanished and he ended up 15th.
Crazy Stat of the Night: The last time the leader at the halfway point of the race went on to win the Daytona 500 is still Davey Allison in 1992. Martin Truex Jr. received a rocket boost from Denny Hamlin to take the $200,000 bonus check for leading Lap 100 but ended up finishing 12th.
Crazy Stat of the Night, Part 2: The last time the driver leading the most laps also won the Daytona 500 was Michael Waltrip, who led 68 of the rain-shortened 109-lap race in 2003. On Monday night, Hamlin led the most laps, 57 of 202, and finished fourth.
Too Cool Replay: Fox in-car cameras showed Jimmie Johnson in the cockpit during his Lap 2 spin. Twice he leaned forward to look out the driver's side window and see what was or wasn't roaring up the frontstretch at him. Both times he was popped hard, but the wraparound head protection saved his neck. Literally.
Too Cool Replay, Part 2: When Johnson's teammate Jeff Gordon felt his engine start coming apart on the backstretch, he pulled over to the right and calmly pointed out the window to let the pack behind him know it needed to blow by before causing another Big One. And he did it at 200-plus mph while his car was on fire.
Bad Day At The Office: I've been doing this a while. Never seen anything like Juan Pablo Montoya's fireball crash into the jet dryer.
Bad Day At The Office, Part 2: Elliott Sadler, in a one-off Cup ride with his Nationwide Series owner, Richard Childress, wrecked Johnson on Lap 2, was warned repeatedly by NASCAR to maintain maximum speed and spun on pit road when he missed his pit stall.
Unsung Heroes: I can't imagine the cleanup job in Turn 3 was an easy task. Those folks used everything from speedy dry to seed spreaders to fire hoses to laundry detergent. They also repaired SAFER barriers and catch fences throughout Speedweeks.
Stat of the Race: Kenseth became just the first repeat Daytona 500 winner since Gordon in 2005.
February, 25, 2012
02/25/12
4:38
PM ET
As Saturday's NASCAR Nationwide race noisily hammered its way around the Daytona International Speedway, one of the world's most influential people quietly held court in an office suite located just off the largely shuttered Sprint Cup garage.
Akio Toyoda, president of Toyota Motor Corporation and grandson of the company's founder (they changed the "D" to a "T" in the title for the sake of better sales), smiled as he greeted the drivers of Michael Waltrip Racing, meeting Waltrip and driver Clint Bowyer with handshakes, conversation and small gifts.
"He's easy to talk to and he loves racing," said Waltrip, who helped spearhead Toyota's move into Sprint Cup racing in 2007 as a driver and team owner. "You're going in there to see him so you'll see for yourself. He looks pretty comfortable at the racetrack."
He should. The 55-year-old is a certified test driver and personally pushes the limit of dozens of Toyotas, street cars and race cars, every year. He's a two-time veteran of Germany's grueling 24 Hours of Nurburgring and has taken spins in a Toyota Camry Sprint Cup car at Las Vegas Motor Speedway and Fuji Speedway.
On Saturday morning he did some hot laps with Kyle Busch in an early version of what will become the overhauled 2013 Camry stock car. First he rode while Busch drove. Then they swapped spots.
[+] Enlarge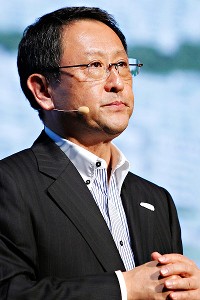 Kiyoshi Ota/Getty Images Akio Toyoda has taken a hands-on approach to running the family company, Toyota.
Not bad for someone's first NASCAR race day visit.
"This is my first time to come here," he explained in English before handing the heavy lifting over to an interpreter. "This is really the culture of the automobile. And this is really the culture of the automobile industry in this country."
He laughed as he confessed a struggle to find the words to describe the sensation of hitting Daytona's high banks. He smiled as he proudly displayed his NASCAR hard card. He admitted a fascination with Danica Mania ("If it had been her in the car instead of Kyle I may have driven differently"), said he gets a laugh out of his new Toyota TV commercial, and he became downright philosophic about his first trip to the World Center of Racing.
"This is 60 years of traditions," he said as he made a circular motion with his hands to illustrate his trip around the 2.5-mile circuit. "As a matter of fact, the surface was just renewed. But I feel like, you know, there are 60 years of history and an honor for me to have a chance to drive. That's kind of way the way I [drove], I feel like moving history. So, it was just a special feeling."
Toyoda's tenure atop the family business did not start well. He ascended to the throne in the summer of 2009, becoming the 11th member of his family to take the reins. He did so quicker than many had anticipated, nearly a decade and a half younger than his predecessor, and immediately earned a ranking from Forbes as the world's 28th most powerful person.
But he inherited a company that had just posted the biggest annual loss in its eight-decade history. That fall was brought by the global economic crash, which was followed by a crushing 8 million vehicle recall crisis, and then the devastating earthquake and tsunami of 2011.
However, this year brings renewed optimism throughout Toyota, fueled in no small part by a hands-on 2011, when the president jetted back and forth to the United States to personally boost the mood at dealerships and factories. Internally they call the approach genchi genbutsu, which means "go and see." He has worked to purge a culture of comfort and to ditch tired car designs. Over the next year the automaker is expected to roll out as many as a dozen new designs, as he says, "something we can get excited about, with some emotional value to it." The flagship of that fleet will be a revamped Camry, conveniently coinciding with the rollout of the new NASCAR Sprint Cup cars in 2013, cars much more akin to their street inspirations.
"Although we didn't show it today," he explained through an interpreter, "our styling, we really want to make it look like a Camry. I really hope that the fans of NASCAR will love it."
NASCAR fans have reacted largely positively to most of what Toyota has done within the sport, despite concerns that a foreign-headquartered brand might find it difficult finding a niche in a decidedly red-white-and-blue-painted sport. It entered via the Camping World Truck Series in 2004 amid fears of a jingoistic pushback. After 194 wins across NASCAR's top three series, the latest coming in Friday night's Camping World Truck Series race, that hasn't happened, though Toyoda sees plenty of room to grow.
"We are very honored to be accepted, to be included, into this bunch of people," he continued. "We want to continue this for a long time so that Toyota would become truly a member of U.S. auto companies, just like the Big Three in Detroit. And eventually we will be widely accepted by the fans."
"He's a car guy and a racer," said Kansas-born Bowyer, who hit it off with Toyoda during their Saturday meeting. "I don't care where you're from or what language you speak. That's my kind of guy."