Randy Moss loving the NASCAR life
April, 1, 2011
04/01/11
10:31
AM ET
These are rough times at Randy Moss Motorsports.
The offseason was marked with a bit of an ugly divorce from driver Mike Skinner, who had led the team to a third-place finish in the NASCAR Camping World Truck Series standings in 2009. Like most teams in the series, Moss is struggling to rustle up sponsorship and just this week the team shut down one of its two trucks. After failing to qualify for the season's first two events, youngster Tayler Malsam is gone, leaving former series champ Travis Kvapil, who also has a Sprint Cup job, to carry the RMM banner alone.
But Moss, as usual, is all smiles, particularly when he makes it out to the racetrack to check on his team, which he has co-owned with longtime series owner David Dollar since mid-2008. I caught up with the seven-time Pro Bowl wide receiver two weeks ago at Darlington Raceway.
Little more than an hour before the green flag dropped on the most recent Truck Series event, he stretched out in the RMM hauler, dressed in a colorful polo shirt and jeans. It was also less than 24 hours after the start of the NFL lockout, so the free agent quickly laid down the ground rules.
Ryan McGee: So, no football talk …
Randy Moss: Yeah, I'd appreciate that. When I come out here to the racetrack, it's all about getting away from football for me. Right now, especially. Everything is so crazy. I'm a free agent right now. I guess everybody is. I'm a wanted man, so we just need to see who wants me. Right now, nobody wants anybody, so we have to get all that worked out. But yeah, I'd rather talk about racing right now.
McGee: Fair enough. You bought into this team back in 2008. You're coming up on three years in the sport. At the announcement that year, you told us you were serious about it. But did you feel like people were rolling their eyes at you?
Moss: Oh yeah, definitely. Not even so much here at the track than in the locker room. Guys were like, "NASCAR? Really, dude?" But now here we are sitting up in the team's 18-wheeler, got some wins under our belt and I'm still here. It's like, "See y'all, I was serious about this."
[+] Enlarge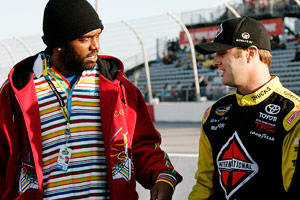 AP Photo/Mary Ann ChastainRandy Moss and his star driver Travis Kvapil get along well, even though Kvapil is a Packers fan.
McGee: We've had three races this year and you've already been to two of them, Daytona and here at Darlington. Easily the most we've seen you at the racetrack so soon. Am I reading too much into this?
Moss: No, I see where you're going, and you're right. I think you might see more of me out here this year, and not just because of what's going on in the NFL. My schedule has always been so crazy that I couldn't get out here very much. But now I want to, especially where its low-key like it is here at Darlington. Right now, I think it's good for me to be here, to show the guys some support. Especially right now.
McGee: Because it's been a rough year?
Moss: Not rough. Just not as successful as we want it to be. I think it boosts morale with the guys when I come and hang out. I'm not coming in here to tell David [Dollar] how to run things or tell the pit crew how to go over the wall or tell Travis Kvapil how to drive. And I'm not huddling anybody up and giving pep talks. But I think I can get everybody pumped up just by being here and being one of the guys.
McGee: Have you gotten involved in the business side, past being an investor? For example, during these lean economic times, would you leverage your name to track down sponsorship money?
Moss: I haven't done that. I trust David to do that. But if he feels like bringing me to shake a hand would help, then he knows he can call me.
McGee: You ever get behind the wheel of a race car?
Moss: Hell no! And I won't be doing it, either. People ask me all the time if I think race car drivers are athletes. Of course they are. I can't do it. I love it. But I can't do it. And I feel like I'm a pretty good athlete [laughs].
McGee: You know, I just did a story about all these former college athletes that are on pit crews now …
Moss: Exactly. You've got to be the real deal to go over that wall. But again, there's no way I'm doing it. I like my spot during the race sitting on this side of that wall, thank you very much. These guys aren't going to be showing up at my work, on the field and start running pass routes. I'm not coming to their place of work and start doing their thing.
McGee: There have been a lot of connections between the NFL and NASCAR on the ownership side. Before you, guys like Joe Washington and Brett Favre had stakes in lower-level teams. Tim Brown has tried for years. Troy Aikman, Roger Staubach and of course Joe Gibbs. Did you ever talk to any of them before you got into this?
Moss: Not really. Some chats here and there. But I did look at what they had done. Especially Coach Gibbs. And I think that having watched what they did and what Coach Gibbs is still doing helped educate me. When I first sat down with David in Atlanta way back when, I think he realized pretty quick that I wasn't just winging this. I knew what I was talking about. It's not like I hadn't ever even paid attention to NASCAR before.
McGee: So, you're a race fan.
Moss: Always have been, man. I'm from West Virginia. If you didn't know what was happening in NASCAR, you were on the outside. NASCAR is a big league sport, but it's still also country and redneck. Like here at Darlington or at Martinsville, where we're about to go. These are my people, man. Call me a redneck, blackneck, whatever. I'm as comfortable here as I am on the football field.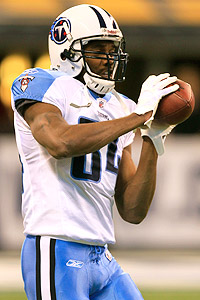 AP Photo/Michael ConroyFree-agent Randy Moss figures he can still contribute in the NFL. He just has to wait to see which team agrees.
McGee: As a fan, who do you like to watch on the track?
Moss: Kyle Busch, man. That guy is … you know, you have your guys that have all the stats and have won championships and whatever, but then you have your guys where you are just like, "That damn guy can flat drive the hell out of a racecar!" Kyle Busch is that guy for me.
McGee: There are those who would point to Busch's raw talent and some of his troubles with other people and …
Moss: Yeah, I know what you're about to say. That's Moss, man. That's totally Moss.
McGee: So, are you naturally attracted to athletes in other sports who remind you of you?
Moss: I guess I am. Because you know who else I like? Tony Stewart. I love that guy. I was in Charlotte one day and I saw him in his car. He had stopped at an intersection, and I went over and knocked on his window. I was all like, "Tony! It's Randy Moss, New England Patriots!" But I think all he saw was a giant black dude running across the street yelling at him, banging on the glass, so he got the hell out of there. I don't blame him.
McGee: [Pointing to Kvapil, standing about 10 feet away] I'm assuming you like this driver, too.
Moss: [Speaks up loud enough to be heard] Yeah, he's alright! [Laughs.] He's a champion, you know. Even if he's a Packers fan. He's still mad at me about the whole Green Bay mooning thing when I was with the Vikings. I gave him my Super Bowl tickets this year, though, and he got to see them win it. So I think we're all even now.
McGee: [To Kvapil] All even?
Kvapil: Yeah. But I still want to see him play for Green Bay.
McGee: [To Moss] Well?
Moss: I want to play wherever they want me to play. Like I said, I'm a free agent. I know I'm 34. I know I didn't have a great season last year. But I also know that these still work [holds up his hands] and I know I can still play at a high level. We just need to get this season back on track so I can start working on finding that team that wants Randy Moss on their roster.
McGee: Uh oh … we're talking about football.
Moss: See? People always say that Randy Moss can't stick to the rules. Even my own rules.