The healing power of Twitter and tattoos
June, 3, 2011
06/03/11
3:32
PM ET
These are not good times for tattoo parlors in Columbus, Ohio.
But on a cold winter day in February 2010, when needle met biceps at Columbus's Skin Deep Tattoo Studios, there was no way of knowing that it was setting off a remarkable chain of events, from Columbus to Charlotte to Daytona to this very NASCAR weekend at Kansas Speedway. It is a tale of kindness that has allowed a young woman to, for a few moments at least, forget about her increasing list of ailments. And it has created a cyberspace prayer chain strong enough to, for a few minutes at least, give the ink masters of Columbus something to talk about other than Ohio State's "Tattoogate."
[+] Enlarge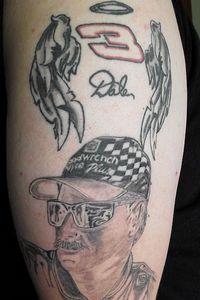 Courtesy Zach BernardDale Earnhardt fan Zach Bernard wears his colors proudly.
It all began on a day leading up to the 2010 Daytona 500, when Zach Bernard, then 23, decided to pay tribute to the late Dale Earnhardt. Just below his right shoulder, he had his cousin Shannon "Lucky" Everhart, an artist at Skin Deep, do a pair of black angel wings wrapped around a replica of The Intimidator's signature.
"I just wanted to honor my hero," says Bernard, a warehouse employee with DSW Shoes. "I always think about Dale around the Daytona 500, just like so many others do. And because of Earnhardt Sr. I'm a big Dale Jr. fan, too."
A few months later Bernard got to make a NASCAR fan's dream trip to Charlotte, visiting race shops and attending the Coca-Cola 600. On that Memorial Day weekend Earnhardt Jr. ran a special American flag-themed U.S. National Guard paint scheme. Bernard loved it so much that when he returned home he walked straight back into Skin Deep and had Everhart do his left triceps with a tattoo of the 88 car.
The work was so good that it earned Bernard the honor of Hendrick Motorsports Fan Photo of the Week. He won the honor by posting a picture of his still-fresh Dale Jr. ink on his Twitter page. Bernard, aka @zachbernard, is a bona fide NASCAR Twitter junkie. Nearly all of his 240-plus follows are NASCAR-related, and he has used the social networking site to "meet" teams, drivers, crew members and fellow fans.
One of those fans was 19-year-old Kellie Achey.
In January 2010, around the same time that Bernard was getting his first tattoo, Achey was diagnosed with gastroparesis, sometimes referred to as delayed gastric emptying. Put in its most basic terms, it is a condition where the body can't keep food moving through the digestive system at a normal rate, if at all. Her condition eventually led to the development of Rumination syndrome, where the body rejects food through constant regurgitation.
Achey, aka @tubecute88, had been a winner of Hendrick Fan Photo of the Week honors, thanks to a picture of her extensive Dale Jr. memorabilia collection. And it was through Twitter that she and Bernard hit it off, a pair of proud Earnhardt fans. He was in Columbus and she was 900 miles away in Wichita, Kan. Eventually the friendship moved to Facebook, and during an evening chat session she revealed her health problems to Zach. He found the link to her CaringBridge.org journal, and as he read her entries he was both heartbroken over her condition and inspired by her boundless positivity. She had named her feeding, venting and nutrition tubes Elvis, Gandhi and Turbo and told Zach that she hoped to become a doctor specializing in the treatment of others with her condition.
As this year's Daytona 500 approached, Kellie began suffering from pelvic dysfunction. Her Twitter friends, especially Bernard, rallied to offer their support. "The whole thing was still just so hard to take," he admits. "We all just wanted to do something to cheer her up. But you feel pretty helpless."
Once again, his tweets and tats came to the rescue.
The Daytona International Speedway announced that it was holding a contest on Twitter, looking for the best NASCAR tattoo. The winner would receive a Daytona Preseason Thunder poster autographed by all the drivers who had participated in the winter test session at the track. Bernard entered and, of course, he won. "The day before [they announced the winner] I went into work and I kept thinking how cool it'd be to win that poster, but the more I thought about it the more I thought I knew someone who deserved it so much more."
[+] Enlarge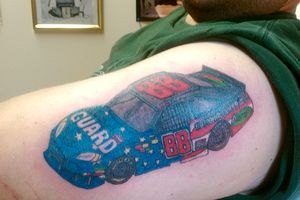 Courtesy Zach BernardZach Bernard loved Dale Earnhardt Jr.'s American flag-themed U.S. National Guard paint scheme so much he made it permanent -- on his left arm.
Bernard told Achey that if he won, the poster was hers. She just laughed and didn't press the issue. When he won, she was among those on Twitter who congratulated him. He also received congrats from the race team of Greg Sacks, who were preparing for the racer's Daytona comeback and saw the chatter about Bernard's contest victory through, of course, their Twitter account. They contacted Bernard and offered up free tickets to the Budweiser Shootout. He said he couldn't make the 14-hour trip down from Ohio because he couldn't get off work. Then he had an idea. If they had any unused tickets after the race that they could send, that would be great because he could frame them with his poster. Then he told them what he was doing with the poster. They asked for Kellie's address.
"They ended up sending tickets from the Bud Shootout, Drive4Copd 300 [Nationwide Series race], Daytona 500, lanyards, a Daytona 500 program, die cast car and a hat," Bernard says. "The box came just a couple of days after the 500 and Kellie was awestruck. I didn't get to see her reaction. ... I talked to her that night and she was still in disbelief. We were only on Facebook chat but after a few moments she said sorry for the delay. She had to get tissues to wipe away a couple of tears."
A few weeks later, she was readmitted to the hospital, forced to have another tube installed to help relieve the pressure on her digestive system. By then, the tale of what Zach had done for a friend he'd never met in person was beginning to spread, and the number of people following her story on CaringBridge was growing. JR Motorsports, at urging of the Sacks family, sent her a care package.
Eventually the story made its way onto the radar of NASCAR vice president Steve O'Donnell, aka @odsteve. He contacted Kellie and told her that she and her entire family would have tickets, pit passes and garage passes waiting for them when NASCAR came to their home track, the Kansas Speedway, during the first weekend in June.
All the while, no one trumpeted their efforts. Not Bernard, not O'Donnell, and not the Sacks family and their GT Vodka race team.
"All of us were extremely touched by Kellie's story," Brian Sacks wrote to Bernard in an email. Greg's son was also one of the instigators of the team's interest in Achey. "I gotta tell you that Kellie's smile is what sucked me in. With all the adversity that she's going through, it takes an extremely special person to keep a smile on, and hers is simply beautiful. ... My brother and I learned by watching our dad, you do it for the smiles, not for the accolades."
Unfortunately, Kellie won't be able to make it out to the racetrack this weekend. In early May she added malabsorption to her list of conditions and continues to fight bouts of hypokalemia, low potassium. She was in Kansas City for a round of biofeedback therapy Tuesday but simply can't stay on her feet long enough to deal with the rigors of the racetrack. However, there was some good news this week when she learned she has landed a mid-July appointment at the Mayo Clinic. And O'Donnell has told her not to worry, that the offer still stands and the passes are still available when she does feel up to it. She already has her eye on NASCAR's next visit to Kansas in October.
"I'd like to tell everyone who has been praying and supporting me through all this that I really, really appreciate everything they've done for me," she wrote via email Thursday afternoon. "Zach has been absolutely amazing through all of this. For one person to go out of his way to try to make my days brighter is just out of this world. I don't think I could ever pay him back for what he has done for me. Every time I have a message from someone I literally cannot stop smiling. It really does brighten my day."
Bernard's tattoo count continues to grow. He added a full portrait of Dale Sr. just last month. So does Kellie Achey's collection of Twitter followers. It's a roster that now includes a lot of the NASCAR people and organizations that first lured her to the site, just hoping to follow them as a fan. Now, thanks to a friend whom she's never met, not to mention some very serious arm ink, they are fans of hers.