Wallace team made most of blockbuster
August, 4, 2011
08/04/11
2:21
PM ET
Indiana Jones.
James Bond.
Yes, it's an odd lineup. But that's the team that spent the first half of summer riding around the circuits of the NASCAR Nationwide Series together, searching for checkered flags and box-office gold. And if the rest of the teams across NASCAR's lower divisions are paying any attention, the trio could very well show them the way to aiding everyone's well-documented sponsorship woes.
"A team like ours has to be creative," said Wallace, currently 13th in the Nationwide standings. "And this was as creative an idea as I've ever seen."
[+] Enlarge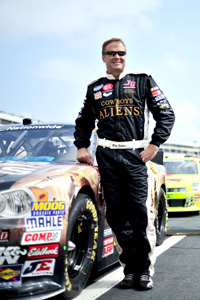 Jason Smith/Getty ImagesThe "Cowboys & Aliens" theme proved to be popular this summer, on and off the track.
Last weekend, Wallace's No. 01 Chevy ran the NASCAR Nationwide Series event at Lucas Oil Raceway with the now-familiar poster image from the film "Cowboys & Aliens" riding on the hood. On Saturday night, as Wallace crossed the finish line in 17th place, silver-screen superstars Harrison Ford and Daniel Craig were powering their western/sci-fi epic to the top of the box-office charts, drawing an estimated $36.4 million during its opening weekend.
It was the final go-round for the longest film-sponsorship deal in NASCAR history, a most unlikely marriage between Gaffney, JD Motorsports, an admittedly small full-time Nationwide team and Hollywood powerhouses Universal Pictures and Dreamworks. It's certainly not unusual to see a blockbuster film on a race car, but even the most high-profile movies typically show up at the track for two weeks at most and then disappear. This deal lasted a full 10 weeks.
"The studios are always looking for creative and unique ways to promote films," explained "Cowboys & Aliens" director Jon Favreau during a pre-premiere press blitz. "You want to reach people as many different ways as you can. It can't just be TV commercials all the time. Making a film stand out, particularly in a summer packed with big movies, it's always a challenge."
These days it's also a challenge for race teams to track down sponsorship money, particularly those in NASCAR's two lower national divisions. During these tough economic times, Sprint Cup teams are gobbling up every dollar they can get. That leaves a very small sponsorship pond for the Nationwide and Truck Series organizations to go fishing in.
"It's a hard sell," says Wallace. "On Fridays and Saturdays you can spot the sales people from the Cup teams walking around the Nationwide garage, writing down the companies they see on our cars. That wasn't happening when times were good."
But instead of sitting around and whining about it all, Wallace's team got creative. The man charged with recruiting sponsorship at JD Motorsports is Tony Piscaro, VP of sales and marketing. He had already developed the idea of a "Face Car," along with friend Jim Varga, founder of Social Fan Wrap. The idea was to let fans submit photos online, then use them to create a larger mosaic. It's an idea that we've all seen before on posters and t-shirts, but never wrapped around a race car going 180 mph. Other teams have taken a swipe at the photo-collage concept before, but not the much more complicated photo mosaic.
"From a distance, from the grandstands, the car looks like the original paint scheme," Varga explained. "But the closer you get, you notice the larger image is made up of thousands of pictures. Pictures of people, families, friends. It lets people feel involved. It's now their car. It's a social media payoff."
Piscaro started shopping the idea, but was admittedly choosy as to where he knocked on doors.
"We could have done it with any company as soon as we had the technology, Joe's Oil Change Place, whatever," he said. "But we really wanted to partner with someone who would do the concept justice. Something that would make a huge splash and give the idea long term legs."
So the little South Carolina race team started cold-calling Hollywood, pitching the idea of Face Car as a way to promote their summer blockbusters, promising exposure through social media and in-person at the racetrack. Universal called back.
"They said they get pitched ideas all the time," Piscaro says, still with a little amazement in his voice. "But they said there were calling us back because it was one of the most creative ideas they had heard."
To make it happen there were, of course, legal hurdles. At one point during the lengthy process the Universal brass got cold feet. That's when NASCAR stepped in, visiting with the studio execs to assure them that the sanctioning body was behind the idea and they were at the movie's beck and call if needed. Said Piscaro: "Some race teams like to complain that NASCAR doesn't help enough. But we don't get this finished without their help. That pushed it over the top. The deal was done, our idea was ready to roll and we were off and running."
They got the word out to race fans to send in their pictures, unveiling the concept at Charlotte in May. When the "Cowboys & Aliens" Chevy made its on-track debut at Daytona six weeks later, the poster was on the hood, and so were the fans.
More accurately, tens of thousands. And their Facebook page picked up more than 225,000 "Likes." For NASCAR, they hope that translates into a few thousand more race fans, particularly in the social media arena that they've increasingly started to focus on. For the folks at Universal, they hope it translates into a few more thousand tickets sold.
"That's pretty cool," said Favreau. "You have to think that if someone got their face on the car, then they'd have to pull for it in the race, right? And then after the race they would immediately leave the track and go straight to the theater and see our movie." Then he added with his trademark deadpan delivery, "I like that. That's like perfect-case scenario. Give me a second to let that soak in."
Favreau's bosses have certainly let it soak in. On Tuesday, JD Motorsports received a pile of "Cowboys & Aliens" merchandise and a thank you note from Universal and Dreamworks praising the success of their 10 weeks together. And NASCAR has asked to look at the business model of the deal, hoping to inspire other Nationwide and Truck teams to stop complaining about lack of funds and start becoming more creative.
Meanwhile, at the JD Motorsports shop, there's no time to let anything sink in. They are back to square one, headed to this Saturday's race at Iowa Speedway (7:30 p.m. ET, ESPN2) without primary sponsorship. Piscaro is back on the phones and back at the drawing board, hoping to create the dollars that will keep the shop doors open.
"We're just a small race team that's working as hard as we can," says Wallace. "There's no time to pat ourselves on the back. We've got to figure out the next big idea to keep this going."