Instant analysis: Daytona Duels
February, 23, 2012
02/23/12
1:16
PM ET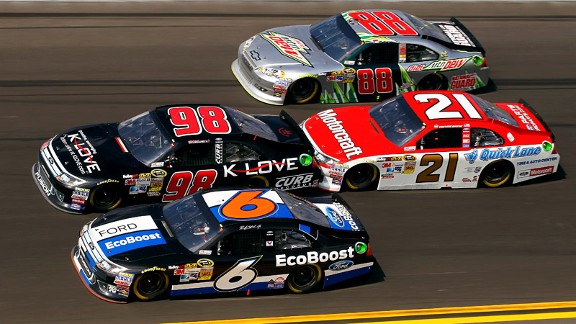 Streeter Lecka/Getty ImagesMichael McDowell (98) and Robby Gordon, not pictured, raced their way into Sunday's Daytona 500.
Daytona Duel 2
One of NASCAR's most curious yet ironclad truths is how each Duel 150 takes on its own, unique personality. That was certainly the case on Thursday, when the second 60-lap qualifier felt little to nothing like the first.
Here's what happened in the nightcap of Thursday's doubleheader:
How the race was won: On the race's final lap, Matt Kenseth spread the rear bumper of his Ford to cover the width of the backstretch and hold off a furious pack of challengers and then did it again off the final set of turns to take his first career win in a Daytona qualifying race.
Turning point: As the field flashed under the white flag, leader Greg Biffle made a cross-track right-hander move to block onrushing traffic, but the momentum he lost allowed Matt Kenseth and a water-spewing Jimmie Johnson to cut underneath him and hammer by into the lead.
Who's in, who's out: Dave Blaney and Joe Nemecheck raced their way into the Daytona 500, joining Duel No. 1 qualifiers Michael McDowell and Robby Gordon. Missing the big show from the second race was Kenny Wallace, Bill Elliott, Robert Richardson Jr. and J.J. Yeley.
Best 2011 impersonation: The two-car tandem as we knew it in recent years is gone, but an overabundance of teammates in the second race made the field (and spotter chatter) go through stretches that felt a lot like last season. Greg Biffle and Matt Kenseth (Roush Fenway Racing), Joey Logano and Kyle Busch (Joe Gibbs Racing) and even Clint Bowyer and Martin Truex Jr. (Michael Waltrip Racing) took turns booster-rocketing their way to the front.
Best 1997 impersonation: Once those two-car sprints settled down, the middle stanza of the race ran largely single file, so much so that most drivers were screaming about overheating issues. As much as everyone seemed to detest the two-car drafts, if there are a lot of similar stretches during Sunday's 500, then expect some good old fashioned "We hate pack racing" grumbling to return.
Star watch: The first Duel 150 may have had the splashier names, but the second race made up for it with championships won. Five-time Cup champ Jimmie Johnson finished third, four-time titleist Jeff Gordon finished eighth. One-timers Matt Kenseth, Kurt Busch, Bobby Labonte and Bill Elliott finished first, 14th, 16th and 20th, respectively.
I didn't see that coming: After Saturday night's Budweiser Shootout wreckfest and two big crashes in Thursday's first race, the afternoon event featured -- gulp -- no wrecks.
Unsung hero: Regan Smith managed to accomplish two tasks at once for a very long time. He stayed glued to the back bumper of Greg Biffle and kept the killer duo of Biffle and Kenseth separated. In the end, it was Kenseth whom he followed across the finish line.
Unsung hero, Part 2: Dave Blaney earned his way into the top 35 in owner points last year, but lost his guaranteed Daytona 500 starting spot when team owner Tommy Baldwin did a points-swap deal with Stewart-Haas Racing to aid Danica Patrick. But Blaney raced well enough to keep his starting spot from ever being in serious doubt, starting 14th, taking a long turn in the lead pack, then easing back to protect his position and finish 12th.
Stat of the race: Again, zero cautions. Really?
Daytona Duel 1
The first of Thursday's Gatorade Duel 150s started with a crash, settled into a conga line fuel-mileage race, then ended with a second crash as Tony Stewart pulled out the victory.
Here's how it went down at the World Center of Racing:
How the race was won: A largely single-file race ended with a wild, five-lap shootout. Stewart led at the white flag and looked to be a sitting duck with a rearview mirror full of Dale Earnhardt Jr. and Kevin Harvick. But Danica Patrick's brutal backstretch crash brought out the caution and the checkers, icing the win for her new Sprint Cup Series boss.
Turning point: Michael Waltrip, who had just pitted for fuel, wrecked off the exit of Turn 2 as he re-entered the race, inexplicably spinning and bringing out the caution with seven laps remaining. In an instant, the cars that had lost contact with the lead draft as well as the teams that were trying to stretch fuel mileage were suddenly back in the hunt.
[+] Enlarge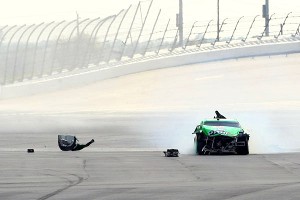 Douglas Jones/US PresswireDanica Patrick crashed hard in the final lap of the first Daytona 500 qualifying race on Thursday.
Best Cale Yarborough impersonation: During the final five-lap scrum, Jamie McMurray was punted into the infield after contact with Jeff Burton but saved it to come back onto the track in time to make it through Turn 3 smoothly. He finished 10th.
Best Joie Chitwood impersonation: Danica Patrick's hard crash is testament to why all racetracks, no matter what shape or size, should have SAFER "soft wall" barriers installed anywhere and everywhere. There are no excuses left not to do it. Ten years ago, she would have left here in a Medevac chopper.
Star watch: Every year one of the 150s seems to carry a little more star power than the other, and this year the first race took all-star honors thanks in no small part to Patrick, who ran in the top 10 all day but finished 16th. Defending Cup champ Tony Stewart won the race, followed by Earnhardt. Daytona 500 pole-sitter Carl Edwards rode around in midpack, roared back to the front with two to go, but faded to seventh. Former Daytona 500 winner Kevin Harvick finished ninth. Denny Hamlin, who dominated the middle portions of the race, finished 17th, one lap down.
I didn't see that coming: As early as the halfway point of the 60-lap sprint race, crew chiefs were already asking their drivers to start saving fuel. In a Duel 150. For real.
Unsung hero: Robby Gordon's Dodge started smoking and fell off the pace as soon as the green flag waved. But the smoke was not the result of engine trouble, as some (including me) initially believed. It was a tire rub, which Gordon nursed until the first caution, fixed it and ended up racing his way into his 14th Daytona 500.
Unsung hero, Part 2: Trevor Bayne's close friendship with Michael McDowell is well-documented. Once again, the Wood Brothers 21 Ford looks like a ride you want to see on your rear bumper. On Thursday, Bayne was clearly committed to pushing his buddy into the big race.
Stat of the race: Terry Labonte qualified for his 30th Daytona 500. His first start came in the legendary 1979 race. The two-time Cup champ has never won the Great American Race, with a best finish of second in 1986 and '97.