Toyota president Toyoda happy to be here
February, 25, 2012
02/25/12
4:38
PM ET
As Saturday's NASCAR Nationwide race noisily hammered its way around the Daytona International Speedway, one of the world's most influential people quietly held court in an office suite located just off the largely shuttered Sprint Cup garage.
Akio Toyoda, president of Toyota Motor Corporation and grandson of the company's founder (they changed the "D" to a "T" in the title for the sake of better sales), smiled as he greeted the drivers of Michael Waltrip Racing, meeting Waltrip and driver Clint Bowyer with handshakes, conversation and small gifts.
"He's easy to talk to and he loves racing," said Waltrip, who helped spearhead Toyota's move into Sprint Cup racing in 2007 as a driver and team owner. "You're going in there to see him so you'll see for yourself. He looks pretty comfortable at the racetrack."
He should. The 55-year-old is a certified test driver and personally pushes the limit of dozens of Toyotas, street cars and race cars, every year. He's a two-time veteran of Germany's grueling 24 Hours of Nurburgring and has taken spins in a Toyota Camry Sprint Cup car at Las Vegas Motor Speedway and Fuji Speedway.
On Saturday morning he did some hot laps with Kyle Busch in an early version of what will become the overhauled 2013 Camry stock car. First he rode while Busch drove. Then they swapped spots.
[+] Enlarge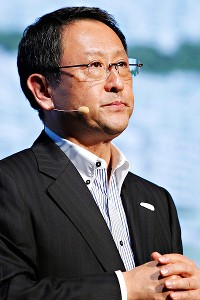 Kiyoshi Ota/Getty Images Akio Toyoda has taken a hands-on approach to running the family company, Toyota.
Not bad for someone's first NASCAR race day visit.
"This is my first time to come here," he explained in English before handing the heavy lifting over to an interpreter. "This is really the culture of the automobile. And this is really the culture of the automobile industry in this country."
He laughed as he confessed a struggle to find the words to describe the sensation of hitting Daytona's high banks. He smiled as he proudly displayed his NASCAR hard card. He admitted a fascination with Danica Mania ("If it had been her in the car instead of Kyle I may have driven differently"), said he gets a laugh out of his new Toyota TV commercial, and he became downright philosophic about his first trip to the World Center of Racing.
"This is 60 years of traditions," he said as he made a circular motion with his hands to illustrate his trip around the 2.5-mile circuit. "As a matter of fact, the surface was just renewed. But I feel like, you know, there are 60 years of history and an honor for me to have a chance to drive. That's kind of way the way I [drove], I feel like moving history. So, it was just a special feeling."
Toyoda's tenure atop the family business did not start well. He ascended to the throne in the summer of 2009, becoming the 11th member of his family to take the reins. He did so quicker than many had anticipated, nearly a decade and a half younger than his predecessor, and immediately earned a ranking from Forbes as the world's 28th most powerful person.
But he inherited a company that had just posted the biggest annual loss in its eight-decade history. That fall was brought by the global economic crash, which was followed by a crushing 8 million vehicle recall crisis, and then the devastating earthquake and tsunami of 2011.
However, this year brings renewed optimism throughout Toyota, fueled in no small part by a hands-on 2011, when the president jetted back and forth to the United States to personally boost the mood at dealerships and factories. Internally they call the approach genchi genbutsu, which means "go and see." He has worked to purge a culture of comfort and to ditch tired car designs. Over the next year the automaker is expected to roll out as many as a dozen new designs, as he says, "something we can get excited about, with some emotional value to it." The flagship of that fleet will be a revamped Camry, conveniently coinciding with the rollout of the new NASCAR Sprint Cup cars in 2013, cars much more akin to their street inspirations.
"Although we didn't show it today," he explained through an interpreter, "our styling, we really want to make it look like a Camry. I really hope that the fans of NASCAR will love it."
NASCAR fans have reacted largely positively to most of what Toyota has done within the sport, despite concerns that a foreign-headquartered brand might find it difficult finding a niche in a decidedly red-white-and-blue-painted sport. It entered via the Camping World Truck Series in 2004 amid fears of a jingoistic pushback. After 194 wins across NASCAR's top three series, the latest coming in Friday night's Camping World Truck Series race, that hasn't happened, though Toyoda sees plenty of room to grow.
"We are very honored to be accepted, to be included, into this bunch of people," he continued. "We want to continue this for a long time so that Toyota would become truly a member of U.S. auto companies, just like the Big Three in Detroit. And eventually we will be widely accepted by the fans."
"He's a car guy and a racer," said Kansas-born Bowyer, who hit it off with Toyoda during their Saturday meeting. "I don't care where you're from or what language you speak. That's my kind of guy."