Kasey Kahne gets redemption at The Rock
April, 15, 2012
04/15/12
5:22
PM ET
ROCKINGHAM, N.C. -- Just call it Second Chance Sunday.
Nearly nine years later -- eight years and 53 days to be exact -- a whole lot of people eagerly seized that rarest of opportunities. A shot at redemption that not so long ago felt as if it was buried forever in the North Carolina Sandhills.
The Rockingham Speedway, a NASCAR staple since 1965, was abandoned after its 78th and final Sprint (then Nextel) Cup Series race on Feb. 22, 2004. Nearly as soon as that checkered flag fell, the booming sport ditched the rural 1-mile speedway for the bigger, more media- and sponsor-friendly racing palaces of the West.
[+] Enlarge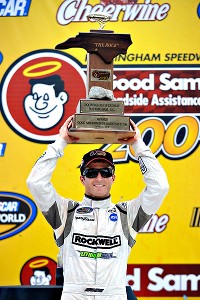 Rainier Ehrhardt/Getty ImagesKasey Kahne won his fourth Camping World Truck Series race in five starts Sunday at the famed Rockingham Speedway.
The race itself was a classic, a nail-biter won by Matt Kenseth by a scant .010 seconds. The driver who finished second by an eyelash that day was Kasey Kahne, then a wide-eyed rookie sensation who nearly won in just his second Cup start.
On Sunday afternoon, Kahne, now a 31-year-old veteran with a dozen Cup wins, snatched up his second chance and grabbed the old wooden trophy he was denied in '04. In the Good Sam Roadside Assistance Carolina 200, the third race of the NASCAR Camping World Truck Series season, he held off James Buescher by a much more comfortable 1.478-second margin.
"I have replayed that '04 race so many times and tried to figure out what I did wrong," he said with a nod, recalling the details of the final laps staring at Kenseth's back bumper as if it had happened the night before in Texas. "It definitely has bugged me for a long time. And it definitely feels like I've taken care of some unfinished business."
The crowd that watched him win felt much the same way. It was a large, raucous group, thousands of race fans eager not to squander their own second chance. Since the speedway boom that rolled through American motorsports in the late 1990s, no racetrack had lost its big league NASCAR status and then been given another crack at it.
"This is an opportunity that I think everyone here knows we won't get again," said Rockingham mayor Gene McLaurin.
The prospects of any racing returning, not just NASCAR, once seemed bleak at best. So much so that some residents of Richmond County refused to drive by the shuttered track on U.S. 1 merely to avoid having to look at it. But it reopened to lower-level stock car racing in 2008. And despite less-than-spectacular attendance for those events, NASCAR elected to bring the Truck series to The Rock this spring.
This time the people responded.
"These folks have kind of been getting beat up over the years," said team owner Richard Childress, who clinched Cup titles at Rockingham with Dale Earnhardt and was on hand to see his grandson, Ty Dillon, finish eighth. During the prerace ceremonies, Childress waved his hand over the sold-out frontstretch grandstand (the first five rows weren't sold because they offered no view of the backstretrch). "They've spent a lot of time having to hear about how they lost their races because they didn't show up or buy enough tickets and all that. I never bought into that. I always loved these fans. And they showed up today, didn't they?"
The official estimated attendance was 27,500. The Rockingham Speedway's capacity is in the neighborhood of 32,000. The population of the entire county is 47,000.
"The atmosphere felt like a Cup race," said four-time Truck series champion Ron Hornaday Jr., who started two Cup races at then-North Carolina Motor Speedway in 2001. "Old guys like me and [2002 Daytona 500 champion] Ward Burton [there to support son Jeb], we looked at each other like, 'Yeah, man, here we go.'"
The old guard harked back to the good ol' days while the youngsters gawked over the fact the crowd, in grandstands that sit high against the fencing of Turns 1 and 4, felt like it was hovering over the racetrack.
"I guarantee you that more [Sprint Cup] guys will be back here next year," said Kahne, the lone full-time Sprint Cup representative in the 36-truck field. He was reacting to Twitter buzz from the likes of Denny Hamlin and Brad Keselowski, home watching the race on TV. The comments said a lot. Not just that he expected to have more major league challengers in 2013, but that he acted as if it were a foregone conclusion that the series would return one year from now.
As Kahne fielded questions from an atypically large Truck series media corps, he was at best the second-most-relieved person in the room. Sitting a few feet away, slumped into a director's chair, was track owner Andy Hillenburg. In the fall of '07 he saved the track from mothballs by purchasing it at auction. In an instant, he was a Rockingham folk hero. During Sunday morning's packed drivers' meeting, NASCAR president Mike Helton joked that Hillenburg was "the governor of North Carolina for the day."
The soft-spoken racer-turned-promoter, as always, deflected credit and tried to temper expectations for the future. However, he couldn't resist cracking a proud, albeit tired, smile when asked about the return of the Truck series as well as perhaps the addition of a Nationwide Series event.
"It's way too early to talk about any of that," he said, chuckling. "It'll be a few weeks before we can figure out what happened here today. I think we did a great job with what we have to work with."
Then he winked, grinned, and put a period on the theme of the day.
"But I do feel confident in saying that if I get a second chance from NASCAR I can do it even better."