The world according to Ryan McGee
December, 28, 2012
12/28/12
4:01
PM ET
"Um, Dad …"
The call came from my 8-year-old daughter, who had been playing a game on my mobile device. Now she was walking toward me, handing over the device and looking concerned.
"Your phone is acting weird."
Yes, it was. Buzzing and whirring and flashing like a bad guy's lair in a James Bond film just before it self-destructs. I can't exactly recall what the warning said, but I think it was something like: YOU HAVE ELEVENTY BILLION PHOTOS ON YOUR PHONE AND IF YOU DON'T DUMP THEM TO A COMPUTER SOON THIS DEVICE WILL EXPLODE.
And so it was that during the final days of 2012 I looked like Clark Griswold in the attic during "Christmas Vacation," reliving my past through images as I laughed, cried and, on occasion, was horrified. So as I dump off the pics of my 18th year on the road chasing race cars, why don't you look back with me, as we present my 2012 NASCAR Road Trip Photo Album.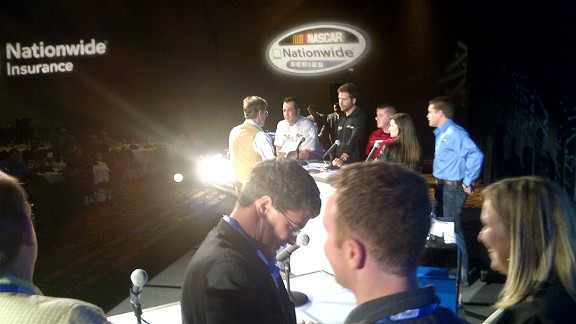 Ryan McGee/ESPN
• Jan. 24, Charlotte, N.C., NASCAR Media Tour -- This is what it looks like to have your hindquarters handed to you by a bunch of racers in a makeshift version of Family Feud, media versus drivers. Over there across the stage that's host Kenny Wallace collecting the winning answers from Sam Hornish Jr., Brian Scott, Justin Allgaier, Danica Patrick and Ricky Stenhouse Jr. Meanwhile, I am huddling up to think of wrong answers with Nate Ryan, Jeff Gluck and Jenna Fryer. I still think it was rigged.
---
***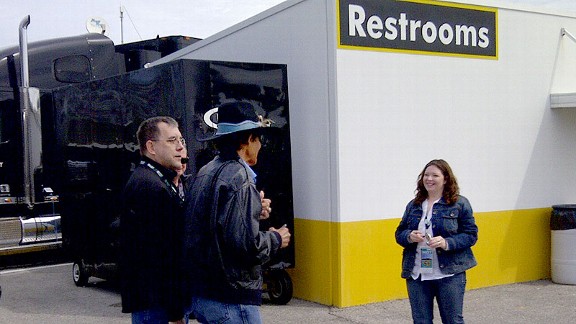 Ryan McGee/ESPN The Magazine
• Feb. 25, Daytona -- There is no safe place for The King to hide from autograph seekers. Not even the Royal Throne.
---
***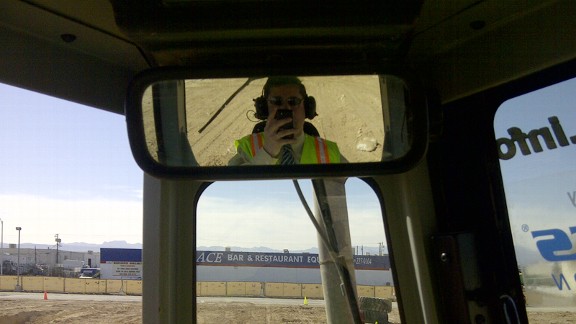 Ryan McGee/ESPN
• March 10, Las Vegas -- This is what it looks like to race AJ Allmendinger in a bulldozer. He won in a landslide (get it?) while I ran over a bunch of cones. All of which makes this an excellent public-service announcement about the perils of distracted driving.
---
***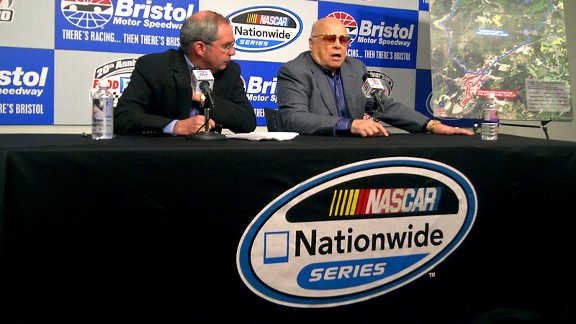 Ryan McGee/ESPN The Mag
• March 16, Bristol, Tenn. -- Bruton Smith holds a news conference to announce he wants to build a copy of Germany's legendary Nurburgring road course in Utah, adding that he doesn't have any actual plans drawn up or funding secured, but that, hey, if someone in Utah ever wanted to do it he thinks it would be a great idea.
---
***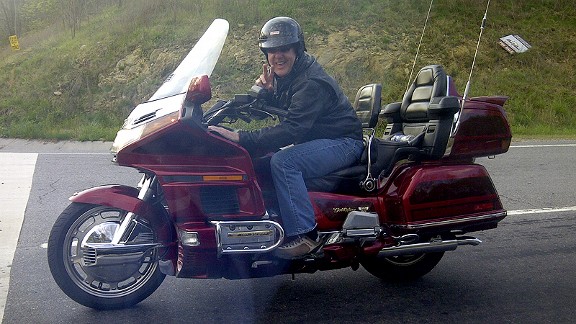 Ryan McGee/ESPN The Mag
• March 30, Martinsville, Va. -- My twin brother from another mother, Johnny Benson, checking in at a red light just south of Martinsville Speedway.
---
***
• April 1, somewhere near the North Carolina/Virginia border -- God Bless 'Merica.
---
***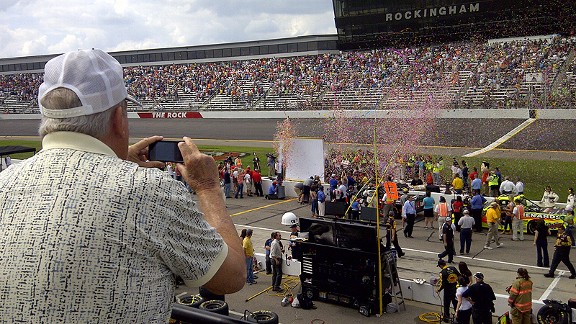 Ryan McGee/ESPN The Mag
• April 15, Rockingham, N.C. -- This is too cool. Kasey Kahne is celebrating a win in the first major NASCAR event held at Rockingham Speedway in eight years. Taking a photo of it all is Tom "Pappy" Higgins, the greatest NASCAR writer who ever lived. The ball cap that Pap is wearing is from the 1965 American 500, the very first race run at The Rock, won by Curtis Turner.
---
***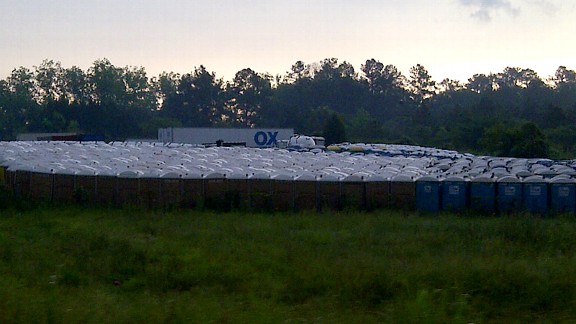 Ryan McGee/ESPN The Mag.
• May 6, Talladega, Ala. -- If you'd ever wondered what a bazillion Porta-Johns would look like during sunrise … you're welcome.
---
***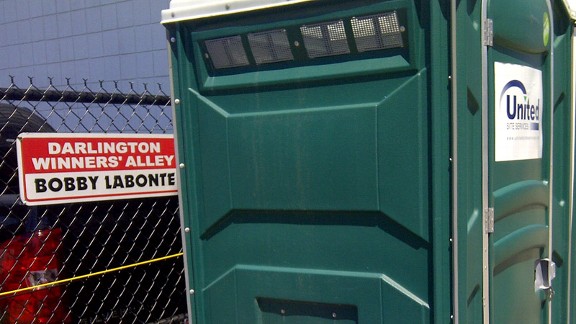 Ryan McGee/ESPN The Mag.
• May 11, Darlington, S.C. -- Earning a parking spot on Winners' Alley at Darlington just isn't what it used to be, eh, Bobby?
---
***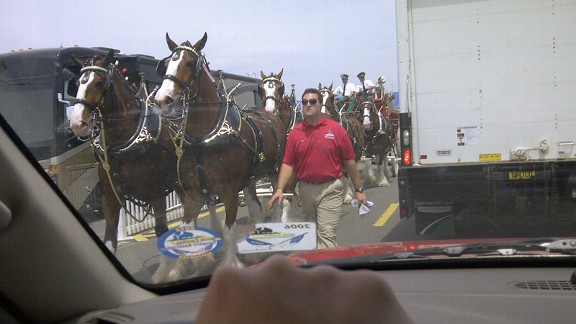 Ryan McGee/ESPN
• May 18, Charlotte -- Infield traffic jam before the NASCAR All-Star Race. Lots of horsepower.
---
***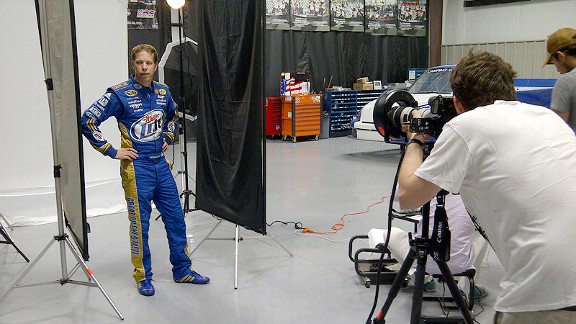 Ryan McGee/ESPN
• May 31, Mooresville, N.C. -- With the eventual Sprint Cup champion at his race shop doing an ESPN The Magazine piece on the sports world's greatest debaters. Brad Keselowski doesn't know it, but the photographer with the crazy-strong accent is about to throw a bottle of water into his face to "make him look sweaty and mean."
---
***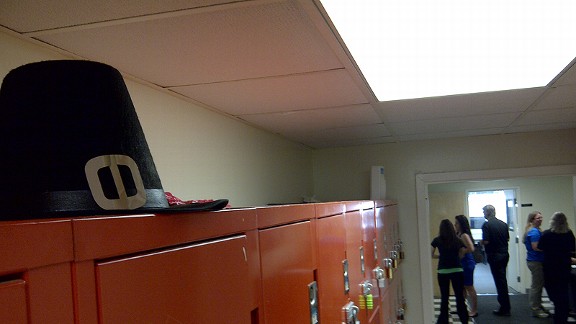 Ryan McGee/ESPN
• July 12, Loudon, N.H. -- Pilgrim hat on a locker outside the media center bathroom? Only in New England.
---
***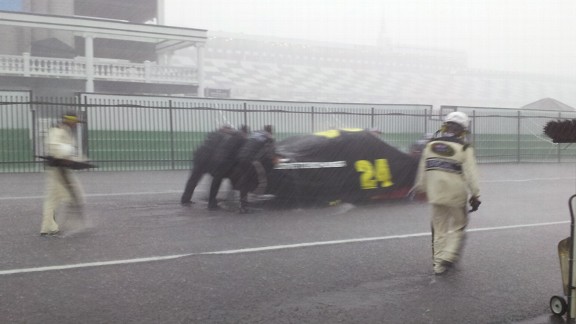 Ryan McGee/ESPN
• Aug. 5, Pocono, Pa. -- Outside of a hurricane, I've never seen a storm go from zero to terrifying as quickly as this one did. So quickly the winning car had to push against the wind to get to a makeshift Victory Lane. Look at the wake behind the tires.
---
***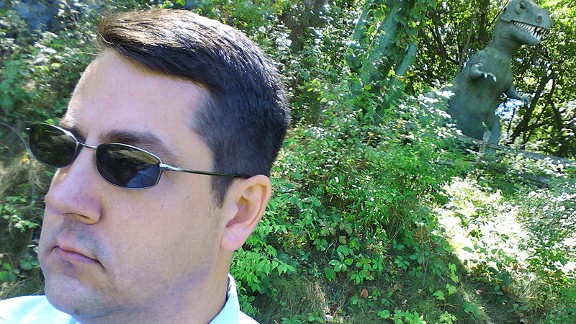 Ryan McGee/ESPN
• Aug. 18, Michigan -- "There used to be a prehistoric forest roadside attraction right here. I guess it's gone. You guys see anything? No? OK, let's go."
---
***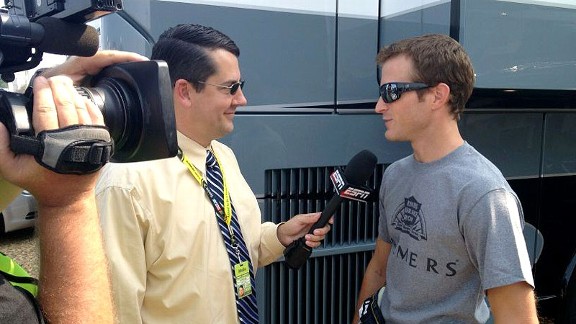 Ryan McGee/ESPN
• Sept. 2, Atlanta -- Right after this interview Kasey Kahne said to me, "I think USC is winning the BCS championship." I replied, "Totally, dude. I just voted them No. 1 on my ESPN.com Power Rankings ballot." Good job out of us.
---
***
• Sept. 7, Richmond, Va. -- Old-school. She said she found this cap at a yard sale.
---
***
• Sept. 8, Richmond -- Really old-school. I drove over to Colonial Williamsburg and this guy claimed to be Mark Martin's first crew chief.
---
***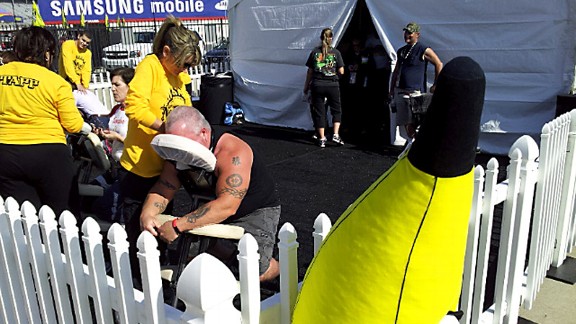 Ryan McGee/ESPN The Mag.
• Nov. 4, Fort Worth, Texas -- The Texas Motor Speedway's Wild Asphalt Circus provided an infield full of acrobats, sword jugglers and high divers. But nothing beats a tatted-up dude in a tank top getting a massage next to his giant stuffed banana in the Nationwide Series garage.
---
***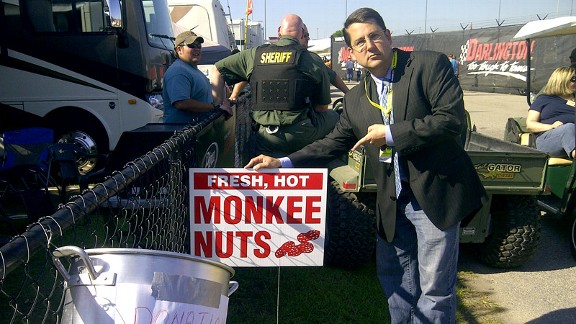 Ryan McGee/ESPN The Mag.
See you next year!