Bar patrons go old-school for Daytona
February, 23, 2013
02/23/13
2:27
PM ET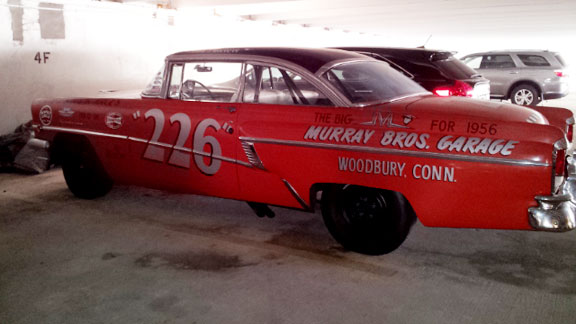 Ryan McGee, ESPNCheck out Russ Truelove's rebuilt '56 Mercury. Truelove, who has a sandwich named for him at Racing's North Turn Beach Bar & Grille -- the Russ Truelove Prime Rib -- returns to Daytona Speedweeks each year as director of the Living Legends of Auto Racing.
DAYTONA BEACH, Fla. -- For years now, NASCAR execs have struggled with relocating the sport's "core fans."
Good news. I found them.
On Friday afternoon, as the next-to-last Daytona 500 practice session took place, Racing's North Turn Beach Bar & Grille was standing room only.
A group of women dressed in Dale Earnhardt GM Goodwrench gear drank Buds in a booth decorated with Intimidator gear. One wiped a tear from her eye, and it wasn't because of the onions on her burger. A group of thick-around-the-middle lawyers draped in motorcycle leathers described themselves as "Jeff Gordon fans and the original Wild Hogs." A tour bus of NASCAR tourists, all dressed in "Swedish Daytona Tour 2013" T-shirts, posed out front for a group photo with the North Turn neon sign.
In the middle of it all, a grandfather held his young grandson's hand as they slowly walked along the walls of the lobby, reading aloud the wallpaper-like newspaper clippings from the 1950s. "See this photo here?" the man said with a point to an autographed black and white photo of a white-helmeted Tim Flock, '52 and '55 NASCAR champion. "Your granddaddy saw him win a race right out here behind this restaurant."
[+] Enlarge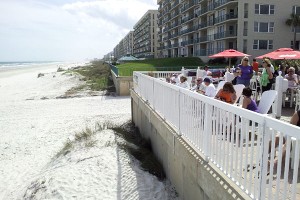 Ryan McGee/ESPNIs there a better view of the Atlantic than from the deck at Racing's North Turn Beach Bar & Grille?
"On the beach?"
"Yep, on the beach."
The North Turn Beach Bar & Grille has been at this location for more than 60 years, sandwiched between the Atlantic Ocean and Atlantic Avenue in the town of Ponce Inlet, just south of Daytona Beach. Back then, it was the Sandpiper Bar and Restaurant. The towering condos that surround it now weren't there. The only structure of note was a wooden grandstand that nearly leaned up against the Sandpiper. It was the grandstand for the 4.1-mile Daytona Beach and Road Course.
The sands of Daytona Beach hosted racing for nearly a half-century. To the north, land-speed records were set by a pair of Sirs, Henry Segrave and Malcolm Campbell. Soon, everyone and everyman started trying their luck against the clock. Eventually, it turned into racing. One of those beach racers was a young mechanic named Bill France. He led the formation of NASCAR. And in 1948, the fledgling sanctioning body was running the races that had moved down to Ponce Inlet.
The Sandpiper fed fans and competitors. It also served as Bill France's makeshift office. From there, he sold tickets, paid purses and sent employees out into the palm bushes to post "Warning: Snakes!" signs to drive freeloading fans off the dunes and toward the ticket booth.
"It was sight, man," Richard Petty recalled on Friday afternoon, standing in the garage of the Daytona International Speedway. When the big track opened in 1959, it spelled the end for the Beach and Road Course. "Daddy [NASCAR Hall of Famer Lee Petty] and those guys would come flying up that beach, like 80 of them, at 130 mph. Then, as they got to the North Turn, they'd throw those big ol' cars into these huge slides for like a quarter of a mile. They'd hit that hairpin turn, throwing sand all up in the air, get back in the gas and then drive back south on the highway. Tires squealing. It was awesome."
Thousands of fans lined both sides of the "highway," which was actually just a narrow two-lane asphalt country road. They also packed the wooden grandstand, gasping whenever a driver would miscalculate his slide, overshooting the sandy banking and banging into the pillars below.
No matter where they sat, a large majority of those fans munched on boxed lunches they'd bought from the Sandpiper. Now, from the North Turn Beach Bar & Grille, they look out over a much more peaceful scene, enjoying sandwiches named for those racers, such as the Ray Fox Shrimp Salad or Russ Truelove Prime Rib.
"There are a lot of old-timers who worry that people have forgotten about how racing used to be," says Truelove, who returns to Daytona Speedweeks each year as director of the Living Legends of Auto Racing. "All I have to do is bring them here to the North Turn and they realize that they are still remembered and loved. These are real race fans in here."
In 1956, Truelove's No. 226 Mercury was, as they say in his hometown of Waterbury, Conn., "wicked fast." As it turned out, a little too fast. As he approached the North Turn and threw his steering wheel to the left, a tire dug into the sand and sent the car airborne. It flipped six times. Once it came to rest, the door flew open. To the cheers and screams of the crowd, Truelove ran across the beach to safety as the rest of the 76-car field bore down on him.
A Life magazine photographer was there that day and captured the entire wreck. It appeared in a two-page photo spread one month later, and a copy of that issue is on display at the restaurant. Sitting in the parking deck next door was Truelove's rebuilt '56 Mercury, painted up exactly as it was the day it did the 100-mph pirouette.
"We've started a new tradition of having the old racers come back and drive the original course," Truelove says, citing a renewed enthusiasm for the old track, thanks to a decision by local officials to mark the original North and South Turn locations with checkered flag beach gates and historical plaques. "Last year, we could only drive down Atlantic Avenue. This year, they let us on the beach, too."
It took place last weekend, the morning before the Sprint Unlimited. NASCAR Hall of Famer Glen Wood was there. So were Ray Fox and Marvin Panch. They were all back behind the wheel of restored beach racers. And afterward, they did just as they did 60 years ago -- they walked into the Sandpiper-turned-North Turn Bar & Grille and got something to eat.
"It really is something being back out there and driving my race car with the people lined up to the left and the ocean to my right," says Panch, who raced on the beach from 1956-58 and won the big race at the then-new Daytona International Speedway in 1961. "It was a real case of déjà vu. I think we all wanted to just take off and race. But the speed limit out there is 10 mph now."