Shepherd's life about purpose and passion
July, 12, 2013
07/12/13
3:03
PM ET
Morgan Shepherd was grinning. It was a big ol' face-splitting grin that harked back to 1993. Or 1983. Or 1973. Impressively, that face was pretty much devoid of any wrinkles, save for some signature crow's feet around the eyes. Not bad for a 71-year-old.
On Sunday, Shepherd will make his 515th career Cup series start and his first since 2006. As soon as the green flag is waved, he will set the record for oldest driver to race at NASCAR's highest level, breaking a 26-year-old record set by Jim Fitzgerald, who was 65 when he raced at the since-razed Riverside International Raceway.
"Aw, that's not no big deal," Shepherd said about the record. "My life is about encouragement to people, and this is for the race fans that help keep us here, that support us. Cause I couldn't be racing without it. I don't operate on sponsorship. I operate on friendship, and that is the reason I'm here."
He's made plenty of friends, many of whom were lined up to shake his hand and welcome him back as the crew wrenched away on the No. 52 Toyota Camry. Ken Schrader, 58, relished the opportunity to stop by and, for once, get to call someone "old man."
No, Shepherd is not going to earn his fifth career win. He likely won't even make it to the first round of pit stops. The man who once won races for Hall of Famers Bud Moore and the Wood Brothers will be driving for poor-but-proud Brian Keselowski Motorsports (the older brother of defending Sprint Cup champion Brad).
[+] Enlarge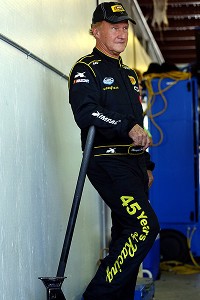 Tom Pennington/Getty ImagesMorgan Shepherd, 71, is ready to race Sunday in the Sprint Cup Series Camping World RV Sales 301 at New Hampshire Motor Speedway.
But winning isn't really the goal. His effort is bringing attention to SupportMilitary.org, a not-for-profit gateway that gives military personnel and families easy access to support organizations. The car also features a decal dedicating Shepherd's weekend to the lives of the 19 firefighters killed fighting Arizona wildfires one week ago.
Shepherd made his first Sprint Cup Series start before it was even the Winston Cup Series. Heck, it wasn't any kind of Cup. It was still the NASCAR Grand National Series.
That was June 20, 1970, at the Hickory Motor Speedway. Richard Nixon was in the White House. Mark Martin, typically the oldest driver in the Cup garage these days, was 11.
Shepherd, 28, finished 19th of 22 cars in a 276-lap race won by eventual series champ Bobby Isaac. Like most of the men in the field that day, Isaac is long since gone. So is the way Shepherd used to race.
"In 1970, I could go to a Chevrolet place and buy an engine for $735," he said. "Tires was $25 apiece, and I could go out and win races that paid $1,000. I could make a lot of money then. Now these engines, they lease them for $70,000, some of them $100,000 or whatever."
He pointed to a nearby stack of tires and continued: "In 1969 [in late-model racing], I won 21 out of 29 races. The left-front tire was on the car all year long. I changed the left-rear one time. The right side twice. So yeah, there's a little bit of difference now."
I motioned toward the end of his perfectly pressed black slacks, calling attention to a pair of well-shined, red-dyed cowhide boots. He said they were at least 20 years old. That's right. His footwear is likely older than fellow Cup series racer Joey Logano.
I asked him if he would be wearing his roller skates on Sunday. For years, it was a staple of the prerace show at the Martinsville Speedway for Shepherd to glide through a roller routine to Mel McDaniel's "Baby's Got Her Blue Jeans On" on the frontstretch.
"No, and I'm a little disappointed about not having my skates," he said. "This deal came together so fast I jumped on a plane and flew up and we didn't get a chance to get them loaded on the truck."
So what's the lesson in all this? What should other 70-somethings take away from a grandpa trading paint with a field of 42 other drivers who largely weren't born when he made his first series start?
"Get your hind ends off the couch and do something," he said. "Make a difference in the world. That is one of our deals. We have a charity that has been going on for 27 years where we help handicapped people. If you are healthy, you need to get up and help somebody else. That is what my life is about."
Shepherd paused, started to walk away and then turned back.
"Purpose and passion," he said. "This is passion. You need to find your purpose and do something about it."