Freeze soaks in Dega as pace car driver
July, 26, 2013
07/26/13
6:26
PM ET
TALLADEGA, Ala. -- Part of NASCAR's weekly prerace routine is to trot the day's visiting celebrities through the infield media center to answer a few questions. Exactly who stops by is typically tied to the market and track the series is visiting. When racing in Fontana, California, Hollywood celebs visit. When racing in Michigan, auto execs stop by.
At Talladega Superspeedway, as it is with any dot on the map of Alabama, it's all about college football.
"Man, I am so excited to be here, I can hardly stand it," Ole Miss football coach Hugh Freeze said excitedly, sharing the Sunday morning stage with NASCAR Sprint Cup racer and hard-core Rebels supporter Ricky Stenhouse Jr. "I have been a NASCAR fan for so long and it feels great to be at such a legendary racetrack."
OK, understand something here. All those celebrities who come to the track? They all say that they are really excited to be here and that they are big race fans. But they aren't. They say they love Danica and Dale Earnhardt Jr., they drive the pace car or shout, "Drivers start your engines!" and then by lap 50 they are gone. Poof.
Hugh Freeze is not one of those people.
[+] Enlarge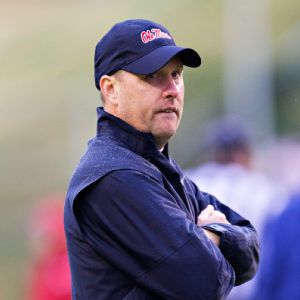 Wesley Hitt/Getty ImagesOle Miss football coach Hugh Freeze isn't just a NASCAR fan, he's a huge NASCAR fan.
"As far back as I can remember, I have taped every race," admitted the 45-year-old Oxford native, who says he's been a NASCAR fan since the early 1990s, when Stenhouse was still in preschool. "My family will attest that when I get home on Sunday night I go to watching it."
Freeze, like most fans who discovered NASCAR in the '90s, became a Jeff Gordon fan and also fell for Dale Earnhardt Jr. He still supports them, but they now rank behind Stenhouse, who visits Ole Miss football practice occasionally and is on the Vaught-Hemingway sidelines whenever he can be, and Patrick, who's Stenhouse's girlfriend.
The coach is such a fan he has worked NASCAR lingo into his playbook. His fast-paced offense has different sets of gears, the fastest of which is labeled "Talladega."
"I've used that all the way back to high school," he explained. "Our kids have bought into it. I can't tell you the number of times our players, particularly the quarterbacks, come to the sideline and say, 'Coach, let's go some Dega, man. Let's go some Talladega and speed this thing up and make it more exciting.' I think that is a great analogy for our kids because this place is one of the most exciting tracks and events in all of sport."
For Sunday's Geico 500, Freeze was charged with pacing that excitement, wheeling the car that leads the 43-car field around the 2.66-mile speedway with 33-degree, six-story banking. But before slipping behind the wheel of his Ford Mustang, he had to walk across the stage to be introduced in front of thousands of rambunctious race fans ... right smack in the middle of the state of Alabama.
"I suspect that there's going to be some boos," he accurately predicted, laughing. "But I'm kind of used to that."
In recent years NASCAR teams have run paint schemes designed to win the favor of the Yellowhammer State residents. Michael Waltrip has run Alabama Crimson Tide national championship paint jobs. Jamie McMurray won at Talladega in October 2013 in an Auburn Tigers scheme. Both received plenty of cheers, but an almost equal share of jeers.
Almost nothing on Planet Earth has the ability to unify the bitterly divided hemispheres of Roll Tide and War Eagle. The Ole Miss Rebels are in that very small group, especially since Freeze arrived in 2012. He has hauled in five-star recruiting classes.
That year they defeated Auburn and last fall Ole Miss upset eventual College Football Playoff participant Alabama, ranked as high as third in the nation.
"In this state, I'm used to getting booed quite loudly," Freeze said.
Then he was interrupted by Stenhouse: "That means you're doing things right."