Category archive:

Fernando Alonso
July, 25, 2012
07/25/12
1:21
PM ET
Rewind the Formula One season back to before the first event, when preseason testing was in full swing and constructors were still discovering their own capabilities and those of the competition. It was early, but the F2012 did not appear to have the pace of several rivals, and it seemed rather unlikely that Ferrari would win multiple grands prix, let alone compete for a championship.
But among all the doubters, Fernando Alonso cautioned any quick assessments, as he told Spanish sports daily Marca in the preseason, "There has been a tendency, especially from the media, to say that the car is bad and we are not having a good winter, but they don't understand. We are very calm because the car is very complex and there's no reason to believe that it won't be quick."
His confidence has echoed in his performances this season, and Germany was no exception. To date, Alonso has paced the competition for 216 laps this year, 94 more than anyone else. What's more, teammate Felipe Massa has just a single lap led on the season, a rather clear indicator of just how much Alonso has accomplished so far.
With his third victory of the season, he's 34 points clear of the field and has begun to emerge as a title front-runner despite arguably not having the quickest machine. After all, he has yet to post the fastest lap in any event this year.
Alonso enjoyed his 30th win Sunday in Hockenheim, and only three other drivers can claim 30 victories and 75 podiums in their career. Those names are Michael Schumacher, Alain Prost and Ayrton Senna, some of the greatest the sport has ever witnessed. It's a true testament to Alonso; while he has collected an incredible amount of podiums, he also has shown that those are not all finishes of second or third, and that he is consistently a threat to win. In Germany, he definitely demonstrated that from start to finish.
The picture behind Alonso was not quite as clear. Sebastian Vettel and Jenson Button fought for position in the waning laps, and, although it appeared as if Vettel had secured second, a penalty for gaining an advantage over Button while leaving the track relegated him to fifth.
For Button, it was certainly a welcomed break, as it ended a run of only seven combined points in his previous six grands prix. For reference, Button scored fewer than seven points in a single event only twice all of last season.
He'll look to improve his position in Hungary, which drivers and teams must prepare for immediately with only a week between races. It's a challenging circuit that keeps drivers busy throughout the lap, and it has been hosting F1 since 1986. In that time, triumph has mixed with heartache at the Hungaroring, as drivers such as Damon Hill can attest to.
In 1997, for example, he appeared destined for victory in his Arrows machine before Jacques Villeneuve overtook him on the final lap after Hill experienced mechanical problems. Had Hill's car been able to hold on, it would have been an incredible upset, as Arrows was certainly a struggling squad. Perhaps this year will be just as memorable.
The eventual winner should be on high alert, however, as the driver to emerge victorious here has not recently been able to convert the rest of the season into a championship. Since 2002, only once has a driver won Hungary and the title in the same year (Schumacher in 2004).
June, 27, 2012
06/27/12
3:31
PM ET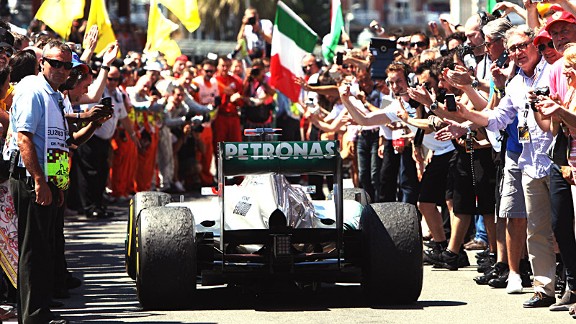 Ker Robertson/Getty ImagesIt had been a very long time since Michael Schumacher had drawn applause for a podium finish.
The opening laps in Valencia suggested that this year's version would be similar to recent editions on the street circuit.
Sebastian Vettel looked to be in complete control as he opened up a commanding lead, but mechanical gremlins ultimately ended his run early, opening the door for the competition.
Fernando Alonso took full advantage, to the delight of the home-country crowd, and collected a remarkable victory after starting 11th on the grid.
Aside from his memorable and controversial victory in Singapore in 2008, it was his worst starting position in an event he went on to win.
In addition, his victory earlier this year in Malaysia saw him start eighth, meaning he has been forced to make up some serious ground en route to his two wins this season.
Alonso has done an incredible job this season of pushing his car to the limits, but Ferrari still has plenty of room for improvement, as he told reporters after Valencia.
"It's true that we believe and we will never give up, we will have confidence in ourselves and we will arrive with optimism at every grand prix we go to," he said. "But at the same time, apart from winning today or finishing sixth today, we know that we are not in the position that we want to be and there are a few cars quicker than us and we cannot be blind to that.
"We need to work."
Red Bull still appears to have the quickest car lately, but Vettel now finds himself 26 points behind championship leader Alonso. That gap can certainly be closed, as Vettel eliminated a 19-point deficit in 2010 after eight rounds to win the championship, but it is a surprising position for him this far into the season.
Vettel was certainly not the only driver to suffer misfortune in Valencia, as Romain Grosjean also became a casualty of his Renault power plant. When Lewis Hamilton crashed late, it allowed for Michael Schumacher to score his first podium with Mercedes.
In what has been a very tough year, it was a standout result, and it marked the first time in nearly 2,100 days that Schumacher had reached the podium.
It was a finish that surprised many, as Schumacher found himself outside of the points with fewer than 20 laps remaining. It surprised even the driver himself, as he detailed to reporters.
"I didn't actually think about a podium at all at the end of the race," he said. "It was crossing the line that I asked my guys 'where did we finish?' I saw [Mark] Webber's pit board and close to the end it showed him eighth and seventh, and I knew I was one place ahead of that one. And then the boys told me 'that's third, that's podium.'
I can't believe that! It's something I didn't really expect."
Sure, he was on fresher tires than many other drivers, but he did a great job of dicing through the field. When several front-runners ran into trouble, he was able to secure an impressive day.
What's more, this season has now seen 11 different drivers on the podium, more than the previous two seasons combined. That's a pretty clear indication of just how varied this year has been, even when compared to a very thrilling 2010 season.
As the F1 calendar moves on, a storyline to watch next time out will be Vettel's pursuit of a 34th-career pole. It is a significant milestone, as it will give him sole possession of third place on the all-time pole ranks behind only Schumacher and Ayrton Senna.
May, 16, 2012
05/16/12
2:53
PM ET
A year ago, the famed Williams squad was enduring a downright embarrassing season, one which yielded no points through the first five events on the F1 calendar.
It was a nearly unimaginable start for a team that had accomplished so much in the sport, and the remainder of the season was not much kinder.
In the end, the team under Cosworth power collected just five more points than Lotus, HRT and Virgin.
What a difference a few months can make. This season has seen Williams return to competitive form, running mid-pack for much of the early season.
But Pastor Maldonado accomplished much more than that in Spain as he defended the lead from the likes of former world champions Fernando Alonso and Kimi Raikkonen.
Because of his incredible drive, Williams was on the top step for the first time since Juan Pablo Montoya won in 2004.
The 131 events between wins was by far the longest in the team's history, more than double the next-closest streak set between 1997 and 2001.
When this latest drought began at the start of 2005, Alonso had yet to win a world championship and Red Bull was in its maiden season.
For a team with such a pedigree, it was a drought that shocked the sport, yet the end of that run in Spain was arguably even more surprising.
In his young career, Maldonado had never finished better than eighth and had just two finishes in the points entering Spain. His victory must certainly give hope to many others on the grid that perhaps their first F1 win isn't as distant as they once thought, and with so much of the season still to come, it is difficult to imagine what surprises could possibly remain.
The nation of Venezuela certainly had reason to celebrate as well, considering it was the first victory and podium for a driver from the country in Formula One.
In addition, this season now has multiple first-time winners before June, a feat that had not occurred since 2003 (Giancarlo Fisichella and Raikkonen).
Team principal Sir Frank Williams was certainly candid about Maldonado's hiring, but he was also quick to support his driver.
[+] Enlarge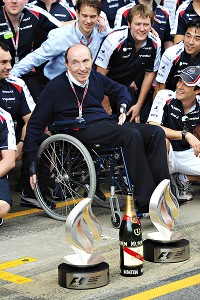 Dimitar Dilkoff/AFP/Getty ImagesWilliams team principal Frank Williams celebrates with teammates after Venezuelan driver Pastor Maldonado's win at the Circuit de Catalunya.
"Yeah, he was to some extent [initially with the team because of money]; I'm not denying that," Williams told Autosport. "But if we thought he'd been a wanker, he wouldn't have got in the team no matter how much money he had. He did a very sensible job in GP2 and he fully deserves to be in the team with or without the dosh.
"The truth is that if you haven't got the dosh, you can't go Formula One racing. But we've got a real racing driver as well. I am just astonished by the way he just controlled himself, and didn't make a mistake at all."
For Maldonado, that's undoubtedly high praise from one of the most respected individuals in the sport, and the concept of drivers paying for a seat may have just taken on a completely new form thanks to his victory.
Maldonado is now the seventh straight different driver to win an F1 event, a remarkable occurrence considering that between 2010 and 2011, only five different drivers won.
There is plenty of talent on the grid that could extend that streak even further, and with Monaco next on the schedule, there is hardly a larger stage for an upset.
But Spain could easily have played out differently had Lewis Hamilton not suffered misfortune yet again.
After a fuel error cost him his pole position, he was forced to fight through the field throughout the day to finish eighth, and one can only guess what the outcome would have been had he started from the front.
April, 4, 2012
04/04/12
4:40
PM ET
There was a brief moment in 2008 when it appeared that Felipe Massa was a world champion.
At the season finale in Brazil, Massa was the man to cross the line first, and the celebrations began for Ferrari. But in the waning moments, Lewis Hamilton claimed the position he needed to secure the championship from Massa by just a single point.
It was an unimaginably heartbreaking defeat for the Brazilian in front of his home crowd after coming so close to the ultimate achievement. While one driver was celebrating a title, another was reeling from a cruel twist.
Since that close call, Massa has been forced to endure some very trying times.
The following year, Massa was struck in the helmet by debris while qualifying in Hungary. He was sidelined for the rest of the year while recovering, but made a triumphant comeback at Bahrain to open the 2010 season, finishing on the podium.
Despite the impressive return, he has yet to win since that 2008 campaign, a year in which he enjoyed a half-dozen victories, and has consistently been overshadowed by his latest teammate, Fernando Alonso.
While this season is still young, it has been anything but positive for Massa, as he's started outside the top 10 in both events. China is certainly going to be a pivotal qualifying session, considering the veteran hasn't started three straight races from 10th or worse since his days with Sauber in 2005.
Alonso's victory in Malaysia only brought Massa's troubles more into the spotlight. Rumors have swirled over a possible replacement driver at Ferrari, much as they did during last season. A podium finish would seemingly go a long way toward quelling doubts, but that appears to be a lofty goal, considering he has not finished among the top three since 2010.
Following his near brush with a championship in 2008, it appeared as if Massa was destined to compete among the top drivers for years to come, but that has simply not been the case. He has since struggled to keep pace with the strongest runners, posting just six podiums in 49 races since 2009.
Compare that with his first three seasons with Ferrari, when he tallied 27 in 53 grands prix.
It has often appeared since his comeback that he has simply been the victim of plain misfortune, with a prime example occurring in Germany in 2010. Massa was looking strong and fighting for the victory, but team orders prevailed, and he was essentially forced to move aside and allow Alonso to overtake.
Even on a day when Massa was excelling, he ultimately had to experience bitter defeat.
Massa is not backing down, however, and has been working hard to turn his fortunes around, as he described on Ferrari's website: "I met my engineer Rob Smedley and I spent a lot of time with Pat Fry, going over everything that happened, because this is the only way I think we can understand the reasons behind these two bad weekends. I am disappointed, there is no denying it: not scoring any points in two races hurts, but now it's time to turn the page. It's not the first time I've gone through a difficult moment like this and I know well that things can change quickly."
It's looking pretty bleak for Massa these days, and his time with Ferrari certainly appears limited. The pace of the Ferrari will be a major storyline over the coming weeks and months. Perhaps with some innovations, the car -- and Massa -- can become a consistent competitor.
March, 28, 2012
03/28/12
12:02
PM ET
It's exceedingly difficult to classify a Ferrari victory as a bit of an underdog story, but in Malaysia, that seemed to be precisely the case. The most prestigious team in F1 history was certainly off the pace in both testing and the opening round in Australia, and many had raised concerns about the competitiveness of the F2012. Yet two races into the season, Ferrari already has extended its Formula One record of 19 straight years with a victory.
In one of the most thrilling grands prix in recent memory, Fernando Alonso emerged victorious, but the results were very much in doubt until the very end. Sergio Perez, in just his second F1 season, pushed his Sauber to the limits and very nearly won the event in the closing laps, narrowing in on Alonso before running a corner wide. The pair made for a classic event, as did the constantly changing weather. Both drivers were incredible, considering their teammates finished well out of the points -- Kamui Kobayashi struggled throughout while Felipe Massa was nearly lapped by his teammate.
Perez on the podium meant Mexico had a driver finish within the top three for the first time since 1971 (Pedro Rodriguez). In addition, Perez is just the second Mexican driver, alongside Rodriguez, to post a podium finish. In between, Hector Rebaque had come the closest, finishing fourth on several occasions in 1981.
But it was ultimately Alonso's day, which came as a shock to many, including the man himself.
"I would never have bet on this win, and I would think anyone who did so must have picked up a tidy sum!" Alonso told reporters. "As I returned to the pit lane on the cool-down lap I didn't even know where to park the car: To win with all the problems we have got is something quite extraordinary."
His 28th career victory puts him alone in fifth all time and just three shy of Nigel Mansell for fourth. He flashed his entire array of skills in Malaysia and arguably had one of his best career races. Ferrari is clearly still an underperforming car relative to the top competition, and it took sound strategy as well as good fortune to ensure that Alonso was on the podium's top step.
He spent the least amount of time on pit road in comparison to the usual contenders, and when asked by reporters what the win did for his team, he responded, "I think it changes nothing, to be honest. We are in a position that we don't want, to be fighting to go into Q3 and then fighting to score some points."
Filling out the podium was Lewis Hamilton, again finishing third after starting from the pole. Hamilton paced the first two practice sessions, which has recently been a bad omen at the track, as no driver has led either first or second practice at Malaysia and then won the event since Michael Schumacher in 2004. Drastic weather changes certainly play a factor, but the track itself also provides ample overtaking opportunities, with long straights and a wide racing surface. The two have combined to make this event rather unpredictable throughout the years.
An additional element surprised in the late going, when Sebastian Vettel slashed his tire while overtaking Narain Karthikeyan. Vettel was primed for a finish just outside the podium, but instead he finds himself trailing leader Alonso by 17 points. He has been worse off before, however. In 2010, Vettel trailed the leader (again Alonso) by 25 through two events and still managed to finish the year on top.
November, 9, 2011
11/09/11
12:58
PM ET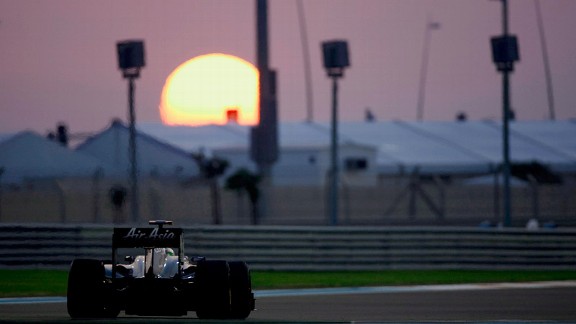 Peter J Fox/Getty ImagesDrivers will have to contend with changing track conditions as the sun sets Sunday on the Yas Marina Circuit in Abu Dhabi.
With only two races remaining in the 2011 Formula One season, much of the news will pertain to next year and beyond.
That's been the case this week as rumors have swirled that Kimi Raikkonen might be returning to the sport next season, possibly leaving veteran Rubens Barrichello without a seat.
If true, it would provide a big boost to F1, as Raikkonen ranks among the best drivers in recent memory. He collected 18 race wins in his career spanning 2001 through 2009, trailing only Michael Schumacher and Fernando Alonso in that time, and he claimed the 2007 world championship with Ferrari.
A versatile driver, he won at 13 Formula One venues, the same figure as legendary Lotus driver Jim Clark.
Raikkonen's tally of 62 podium finishes with McLaren and Ferrari also ranks among the top 10 in F1 history, and, although there's no doubt he's a supreme talent, any stint with Williams could prove trying, as the team is in the midst of a nightmare season.
Toro Rosso and Sauber have each earned more than eight times as many points this season as Williams, and neither Barrichello nor Pastor Maldonado has finished better than ninth for Williams in any event this year.
Also making news recently is that American star Alexander Rossi will have the opportunity to test with Lotus in Abu Dhabi.
He likely represents the most realistic scenario in which an American could occupy an F1 cockpit in the near future, and with two grands prix scheduled for the United States in the coming years, now is certainly the time for an American driver to return to F1.
The last U.S. champion was of course Mario Andretti in 1978, with the only other American title coming in 1961 (Phil Hill). From 1950 through that last championship in 1978, drivers from the United States won more than 20 events outside of Indianapolis.
Since then, however, no American has claimed victory. In the first half of F1's history, the country was represented by names such as Hill, Andretti and Dan Gurney. In the latter half, there has been little to no representation.
Elsewhere, all of Formula One is now preparing for a third trip to Abu Dhabi. The Yas Marina circuit does not lack stunning scenery, but the event itself has failed to produce compelling battles up front.
Last year's event was dramatic solely for championship implications, but Sebastian Vettel ended up running away with the race victory, winning by more than 10 seconds. The year before, he cleared the field by more than 17 seconds.
What makes Abu Dhabi different from most is that it is one of only five circuits on this year's calendar to run fully counterclockwise. At the three that already have hosted races this year (Turkey, Singapore and Korea), Vettel has -- to no one's surprise -- dominated, winning all three while leading all but three laps.
The track is one of the most forgiving on the schedule, with ample runoff areas, as Lotus driver Heikki Kovalainen described to reporters in the week leading up to the race.
"Abu Dhabi's not a hugely challenging circuit to race on, but the timing of the sessions and the fact we are running as the light's fading on Sunday makes it pretty cool for the fans and on TV," he said. "The first sector is reasonably quick -- if you see the cars turn in to T1 after the start/finish straight, you can get an idea of just how fast an F1 car can change direction, and from there you pick up pace through Turns 2 and 3, pushing the aero performance of the cars.
"After that, it's a bit stop/start until the long straight down to T8 where there is the first clear overtaking opportunity. T11 is the next place you can pass people, and then it all gets a bit fiddly as you go around the hotel."
A record-tying 14th pole of the season for Vettel is probable, as is a sixth victory in the past seven races.
November, 2, 2011
11/02/11
1:42
PM ET
While the on-track battles were certainly lacking, India's Formula One debut left a lasting impression on both drivers and fans.
Many had very trying weekends -- including Felipe Massa, Pastor Maldonado and Lewis Hamilton -- but overall, many drivers deemed the debut a success, including Nico Rosberg. The 26-year-old German told reporters midway through the weekend, "The new track here in India is awesome. It has some very interesting corners, and that's why it takes a bit longer to get used to the layout than at some of the other new circuits."
Mercedes-Benz Motorsport vice president Norbert Haug shared similar sentiments: "Congratulations and compliments to the Indian Grand Prix organizers for building this state-of-the-art racetrack, which certainly does not need to hide behind the best ones in Europe. It is a pleasure for Formula One to be here in India."
Despite the new locale, it was business as usual for Sebastian Vettel, who secured the 31st pole for Red Bull in the past two years. Remarkably, no other constructor has more than two in that same span, and it's a testament to Red Bull's consistently quick pace at just about every track.
Vettel's 13th pole of the year means he now has 28 in his career, and he's only six shy of moving into sole possession of third on F1's all-time list. It's staggering to imagine that Vettel could realistically be third on that list before his 25th birthday. He still has a long way to go to match Michael Schumacher's record of 68, but at his current pace, that record certainly cannot be considered safe.
A two-time champion, Vettel cruised to victory Sunday, again setting the fastest lap of the race on the final trip around. It meant he earned his first career grand slam (won from pole, led every lap and ran fastest lap), becoming just the third driver since 2000 to do so (Schumacher, Fernando Alonso). He also became the first driver to ever pace the field for 700 laps or more in a single year.
Hamilton was thought to be a serious contender to Vettel's title pursuit this year, but that simply has not been the case. While another collision with Massa was not Hamilton's fault, he was also tagged with a three-place grid penalty for disregarding yellow flags in practice. India continued his nightmare season, as he ended up seventh overall, and his career has taken a different turn since his first two seasons in 2007 and 2008. In those years, Hamilton won nine times in 35 starts (25.7 winning percentage) and had 22 podium finishes. He also claimed a championship after losing out by the narrowest of margins the year prior.
In three seasons since, Hamilton has not finished better than fourth in the standings and has seven wins in 53 starts (13.2 winning percentage) along with 19 podiums. While Hamilton is certainly one of the top drivers in the sport, he's not immune to significant slumps -- and while it was hard to imagine at the start of the season, he's looking like the No. 2 driver in the McLaren stable right now.
Sauber's Kamui Kobayashi is also mired in a slump. India continued his streak of seven races without a point earned, and he has just two points in his past 10 events. Even Nick Heidfeld, who hasn't competed since July, has more points in that span. That's also a stark contrast to the beginning of this season, when Kobayashi had 25 points through seven races and failed to score points only once (finished in points but disqualified in Australia). The lack of production has not stemmed from Sauber as a team, however, as Sergio Perez has 12 points in his past nine grands prix.
October, 25, 2011
10/25/11
9:27
PM ET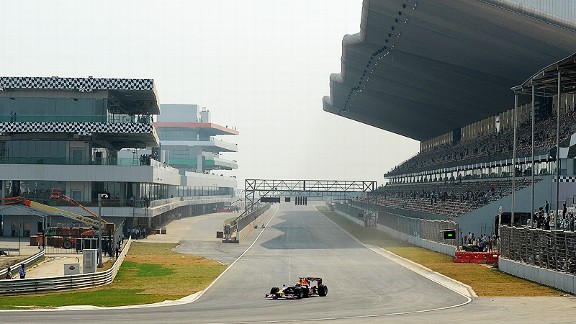 Manan Vatsyayana/AFP/Getty ImagesThe Buddh International Circuit is ready for its debut on the Formula One calendar.
Looking back, the 2004 season was a defining year in Formula One's history, in more ways than one.
Not only did it mark the final season of Michael Schumacher's dominant run, it ushered in a completely new era of F1, one which witnessed new venues appearing throughout the calendar.
From 1998 through 2003, Malaysia was the lone new venue added to the calendar, not including tracks such as Indianapolis, which had previously hosted F1 events.
But since 2004, fans have seen nine new locales added through 2012, with more scheduled in the coming seasons. Indeed, on next year's calendar alone, five of the final seven races did not exist prior to 2008.
With the announcement of an F1 event planned for northern New Jersey in 2013, the United States presumably received another large boost, considering Austin is set to debut next year.
It is also a clear indication that F1 is committed to continuously adding new venues worldwide.
India this weekend is one of those new circuits, and due to its late completion, many teams are left guessing in a few areas.
Jenson Button, who sits second in the drivers' championship, described the new track to reporters.
"The track itself has quite a nice mix of corners," he said. "The start of the lap is pretty stop-start, there are a couple of long straights mixed with tight hairpins, but it's the end of the lap that's more interesting; there are some pretty high-speed changes of direction through the esses and some gradient change.
"One of the things that looks really interesting is the double-apex banked corner at the back of the circuit -- that's pretty unusual. It's sort of a mix between Turn 13 at China and Korea's Turn 11."
On the 23rd anniversary to the day of Ayrton Senna's first world title, fans in India could be in store for a few milestones. Not only does Sebastian Vettel have a good chance of eclipsing Nigel Mansell's single-season laps led record (set in 1992), but he also may tie Mansell's record of nine wins from pole in a year.
Chances are Vettel will be on pole this weekend, as he claimed the top spot in qualifying last year in Korea's inaugural grand prix.
Remarkably, that event was the last time Vettel failed to score points, meaning he's collected points in 18 straight races. If he notches points in India, it would move him into second on the list of longest streaks in F1 history, behind only Schumacher's run of 24 between 2001 and 2003.
Vettel's season has understandably overshadowed the rest of the F1 community, but several other top drivers in the sport have arguably improved over last year at this point.
Ferrari's Fernando Alonso has seen his wins total drop significantly, but through 16 events, he has earned more points than last season. Both McLaren drivers, Button and Lewis Hamilton, have a higher points total through 16 races compared with 2010.
Of the three, Button has shown the most improvement this year. In his sophomore season with McLaren, his three victories are the second most he's ever earned in a single season, and his nine podiums match that of his 2009 title run.
With one more podium finish, he'll match his career best of 10, set back with BAR in 2004. Since Hungary, he's earned 113 points while Vettel has put up 133. No other driver has more than 82 in that span.
Clearly, Button has been Vettel's biggest challenger recently, and could very well play that role again Sunday.
October, 19, 2011
10/19/11
2:09
PM ET
Soon after celebrations in Korea concluded, the open-wheel world mourned the loss of former IndyCar champion Dan Wheldon in a terrible accident in Las Vegas. It was a sobering reminder of the inherent dangers in motorsports, even today, and it provided time for reflection and remembrance of a truly great driver.
Racing can provide unimaginable highs and lows; less than six months prior, Wheldon had won the Indianapolis 500 in the most dramatic fashion. He grew up racing against Jenson Button, and provided inspiration to Lewis Hamilton and others. It's an enormous loss to IndyCar and the motorsports community.
Just hours before, 24 Formula One drivers had taken to the grid at Korea for the second time in as many years. The first practices yielded little information, as rain concealed any truly quick lap times. Qualifying, however, delivered a surprise, as Hamilton claimed the pole. It signified the end of a 16-race run in which Red Bull was on the pole, the third-longest streak in F1 history.
Hamilton's tough season continued, however, just moments after the red lights went out Sunday, as Vettel quickly jumped into first. The Red Bull ace went on to clinch the fastest lap on the final trip around en route to his 10th win of the season, only the second time this season in which he's posted the quickest lap of a race. That's a stark contrast to the two other 10-plus win years in F1, when Michael Schumacher notched 10 fastest laps in 2004 and seven in 2002.
A third-place result by Mark Webber also helped to clinch the constructors' title for Red Bull for the second year in a row. Legends Ferrari, Williams and McLaren are the only constructors to win three straight titles, so Red Bull has the opportunity to join a very exclusive list in 2012. Additionally, no team has ever claimed its first three titles in consecutive fashion.
While McLaren has not won a constructors' championship since 1998, the team had reason to celebrate Sunday, as Korea marked the squad's 700th grand prix. On display at the McLaren Technology Centre this week were cars from each of the milestone races in the team's history (100th through 600th), and the excitement spilled over into the race when Hamilton and Webber fought wheel to wheel immediately after their second pit stops. Hamilton's ability to keep Webber at bay and take the second spot on the podium was likely a big boost for his confidence, considering he's experiencing a relative low point in his career.
Just a year ago, Korea marked a significant expansion of Formula One, and next week the sport will see another key chapter begin in the form of the inaugural Indian Grand Prix. The Buddh International Circuit is located in northern India outside of New Delhi, and it marks F1's entry into a nation that over 1 billion people call home.
The circuit promises to be a unique one; the three very slow turns in the first sector likely will yield some excellent overtaking opportunities, and the constant elevation changes make for an additional challenge. It's a clockwise layout that features a very long right-hand bend with multiple apexes in Turns 10 and 11, and with any luck, this race could provide some of the most exciting battles fans have seen all season. Car setup will be crucial, but that's likely a very tough task for a circuit that has nearly every feature. Hermann Tilke's designs have not always been a favorite among drivers and fans, but this may very well be an exception.
India may also see a significant record fall. With three races still to go, Vettel is within 50 laps led of the most in a single season, set by Nigel Mansell in his dominant 1992 campaign. It's very possible for the mark to fall, as the event is scheduled for 60 laps. If he leads the field after at least 49 laps, Vettel will become the first man in F1 history to have led 700 laps in a season.
A few drivers also will be celebrating some milestone starts. Felipe Massa will be starting his 150th grand prix, despite Ferrari believing that South Korea marked the occasion. In truth, he has two no-starts (2005 United States and 2009 Hungary), and one of those was apparently counted in his total entering Korea. Lotus pilot Jarno Trulli will be making his 250th career start, a mark only three drivers have previously reached.
October, 12, 2011
10/12/11
1:21
PM ET
All of the laps, the hours, and the dramatic twists and turns of a Formula One season are in the end meant for one thing -- a championship, and Sebastian Vettel can now claim to be a double champion in the highest form of motorsport. A foregone conclusion for several months now, it caps one of the most dominant seasons in F1 history, and is another example of a top driver making the most of a top machine. Neither can accomplish the end result without the other, but it takes nothing away from an incredible accomplishment.
The nation of Germany now has laid claim to half of the drivers' championships in the past 18 years, after having none in Formula One's first 44 seasons. The runs by Michael Schumacher and Vettel mean that the country is now second on F1's list of most championships by a nation, behind only Great Britain. Since 1994, no other nation has represented more than three drivers' championships.
The youngest two-time F1 champion was understandably overjoyed following his third-place finish in Suzuka, telling reporters, "I am very proud. But it is really difficult to put into words what I feel right now, because it's not just one key race, or some key races. It's the whole season so far: all the preliminary preparations, the tests, the time in the factory. And then getting rewarded for all that by achieving the goal that you've set yourself -- that is amazing. And that it happens four races before the end of the season, that is even more special -- the early fulfillment of your dreams. Can it get any better?"
Only Michael Schumacher in 2002 and Nigel Mansell in 1992 clinched the championship with more than four races remaining, and although interest in the final four events may wane, the on-track product may only intensify, as McLaren team principal Martin Whitmarsh explained to The Times of India, "I actually think you'll really see the gloves come off and we'll get to see some truly incredible racing by the greatest drivers in the world."
Not to be outdone was Jenson Button, who earned his third win of the season thanks to excellent tire conservation and race pace. He posted the quickest lap of the day for the second straight race, and his three victories since Canada are second to only Vettel's four. Dating back to his days with Brawn GP, each of his last six victories have come from a non-pole position, and since the beginning of 2009, no driver has more than his seven such wins. In Japan, he had an excellent jump off the grid, but a block by Vettel heading into the first turn negated any advantage. Instead, Button gathered himself and played to his strengths, conserving his tires while also reeling off consistently quick laps.
Formula One remains in Asia this week as Korea is immediately next on the calendar. Pirelli will be bringing soft and supersoft tire compounds, meaning fans may witness a considerable amount of stops in the race. Having hosted only one race thus far, Korea is still a relative unknown. The start was marred by rain last year, and both Mark Webber (accident) and Vettel (engine) failed to finish. The circuit is home to some very slow corners, including Turns 1, 3, 4 and 6. The second half of the track opens up a bit and features some tricky, high-speed bends. At 5.6 kilometers, it's on par with most other F1 circuits, but overall Korea is a tough place to learn in the matter of a race weekend.
Meanwhile, Michael Schumacher is coming off his first laps led with Mercedes and had a strong finish here last year, benefitting from some top drivers' misfortunes. He's just three points behind teammate Nico Rosberg and has accrued 28 of his 60 points in just the past four races. After finishing 70 points behind Rosberg last year, Schumacher is no doubt motivated to best him in 2011.