Category archive:

Jenson Button
May, 9, 2012
05/09/12
12:25
PM ET
Close, competitive racing has been the recipe throughout this Formula One season, but if this trend continues up front in Catalunya, it will prove to be a considerable exception for the circuit.
While the track is a familiar one for teams, it has not been known for providing close finishes. Last year was very much a rarity, with Sebastian Vettel holding off Lewis Hamilton by a mere 0.6 seconds. Aside from that result, no event at Catalunya has been decided by fewer than three seconds.
[+] Enlarge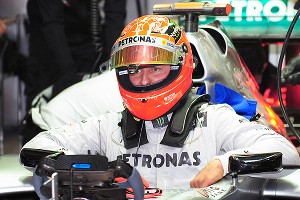 Mark Ralston/AFP/Getty Images Michael Schumacher owned the Grand Prix of Spain in his heyday, winning it six times.
In fact, of the 21 previous grands prix held, 19 have been won by more than a margin of five seconds and 14 have been decided by over 10 seconds.
While that certainly does not bode well for a memorable finish in Spain, if any season can deliver an exciting battle, this would certainly be among the top contenders.
The combination of tires that degrade quickly and an increase in the number of competitive teams has made this season very much a guessing game, and with any luck Spain will see a continuation of the 2012 excitement.
It certainly has been an unpredictable grand prix recently, as the last six events here have produced as many different winners. In addition, of the six former F1 champions on the grid, only Hamilton has yet to capture a win at this venue.
If Hamilton wants a legitimate chance at a victory here, he'll want to start on pole, or at least the front row. A staggering 10 of the last 11 winners have come from the pole, with the lone exception coming last year (Vettel won after starting second).
Since Catalunya began hosting F1 in 1991, only once has a driver won after starting outside the front row, and that was merely a third-place start from Michael Schumacher in 1996.
By comparison, a track such as Monaco, which stresses qualifying more than most venues, has 20 winners from the top three starting positions in that span but has just 10 from pole, compared to 16 in Barcelona.
Clearly, a top qualifying effort in Spain is absolutely critical for those who wish to win, making qualifying all that more riveting.
Perhaps Schumacher can boost his season at Catalunya, as Spain is one of his strongest grands prix. His six victories at the Spanish Grand Prix trail only France (eight), San Marino (seven) and Canada (seven) for his most at any grand prix, and he is now facing heightened expectations after his teammate Nico Rosberg drove to victory earlier this year.
Schumacher will have to continue to adjust to the Pirelli rubber, an aspect of the sport he is not pleased with, as he recently detailed to CNN.
"I just think they are playing much too big an effect, because they are so peaky and so special that we don't put the cars or ourselves to the limit," he said. "We drive like we're on raw eggs and don't want to stress the tires at all, otherwise you just overdo it and you go nowhere."
He has suffered from some bad fortune this season and, as a result, has earned fewer points than the likes of Bruno Senna, Jean-Eric Vergne and Pastor Maldonado.
His campaign with Mercedes has thus far been a disappointment, but there is still plenty of time to turn it around this season, especially with a car that appears to be more competitive than in past seasons.
The sport will also be celebrating an anniversary in Spain, as it will mark, to the day, the 62nd anniversary of the first Formula One race. That inaugural event was run in Silverstone and was won by Nino Farina and Alfa Romeo.
May, 2, 2012
05/02/12
11:46
AM ET
Spain may be the next official stop on the Formula One schedule, but the Italian circuit of Mugello will garner its fair share of attention prior to the arrival of teams at Catalunya. The venue plays host to the return of in-season testing, and the sessions will provide a very valuable opportunity for teams.
With a fifth of the season already over, teams simply cannot rest on their accomplishments to date, as the driver standings are much too tight. Sebastian Vettel may be the leader, but there are six others who trail by fewer than the equivalent of a race victory. In addition, eight drivers already have reached the podium this season, one more than the total from 2011. With the field on significantly more level ground this season, any innovation by one team could provide a huge boost.
Jenson Button certainly understands how close the competition has been this season, as he explained to The Sun, "Every race you want to have a good result and you know that a no-score is massive and it really hurts. You've got to be consistently near the front. I don't think it means you hold back going out for a win. You're not going to hold back if there is a maneuver or a move to go for, but consistency is going to be very important this year."
With Vettel dominating last year, a poor showing may have cost a driver a chance at second or third in the drivers' championship. This year, it could mean spoiling a chance at the title.
It may be difficult to assess who the true championship contenders are, considering how condensed the standings appear, but one measurement seems to shed some light: Three drivers this season -- Lewis Hamilton, Vettel and Button -- have spent far more time running among the top three than anyone else and have therefore put themselves in position for good finishes. Hamilton has run among the top three for over 58 percent of laps this season, best in the sport. Just behind are Vettel (51.1 percent) and Button (46.7 percent), while no other driver is above 30 percent.
Additionally, drivers such as Mark Webber have struggled. While his consistent finishes have put him in the middle of the title chase, he has only run 11 total laps among the top three this season (4.8 percent). He's the ideal example of a driver who could certainly be a championship threat, but thus far his numbers do not reflect exactly that.
Webber should not be ruled out by any means, however, and although his initial results have not been overwhelming, he's done an excellent job of staying right in the mix. As a result, he's a mere five points shy of Vettel.
While running among the top three does not always equate to podium finishes, it certainly will be key over the course of an entire season. Considering the early-season chaos, it's an excellent indicator of which drivers are the strong runners, and right now Hamilton looks poised for a victory sooner rather than later.
Meanwhile, a team that deserves a tip of the hat this year is Williams. After enduring an arduous season last year, the historic squad has bounced back considerably, having already secured 18 points. There is still much room for improvement, however, as the team has cracked Q3 just once in four events. So far, it has been a theme of what could have been with Pastor Maldonado; he crashed very late in Australia and has suffered several misfortunes since. He'll be an interesting one to watch over the next few grands prix.
March, 21, 2012
03/21/12
4:03
PM ET
Once again, Australian Grand Prix at Albert Park provided some measure of chaos, uncertainty and surprise.
The bulk of the shakeup came in qualifying, where both Red Bulls sat in the third row and the most successful team in the sport's history, Ferrari, failed to reach Q3 for the first time since Malaysia in 2010, nearly two years ago.
Lotus driver Romain Grosjean initially impressed in his F1 return with a third-place slot on the grid, and it appeared as if the team would have another strong run in Melbourne. The fates quickly indicated otherwise, however, as Grosjean lost three positions early and then collided with Pastor Maldonado, ending his race.
Ultimately, the day belonged to Jenson Button, who captured his third win in Australia, now his most at any grand prix.
A sublime start off the grid meant Button was in control early, and the pace of this year's McLaren was on full display. Button is a notoriously early starter, with 10 of his 13 career victories coming before July. Six of those have come in March and April alone.
Even a safety-car period could not hinder Button's progress, as he executed a fantastic drive throughout. Runner-up Sebastian Vettel of Red Bull perhaps said it best to reporters, "Congratulations to McLaren and to Jenson, I think he drove a fantastic race and was unbeatable today."
It will be interesting to see if McLaren can win in Malaysia this weekend as well, as the team has not taken the first two races of the year since 2003.
While qualifying shook up the grid from last year's relatively predictable order, the race seemed to shuffle out any irregularities. McLaren's Lewis Hamilton rounded out the podium, while Red Bull's Mark Webber finished fourth and Ferrari's Fernando Alonso checked in fifth after a very remarkable drive.
Also impressive was Lotus' Kimi Raikkonen in his F1 return. A dismal qualifying effort left him deep in the grid, but he rebounded nicely for a seventh-place finish. He adds to the list of notable drivers who have missed at least a season, yet scored points in their first race back; Niki Lauda, Alain Prost (won) and Michael Schumacher to name a few.
Raikkonen could be strong in Malaysia, as he's won at Sepang twice (2003, 2008). The 2003 edition was the site of his first F1 win, and it came with a margin of victory of over 39 seconds.
Malaysia has witnessed utter dominance by Vettel each of the last two years, as the young German has led more than 96 percent of the laps run.
But McLaren should provide considerable competition, especially from Button. As for Hamilton, Sepang has not been a kind host; he's never won there and has led just two laps (both of which came in his rookie year of 2007). Last year was especially painful, as he was nailed with a post-race penalty for excessive blocking on Alonso. This time around, he may well have the car to beat, so a strong finish is crucial.
It's a difficult race, as the track features a variety of twists and turns as well as double straights surrounding the grandstands. It's also extremely hot, with temperatures often easily tipping over 90 degrees. Coupled with high humidity, this is an event where offseason conditioning can pay dividends.
Webber could very well be the man to lay down the pace this weekend, as he has posted the fastest lap at Sepang in each of the last two seasons. In fact, since 2009 no one has claimed the fastest lap more often than Webber, who has 13. He's still seeking his first victory in Asia at the top level, and perhaps that will come at Sepang.
December, 29, 2011
12/29/11
11:05
PM ET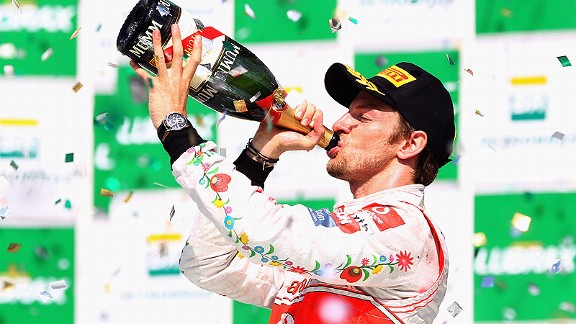 Mark Thompson/Getty ImagesJenson Button finished strong in 2011. Can he start and finish strong in 2012?
Among the most prominent questions this offseason is whether McLaren can close the gap with Red Bull, and whether that can be done sooner rather than later.
The team clad in silver suffered from a slow start last year, and it ended up allowing Red Bull to run away with both championships. But the German Grand Prix in late July saw the beginning of a turnaround for the team, as Lewis Hamilton put together a stunning drive to lead the field to the final flag. While teammate Jenson Button was forced to retire, the larger backstory was that Sebastian Vettel had finished off the podium for the first time in 2011.
In the final 10 races, McLaren won four grands prix while Red Bull claimed six, a much more even tally compared to the first nine events, when Red Bull claimed six to McLaren's two.
Button was a considerable force behind that second-half push; since Hungary, Vettel scored 176 points to finish out the season, while Button notched 161. If McLaren can avoid preseason struggles this year, the MP4-27 will likely be a car that can give Red Bull a significant challenge.
While the front-running squads will be sticking with their current drivers, many other teams, such as Toro Rosso, have announced a completely fresh driver lineup for 2012.
Out are Jaime Alguersuari and Sebastien Buemi, in are Daniel Ricciardo and Jean-Eric Vergne. Both have been primed for a seat with Red Bull for some time now, and the two have shown immense promise. It's a difficult break for the two exiting drivers, but Toro Rosso's primary purpose is to groom young stars for Red Bull.
That's been quite evident recently, as Ricciardo and Vergne will become the seventh and eighth drivers to compete for Toro Rosso since 2007. In that same span, Red Bull has had three.
Force India will also feature two young drivers next season, as Nico Hulkenberg returns to a primary seat alongside Paul di Resta. Both had impressive rookie seasons; Hulkenberg earned 22 points with Williams in 2010 while di Resta collected 27 with Force India this year. Hulkenberg, however, will have the added challenge of mastering the Pirelli tires this season.
Both also caught fire in the second half of their rookie years after understandably cool starts. In 2010, Hulkenberg had two points and three retirements through 11 events. In the final eight, he scored 20 points and failed to finish only once. That's a similar pattern to di Resta, who had two points through 10 events this year. In the final nine, di Resta outscored teammate Adrian Sutil by amassing 25 points.
Looking to 2012, there are several notable milestones that may very well be reached. With another win, Fernando Alonso will claim his 28th career victory, moving him ahead of Jackie Stewart for sole possession of fifth on the all-time list. Only Michael Schumacher, Alain Prost, Ayrton Senna and Nigel Mansell would be in front of him.
A victory would also extend Ferrari's mark of 18 straight seasons with a win, longest in the sport's history.
Meanwhile, if Vettel is able to match his 11 victories this year, which could prove difficult but can't be ruled out, there would likely be just three drivers with more career F1 wins than him. That's a scary proposition considering he will be just 25 years old at the end of next season.
Schumacher is also primed to make his 300th grand prix start midway through the year. He'd join former teammate Rubens Barrichello as the only drivers to reach that mark.
August, 3, 2011
08/03/11
1:16
PM ET
When rule changes such as the adjustable rear wing and KERS were brought back into the mix this season, many in Formula One thought that they could be a deciding factor in races. While they have made an impact, a much stronger outside force is drastically influencing race outcomes.
Wet weather has dominated the headlines recently, and rain at the Hungaroring shattered team strategy up and down the grid. A master in wet weather, Lewis Hamilton had the rest of the field chasing him for much of the day, but like so many other drivers this year, he was felled by poor pit strategy. With fewer than 20 laps remaining, Hamilton switched to intermediate tires as an answer to the increasing rain, but returned to the pits only laps later to switch back to a harder compound.
Combined with a drive-through penalty, it spelled the end of any hope of victory, and it paved the way for Jenson Button to take the win in his 200th grand prix. He's now the only driver to win in his 200th start, and just the third to reach the podium, along with David Coulthard and Jarno Trulli. Remarkably, six of the previous 10 drivers failed to finish in their 200th F1 grand prix.
Button's steady hands were once again a huge asset on a constantly changing track surface, and his composure and pace throughout proved critical in his win. While competitors such as Sebastian Vettel, Fernando Alonso and Hamilton made mistakes, Button again shined on a damp track, much like he did in the closing stages in Canada.
His victory was eerily similar to his first-ever F1 win, which also came at Hungary, in 2006. That race was also marred by rain, and just like in 2011, Button led the final 19 laps before seeing the checkered flag.
Hamilton, meanwhile, put a positive spin on the team's efforts, telling reporters, "I felt sorry for the team that we didn't get a one-two, but at least one of us got the victory. The car felt very good to drive today. I think the cooler conditions helped us, but the team has done a fantastic job to get us where we are. We've now won two races in the space of a week, which is a great way to enter the summer break."
Still, it must feel like a letdown to some degree, as Hamilton led 39 of the 70 laps Sunday before finishing fourth. In 2011, that's the second most by a driver who did not go on to win the race, behind only Vettel's 68 in Canada.
As for Vettel, he quietly increased his championship lead with a second-place result. While Red Bull's dominant start has tapered off, the defending world champion is doing everything he needs to ensure a second F1 title. Of the 10 events since Australia, Vettel has increased his lead over the second-place driver after all but two races.
Alonso rounded out the podium after starting fifth, a positive result considering he was a touch slower than teammate Felipe Massa in the final round of qualifying. After failing to reach the podium in each of his first three races this year, the Ferrari ace now has finished among the top three in six of the past eight events. Much like last year, he should be primed for a strong second half to the season.
Force India's Paul di Resta also had an impressive day. The first-year driver scored his best F1 result (seventh) and made a nice move to avoid a spinning Hamilton late in the race. He's now tied with Sergio Perez for the most points earned among rookies this season.
Hungary delivered another suspenseful race in this F1 season, and fans were left guessing as to the outcome until the final laps. The battles for the lead were extremely entertaining yet again, especially between teammates Hamilton and Button, and so far the on-the-track action has lived up to even the loftiest of expectations. The front-runners have created significant drama in the majority of events, and although the championship race is far from close, 2011 has picked up where 2010 left off in many ways.
July, 6, 2011
07/06/11
9:19
PM ET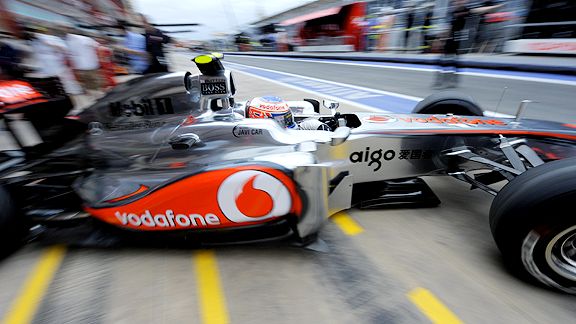 Javier Soriano/AFP/Getty ImagesJenson Button and teammate Lewis Hamilton are going to have to step up if they want to win their home race.
Two teams that are underperforming by their standards may have just gotten the boost needed to compete once again at the top level. While there are two very different circumstances, they happen to be two of the most successful teams in regards to constructors' championships.
Ferrari has struggled to keep pace with Red Bull and McLaren all season, but Silverstone should go a long way in determining whether the team will be competitive for the rest of the year.
Updates to the Ferrari will be in place for Silverstone, and lead driver Fernando Alonso told the Formula Santander website, "England is a very aerodynamic circuit, very similar to Barcelona where we were very far behind and were lapped in the race," he said. "Therefore in Silverstone if we manage to be at the front, it means we have a very competitive car for what remains of the year, but if we are still so far behind, it will be difficult, and we will have to fight for partial grands prix victories: podiums, fastest laps and those types of more secondary things."
The team with an F1-best 215 victories could surely use a strong finish at Silverstone, and perhaps the ban on off-throttle exhaust blown diffusers, which comes into effect this race, will help bring some competitors back toward Ferrari.
A team suffering even more this season has been Williams. The squad has nine constructors' titles to its name, second only to Ferrari, but has collected fewer points this season than the likes of Toro Rosso and Force India.
But a recent announcement that the team will reunite with famed engine supplier Renault could boost morale heading into next season.
Williams enjoyed its best F1 years while partnered with Renault between 1989 and 1997. In those nine years, the team won five constructors' titles and a remarkable 63 races. Both figures are more than the team has been able to amass in the other 27 seasons of existence combined.
All the teams now have their eyes on Silverstone, the track that hosted the first-ever Formula One event. It's certainly changed throughout the years, and this season fans will see the race start prior to Abbey corner rather than between Woodcote and Copse.
It's no doubt one of the most classic venues on the schedule, and has hosted an F1 event uninterrupted since 1987, the fourth-longest active streak.
It's an extremely fast and flat track, so car setup is imperative there. Last year's event brought with it an extended layout, meaning the track is a shade under six kilometers. That makes it the second longest of the season behind only Spa.
Silverstone has long seen men from Great Britain claim victory at the track, but that hasn't been the case lately. The circuit has seen a driver from Great Britain win 16 times (next closest is five by France), but only once in the past 10 races. Finland has produced more winners in that span.
The past eight races have been won by as many drivers, and in the past four years, it's been a bit unpredictable.
In 2010, Mark Webber capitalized on a poor start by Sebastian Vettel to take the victory.
He entered the race fourth in the championship standings, as did winners Lewis Hamilton in 2008 and Kimi Raikkonen in 2007. Vettel entered third in the points when he crossed the line first in 2009.
A driver such as England's Hamilton, who sits fourth in the standings, could therefore certainly find himself leading the field to the finish again Sunday.
Elsewhere, the grid will see a new face this weekend in the form of Australian Daniel Ricciardo, who replaces Narain Karthikeyan at HRT.
He's now the seventh driver to compete for HRT in its brief two-year existence, and in that same span the other two newcomers (Lotus and Virgin) have had just five combined.
June, 29, 2011
06/29/11
10:51
AM ET
"From the outside, I'm not sure if it seemed that much was happening in the race," Sebastian Vettel told reporters after winning the European Grand Prix on Sunday. "But I enjoy it so much when it's between you and the car on every single lap."
Vettel's sixth win of the season seemed nearly effortless, but in reality Vettel had to work hard to maintain his lead over the likes of Fernando Alonso and Mark Webber. Vettel drove a faultless race and has now led all but one lap in the last two Valencia events.
While the on-track product certainly left something to be desired in Valencia, at least the record book was getting a workout. En route to his second career hat trick (pole, win and fastest lap), Vettel notched his 16th and final win before turning 24 years old, seven more than any other driver in F1 history.
Modern times have provided drivers with an opportunity at an F1 career at a younger age than in past decades, and Vettel is certainly taking advantage. No driver in history had reached double-digit victories before turning 24 until Vettel, and his pace is over double that of the man third on the list, Alonso.
Even when Vettel isn't winning lately, he's been putting up strong results. His streak of 10 podiums is already good for third-most all time, but he'll need to double that in order to eclipse Michael Schumacher's run of 19 straight in 2001-02.
Vettel has a 77-point lead in the driver standings and a firm hold on a second F1 title before the season even hits halfway. Indeed, any other driver in the sport could win three straight races without Vettel recording a single point and he'd still hold the lead. He's also led over 81 percent of the laps run this season, on pace to shatter the season F1 mark (Vettel also eclipsed 1,000 career laps led in Valencia).
Vettel's situation is nearly identical to that of Jenson Button's from 2009; before the halfway mark, both had nearly double the points of the next-closest driver. Button didn't win a race in the second half of the year, but he was still good enough to clinch the title before the season finale.
Vettel's victory overshadowed some great drives elsewhere in the field. Alonso displayed Ferrari's speed with a second-place result, while Toro Rosso's Jaime Alguersuari sliced through the field from an 18th-place starting position to finish in the points. He's finished eighth in consecutive races, his two best finishes in his F1 career.
On the opposite end of the spectrum, Schumacher may have reached the low point of his time with Mercedes. After leaving the pits early, Schumacher made contact with Vitaly Petrov, resulting in a broken front wing. He never recovered, finishing 17th, the worst non-retirement finish in his F1 career.
His two worst non-retirement results have come in Valencia, as he checked in 15th there last year.
The race itself played out extremely processional, but was notable if only for one reason: all 24 drivers crossed the line, the most ever in an F1 event. It tops the previous mark set earlier this year of 23 in China.
It's now on to Silverstone, a track that features a new pit lane and paddock area for this year. F1 fans will also be witnessing the start from a different location on the track. The new start/finish line will be situated between the Club and Abbey turns, rather than between Woodcote and Copse.
June, 22, 2011
06/22/11
4:51
PM ET
Last year's European Grand Prix ended up being one of the most memorable races of 2010, thanks to some defining moments.
Mark Webber's end-over-end crash after colliding with Heikki Kovalainen was shocking, but, in a true testament to F1 safety, Webber was able to walk away.
It continued to highlight his career struggles at the European Grand Prix, an event he has never won in nine attempts. In those starts, Webber has just a single podium (his first with Red Bull back in 2007) and has retired on three occasions. He also has failed to lead a single lap.
Webber has been very consistent this season, as his third-place position in the standings would indicate, so a strong finish is very possible here. A race win, however, might be unlikely.
As for teammate Sebastian Vettel, he returns to this race as the defending winner. Valencia is the site of his last wire-to-wire victory, a feat he has accomplished twice in his career (Japan in 2009).
Vettel turns 24 on July 3, and a victory here would be the 16th of his career. Compare that to all-time wins leader Michael Schumacher, who had one victory before his 24th birthday.
True, Schumacher had fewer F1 races under his belt, but it's an indication of how much Vettel has accomplished at such a young age.
The driver most likely to unseat Vettel at Valencia might be Lewis Hamilton.
Despite no wins in three career Valencia races, Hamilton has finished runner-up there in each event. Last year, he gave Vettel a strong battle early on before having to serve a drive-through penalty midrace for overtaking the safety car. Despite that, Hamilton managed to close the gap on Vettel again before simply running out of time.
Hamilton is coming off a very rough two-race stretch, but that doesn't mean much in regard to his chances for victory in Spain, as six of his most recent seven wins have come directly after a nonpodium finish.
Valencia is a varied track that throws fast and slow corners at drivers. The 25 turns are the most of any course on the schedule, and the venue provides a few good overtaking opportunities, one of which comes on the run down to Turn 12.
"The lap is made up mainly of straights and hairpins, so it's not the most challenging place to go racing," Adrian Sutil of Force India told reporters. "Although the walls are close, it doesn't really feel like a street circuit, and it's nowhere close to racing in Monaco."
Force India as a team has taken a step back in performance this season, but not quite to the degree that Williams has. This, however, could be a race when fortunes change for the likes of veteran Rubens Barrichello. After failing to score points in any of the first five races this season, Barrichello has made small progress in the past two.
He collected points at Monaco and Canada, and Williams has a good track record in Valencia. The team scored a fourth-place finish there last year with its lead driver and finished fifth a year earlier with Nico Rosberg behind the wheel.
Confidence should be high for Barrichello entering this race; he has won this event before and will be behind the wheel of a car with recent upgrades to its diffuser. Considering that Barrichello had eclipsed his 2011 points total through just two races last season, he has a considerable amount of catching up to do.
Over at McLaren, reports have recently surfaced that Jenson Button is on the verge of signing a new multiyear contract with the team.
Wanting to race with a contender is understandably a huge motivation, and McLaren's 33 victories over the past six seasons are tied with Ferrari for the most in F1. Although being in the Italian automaker's stable is the dream position for nearly every driver, McLaren has looked stronger this season and might just hold a bit more appeal right now.
Then again, everyone is trying to keep up with Red Bull these days.
June, 15, 2011
06/15/11
11:16
AM ET
The championship battle in Formula One has grown quite dull, but you wouldn't know it from the excitement still occurring on the track.
Jenson Button proclaimed Sunday's win in the Canadian Grand Prix the "best victory of my career" to reporters, and there's certainly no arguing that. The 10-time F1 winner was at one point in 21st position, having made five stops already in the event, and a collision with teammate Lewis Hamilton could have shaken his confidence, but it seemed to do just the opposite.
As the track dried, Button excelled. He posted the fastest time of the race on the penultimate lap after having diced his way through the field, capitalizing on others' mistakes. He was superb in both wet and dry conditions, and fully deserved the race win. While Sebastian Vettel, Hamilton and Michael Schumacher are all names associated with supreme driving in the wet, Button is quickly becoming another name to add to the list. In his last three victories, including China and Australia last year, Button has overcome wet conditions to cross the line first.
He also completed the first last-lap overtake since Japan in 2005, when Kimi Raikkonen shot past Giancarlo Fisichella on the final circuit at Suzuka. That year also saw Raikkonen lose a race on the final lap when his suspension broke at the European Grand Prix.
Button became the 32nd driver in F1 history to notch double-digit career wins, and over the past three seasons, his nine victories are second only to Vettel.
No driver had won a grand prix having only led the final lap since Fisichella at Brazil in 2003 while driving for Jordan. That, much like Montreal, was a very compelling race. The event was run in rainy conditions and also began behind the safety car. It featured several huge accidents and an ending that left many confused. As Fisichella celebrated, Raikkonen was deemed the winner as the race length had been shortened.
The results later were altered by the FIA, and Fisichella became the winner after having officially led only the final lap. Much like Button, Fisichella had to battle back in that grand prix; after pitting early, he spent much of the early portion running outside the top 15.
The victory Sunday also vaults Button from fourth to second in the standings, 60 points shy of Vettel.
At over four hours in duration, Canada proved to be the longest race in F1 history, and Vettel nearly held on for the victory. His last-lap slip-up meant he checked in runner-up. The past three times Vettel has not won, he's still been in the mix very late in the race, a testament to his consistency.
Earlier in the season in China, Vettel held the lead with only a handful of laps to go before Hamilton got the best of him. And last year in Korea, Vettel led with just 10 laps remaining before his engine gave way. Canada was similar to that event in that early in both races there were doubts about whether the event would reach completion due to heavy rains.
Farther back in the field, Mark Webber capped an entertaining battle with Schumacher by completing the pass for third late, ensuring his third podium of the season. It meant Schumacher was relegated to merely tying his best race finish since his return (fourth), but it was by far his best drive in a Mercedes.
On the opposite end, both Fernando Alonso and Hamilton took huge hits in the championship race, having failed to collect any points in Canada. Alonso is now 92 points shy of Vettel and has 12 races to make up the difference. That means he'd need to average per race nearly an eight-point gain over Vettel to match him by the end of the season, a feat at this point that appears out of reach.
Many fans will recall that with nine races to go last year, the two-time world champion trailed leader Hamilton by 47 points and nearly came back to win the championship, but this deficit is nearly twice that.
April, 20, 2011
04/20/11
10:12
AM ET
Every desired element seemed to come together in Shanghai: a dramatic ending, overtaking at seemingly every corner, race strategies that shifted throughout and the underlying doubt of which driver would come out on top.
Lewis Hamilton ultimately exercised a fantastic drive, overtaking Sebastian Vettel in the waning laps to claim victory for the first time since August. And he very nearly didn't even make the starting grid.
Pre-race issues involving a fuel leak nearly sidelined Hamilton, but the team made the starting grid in time. It had no ill effects, as Hamilton and teammate Jenson Button rocketed past Vettel before the first turn.
It was a warning sign for Red Bull, as the only team that had challenged Vettel this season was finally out front.
Button led early, but it was Hamilton who passed defending champion Vettel on Lap 52 as the young German struggled on worn tires.
Hamilton's three-stop strategy looked like the winning formula, as Vettel was the only one of the top-five finishers to stop just twice. It was Hamilton's 15th Formula One victory, one shy of Sterling Moss for 14th all time.
Hamilton also continues to ascend the wins list within his storied team. Hamilton is still 20 wins shy of the most by a McLaren driver (Ayrton Senna), and while that may seem like a distant milestone, consider that he is just 26.
In addition, Hamilton's collected his 15 wins in just over four full seasons. If he remains with the team, that record could be his well before his career is over.
Most importantly, his victory Sunday signaled a true challenger for Red Bull in 2011.
The defending constructors' champions still had an impressive day despite not taking a victory back to Austria, however. Vettel posted the fastest times in each practice and captured the pole, while Mark Webber fought valiantly throughout the day, turning a dreadful 18th-place start on the grid into an incredible podium drive.
Of his previous 20 podium results, Webber had never started worse than sixth.
As for Vettel, he finished a strong second and extended his run of five straight podiums, the longest streak of his young F1 career.
He leads Hamilton by 21 points in the World Championship, and considering that he entered with a 24-point lead, he did not lose much ground in the end.
As thrilling as the racing was, China was also a bit of an interesting race from an historical perspective.
The event featured the most classified finishers in F1 history (23), and the six race leaders are the most since Japan in 2008. Jaime Alguersuari was the only man who failed to finish, but through no fault of his own, as his wheel came loose after a mishandled pit stop.
While McLaren was busy picking up its 170th F1 win, second-most all time, the teams first and third on that list continue to struggle.
Williams -- third all time with 113 victories -- is enduring the longest winless drought in team history and has yet to score a point this season. Rookie Pastor Maldonado has run just 42 percent of the possible laps, while veteran Rubens Barrichello has not finished better than 13th.
It's the first time since 2002 that Barrichello has not finished better than 13th in any of his first three races of the season, and it's certainly put Williams technical director Sam Michael on the hot seat.
Ferrari -- first all time with 215 victories -- has also proved to be relatively uncompetitive compared to last year and is already 55 points shy of Red Bull in the race for the constructors' title.
The Maranello outfit showed good pace at times in China but ultimately finished over 15 seconds behind Hamilton. Twice this season, the fastest Ferrari driver has finished over 30 seconds shy of the winner.
Ferrari's Fernando Alonso has also run among the top three positions for roughly just 13 percent of the time this season. Quite a disparity when you consider that he did not leave the top three for the entire season-opening win last year in Bahrain.