Category archive:

Kimi Raikkonen
June, 20, 2012
06/20/12
4:35
PM ET
Do you have to win a lot to win the title?
"It's certainly feasible that this year's title could be won by a driver who scores only two or three grand prix wins, but who reinforces those victories with the most consistently solid approach," McLaren team principal Martin Whitmarsh told reporters recently. "So, whereas in previous years, there was an emphasis on the 'big' results, this year it seems that minor points placings could provide a decisive edge in the title battle."
It does seem possible that a mere two wins could yield a championship this season -- as Whitmarsh said -- if that driver is able to back it up with consistent podium finishes.
Since 1970, the title winner has won three or fewer events seven times, but it has not occurred since Nelson Piquet in 1987. The gradual increase in stops on the F1 calendar has provided competitors with more chances at victory, and unless remarkable balance existed, two or three wins in a season was not going to be enough.
This is not the typical season, and therefore, if the eventual champion were to win just two or three grands prix, it would certainly stray from recent trends.
Valencia is the next stop on the schedule, an event where the man on the pole has won three of the four times.
Although it has the appearance of a street circuit, there are numerous runoff areas, so the track does not always punish a driver's mistakes like a true street event typically does.
Despite having the most turns of any circuit on the schedule this year (25), the course does not yield a particularly high amount of passing opportunities, often making this a frustrating venue for drivers who do not start up front.
Last year, only one driver who started outside the top 10 there finished in the points, which demonstrates just how difficult it can be to make up any significant ground in Valencia.
It has not provided great battles up front either, as Sebastian Vettel has paced the field for all but one lap in the last two seasons combined. Rumors of Valencia's future on the Formula One schedule have been circulating, and a poor on-track product will likely only keep that speculation alive.
As for Vettel, another win there would make it the 23rd of his career, tying him with Piquet for 10th on the all-time list.
That's pretty remarkable, considering Vettel has yet to turn 25. His pace has been phenomenal, as he's winning at the same frequency that Alain Prost and Ayrton Senna did throughout their careers. The tough part will be sustaining that over a lengthy career, and while Vettel undoubtedly has the skill, the car he drives will also play a substantial role.
Perhaps Vettel will also break up the streak of consecutive different winners, which is now up to seven. It's two shy of tying the F1 record, and several more twists will likely be required for the streak to reach nine straight, as many front-runners have taken part in the streak to this point. With passing at a premium at Valencia, a strong qualifying effort is likely needed from any driver looking to extend this run.
One team to watch will be Lotus, a squad that has come very close to winning this year. As Kimi Raikkonen noted to reporters, "It's likely to be hot, and we seem to go well in warm conditions, so that's what we'll be hoping for."
If the conditions are right, Lotus may just have enough to claim a victory.
May, 23, 2012
05/23/12
3:43
PM ET
Few could have forecasted the immediate success Kimi Raikkonen has enjoyed in his return to the sport, and his ability to adapt has been impressive to say the least. He has come so close to victory lately, but has wound up just short, and a win at Monaco on Sunday would surely make a title statement.
It is a banner weekend for Raikkonen, as he will be making his 161st recognized start in Formula One, tying him with the legendary Mika Hakkinen for the most by a Finnish driver. While both have compiled impressive numbers throughout their careers, they are also known for bringing the fight to some of the greatest drivers in F1. Both Hakkinen and Raikkonen finished runner-up to Michael Schumacher during his dominant stretch, feats that should not be taken lightly considering Schumacher's remarkable run.
Raikkonen, however, would be surpassing Hakkinen in Monaco had it not been for an unusual occurrence back in 2001 at the Belgian Grand Prix. After a scary accident only a few laps into the event involving Luciano Burti and Eddie Irvine, the race was completely restarted, but Raikkonen was unable to take to the grid, as his car had already expired. Therefore, he was not credited with a start. It was a very odd scenario and one that continues to create some confusion surrounding his start totals even today.
Nevertheless, it is a milestone grand prix for Raikkonen, and if he were to win, he'd be just one victory shy of matching Hakkinen's total. The two certainly have more of a link than most drivers, as not only are they from the same nation, but Raikkonen once served as Hakkinen's replacement at McLaren. The challenge of replacing a champion must at times seem overwhelming, but Raikkonen has had little problem living up to expectations throughout his career.
A win for Raikonnen also would make him the 13th driver in history to win Monaco twice, and it would place him among greats such as Fernando Alonso, Niki Lauda and Juan Manuel Fangio. He recently spoke to reporters about returning there, saying: "To race in the streets of Monte Carlo is really different from everywhere else; a challenge I look forward to every year. It is very, very difficult, almost impossible, to have a clean weekend there. I've only managed to get it right once before -- you really do get the greatest feeling by winning it. My win in 2005 ranks up there with my most memorable. Monaco is always special. It's an interesting place to go to, with a lot of fans and a lot of parties going on, or so I'm told. It's a completely different atmosphere from anywhere else."
As for Pastor Maldonado, another victory in Monte Carlo seems decidedly unlikely, but history has not completely written him off. In each of the past three occasions that Spain has directly preceded Monaco, the winner in Spain then has converted that momentum into victory on the winding streets. Going back a bit further, it has happened in five of the past six opportunities. It has made for a very interesting trend, considering the circuits are completely different.
The one similarity the venues do have in common is that qualifying up front is imperative, and Maldonado will need another brilliant qualifying effort to have a reasonable chance of winning, as seven of the past eight winners here started on pole.
Overtaking is notoriously difficult here, but it can be done, especially coming out of the tunnel on the approach to Turn 10. That's where Alonso did a considerable amount of overtaking in 2010 when he started in the back.
May, 16, 2012
05/16/12
2:53
PM ET
A year ago, the famed Williams squad was enduring a downright embarrassing season, one which yielded no points through the first five events on the F1 calendar.
It was a nearly unimaginable start for a team that had accomplished so much in the sport, and the remainder of the season was not much kinder.
In the end, the team under Cosworth power collected just five more points than Lotus, HRT and Virgin.
What a difference a few months can make. This season has seen Williams return to competitive form, running mid-pack for much of the early season.
But Pastor Maldonado accomplished much more than that in Spain as he defended the lead from the likes of former world champions Fernando Alonso and Kimi Raikkonen.
Because of his incredible drive, Williams was on the top step for the first time since Juan Pablo Montoya won in 2004.
The 131 events between wins was by far the longest in the team's history, more than double the next-closest streak set between 1997 and 2001.
When this latest drought began at the start of 2005, Alonso had yet to win a world championship and Red Bull was in its maiden season.
For a team with such a pedigree, it was a drought that shocked the sport, yet the end of that run in Spain was arguably even more surprising.
In his young career, Maldonado had never finished better than eighth and had just two finishes in the points entering Spain. His victory must certainly give hope to many others on the grid that perhaps their first F1 win isn't as distant as they once thought, and with so much of the season still to come, it is difficult to imagine what surprises could possibly remain.
The nation of Venezuela certainly had reason to celebrate as well, considering it was the first victory and podium for a driver from the country in Formula One.
In addition, this season now has multiple first-time winners before June, a feat that had not occurred since 2003 (Giancarlo Fisichella and Raikkonen).
Team principal Sir Frank Williams was certainly candid about Maldonado's hiring, but he was also quick to support his driver.
[+] Enlarge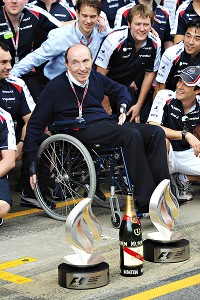 Dimitar Dilkoff/AFP/Getty ImagesWilliams team principal Frank Williams celebrates with teammates after Venezuelan driver Pastor Maldonado's win at the Circuit de Catalunya.
"Yeah, he was to some extent [initially with the team because of money]; I'm not denying that," Williams told Autosport. "But if we thought he'd been a wanker, he wouldn't have got in the team no matter how much money he had. He did a very sensible job in GP2 and he fully deserves to be in the team with or without the dosh.
"The truth is that if you haven't got the dosh, you can't go Formula One racing. But we've got a real racing driver as well. I am just astonished by the way he just controlled himself, and didn't make a mistake at all."
For Maldonado, that's undoubtedly high praise from one of the most respected individuals in the sport, and the concept of drivers paying for a seat may have just taken on a completely new form thanks to his victory.
Maldonado is now the seventh straight different driver to win an F1 event, a remarkable occurrence considering that between 2010 and 2011, only five different drivers won.
There is plenty of talent on the grid that could extend that streak even further, and with Monaco next on the schedule, there is hardly a larger stage for an upset.
But Spain could easily have played out differently had Lewis Hamilton not suffered misfortune yet again.
After a fuel error cost him his pole position, he was forced to fight through the field throughout the day to finish eighth, and one can only guess what the outcome would have been had he started from the front.