Category archive:

Sebastian Vettel
June, 27, 2012
06/27/12
3:31
PM ET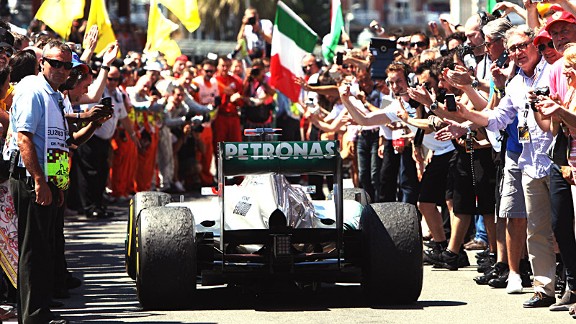 Ker Robertson/Getty ImagesIt had been a very long time since Michael Schumacher had drawn applause for a podium finish.
The opening laps in Valencia suggested that this year's version would be similar to recent editions on the street circuit.
Sebastian Vettel looked to be in complete control as he opened up a commanding lead, but mechanical gremlins ultimately ended his run early, opening the door for the competition.
Fernando Alonso took full advantage, to the delight of the home-country crowd, and collected a remarkable victory after starting 11th on the grid.
Aside from his memorable and controversial victory in Singapore in 2008, it was his worst starting position in an event he went on to win.
In addition, his victory earlier this year in Malaysia saw him start eighth, meaning he has been forced to make up some serious ground en route to his two wins this season.
Alonso has done an incredible job this season of pushing his car to the limits, but Ferrari still has plenty of room for improvement, as he told reporters after Valencia.
"It's true that we believe and we will never give up, we will have confidence in ourselves and we will arrive with optimism at every grand prix we go to," he said. "But at the same time, apart from winning today or finishing sixth today, we know that we are not in the position that we want to be and there are a few cars quicker than us and we cannot be blind to that.
"We need to work."
Red Bull still appears to have the quickest car lately, but Vettel now finds himself 26 points behind championship leader Alonso. That gap can certainly be closed, as Vettel eliminated a 19-point deficit in 2010 after eight rounds to win the championship, but it is a surprising position for him this far into the season.
Vettel was certainly not the only driver to suffer misfortune in Valencia, as Romain Grosjean also became a casualty of his Renault power plant. When Lewis Hamilton crashed late, it allowed for Michael Schumacher to score his first podium with Mercedes.
In what has been a very tough year, it was a standout result, and it marked the first time in nearly 2,100 days that Schumacher had reached the podium.
It was a finish that surprised many, as Schumacher found himself outside of the points with fewer than 20 laps remaining. It surprised even the driver himself, as he detailed to reporters.
"I didn't actually think about a podium at all at the end of the race," he said. "It was crossing the line that I asked my guys 'where did we finish?' I saw [Mark] Webber's pit board and close to the end it showed him eighth and seventh, and I knew I was one place ahead of that one. And then the boys told me 'that's third, that's podium.'
I can't believe that! It's something I didn't really expect."
Sure, he was on fresher tires than many other drivers, but he did a great job of dicing through the field. When several front-runners ran into trouble, he was able to secure an impressive day.
What's more, this season has now seen 11 different drivers on the podium, more than the previous two seasons combined. That's a pretty clear indication of just how varied this year has been, even when compared to a very thrilling 2010 season.
As the F1 calendar moves on, a storyline to watch next time out will be Vettel's pursuit of a 34th-career pole. It is a significant milestone, as it will give him sole possession of third place on the all-time pole ranks behind only Schumacher and Ayrton Senna.
June, 20, 2012
06/20/12
4:35
PM ET
Do you have to win a lot to win the title?
"It's certainly feasible that this year's title could be won by a driver who scores only two or three grand prix wins, but who reinforces those victories with the most consistently solid approach," McLaren team principal Martin Whitmarsh told reporters recently. "So, whereas in previous years, there was an emphasis on the 'big' results, this year it seems that minor points placings could provide a decisive edge in the title battle."
It does seem possible that a mere two wins could yield a championship this season -- as Whitmarsh said -- if that driver is able to back it up with consistent podium finishes.
Since 1970, the title winner has won three or fewer events seven times, but it has not occurred since Nelson Piquet in 1987. The gradual increase in stops on the F1 calendar has provided competitors with more chances at victory, and unless remarkable balance existed, two or three wins in a season was not going to be enough.
This is not the typical season, and therefore, if the eventual champion were to win just two or three grands prix, it would certainly stray from recent trends.
Valencia is the next stop on the schedule, an event where the man on the pole has won three of the four times.
Although it has the appearance of a street circuit, there are numerous runoff areas, so the track does not always punish a driver's mistakes like a true street event typically does.
Despite having the most turns of any circuit on the schedule this year (25), the course does not yield a particularly high amount of passing opportunities, often making this a frustrating venue for drivers who do not start up front.
Last year, only one driver who started outside the top 10 there finished in the points, which demonstrates just how difficult it can be to make up any significant ground in Valencia.
It has not provided great battles up front either, as Sebastian Vettel has paced the field for all but one lap in the last two seasons combined. Rumors of Valencia's future on the Formula One schedule have been circulating, and a poor on-track product will likely only keep that speculation alive.
As for Vettel, another win there would make it the 23rd of his career, tying him with Piquet for 10th on the all-time list.
That's pretty remarkable, considering Vettel has yet to turn 25. His pace has been phenomenal, as he's winning at the same frequency that Alain Prost and Ayrton Senna did throughout their careers. The tough part will be sustaining that over a lengthy career, and while Vettel undoubtedly has the skill, the car he drives will also play a substantial role.
Perhaps Vettel will also break up the streak of consecutive different winners, which is now up to seven. It's two shy of tying the F1 record, and several more twists will likely be required for the streak to reach nine straight, as many front-runners have taken part in the streak to this point. With passing at a premium at Valencia, a strong qualifying effort is likely needed from any driver looking to extend this run.
One team to watch will be Lotus, a squad that has come very close to winning this year. As Kimi Raikkonen noted to reporters, "It's likely to be hot, and we seem to go well in warm conditions, so that's what we'll be hoping for."
If the conditions are right, Lotus may just have enough to claim a victory.
May, 9, 2012
05/09/12
12:25
PM ET
Close, competitive racing has been the recipe throughout this Formula One season, but if this trend continues up front in Catalunya, it will prove to be a considerable exception for the circuit.
While the track is a familiar one for teams, it has not been known for providing close finishes. Last year was very much a rarity, with Sebastian Vettel holding off Lewis Hamilton by a mere 0.6 seconds. Aside from that result, no event at Catalunya has been decided by fewer than three seconds.
[+] Enlarge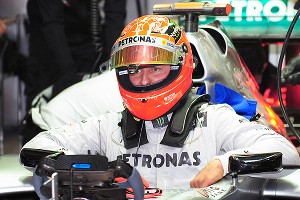 Mark Ralston/AFP/Getty Images Michael Schumacher owned the Grand Prix of Spain in his heyday, winning it six times.
In fact, of the 21 previous grands prix held, 19 have been won by more than a margin of five seconds and 14 have been decided by over 10 seconds.
While that certainly does not bode well for a memorable finish in Spain, if any season can deliver an exciting battle, this would certainly be among the top contenders.
The combination of tires that degrade quickly and an increase in the number of competitive teams has made this season very much a guessing game, and with any luck Spain will see a continuation of the 2012 excitement.
It certainly has been an unpredictable grand prix recently, as the last six events here have produced as many different winners. In addition, of the six former F1 champions on the grid, only Hamilton has yet to capture a win at this venue.
If Hamilton wants a legitimate chance at a victory here, he'll want to start on pole, or at least the front row. A staggering 10 of the last 11 winners have come from the pole, with the lone exception coming last year (Vettel won after starting second).
Since Catalunya began hosting F1 in 1991, only once has a driver won after starting outside the front row, and that was merely a third-place start from Michael Schumacher in 1996.
By comparison, a track such as Monaco, which stresses qualifying more than most venues, has 20 winners from the top three starting positions in that span but has just 10 from pole, compared to 16 in Barcelona.
Clearly, a top qualifying effort in Spain is absolutely critical for those who wish to win, making qualifying all that more riveting.
Perhaps Schumacher can boost his season at Catalunya, as Spain is one of his strongest grands prix. His six victories at the Spanish Grand Prix trail only France (eight), San Marino (seven) and Canada (seven) for his most at any grand prix, and he is now facing heightened expectations after his teammate Nico Rosberg drove to victory earlier this year.
Schumacher will have to continue to adjust to the Pirelli rubber, an aspect of the sport he is not pleased with, as he recently detailed to CNN.
"I just think they are playing much too big an effect, because they are so peaky and so special that we don't put the cars or ourselves to the limit," he said. "We drive like we're on raw eggs and don't want to stress the tires at all, otherwise you just overdo it and you go nowhere."
He has suffered from some bad fortune this season and, as a result, has earned fewer points than the likes of Bruno Senna, Jean-Eric Vergne and Pastor Maldonado.
His campaign with Mercedes has thus far been a disappointment, but there is still plenty of time to turn it around this season, especially with a car that appears to be more competitive than in past seasons.
The sport will also be celebrating an anniversary in Spain, as it will mark, to the day, the 62nd anniversary of the first Formula One race. That inaugural event was run in Silverstone and was won by Nino Farina and Alfa Romeo.
May, 2, 2012
05/02/12
11:46
AM ET
Spain may be the next official stop on the Formula One schedule, but the Italian circuit of Mugello will garner its fair share of attention prior to the arrival of teams at Catalunya. The venue plays host to the return of in-season testing, and the sessions will provide a very valuable opportunity for teams.
With a fifth of the season already over, teams simply cannot rest on their accomplishments to date, as the driver standings are much too tight. Sebastian Vettel may be the leader, but there are six others who trail by fewer than the equivalent of a race victory. In addition, eight drivers already have reached the podium this season, one more than the total from 2011. With the field on significantly more level ground this season, any innovation by one team could provide a huge boost.
Jenson Button certainly understands how close the competition has been this season, as he explained to The Sun, "Every race you want to have a good result and you know that a no-score is massive and it really hurts. You've got to be consistently near the front. I don't think it means you hold back going out for a win. You're not going to hold back if there is a maneuver or a move to go for, but consistency is going to be very important this year."
With Vettel dominating last year, a poor showing may have cost a driver a chance at second or third in the drivers' championship. This year, it could mean spoiling a chance at the title.
It may be difficult to assess who the true championship contenders are, considering how condensed the standings appear, but one measurement seems to shed some light: Three drivers this season -- Lewis Hamilton, Vettel and Button -- have spent far more time running among the top three than anyone else and have therefore put themselves in position for good finishes. Hamilton has run among the top three for over 58 percent of laps this season, best in the sport. Just behind are Vettel (51.1 percent) and Button (46.7 percent), while no other driver is above 30 percent.
Additionally, drivers such as Mark Webber have struggled. While his consistent finishes have put him in the middle of the title chase, he has only run 11 total laps among the top three this season (4.8 percent). He's the ideal example of a driver who could certainly be a championship threat, but thus far his numbers do not reflect exactly that.
Webber should not be ruled out by any means, however, and although his initial results have not been overwhelming, he's done an excellent job of staying right in the mix. As a result, he's a mere five points shy of Vettel.
While running among the top three does not always equate to podium finishes, it certainly will be key over the course of an entire season. Considering the early-season chaos, it's an excellent indicator of which drivers are the strong runners, and right now Hamilton looks poised for a victory sooner rather than later.
Meanwhile, a team that deserves a tip of the hat this year is Williams. After enduring an arduous season last year, the historic squad has bounced back considerably, having already secured 18 points. There is still much room for improvement, however, as the team has cracked Q3 just once in four events. So far, it has been a theme of what could have been with Pastor Maldonado; he crashed very late in Australia and has suffered several misfortunes since. He'll be an interesting one to watch over the next few grands prix.
March, 14, 2012
03/14/12
11:16
AM ET
The 63rd season of Formula One racing is about to get under way, and, at this point, every driver has high aspirations. The Australian Grand Prix (Sunday, 2 a.m. ET, Speed) should provide a reality check for many, however.
Although it's only the first of 20 scheduled events this season, the year's debut has been telling in the past several decades. Fans have gained a fairly clear picture of the title favorite after just the first race, as 17 of the past 22 season-opening winners have gone on to claim the championship that same year.
An opening-round win no doubt has been an accurate forecast of season success recently, as has a runner-up finish. A second-place result has been anything but good news, though, as no driver has finished second in the first race of the year and then taken the championship since Alain Prost in 1989 while driving for McLaren.
In addition, no eventual champion has finished outside the top four spots in the opener since 1999, when Mika Hakkinen retired from the pole position.
Two-time defending series champion Sebastian Vettel will be looking to defend his dominant victory here last year, and it's a very likely scenario entering the season. Vettel is attempting to become only the third driver in F1 history to win three straight championships, alongside Juan Manuel Fangio and Michael Schumacher. Neither of those legends, however, won his first three championships in successive fashion.
Melbourne's Albert Park is a narrow track with very little runoff room, and two-time event winner Jenson Button described the circuit to reporters leading up to the race: "I think the circuit is a nice challenge too -- it's not a particularly technical track, but the surface is always rubbering in across the whole race weekend, and it's a place that encourages nip-and-tuck racing. For a street track, it's got a really good flow, you can really find a good rhythm -- and it's got some fast corners too, which is unusual for a road course. I think the new rules have definitely made it a more competitive place -- it's easier to pass here now than it ever was."
Aside from Vettel, the driver to watch throughout the weekend could be Mark Webber. Not only is he the most recent race winner but Webber will be in front of his home crowd. Oddly enough, this track has been a nightmare for him throughout his career, with the exception of his F1 debut.
In 2002, Webber marched onto the scene with Minardi and scored a surprising fifth-place result in his home nation. It would be the only points the team accrued that season and arguably remains the high point of his competition in home events.
In nine events since, he's been forced to retire four times and has never finished on the podium. Since 2003, Webber has earned points in Melbourne on just three occasions, and his 10 races without a podium are tied for his most starts at any active grand prix without such a result (Italy).
This race has been known to deliver some surprises recently, as well. Vitaly Petrov notched a podium finish last year, and Brawn GP delivered a shocking 1-2 result three years ago. The year before that witnessed Nico Rosberg claim his first podium spot.
Australia should help answer many preseason questions, but, until a few races have been logged, fans might not truly know who has made the biggest offseason strides. One thing is certain: The 2012 season is finally here.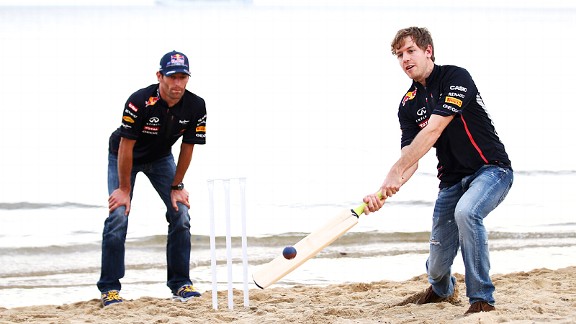 Clive Mason/Getty ImagesF1 champ Sebastian Vettel tries his hand at beach cricket on St Kilda Beach in Melbourne, Australia.
March, 8, 2012
03/08/12
11:58
AM ET
Formula One sees several new faces this season, and, with all the young talent, there could very well be a future superstar in the mix.
Although it might not reflect 2001, when Fernando Alonso, Kimi Raikkonen and Juan Pablo Montoya were rookies, the class of young drivers this year boasts some promising names. Paul di Resta finished very strong for Force India last season, and he'll be pushed to perform by incoming teammate Nico Hulkenberg.
Meanwhile, youngsters such as Sergio Perez, Charles Pic, Daniel Ricciardo and Jean-Eric Vergne will look to impress immediately, as the shelf life in Formula One often has proved to be very brief for those who do not perform.
[+] Enlarge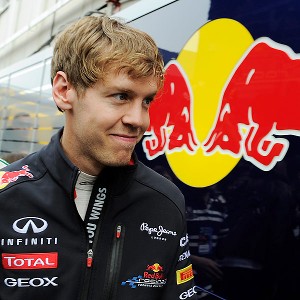 Lluis Gene/AFP/Getty ImagesAfter a dominant 2011 in Formula One, Red Bull's Sebastian Vettel is the unquestioned favorite heading into 2012.
Red Bull Racing
Car:
RB8
Engine:
Renault
Team principal:
Christian Horner
Drivers:
Sebastian Vettel
(Germany),
Mark Webber
(Australia)
A second straight championship for Vettel means he is without a doubt the favorite entering this season despite five other former champions on the grid. His two titles have come under considerably different circumstances, with last year proving to be one of the most dominant displays in recent memory. A single-season record 15 poles helped Vettel pace the field for more than 65 percent of the laps run, and Vettel had five race wins before a third of the season was even completed.
Although former champions should provide ample competition this season, teammate Webber also should be considered a realistic title hopeful. Fresh off a win in Brazil, Webber no doubt will be looking to improve on consecutive third-place finishes in the standings. Consistency has been the key for Red Bull, as Webber and Vettel are the only drivers to finish the season among the top four in each of the past three years.
The new RB8 has been up and down in testing, but there is still much to be seen. So far, there is no reason to believe this squad will not be the team to beat yet again.
Preseason grade: A
Vodafone McLaren Mercedes
Car:
MP4-27
Engine:
Mercedes
Team principal:
Martin Whitmarsh
Drivers:
Jenson Button
(Great Britain),
Lewis Hamilton
(Great Britain)
Last season saw Hamilton take somewhat of a backseat to teammate Button. Button finished a distant second in the championship, but he won three races and finished ahead of Hamilton in seven of the final nine events. Hamilton could use a quick start this season, but only two of his 17 career victories have come in March and April, and he generally does not heat up until the summer months.
McLaren did improve last year, but the dominance of Red Bull overshadowed much of that. The team earned 497 points last season, up from 454 a year prior. In fact, last year's total was just one point shy of Red Bull's 2010 championship effort. McLaren made the bold decision to avoid using a stepped nose, but Hamilton does not seemed bothered, as he detailed to reporters during testing, "I think the car's strong. It's stronger than it was last year at this point, and, with the fuel loads we've been running, I think we are relatively strong compared to the others. I'm not necessarily saying we're the fastest, but we'll find out when we get to Melbourne. But I definitely feel like we have a competitive car where we should be fighting for a podium finish, for sure."
Preseason grade: A-
Scuderia Ferrari
Car:
F2012
Engine:
Ferrari
Team principal:
Stefano Domenicali
Drivers:
Fernando Alonso
(Spain),
Felipe Massa
(Brazil)
The season has yet to begin, and already Ferrari finds itself answering lingering questions about the F2012. That's not good news for Alonso and especially not for Massa, who likely is in his final season with the prancing horse. In 2010, the most successful team in F1 history earned just one win, and it came in Great Britain at the expense of Vettel, who had a very slow pit stop midrace.
A third world championship for Alonso seems a distant dream at this point, considering Ferrari earned just 57.7 percent of leader Red Bull's points last season. Only two poles in the past three seasons means this team has struggled to find the speed of the leaders, and that trend looks to continue in 2012. Simply put, this team has far more questions to answer than leaders Red Bull and McLaren.
Preseason grade: C+
Mercedes AMG Petronas F1 Team
Car:
F1 W03
Engine:
Mercedes
Team principal:
Ross Brawn
Drivers:
Nico Rosberg
(Germany),
Michael Schumacher
(Germany)
For the second straight season, the top five in the team standings remained the same, with Mercedes checking in fourth. Thus far in his career, Rosberg has been nothing if not consistent, finishing seventh in the title race in each of the past three seasons. Teammate Schumacher displayed some improvement, but this team remains on the verge of competing up front.
Which driver has the edge entering 2012? Much depends on the car, but an early tip of the cap goes Rosberg's way, as he finished better than his teammate on 12 of 19 occasions last season.
This is the first time Mercedes has participated in F1 for three straight seasons, having previously competed only in 1954 and 1955. In those early years, the W196 stormed onto the scene and immediately began winning races. The sport is, understandably, completely different now, and victories take time as well as significant resources. Under the eye of Brawn, the team certainly has the personnel it takes to win, but the car needs to take that next step forward for that to happen soon.
Preseason grade: B-
Lotus F1 Team
Car:
E20
Engine:
Renault
Team principal:
Eric Boullier
Drivers:
Romain Grosjean
(France),
Kimi Raikkonen
(Finland)
The former Renault team was the highest-finishing squad to swap drivers for this coming season, with Raikkonen's return making a big splash in the headlines. Raikkonen is a significant signing for Lotus, considering he's a former world champion. In addition, his 16 victories between 2005 and 2009 were second only to Alonso's 20. A two-year absence from the sport certainly could hurt his chances at victory this season, but he capped a tumultuous preseason for Lotus by looking strong in the final stages of testing.
In 2011, Lotus collected 30 points in the initial two races but then scored just 43 the rest of the season, an average of 2.5 points per race in the last 17 races. Vitaly Petrov struggled, especially from late June on. In the last 12 events of the season, Petrov finished on the lead lap just three times. Therefore, Grosjean occupies the second seat at Lotus this year.
Preseason grade: C+
Sahara Force India F1 Team
Car:
VJM05
Engine:
Mercedes
Team principal:
Vijay Mallya
Drivers:
Paul di Resta
(Great Britain),
Nico Hulkenberg
(Germany)
Force India could very realistically find itself in fifth place in the constructors' championship at the end of the year, and, with a pair of young drivers, that likely would be a dream first step in regard to long-term planning. The organization must be brimming with confidence, as di Resta is fresh off a solid rookie season in which he suffered only one listed retirement. Before di Resta, no rookie had one or fewer retirements in a full season since Hamilton and Heikki Kovalainen in 2007.
Hulkenberg will return to the fold as the second driver for the team after a year's absence, meaning this squad has an exciting pair of youngsters.
Preseason grade: C+
Sauber F1 Team
Car:
C31
Engine:
Ferrari
Team principal:
Peter Sauber
Drivers:
Kamui Kobayashi
(Japan),
Sergio Perez
(Mexico)
"They've done a great job, and they've got reliability. So it's good to see some smaller teams are competitive; we just hope they're not too competitive." Those are the words Button used to describe Sauber to reporters after preseason tests, and it is no doubt high praise for the midpack team. Both Kobayashi and Perez are returning, meaning this team should be expecting significant improvement for 2012.
Through Canada last season, Kobayashi had 25 points and was just a single point behind both Mercedes drivers. He had accomplished this despite a disqualification in Australia that would have awarded him additional points, so things certainly were looking up. The rest of the season, however, did not go as planned, and this could very well be a pivotal season for one of the most exciting drivers on the grid.
Preseason grade: B-
Scuderia Toro Rosso
Car:
STR7
Engine:
Ferrari
Team principal:
Franz Tost
Drivers:
Daniel Ricciardo
(Australia),
Jean-Eric Vergne
(France)
Toro Rosso displayed significant improvement in its sixth season, notching 41 points after just 13 the year before. That still wasn't enough for Jaime Alguersuari and Sebastien Buemi to retain their seats, however, and in for this year are Ricciardo and Vergne. The team has never cracked the top five in the constructors' championship, and that could be a tall order with Lotus, Force India and Sauber looking stronger for this season. Ricciardo is a Red Bull driver and has been tabbed for this seat for some time. For him or Vergne, a top-end goal this season would be a top-10 finish in the drivers' standings, something only one Toro Rosso driver has done (Vettel, 2008).
Preseason grade: B-
Williams F1 Team
Car:
FW34
Engine:
Renault
Team principal:
Frank Williams
Drivers:
Pastor Maldonado
(Venezuela),
Bruno Senna
(Brazil)
The once-proud Williams team has fallen on seemingly unimaginable hard times, collecting just five points last season. Change has been swift, however. Gone is F1 ironman Rubens Barrichello, with Senna serving as his replacement. In addition, the team has reunited with Renault as its engine supplier, the same supplier Williams won five constructors' titles with between 1989 and 1997. Although championships are a very far cry at this point, the renewed partnership could help vault the team back into the midpack fold. Quite simply, this year will be pivotal for Maldonado and Senna.
Preseason grade: C
Caterham F1 Team
Car:
CT01
Engine:
Renault
Team principal:
Tony Fernandes
Drivers:
Heikki Kovalainen
(Finland),
Vitaly Petrov
(Russia)
This could be the year the Caterham squad scores its first point. For now, the team should be focused squarely on more Q2 qualifying efforts, as a solid qualifying sets the team up for possible points if a few cars in front fail to finish. Returning is Kovalainen, but he'll have a new teammate in Petrov. Formerly run under the Lotus banner, Caterham has posted competitive times in testing, especially in the late stages. With the experience of Kovalainen, this team has an outside chance at finishing ninth in the championship, especially if Williams suffers another down season.
Preseason grade: C
HRT F1 Team
Car:
F112
Engine:
Cosworth
Team principal:
Luis Perez-Sala
Drivers:
Pedro De La Rosa
(Spain),
Narain Karthikeyan
(India)
HRT finds itself in a familiar position again this season; after a very late car reveal, the squad must hurry to ensure the team does not again fail to qualify in the opening race of the season. Last year, Australia spelled disaster for HRT, as the 107 percent rule meant that the cars were not quick enough to make the starting grid. In 2012, HRT was the last team to reveal its challenger, and, because of the late launch, the F112 missed all of preseason testing. The delay is sure to hurt the team's ability to compete with Caterham and possibly Marussia, and that could affect finances toward season's end.
The differences in year-end prize money can be significant, even toward the rear end of the field, so HRT needs to improve its position in the constructors' championship. The possibility of that occurring seems rather distant at this point.
Preseason grade: F
Marussia F1 Team
Car:
MR01
Engine:
Cosworth
Team principal:
John Booth
Drivers:
Timo Glock
(Germany),
Charles Pic
(France)
The arrival of Pic means three French drivers will participate this season, which hadn't happened in a single year in any capacity since 1999. He'll be partnered alongside Glock under the freshly renamed Marussia banner. Much like HRT, Marussia has gotten off to a late start this year, and that could hurt its early progress. The reveal showed that the car does not feature a stepped nose, which is not surprising considering the partnership with McLaren. However, too little is known at this point as to whether any progress has been made over last season.
Preseason grade: F
November, 30, 2011
11/30/11
9:57
AM ET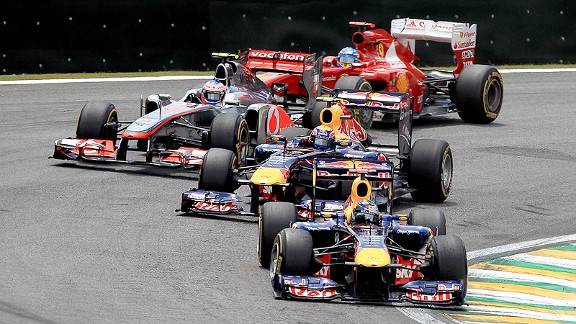 Vladimir Rys Photography/Getty ImagesSebastian Vettel may find things more crowded at the front in 2012.
It was a sight that fans witnessed four times last season, but a Mark Webber victory had proved elusive in 2011.
That was until Sunday, when he capitalized on Sebastian Vettel's ailing RB7 to capture his seventh career F1 win. The victory looked fairly similar to his most recent win prior, which came over a year ago in Hungary.
Much like Brazil, Webber qualified second to Vettel at Hungary but took advantage of his teammate's in-race misfortune. Sunday, it was a gearbox issue for Vettel; in Hungary, Vettel was forced to serve a penalty for an infringement under the safety car.
While team orders are a very gray area at this point, it was clear Vettel yielded to Webber midway through the grand prix at Brazil.
That should not detract from Webber's drive, however, which was stellar. He won by nearly 17 seconds and notched the fastest lap of the race on the final lap. It was Webber's second victory in Brazil, the only Formula One venue where he has posted multiple wins.
He also led 41 laps, more than double his total from the rest of the season. It's a victory with lasting implications, as Webber enters the offseason with growing momentum.
Next season, he'll continue his pursuit of his first F1 championship, but the grid is already due to gain another former champion with the return of Kimi Raikkonen.
The 18-time winner will be paired up with Lotus Renault for the next two years as Robert Kubica continues to recover. Raikkonen had repeatedly denied interest in returning to F1 over the last few seasons, but following the announcement, he told reporters, "I can't deny the fact that my hunger for F1 has recently become overwhelming. It was an easy choice to return with Lotus Renault GP as I have been impressed by the scope of the team's ambition. Now I'm looking forward to playing an important role in pushing the team to the very front of the grid."
That grid will feature a record six world champions at the opening race in Australia, and every champion from 2000 onward will be represented. Raikkonen adds yet another element to the 2012 season, and it should be thrilling to see how much he can get out of his car.
He joins a list of several notable names to make comebacks in the sport, including Niki Lauda, Michael Schumacher and Alain Prost, among others. Lotus Renault showed flashes of promise this year despite a trying season, and with a semi-competitive car next year, a podium finish is not out of the question.
The 2011 season saw a dominant performance from Red Bull and Vettel, but it also featured several classics, including China, Canada and Monaco. Race lengths ranged anywhere from an hour and 20 minutes (Italy) to over four hours (Canada), and there was no shortage of great fights mid-pack in just about every race, aided by KERS and adjustable rear wings.
If McLaren and Ferrari can become more competitive next season, those battles may just shift to the front.
If Red Bull can continue to dominate, then several records set this year may be in jeopardy next season.
Vettel recorded season records in poles (15) and laps led (739) and tied Nigel Mansell's mark of nine wins from pole in a year. Including 2010, he also extended his streak of podiums to 11 straight races and earned points in 19 consecutive events. Both of those runs eventually ended, and while they were not records, they were incredible accomplishments.
November, 23, 2011
11/23/11
2:11
PM ET
Brazil marks the final race of the Formula One season, and while last year's event brought with it considerably more prerace drama, 2011 has the potential for some intriguing storylines as well.
[+] Enlarge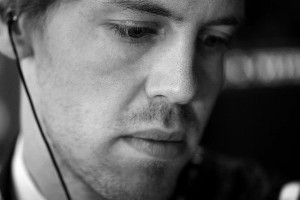 Vladimir Rys/Getty ImagesSebastian Vettel already has the F1 drivers' championship locked up. He'll be chasing his record 15th pole in the Grand Prix of Brazil.
Even before the race begins, fans may witness the fall of a significant record. Sebastian Vettel is seeking a record 15th pole of the year, which would eclipse the mark set by Nigel Mansell in 1992. Of course, Mansell accomplished the feat in only 16 events, while this year's calendar consists of 19 races. It's no certainty that Vettel will even claim pole, as the Interlagos circuit has been home to some chaos in qualifying due to inclement weather.
Last year, Jenson Button felt its full effect, failing to make it out of Q2. That session also saw former Williams driver Nico Hulkenberg storm to a shocking pole on a rapidly drying circuit. The year prior, rain also was a significant factor. Button, Vettel and Lewis Hamilton all started 14th or worse on the grid after rains ruined their efforts. Vettel and Hamilton failed to advance past Q1, while Button again did not make it out of Q2.
If weather is again a factor this weekend, fans could witness some of the top drivers having to battle from the middle of the pack at the start, which would no doubt add some considerable intrigue.
Brazil is the latest F1 event in a calendar year since 1963, when a late December date took place in South Africa. In fact, only three races have ever occurred later in the season than this year's grand prix at Interlagos. But as the calendar continues to grow in the coming years, events in late November and early December may become a common occurrence.
The circuit first appeared on the schedule in 1973, and at just 4.31 kilometers, it's the second-shortest venue on the schedule ahead of only Monaco. But a quick lap time does not come easy, as Virgin's Timo Glock described to reporters recently, "Even though it's not a very long lap, it is one of the most demanding challenges on the F1 calendar, with some great corners -- for example, Turn 6, an uphill double right-hander, which is fast and blind. The car has to be stable through the twisty middle section as well as being quick on the straights, so a good balance will be key. It's a really fun track to drive, and I would say it's one of the best circuits of the year in terms of the atmosphere."
Brazilians Rubens Barrichello, Felipe Massa and Bruno Senna will all be looking to end on a high note in front of the home crowd, and a good finish by any of the three would be a welcomed result. While Senna is still very early on in his career, veterans Barrichello and Massa have 28 combined seasons of F1 experience, and it's been a very trying year for both.
Massa has really struggled this season, as teammate Fernando Alonso has scored more than twice as many points. He has not finished better than fifth this season, and if he fails to do so in Brazil, it would be the first season without a fourth-place finish or better since his rookie campaign in 2002 with Sauber.
This week, Ferrari president Luca di Montezemolo told La Gazzetta dello Sport, "Let's hope he can finish the season with a good result in Brazil; we expect great things from him in 2012 and then we'll decide how to proceed. Let's say he'll have to prove himself next season."
A clear warning shot has been fired, and barring an incredible 2012 season, next year likely will be Massa's final in Ferrari red.
As for Barrichello, he has not scored a point in 11 straight races, the fourth-longest single-season streak of his career, which has spanned a record 19 seasons.
November, 16, 2011
11/16/11
4:28
PM ET
The headaches of a Formula One season must at times feel overwhelming for drivers, especially when the wins seem to be more elusive than ever. But victory has the ability to wash much of the concern away, and, to some degree, Lewis Hamilton must have felt relief when he crossed the line first after the sun had set in Abu Dhabi.
The victory was set up by mere bad luck for pole-sitter Sebastian Vettel, who -- for once this season -- looked mortal. Mere moments into the event, Vettel suffered a tire puncture and slid off the circuit, ending his race after just a lap. Hamilton then vaulted into the lead and rarely relinquished it, putting on a true show in F1's penultimate event. It ended a seven-race winless streak for Hamilton, the second-longest in-season streak of his career, and it gave McLaren a sixth win of the season, one more than last year's total.
It also gave the team at least a moment of bragging rights over its rivals. Since 2007, Hamilton's first year in the sport, McLaren has 27 victories, one more than Red Bull in that same span.
With Jenson Button finishing third, McLaren received a significant boost as F1 begins to wind down for the year. And although Red Bull has been dominant in 2011, McLaren has certainly had a respectable season, as well. Button and Hamilton have combined for 17 podium finishes, the team's highest output since 2007, when its stable boasted Hamilton and Fernando Alonso.
Alonso finished a distant second Sunday but was consistent throughout the race. A relatively slow final pit stop was his ultimate undoing, as he spent nearly two full seconds more on pit road than Hamilton did on his last stop of the evening.
A two-stop strategy was the order of the day, and it left the pits relatively quiet, with only 42 total stops. It was the fewest stops since Monza, and it marked the fourth consecutive race in which total stops have decreased, beginning with Singapore.
As for Vettel, the retirement provides a lone blemish on his otherwise incredible 2011 season. It was his first such result in more than a year, and it broke a streak of 19 straight races finishing with points. With one race still to go this season, he has another chance at adding to his accolades, and a 12th win would put him one shy of the single-season record. As to where he'll land on the list of the most dominant seasons, that's certainly up for debate, but no doubt he's in the discussion. In the meantime, Hamilton's win only furthers the argument that fans could be in for many future years of legendary battles.
Abu Dhabi was not kind to all competitors, one being Toro Rosso, but the team's poor result belies its strong season. A distant ninth in the constructors' championship in 2010, the Ferrari-powered outfit has tallied more than three times as many points this season and has earned 15 more points than Renault over the past six events.
The squad stuck with Jaime Alguersuari and Sebastien Buemi for this season, and the two have truly improved. Alguersuari has flourished the most, earning points in seven of the past 12 races. In fact, his 26-point tally since Canada matches that of Force India's Adrian Sutil. He's ending the season on a very positive note, and it might do wonders to help continue his F1 career.
November, 9, 2011
11/09/11
12:58
PM ET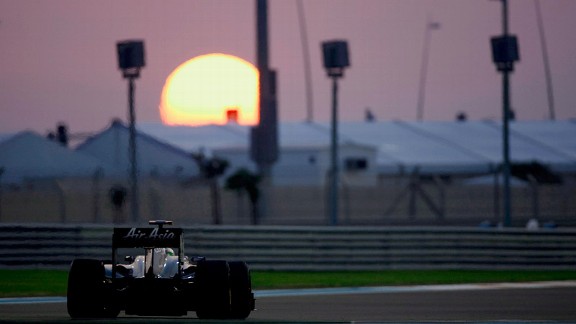 Peter J Fox/Getty ImagesDrivers will have to contend with changing track conditions as the sun sets Sunday on the Yas Marina Circuit in Abu Dhabi.
With only two races remaining in the 2011 Formula One season, much of the news will pertain to next year and beyond.
That's been the case this week as rumors have swirled that Kimi Raikkonen might be returning to the sport next season, possibly leaving veteran Rubens Barrichello without a seat.
If true, it would provide a big boost to F1, as Raikkonen ranks among the best drivers in recent memory. He collected 18 race wins in his career spanning 2001 through 2009, trailing only Michael Schumacher and Fernando Alonso in that time, and he claimed the 2007 world championship with Ferrari.
A versatile driver, he won at 13 Formula One venues, the same figure as legendary Lotus driver Jim Clark.
Raikkonen's tally of 62 podium finishes with McLaren and Ferrari also ranks among the top 10 in F1 history, and, although there's no doubt he's a supreme talent, any stint with Williams could prove trying, as the team is in the midst of a nightmare season.
Toro Rosso and Sauber have each earned more than eight times as many points this season as Williams, and neither Barrichello nor Pastor Maldonado has finished better than ninth for Williams in any event this year.
Also making news recently is that American star Alexander Rossi will have the opportunity to test with Lotus in Abu Dhabi.
He likely represents the most realistic scenario in which an American could occupy an F1 cockpit in the near future, and with two grands prix scheduled for the United States in the coming years, now is certainly the time for an American driver to return to F1.
The last U.S. champion was of course Mario Andretti in 1978, with the only other American title coming in 1961 (Phil Hill). From 1950 through that last championship in 1978, drivers from the United States won more than 20 events outside of Indianapolis.
Since then, however, no American has claimed victory. In the first half of F1's history, the country was represented by names such as Hill, Andretti and Dan Gurney. In the latter half, there has been little to no representation.
Elsewhere, all of Formula One is now preparing for a third trip to Abu Dhabi. The Yas Marina circuit does not lack stunning scenery, but the event itself has failed to produce compelling battles up front.
Last year's event was dramatic solely for championship implications, but Sebastian Vettel ended up running away with the race victory, winning by more than 10 seconds. The year before, he cleared the field by more than 17 seconds.
What makes Abu Dhabi different from most is that it is one of only five circuits on this year's calendar to run fully counterclockwise. At the three that already have hosted races this year (Turkey, Singapore and Korea), Vettel has -- to no one's surprise -- dominated, winning all three while leading all but three laps.
The track is one of the most forgiving on the schedule, with ample runoff areas, as Lotus driver Heikki Kovalainen described to reporters in the week leading up to the race.
"Abu Dhabi's not a hugely challenging circuit to race on, but the timing of the sessions and the fact we are running as the light's fading on Sunday makes it pretty cool for the fans and on TV," he said. "The first sector is reasonably quick -- if you see the cars turn in to T1 after the start/finish straight, you can get an idea of just how fast an F1 car can change direction, and from there you pick up pace through Turns 2 and 3, pushing the aero performance of the cars.
"After that, it's a bit stop/start until the long straight down to T8 where there is the first clear overtaking opportunity. T11 is the next place you can pass people, and then it all gets a bit fiddly as you go around the hotel."
A record-tying 14th pole of the season for Vettel is probable, as is a sixth victory in the past seven races.