Rosberg carving his own niche in F1
April, 21, 2010
04/21/10
1:27
PM ET
If you have not yet viewed the latest Formula One driver standings, who would you guess is second behind Jenson Button?
Lewis Hamilton, Fernando Alonso and Sebastian Vettel are all worthy choices, but it is actually Nico Rosberg who claims the second spot, albeit by slim margins.
[+] Enlarge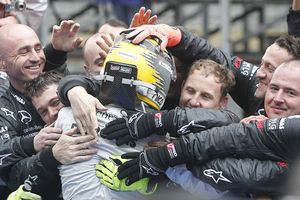 AP Photo/Ahn Young-JoonMercedes GP crew members embrace Nico Rosberg after the German finished third in Sunday's Chinese Grand Prix.
The man who entered this year in Michael Schumacher's shadow is now forming one of his own, with impressive, consistently high finishes this season. Rosberg has two consecutive podium finishes and has not finished worse than fifth in four events. In the Chinese Grand Prix on Sunday, he ran the fifth-fastest lap and orchestrated a sound race all around, spending less than 50 seconds in the pits on the day despite the changing weather conditions.
All the more impressive when you factor in that Alonso, Felipe Massa, Schumacher, Vettel, Hamilton and Mark Webber each pitted at least four times. Those numerous visits to pit lane by his rivals no doubt aided Rosberg's quest, but it also indicates a strong strategy by the No. 4 team.
If Rosberg continues to be a legitimate title contender, we may see Schumacher take on more of a role as a test driver during races for Mercedes GP, pitting frequently to take on different tire compounds to find the fastest setup. It would be a rather unimaginable scenario for the seven-time world champion, but one that appears more realistic with each day.
Rosberg's best career position in points:
Year -- Position -- Last race (order on calendar)
• 2010 -- Second -- China (fourth)
• 2010 -- Fifth -- Malaysia (third)
• 2010 -- Fifth -- Australia (second)
• 2009 -- Fifth -- Spain (11th)
• 2009 -- Fifth -- Hungary (10th)
*Does not include first race of season.

The McLarens again proved very quick, and had Hamilton had another lap or so he likely would have passed Button for the win. Button, however, drove a sound race in the wet conditions, and despite a late mistake or two showed he can compete against a teammate who is historically very good in the rain.
The 1-2 finish helped McLaren establish a lead in the constructors' title as well, although the team was certainly not without its share of controversy in both pit lane (Hamilton and Vettel) and on the track (Button slowing severely as the field was about to return to green-flag conditions).
F1 boss Bernie Ecclestone did not seem too concerned, telling other teams to "stop complaining and get on with the racing." The racing was indeed on, and for the first third of the race, constant visits to pit lane left the viewer guessing as to who would emerge as the midrace leader.
Vitaly Petrov was equally impressive, not only earning his first race completion but his first points as well. Despite a midrace spin, Petrov bounced back, finishing seventh. It was just two places shy of teammate Robert Kubica, who, according to his postrace comments, could have finished even better.
"The critical moment of my race was when the safety car came out, which ended my hopes of a podium, because I lost the big lead I had to the cars behind me," Kubica said. "So although I'm happy to finish fifth, I still feel a bit frustrated to have missed a podium."
Nevertheless, it was an impressive showing from Renault, the strongest team outside the top four squads.
It was not a day to remember for others. The points leader entering the race, Massa, found himself pitting four times and battling Schumacher for ninth late in the race. He is now nearly 20 points shy of points leader Button.
The Asia swing is over for now, and F1 will not return until Singapore in late September. In three weeks Formula One will be at Catalunya, a track that has hosted F1 races since 1991. This will be the start of 10 consecutive races in either Europe (including Turkey) or North America, and of course includes some of the most prestigious events on the calendar: Monaco, Montreal, Silverstone, Spa and Monza.
As for Catalunya, Alonso will be seeking his second career victory at his home track. It will no doubt be his month, as he has two more wins than any other driver in May since 2005:
Most wins in May since 2005
• Fernando Alonso: four
• Jenson Button: two
• Felipe Massa: two
• Kimi Raikkonen: two

Alonso's pairing with Ferrari is also a fantastic omen for Barcelona, as the constructor has six wins at the circuit since 2000, three times more than any other team. If Alonso wins, he would be the fourth driver in that span to win for the prancing horse.