Skid over for Turkish GP winner Hamilton
June, 2, 2010
06/02/10
1:05
PM ET
It has to feel as if a large weight has been lifted from Lewis Hamilton's shoulders this past weekend. Not only did he score his first win of the season, but he ended a drought of nine races without a victory.
For most, that would be perfectly acceptable, but for Hamilton, it was the second-longest winless streak of his young career, and had he not won the Turkish Grand Prix on Sunday, it would have equaled his longest.
[+] Enlarge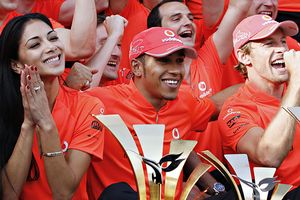 AP Photo/Luca BrunoLewis Hamilton's victory Sunday at the Turkish Grand Prix was his first win of 2010.
He also proved his mettle by holding off teammate Jenson Button, who has largely been regarded as the stronger McLaren runner this season prior to Turkey. However, it did not come easily, as both McLaren drivers acted as if they had not witnessed the disastrous tangle between Red Bull teammates Mark Webber and Sebastian Vettel that had transpired only a few laps prior. Once Red Bull had successfully taken itself out of the running, Button and Hamilton tangled as well, but no major harm was done.
Hamilton made it five different winners through the first seven events, tied for the most over the past 24 seasons. Only one other time in that span have five different winners made up the opening seven grand prix events -- that was in 2003, when the season began with David Coulthard claiming the win in Australia after Juan Pablo Montoya spun late.
One has to travel to 1985 to find the last time that six drivers claimed a win in the first seven races. That year, Elio de Angelis earned his second and final F1 win in the third event of the season, while Michele Alboreto scored one of his five career wins in that span.
Ferrari, the only team that has had more success in F1 than McLaren, has been struggling, and Turkey brought those trials to the forefront. Fernando Alonso told reporters after his eighth-place finish Sunday: "We have been a bit surprised, as both in Barcelona and here we were not too competitive. All race Felipe [Massa] fought with [Nico] Rosberg and I fought with [Vitaly] Petrov, so we are at Renault's level, which is obviously not enough."
If this is the kind of pace that is to be expected from Ferrari at high-speed tracks, then the team is likely in for some tough results at upcoming races such as Hockenheim, Silverstone, Spa and Monza. Clearly changes need to be made, and while last season was a highly publicized disappointment for the team, the start to this year is looking fairly similar.
Ferrari through seven races the past two seasons:
Category -- 2009 -- 2010
• Wins -- Zero -- One
• Podiums -- One -- Four
• Fastest laps -- One -- One
• Constructors' standings -- Fourth -- Third

Alonso's attempt to charge through the field resulted in late-race contact with Petrov, which forced Petrov to pit with a blown tire. It seems to be the theme for Petrov this season -- strong performances that are capped with generally preventable incidents. But the promise this young driver has shown cannot be overlooked, as he was staring at a points-paying finish while setting the fastest lap of the race in the process. It is true that his quick lap was set up by having fresh tires, but Petrov has been improving his fastest lap in relation to the field all season:
Petrov's fastest lap rankings in 2010
• Bahrain -- 19th
• Australia -- 18th
• Malaysia -- 14th
• China -- Eighth
• Spain -- Eighth
• Monaco -- 12th
• Turkey -- First

Since the fastest lap became an award in 2007, only one driver has set the quickest lap time in a race faster in his career. That would be Hamilton, who set the fastest lap in Malaysia in just his second career start. Race completions will come in time for the 2009 GP2 runner-up, who is too talented not to be successful in this sport. For now, he certainly has the raw speed.
Next on the schedule is Montreal, a track that did not host an F1 event last year. Financial agreements have since been reached between Circuit Gilles Villeneuve and Formula One, allowing the renewal of a historic event. In the past two races, the track has yielded a first-time F1 winner in each (Hamilton in 2007 and Robert Kubica in 2008), so a driver such as Rosberg should not be overlooked as this year's dark horse.