Hamilton, Alonso primed for fast finishes
August, 12, 2010
08/12/10
7:04
PM ET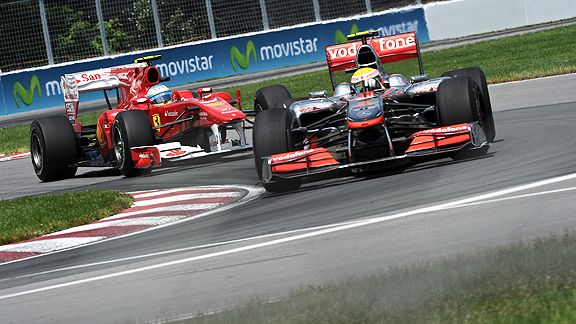 NICHOLAS KAMM/AFP/Getty ImagesLewis Hamilton, front, and Fernando Alonso are the two best closers in recent seasons.
With the summer recess spanning several weeks, it's the ideal time to reflect back on the season while also taking a glance into the future. The 2010 F1 World Championship certainly has delivered to this point, and we've already seen something that has never previously happened in Formula One.
With only seven races remaining, the F1 standings have been led by six drivers, the most leaders through 12 races in series history.
It tops the previous record of four drivers pacing the standings through 12 events, done most recently in 2008. That season saw one of the best conclusions in motorsports history, when Lewis Hamilton overtook Timo Glock on the final corner in Brazil to seize the title from Felipe Massa. This year, the duos from Ferrari, Red Bull and McLaren all have led or shared the lead at one point.
The 1986 battle was a classic, as Nigel Mansell looked primed to take his first career title when his left-rear tire burst in Australia, handing the championship to Alain Prost by a slim 2-point margin. The 1974 season was equally thrilling, as Emerson Fittipaldi and Clay Regazzoni entered the final race at Watkins Glen tied for the points lead, with South African Jody Scheckter in striking distance. Fittipaldi ended up claiming the championship.
History is a clear indicator that this year's title chase likely will be just as riveting. Five of the drivers to lead this season -- minus Massa, who trails by 64 points -- have a fantastic chance to earn a world championship, and depending on how things shuffle out in Spa, any one of those men could be leading the standings heading to Monza.
But does any of them have an edge? While that might be difficult to say, recent years have shown that two drivers have been superior after the traditional summer break. Hamilton, who typically is strong during the summer months, also has been a top performer after the late-summer recess in his career. Since his inaugural season in 2007, his 95 combined points earned after the break in that span paces all five contenders. Fernando Alonso is second with 92 points driving for both McLaren and Renault. Those two might be the ones to keep an eye on down the stretch.
Despite only 30 points earned by Button during that span, his level of concern should not be very high. Two of those seasons were with Honda, and despite a less-than-strong second-half performance last season, Button still earned 25 points after the break, only five shy of Hamilton.
The man who might be a bit apprehensive about the remaining seven races is Webber. While Red Bull did not truly become a top runner until last season, his 18 points after the 2009 summer recess was roughly half that of teammate Vettel's 37.
The series' next stop, Spa, has been harsh on Webber as well. In six races, he's never finished on the podium and collected just eight points in that span. In his rookie season with Minardi in 2002, Webber made it just four laps before having to retire with gearbox issues.
His next race at Spa came in 2004, and it was less than memorable, as he got caught up in a chaotic start and crashed in Eau Rouge on the opening lap. The following year, Webber took home fourth place for Williams but was more than a minute behind winner Kimi Raikkonen. In 2007 and 2008, Webber finished seventh and eighth, respectively. Last season, he finished one place outside the points.
Still, momentum is on the Australian's side, as he has won half of the past eight races and is at the top of the standings.