Sebastian Vettel no sure thing to repeat
March, 16, 2011
03/16/11
11:52
AM ET
If all had gone as planned so far this year, we would have seen cars in Bahrain this past weekend, but instead, all fans had was testing from Barcelona.
[+] Enlarge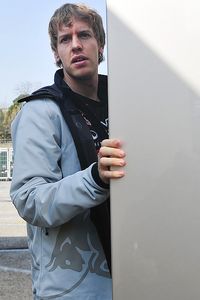 AP Photo/Manu FernandezWill the door to a second championship open for Sebastian Vettel this season?
But with the new start to the season only a week away, it is as good a time as any to size up the title contenders for this coming year.
First and foremost is defending champion Sebastian Vettel. The second German to win an F1 title, Vettel is only 23, and there's little reason to think he won't win several more championships before his career is final. Last year's journey was anything but smooth, and Vettel never held an outright lead in the championship until after the season finale.
Nevertheless, Vettel had the fastest car on the grid more often than not, claiming a staggering 10 pole positions. Since the new millennium, it's the second-highest total in a season, behind only Michael Schumacher's 11 in 2001.
Vettel converted a pole into a win just three times in 2010, and had only one victory off his first seven pole positions of the season.
In fact, his 30 percent conversion rate was the second-worst in F1 history in a season among drivers who claimed at least 10 poles, ahead of only Mika Hakkinen's 1999 title campaign.
If he can capitalize on the top starting spot more often this year, watch out.
Teammate Mark Webber is also well in the mix.
The Australian was atop the standings (or shared the lead) six times following a race last year, more than any other driver, so he is certainly no stranger to being in the thick of the championship hunt.
Webber was arguably the most consistent driver last year, earning points in 17 of the 19 events, best among the five title contenders from 2010. A disastrous day at Korea was the prime reason he didn't win the championship.
Until last season, Webber had never truly been involved in a championship pursuit, so the experience he gained last year could prove invaluable in 2011.
Fernando Alonso looked to be in great shape as last season wound down, but poor strategy in Abu Dhabi sealed his fate. The man trying to become the 10th driver to win an F1 title with multiple teams will have another chance this season as he continues to ascend the wins list.
This past year was the third time in Alonso's career that he's tied for the most wins in a season, and the other previous times (2005 and 2006), he won the championship.
What proved to be the difference from those seasons? Consistency.
In 2005, Alonso finished on the podium steps 15 times, and he followed it up with 14 podium appearances the next year. In 2010, he had just 10, and Ferrari's midseason lull meant he needed a considerable comeback to be among the contenders at the end.
No driver was hotter than Alonso over the second half of the season; he amassed 154 points in the final nine races, nearly 20 more than any other driver. Perhaps that momentum will transfer to this season.
The McLaren duo of Lewis Hamilton and Jenson Button are the other two logical title hopefuls.
Button reminded reporters last week, "You can't underestimate a team as determined as Vodafone McLaren Mercedes: We're all pulling together and we've got some interesting developments in the pipeline."
Through four full seasons, Hamilton has not finished worse than fifth in the standings, and he's the only driver in F1 history to win multiple races in each of his first four seasons (although Damon Hill can be added to that list if his two-start inaugural season with Brabham is tossed out).
Indeed, Hamilton is supremely skilled at keeping himself consistently among the front-runners, and if McLaren's bold design proves successful, he may just be the man who benefits most.
Button is in the prime of his career, one which dates to 2000, with eight of his nine victories coming in the past two seasons. If he can improve his qualifying results (only one front-row start last season), he should be in a much better position for 2011.
There are certainly others who should not be counted out, such as Schumacher, Felipe Massa and Nico Rosberg, but all would need to show marked improvement over last season in order to compete for the top spot.