Another Vettel romp? It's very likely
November, 9, 2011
11/09/11
12:58
PM ET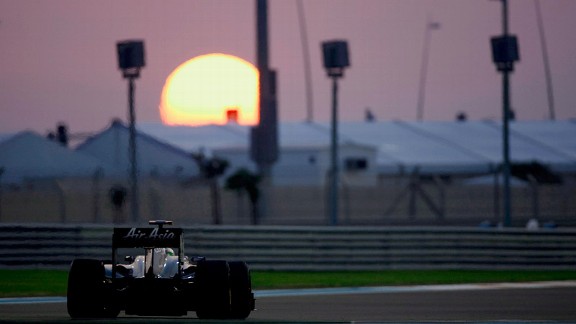 Peter J Fox/Getty ImagesDrivers will have to contend with changing track conditions as the sun sets Sunday on the Yas Marina Circuit in Abu Dhabi.
With only two races remaining in the 2011 Formula One season, much of the news will pertain to next year and beyond.
That's been the case this week as rumors have swirled that Kimi Raikkonen might be returning to the sport next season, possibly leaving veteran Rubens Barrichello without a seat.
If true, it would provide a big boost to F1, as Raikkonen ranks among the best drivers in recent memory. He collected 18 race wins in his career spanning 2001 through 2009, trailing only Michael Schumacher and Fernando Alonso in that time, and he claimed the 2007 world championship with Ferrari.
A versatile driver, he won at 13 Formula One venues, the same figure as legendary Lotus driver Jim Clark.
Raikkonen's tally of 62 podium finishes with McLaren and Ferrari also ranks among the top 10 in F1 history, and, although there's no doubt he's a supreme talent, any stint with Williams could prove trying, as the team is in the midst of a nightmare season.
Toro Rosso and Sauber have each earned more than eight times as many points this season as Williams, and neither Barrichello nor Pastor Maldonado has finished better than ninth for Williams in any event this year.
Also making news recently is that American star Alexander Rossi will have the opportunity to test with Lotus in Abu Dhabi.
He likely represents the most realistic scenario in which an American could occupy an F1 cockpit in the near future, and with two grands prix scheduled for the United States in the coming years, now is certainly the time for an American driver to return to F1.
The last U.S. champion was of course Mario Andretti in 1978, with the only other American title coming in 1961 (Phil Hill). From 1950 through that last championship in 1978, drivers from the United States won more than 20 events outside of Indianapolis.
Since then, however, no American has claimed victory. In the first half of F1's history, the country was represented by names such as Hill, Andretti and Dan Gurney. In the latter half, there has been little to no representation.
Elsewhere, all of Formula One is now preparing for a third trip to Abu Dhabi. The Yas Marina circuit does not lack stunning scenery, but the event itself has failed to produce compelling battles up front.
Last year's event was dramatic solely for championship implications, but Sebastian Vettel ended up running away with the race victory, winning by more than 10 seconds. The year before, he cleared the field by more than 17 seconds.
What makes Abu Dhabi different from most is that it is one of only five circuits on this year's calendar to run fully counterclockwise. At the three that already have hosted races this year (Turkey, Singapore and Korea), Vettel has -- to no one's surprise -- dominated, winning all three while leading all but three laps.
The track is one of the most forgiving on the schedule, with ample runoff areas, as Lotus driver Heikki Kovalainen described to reporters in the week leading up to the race.
"Abu Dhabi's not a hugely challenging circuit to race on, but the timing of the sessions and the fact we are running as the light's fading on Sunday makes it pretty cool for the fans and on TV," he said. "The first sector is reasonably quick -- if you see the cars turn in to T1 after the start/finish straight, you can get an idea of just how fast an F1 car can change direction, and from there you pick up pace through Turns 2 and 3, pushing the aero performance of the cars.
"After that, it's a bit stop/start until the long straight down to T8 where there is the first clear overtaking opportunity. T11 is the next place you can pass people, and then it all gets a bit fiddly as you go around the hotel."
A record-tying 14th pole of the season for Vettel is probable, as is a sixth victory in the past seven races.