Webber's and Vettel's 1-2 punch
November, 30, 2011
11/30/11
9:57
AM ET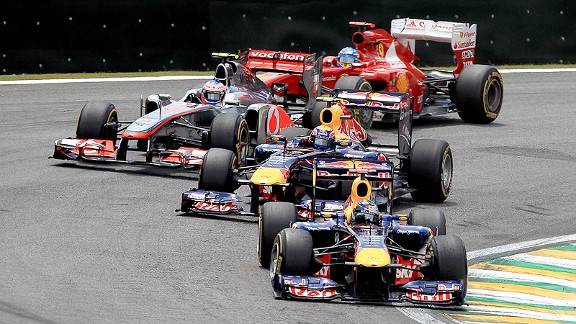 Vladimir Rys Photography/Getty ImagesSebastian Vettel may find things more crowded at the front in 2012.
It was a sight that fans witnessed four times last season, but a Mark Webber victory had proved elusive in 2011.
That was until Sunday, when he capitalized on Sebastian Vettel's ailing RB7 to capture his seventh career F1 win. The victory looked fairly similar to his most recent win prior, which came over a year ago in Hungary.
Much like Brazil, Webber qualified second to Vettel at Hungary but took advantage of his teammate's in-race misfortune. Sunday, it was a gearbox issue for Vettel; in Hungary, Vettel was forced to serve a penalty for an infringement under the safety car.
While team orders are a very gray area at this point, it was clear Vettel yielded to Webber midway through the grand prix at Brazil.
That should not detract from Webber's drive, however, which was stellar. He won by nearly 17 seconds and notched the fastest lap of the race on the final lap. It was Webber's second victory in Brazil, the only Formula One venue where he has posted multiple wins.
He also led 41 laps, more than double his total from the rest of the season. It's a victory with lasting implications, as Webber enters the offseason with growing momentum.
Next season, he'll continue his pursuit of his first F1 championship, but the grid is already due to gain another former champion with the return of Kimi Raikkonen.
The 18-time winner will be paired up with Lotus Renault for the next two years as Robert Kubica continues to recover. Raikkonen had repeatedly denied interest in returning to F1 over the last few seasons, but following the announcement, he told reporters, "I can't deny the fact that my hunger for F1 has recently become overwhelming. It was an easy choice to return with Lotus Renault GP as I have been impressed by the scope of the team's ambition. Now I'm looking forward to playing an important role in pushing the team to the very front of the grid."
That grid will feature a record six world champions at the opening race in Australia, and every champion from 2000 onward will be represented. Raikkonen adds yet another element to the 2012 season, and it should be thrilling to see how much he can get out of his car.
He joins a list of several notable names to make comebacks in the sport, including Niki Lauda, Michael Schumacher and Alain Prost, among others. Lotus Renault showed flashes of promise this year despite a trying season, and with a semi-competitive car next year, a podium finish is not out of the question.
The 2011 season saw a dominant performance from Red Bull and Vettel, but it also featured several classics, including China, Canada and Monaco. Race lengths ranged anywhere from an hour and 20 minutes (Italy) to over four hours (Canada), and there was no shortage of great fights mid-pack in just about every race, aided by KERS and adjustable rear wings.
If McLaren and Ferrari can become more competitive next season, those battles may just shift to the front.
If Red Bull can continue to dominate, then several records set this year may be in jeopardy next season.
Vettel recorded season records in poles (15) and laps led (739) and tied Nigel Mansell's mark of nine wins from pole in a year. Including 2010, he also extended his streak of podiums to 11 straight races and earned points in 19 consecutive events. Both of those runs eventually ended, and while they were not records, they were incredible accomplishments.