F1 preview: Red Bull back on top?
March, 8, 2012
03/08/12
11:58
AM ET
Formula One sees several new faces this season, and, with all the young talent, there could very well be a future superstar in the mix.
Although it might not reflect 2001, when Fernando Alonso, Kimi Raikkonen and Juan Pablo Montoya were rookies, the class of young drivers this year boasts some promising names. Paul di Resta finished very strong for Force India last season, and he'll be pushed to perform by incoming teammate Nico Hulkenberg.
Meanwhile, youngsters such as Sergio Perez, Charles Pic, Daniel Ricciardo and Jean-Eric Vergne will look to impress immediately, as the shelf life in Formula One often has proved to be very brief for those who do not perform.
[+] Enlarge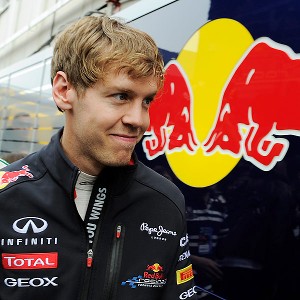 Lluis Gene/AFP/Getty ImagesAfter a dominant 2011 in Formula One, Red Bull's Sebastian Vettel is the unquestioned favorite heading into 2012.
Red Bull Racing
Car:
RB8
Engine:
Renault
Team principal:
Christian Horner
Drivers:
Sebastian Vettel
(Germany),
Mark Webber
(Australia)
A second straight championship for Vettel means he is without a doubt the favorite entering this season despite five other former champions on the grid. His two titles have come under considerably different circumstances, with last year proving to be one of the most dominant displays in recent memory. A single-season record 15 poles helped Vettel pace the field for more than 65 percent of the laps run, and Vettel had five race wins before a third of the season was even completed.
Although former champions should provide ample competition this season, teammate Webber also should be considered a realistic title hopeful. Fresh off a win in Brazil, Webber no doubt will be looking to improve on consecutive third-place finishes in the standings. Consistency has been the key for Red Bull, as Webber and Vettel are the only drivers to finish the season among the top four in each of the past three years.
The new RB8 has been up and down in testing, but there is still much to be seen. So far, there is no reason to believe this squad will not be the team to beat yet again.
Preseason grade: A
Vodafone McLaren Mercedes
Car:
MP4-27
Engine:
Mercedes
Team principal:
Martin Whitmarsh
Drivers:
Jenson Button
(Great Britain),
Lewis Hamilton
(Great Britain)
Last season saw Hamilton take somewhat of a backseat to teammate Button. Button finished a distant second in the championship, but he won three races and finished ahead of Hamilton in seven of the final nine events. Hamilton could use a quick start this season, but only two of his 17 career victories have come in March and April, and he generally does not heat up until the summer months.
McLaren did improve last year, but the dominance of Red Bull overshadowed much of that. The team earned 497 points last season, up from 454 a year prior. In fact, last year's total was just one point shy of Red Bull's 2010 championship effort. McLaren made the bold decision to avoid using a stepped nose, but Hamilton does not seemed bothered, as he detailed to reporters during testing, "I think the car's strong. It's stronger than it was last year at this point, and, with the fuel loads we've been running, I think we are relatively strong compared to the others. I'm not necessarily saying we're the fastest, but we'll find out when we get to Melbourne. But I definitely feel like we have a competitive car where we should be fighting for a podium finish, for sure."
Preseason grade: A-
Scuderia Ferrari
Car:
F2012
Engine:
Ferrari
Team principal:
Stefano Domenicali
Drivers:
Fernando Alonso
(Spain),
Felipe Massa
(Brazil)
The season has yet to begin, and already Ferrari finds itself answering lingering questions about the F2012. That's not good news for Alonso and especially not for Massa, who likely is in his final season with the prancing horse. In 2010, the most successful team in F1 history earned just one win, and it came in Great Britain at the expense of Vettel, who had a very slow pit stop midrace.
A third world championship for Alonso seems a distant dream at this point, considering Ferrari earned just 57.7 percent of leader Red Bull's points last season. Only two poles in the past three seasons means this team has struggled to find the speed of the leaders, and that trend looks to continue in 2012. Simply put, this team has far more questions to answer than leaders Red Bull and McLaren.
Preseason grade: C+
Mercedes AMG Petronas F1 Team
Car:
F1 W03
Engine:
Mercedes
Team principal:
Ross Brawn
Drivers:
Nico Rosberg
(Germany),
Michael Schumacher
(Germany)
For the second straight season, the top five in the team standings remained the same, with Mercedes checking in fourth. Thus far in his career, Rosberg has been nothing if not consistent, finishing seventh in the title race in each of the past three seasons. Teammate Schumacher displayed some improvement, but this team remains on the verge of competing up front.
Which driver has the edge entering 2012? Much depends on the car, but an early tip of the cap goes Rosberg's way, as he finished better than his teammate on 12 of 19 occasions last season.
This is the first time Mercedes has participated in F1 for three straight seasons, having previously competed only in 1954 and 1955. In those early years, the W196 stormed onto the scene and immediately began winning races. The sport is, understandably, completely different now, and victories take time as well as significant resources. Under the eye of Brawn, the team certainly has the personnel it takes to win, but the car needs to take that next step forward for that to happen soon.
Preseason grade: B-
Lotus F1 Team
Car:
E20
Engine:
Renault
Team principal:
Eric Boullier
Drivers:
Romain Grosjean
(France),
Kimi Raikkonen
(Finland)
The former Renault team was the highest-finishing squad to swap drivers for this coming season, with Raikkonen's return making a big splash in the headlines. Raikkonen is a significant signing for Lotus, considering he's a former world champion. In addition, his 16 victories between 2005 and 2009 were second only to Alonso's 20. A two-year absence from the sport certainly could hurt his chances at victory this season, but he capped a tumultuous preseason for Lotus by looking strong in the final stages of testing.
In 2011, Lotus collected 30 points in the initial two races but then scored just 43 the rest of the season, an average of 2.5 points per race in the last 17 races. Vitaly Petrov struggled, especially from late June on. In the last 12 events of the season, Petrov finished on the lead lap just three times. Therefore, Grosjean occupies the second seat at Lotus this year.
Preseason grade: C+
Sahara Force India F1 Team
Car:
VJM05
Engine:
Mercedes
Team principal:
Vijay Mallya
Drivers:
Paul di Resta
(Great Britain),
Nico Hulkenberg
(Germany)
Force India could very realistically find itself in fifth place in the constructors' championship at the end of the year, and, with a pair of young drivers, that likely would be a dream first step in regard to long-term planning. The organization must be brimming with confidence, as di Resta is fresh off a solid rookie season in which he suffered only one listed retirement. Before di Resta, no rookie had one or fewer retirements in a full season since Hamilton and Heikki Kovalainen in 2007.
Hulkenberg will return to the fold as the second driver for the team after a year's absence, meaning this squad has an exciting pair of youngsters.
Preseason grade: C+
Sauber F1 Team
Car:
C31
Engine:
Ferrari
Team principal:
Peter Sauber
Drivers:
Kamui Kobayashi
(Japan),
Sergio Perez
(Mexico)
"They've done a great job, and they've got reliability. So it's good to see some smaller teams are competitive; we just hope they're not too competitive." Those are the words Button used to describe Sauber to reporters after preseason tests, and it is no doubt high praise for the midpack team. Both Kobayashi and Perez are returning, meaning this team should be expecting significant improvement for 2012.
Through Canada last season, Kobayashi had 25 points and was just a single point behind both Mercedes drivers. He had accomplished this despite a disqualification in Australia that would have awarded him additional points, so things certainly were looking up. The rest of the season, however, did not go as planned, and this could very well be a pivotal season for one of the most exciting drivers on the grid.
Preseason grade: B-
Scuderia Toro Rosso
Car:
STR7
Engine:
Ferrari
Team principal:
Franz Tost
Drivers:
Daniel Ricciardo
(Australia),
Jean-Eric Vergne
(France)
Toro Rosso displayed significant improvement in its sixth season, notching 41 points after just 13 the year before. That still wasn't enough for Jaime Alguersuari and Sebastien Buemi to retain their seats, however, and in for this year are Ricciardo and Vergne. The team has never cracked the top five in the constructors' championship, and that could be a tall order with Lotus, Force India and Sauber looking stronger for this season. Ricciardo is a Red Bull driver and has been tabbed for this seat for some time. For him or Vergne, a top-end goal this season would be a top-10 finish in the drivers' standings, something only one Toro Rosso driver has done (Vettel, 2008).
Preseason grade: B-
Williams F1 Team
Car:
FW34
Engine:
Renault
Team principal:
Frank Williams
Drivers:
Pastor Maldonado
(Venezuela),
Bruno Senna
(Brazil)
The once-proud Williams team has fallen on seemingly unimaginable hard times, collecting just five points last season. Change has been swift, however. Gone is F1 ironman Rubens Barrichello, with Senna serving as his replacement. In addition, the team has reunited with Renault as its engine supplier, the same supplier Williams won five constructors' titles with between 1989 and 1997. Although championships are a very far cry at this point, the renewed partnership could help vault the team back into the midpack fold. Quite simply, this year will be pivotal for Maldonado and Senna.
Preseason grade: C
Caterham F1 Team
Car:
CT01
Engine:
Renault
Team principal:
Tony Fernandes
Drivers:
Heikki Kovalainen
(Finland),
Vitaly Petrov
(Russia)
This could be the year the Caterham squad scores its first point. For now, the team should be focused squarely on more Q2 qualifying efforts, as a solid qualifying sets the team up for possible points if a few cars in front fail to finish. Returning is Kovalainen, but he'll have a new teammate in Petrov. Formerly run under the Lotus banner, Caterham has posted competitive times in testing, especially in the late stages. With the experience of Kovalainen, this team has an outside chance at finishing ninth in the championship, especially if Williams suffers another down season.
Preseason grade: C
HRT F1 Team
Car:
F112
Engine:
Cosworth
Team principal:
Luis Perez-Sala
Drivers:
Pedro De La Rosa
(Spain),
Narain Karthikeyan
(India)
HRT finds itself in a familiar position again this season; after a very late car reveal, the squad must hurry to ensure the team does not again fail to qualify in the opening race of the season. Last year, Australia spelled disaster for HRT, as the 107 percent rule meant that the cars were not quick enough to make the starting grid. In 2012, HRT was the last team to reveal its challenger, and, because of the late launch, the F112 missed all of preseason testing. The delay is sure to hurt the team's ability to compete with Caterham and possibly Marussia, and that could affect finances toward season's end.
The differences in year-end prize money can be significant, even toward the rear end of the field, so HRT needs to improve its position in the constructors' championship. The possibility of that occurring seems rather distant at this point.
Preseason grade: F
Marussia F1 Team
Car:
MR01
Engine:
Cosworth
Team principal:
John Booth
Drivers:
Timo Glock
(Germany),
Charles Pic
(France)
The arrival of Pic means three French drivers will participate this season, which hadn't happened in a single year in any capacity since 1999. He'll be partnered alongside Glock under the freshly renamed Marussia banner. Much like HRT, Marussia has gotten off to a late start this year, and that could hurt its early progress. The reveal showed that the car does not feature a stepped nose, which is not surprising considering the partnership with McLaren. However, too little is known at this point as to whether any progress has been made over last season.
Preseason grade: F