Sebastian Vettel begins F1 title defense
March, 14, 2012
03/14/12
11:16
AM ET
The 63rd season of Formula One racing is about to get under way, and, at this point, every driver has high aspirations. The Australian Grand Prix (Sunday, 2 a.m. ET, Speed) should provide a reality check for many, however.
Although it's only the first of 20 scheduled events this season, the year's debut has been telling in the past several decades. Fans have gained a fairly clear picture of the title favorite after just the first race, as 17 of the past 22 season-opening winners have gone on to claim the championship that same year.
An opening-round win no doubt has been an accurate forecast of season success recently, as has a runner-up finish. A second-place result has been anything but good news, though, as no driver has finished second in the first race of the year and then taken the championship since Alain Prost in 1989 while driving for McLaren.
In addition, no eventual champion has finished outside the top four spots in the opener since 1999, when Mika Hakkinen retired from the pole position.
Two-time defending series champion Sebastian Vettel will be looking to defend his dominant victory here last year, and it's a very likely scenario entering the season. Vettel is attempting to become only the third driver in F1 history to win three straight championships, alongside Juan Manuel Fangio and Michael Schumacher. Neither of those legends, however, won his first three championships in successive fashion.
Melbourne's Albert Park is a narrow track with very little runoff room, and two-time event winner Jenson Button described the circuit to reporters leading up to the race: "I think the circuit is a nice challenge too -- it's not a particularly technical track, but the surface is always rubbering in across the whole race weekend, and it's a place that encourages nip-and-tuck racing. For a street track, it's got a really good flow, you can really find a good rhythm -- and it's got some fast corners too, which is unusual for a road course. I think the new rules have definitely made it a more competitive place -- it's easier to pass here now than it ever was."
Aside from Vettel, the driver to watch throughout the weekend could be Mark Webber. Not only is he the most recent race winner but Webber will be in front of his home crowd. Oddly enough, this track has been a nightmare for him throughout his career, with the exception of his F1 debut.
In 2002, Webber marched onto the scene with Minardi and scored a surprising fifth-place result in his home nation. It would be the only points the team accrued that season and arguably remains the high point of his competition in home events.
In nine events since, he's been forced to retire four times and has never finished on the podium. Since 2003, Webber has earned points in Melbourne on just three occasions, and his 10 races without a podium are tied for his most starts at any active grand prix without such a result (Italy).
This race has been known to deliver some surprises recently, as well. Vitaly Petrov notched a podium finish last year, and Brawn GP delivered a shocking 1-2 result three years ago. The year before that witnessed Nico Rosberg claim his first podium spot.
Australia should help answer many preseason questions, but, until a few races have been logged, fans might not truly know who has made the biggest offseason strides. One thing is certain: The 2012 season is finally here.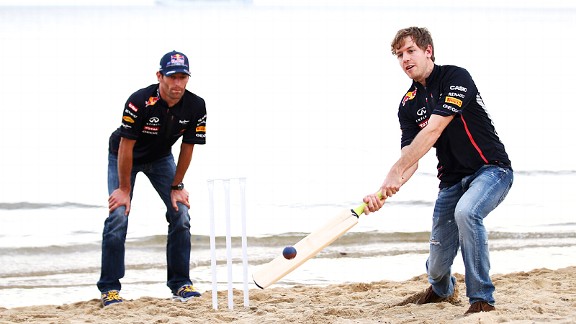 Clive Mason/Getty ImagesF1 champ Sebastian Vettel tries his hand at beach cricket on St Kilda Beach in Melbourne, Australia.